We have a real treat for you today, with this beautiful Thailand Elopement, complete with super cute baby elephant. Wedding Boutique Phuket planned this magical day, while Chaloem Ton Loysamut did the honours with the wonderful images. Nadine and Ryan wanted an intimate elopement a few weeks before their big wedding back home in Florida, and chose Phuket in Thailand as their destination of choice, as they wanted to soak up the culture and have something that was spiritual and personal to them. The results are this outstanding ceremony and dinner, made even more special by Baby Bua, the baby elephant. I just love the colours, the flowers and the calm nature of this stunning day, a real treat for the eyes.
Unique. The best choice was having this Honeymoon and Elopement just before the Big Day with our friends and families.
Nadine and Ryan were married on the 23rd November 2016 at Blue Siam, Bangtao Beach, Phuket in Thailand. 'We are from Florida and we decided to elope in mystical Thailand just few weeks before our big wedding at home. It was just the two of us, we want it to be intimate and dedicate to each other. It only took a couple of months to plan. As we decided for a Destination Wedding in Thailand, we chose Wedding Boutique Phuket to be our Wedding Planner. Ilaire, the Italian designer, has been amazing all the way from the months of design and planning till that day we celebrate our Love!'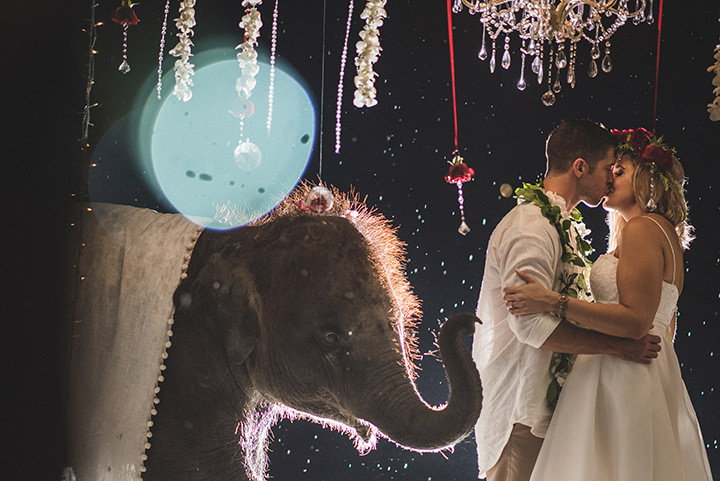 The Dress
For my dress I chose a traditional Sarri  of ivory and gold to represent the spiritual aspects of our wedding and paired it with a red top to represent traditional Thai and Asian bridal colors. After our traditional Buddhist ceremony I changed into a traditional wedding gown with simple lines for our beach wedding. It was paired with chunky jewelry and beautiful crystal barefoot sandals provided by our planners at Wedding Boutique .
Theme or Colour Scheme
We decided on a traditional Thai Buddhist ceremony because of its simplicity and purity which stayed true to our spiritual hearts. We wanted to embrace Thailand and its culture and Wedding Boutique did a wonderful job keeping simple ivory flowers with dark red roses as accents to represent our bohemian outlook. They combined all of the elegance of a traditional wedding with the Thai culture and it ended in a one of a kind wedding. Since Ryan and I viewed this ceremony as an intimate promise to spiritually unite or souls we wanted to do it with only the two of us in attendance- the only wedding guest we had was an adorable baby elephant named Bua!
Flowers
For flowers we had a lot of ivory orchids, with greenery mixed in for Ryan's garland and used dark red roses as an accent to romanticize the boho look. We also wanted to keep similar color schemes for our winter themed wedding back in Florida which was done in ivory, antique golds, and hints of deep red.
Decoration
Wedding Boutique mixed in traditional Thai items and more elegant boho decorations with flowers to come up with our own unique design.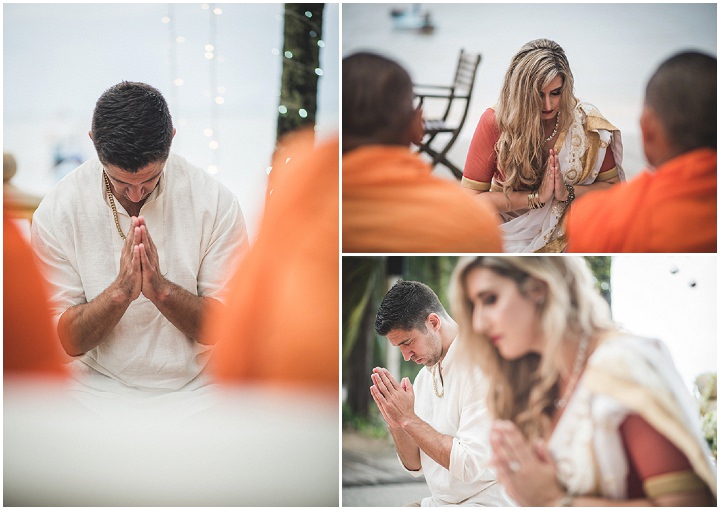 Food
One of the most delicious Thai dinners of our trip! We had our own set menu we chose for just the two of us full of Thai flavors and spices.
Wedding Cake
Wedding Boutique brought in an adorable wedding cake for just the two of us which was simple but completely bohemian in look. Baked by an Italian baker it was a wonderful black Forrest cheesecake with chocolate and cherry filling.
Entertainment
Our wonderful wedding guest baby Bua the elephant was there for us to play with. We took her for a stroll on the beach and she gave us both plenty of kisses! Ryan and I  ended the night with baby Bua playing in the rain with us. We understand elephants are spiritual beings much like us and wanted the our marriage to be blessed by one. Wedding Boutique went to an extent to find her for us and to make sure that she came from a place that ethically treated their elephants well.  As animal lovers we did not want to contribute to the mistreatment of elephants through tourism in Thailand.

Stationery
Wedding Boutique designed and printed our stationery.
Special Moments
When I first saw baby Bua coming into our venue with flowers in her hair and wearing a white blanket! She was so cute I jumped for joy and almost started crying. My husband lead her in to meet me holding her trunk to guide her. We will forever remember our experience.
Advice for other couples
Try to remember that it isn't about your wedding but about you pledging your love and commitment to each other. We chose Thailand as a very spiritual place, filled with people who were humble and kind. Being inspired and using Boho themes is only because Ryan and I believe in what "boho" represents. Not a style but of putting love above all else and staying true to our hearts. Wedding Boutique and the team there completely understood us. They are all traditional wedding planners from Italy so even though we had an elopement we still had all the beauty and elegance of a real traditional wedding that stayed true to our uniqueness.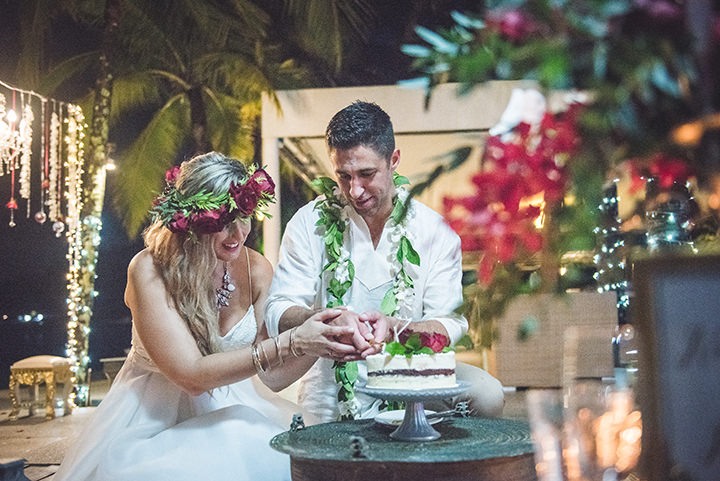 Supplier Shout Outs
For more information on Wedding Boutique Phuket go to:
weddingboutiquephuket.com / +66 0930144862 / [email protected] / weddingboutiquephuket.com/blog / FACCEBOOK / PINTEREST / I: @phuket_wedding_planner

"Wedding Boutique is a Destination Wedding Planning agency based in Phuket since year 2015. Lead by the only Italian Phuket Wedding Planner, the company involves the best creative and professional collaborators from all over the world."

[jprel]