Today is a very exciting day for me, not only because Mr Obama has been re-elected as President of the United States but also I get to share with you the results of the readers survey.
I launched the Survey in September to find out from you the readers of the blog more about you, what you like about the blog, what you don't like, and more about your own weddings. The results have been very interesting to collate and are coming in very useful in the re-design of the Blog, as well helping me decide what features will stay and what will go.
Along with the survey I ran a competition to win a host of wedding prizes that had been kindly donated from lots of lovely wedding suppliers……You can see the full list of prizes HERE 
The lucky winner of the prize draw is Luisa Hinchliff  from London who has now received her prize hamper and had this to say
'Thank you so so much, This is so amazing – thank you thank you. I really enjoy popping on your blog, so I'm glad the reader's survey is helping you find what your readers want.
The prizes are so fab, thank you thank you!
I'll continue enjoying the blog for some time yet!
Thanks and thanks again
Luisa'
My Good Friend 

Lucy Ledger

has put together some super cute graphics to summarize the results, I hope you find it interesting…………..
MORE ABOUT YOU…….
MORE ABOUT THE BLOG……..
MORE ABOUT YOUR WEDDING……….
FEATURES ON THE BLOG…………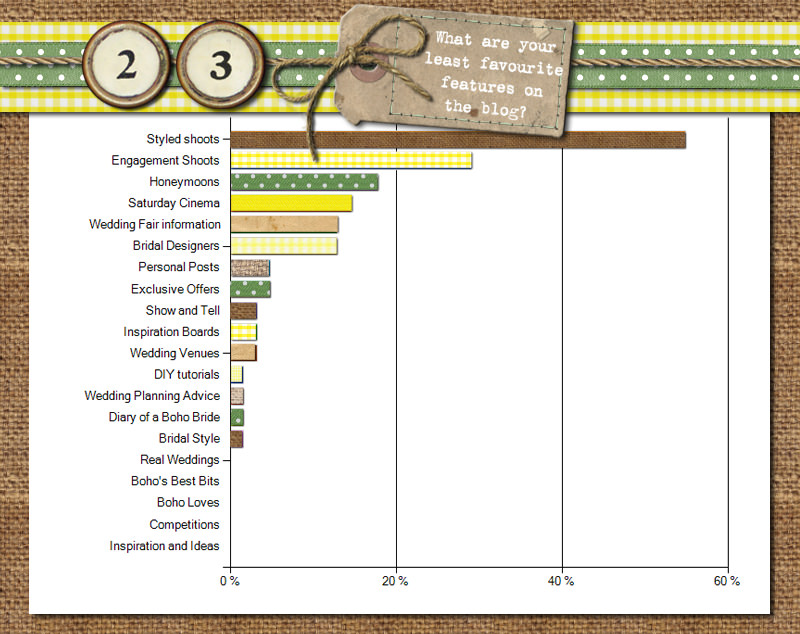 So what have I learnt? and what will I be changing?
I asked you………and you replied
 Q) How I can make the blog better Overall ?
1) Spelling and Grammar
Being mildly dyslexic doesn't help this but I am honestly doing my best! My Husband Nik now has a new job of proof reader and for the last few weeks has been proofreading every post I write. Well nearly every post, sometimes it's impossible for him to do so as I may put together a post last-minute when he isn't around. On the whole though he will be paying more attention to my bad spelling from now on.
2) Layout
You asked for the layout to be less cluttered so this is being addressed in the redesign. I will be making the front page more about the Blog and less about all the other bits and bobs on the sides, basically cleaner and tidier with a better navigation system to find stuff.
3) Colours
The colours will become softer and more girly……the graphics above should be a BIG hint on this!
4) Images
The images will be made bigger as the whole blog becomes wider, so bigger pictures for you to look at.
So there you go, I hope you have found the results interesting? and if you were one of the many people who filled in the Survey THANK YOU! I really mean that! Your feedback has been invaluable.
If you have any further thoughts on the results or any matter to do with the blog then do email me at [email protected]  OR leave a comment in the box below.
Big Boho Love
Kelly xx
MASSIVE thanks to Lucy Ledger for the fab graphics, you can find out more about Lucy's work here:
www.lucyledger.com
http://lucyledgerdesigns.tumblr.com/
[email protected]
FACEBOOK
TWITTER