Hello everyone and how are you all? I am now back from Marrakesh and the normal blogging schedule will resume.  I had a great Holiday it was SO HOT!! Marrakesh seemed to be having a heat wave while we were there with temperatures around 37 degrees instead of the normal mid 20's for this time of year, so it was a tad warm for my little ginger head! never the less I had a great time, we managed to see as much of Marrakesh as we could and were out on a trip nearly every day! I'll share some holiday snaps with you once I've had a chance to get them out of the camera!
So today I have an AMAZING wedding for you! it's a beautiful woodland wedding that took place just up the road from me at Ecclesall Woods in Sheffield, It's an amazing venue and I have a wedding myself there next year, so I was really excited when Mark Tierney submitted it to me. I love everything about this wedding, especially the fact that's it's local to me! As you know I love a woodand wedding, and this one ticks all the boxes!
The gorgeous couple are Jade and James who were married on 16th June 2012 at St Johns Church in Dronfield, Sheffield with the reception in Ecclesall Woods. 'We had 70 guests to the day and then about 30 more in the evening. We were planning it for a good 12 months, and got the big things booked straight away like the church and reception venue, but it wasn't till the last 6 months that we went into mega planning mode!'
'It was a magical woodland wedding! It was also pretty wet and muddy!'
How they met
James and I met at Elstree Studios 5 years ago, working on Big Brother. I was a Producer and he was a lowly runner, but at the Christmas party I gave in and he got a Christmas kiss.
The proposal
I had a feeling it was coming, because for my birthday a few months before I got a letter saying we would be going on a special journey of 300 miles and that the final mile would be of most importance. I spent HOURS working out what was 300 miles away from our house on Google Maps and discovered Paris was 300 miles away. I thought 'Oh we're going up the Eiffel Tower' and was a bit bemused as James doesn't do predictable. Anyway – I got it totally wrong and we were actually driving up to Yorkshire! On the way up he said we should stop at Fountains Abbey for some lunch. It was a beautiful place and we were following the little map and James was insistent we went to 'Anne Boleyn's Seat' which because he loves history, thought nothing of it. When we got there I was looking out at the amazing view and when I turned back round he was on one knee with a beautiful antique diamond ring. I was so shocked and he was probably so terrified that we both didn't actually say anything, just laughed and cried simultaneously! Eventually he said 'Will you marry me?' and I said 'YES!'. We then spent a gorgeous weekend in Yorkshire. The final mile was actually meant to be a hot air balloon ride where he was going to propose, but quite wisely he thought to do it before as it got cancelled on the day because of bad weather! We did go, but not for a few months later.
The venue
We decided on the little church in Dronfield as it was where I was christened and it just felt right to go back there to get married. There was never any question that we would have an 'outdoor' reception, and since woods have always played a big part our relationship (we had our first date in some woods and lived next door to ones in London) it seemed like the natural thing to do. We hired tepees for the reception which looked so magical all lit up in the middle of ancient woodland. I obviously was counting on it NOT to rain, but oh well!
Why did you choose your photographer?
I was originally looking at Photographers down south where we live, but in the end my Mum said we should use a local one in Sheffield for ease on the day. I really didn't want to because the ones I had seen were so dated and cheesy! But miraculously I discovered Mark Tierney, who was doing creative and contemporary photos AND was in Sheffield! Result. My mum met him for me and said he was a 'lovely man' so that did it. We booked him on the strength of my mum's opinion and his great website!
The dress
My vintage style lace dress 'Lola' was by Rose Couture which I got from an amazing place in Cambridge called 'The Tailors Cat'. My handmade flower headdress was off Etsy which I was obsessed with for wedding stuff. I didn't get special shoes because I'm so tall, I don't do the heel thing, so I bought about 5 pairs of ballet pumps and ended going with some simple ones from Topshop on the day.
The suit and bridesmaids
The bridemaids were in dresses we found in House of Fraser, we scoured the high street! I knew I wanted them to look all floaty and fairy like. When we saw the dress, my sister tried it with a gorgeous necklace from Jigsaw and it just looked perfect. We bought 5 off the peg and shipped them around the country and even to NYC where my best friend is living.
My husband's suit was a slim fit one from Zara. It was a struggle to take him shopping for one, so as soon as he tried on one that fit, we bought it! If only it was that easy for girls!
Theme
We didn't want a specific matchy-matchy, but I did want a pretty look with lots of wild flowers, and bunting and fairy lights. My husband is a big Lord of The Rings fan so all the table names were places from Middle Earth, and we wanted the reception to be a bit like Bilbo Baggins's Eleventy First birthday in The Shire! When I walked down the aisle a local girl called Emily Fox, played 'In Dreams' flute solo from Lord of The Rings which was beautiful.
Food
We had a delicious 'posh' BBQ which was served at the tables with salad, cous cous sides etc. I hardly ate any of it because of the adrenaline but the guests said it was gorgeous! We also had a hog roast in the evening which was equally delicious and much needed after all the alcohol.
Entertainment
We had a band called 'The Slowdown Boys' who played 2 sets of bluegrass/country music and made us all get up and do various line dancing. It was brilliant and was perfect for our woodland setting.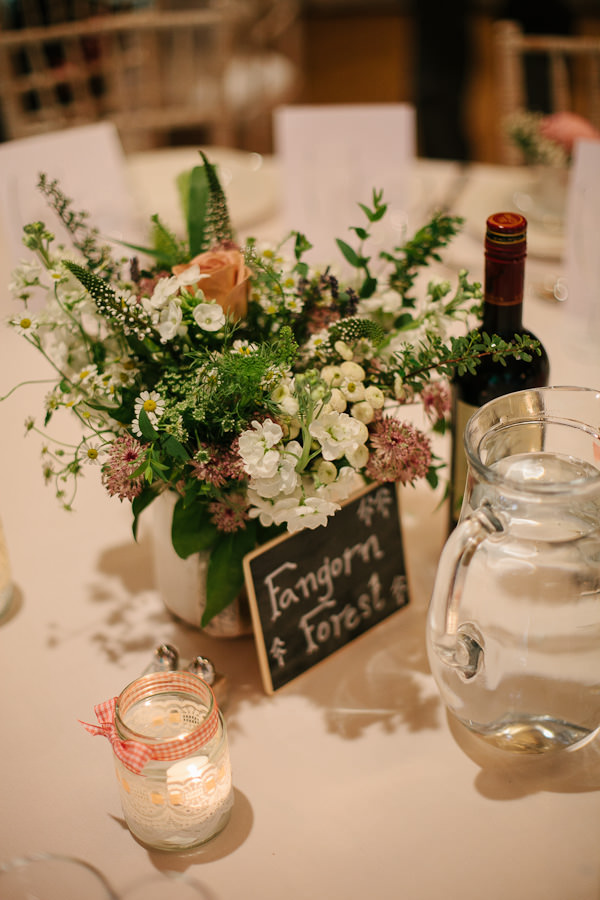 Flowers
Our flowers in the church were by my mother-in-law, and it was all peonies, dusky pink roses and massive bunches of gypsophila on the end of the pews. We also had Bay Trees at the start of the aisle.
Petalis did the bouquets and reception flowers. The bridesmaids had big fat peony bouquets which went amazingly well with their dresses. My bouquet was peonies and roses and a few sprigs of lavender. The reception flowers were just a mass of wild flowers which were so pretty and I had a few big displays with sunflowers.
Decoration
We had about a million meters of white bunting! Fairy lights, teacups with peonies in which guests could take home, big paper pom poms hanging from the tee pee. We had vintage table cloths but in the mad rush they weren't put on!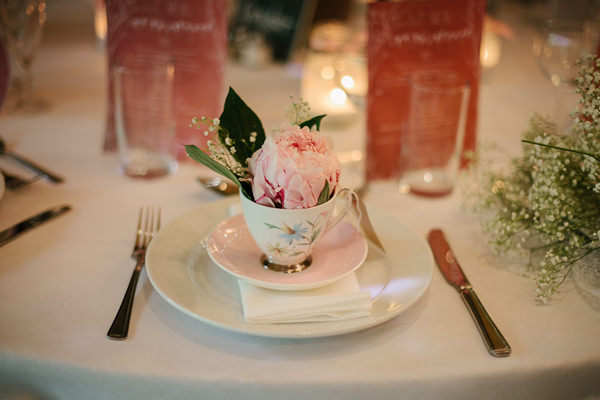 Personal touches
We did so much ourselves – mainly because it was so hard to find the right thing, but also to keep costs down.
• The vintage teacup flower favours
• meters and meters of bunting
• designing and making all the invites and Orders of Service.
• We also designed menus which we printed and had at each table setting and blown up into big posters.
• We did the seating plan on a vintage blackboard and designed it like the Lord of The Rings map.
Because we hired the woods from the council we had to organise SO much like generators, security, refrigeration, toilets and insurance! Things I didn't think about when I decided I wanted it in the woods! It was like organising a mini festival! Me and my mum organised everything beforehand but my dad had to basically Project Managed the whole thing the week before on site while we were off getting nails and spray tans done!
Special moments
♥ The morning getting ready with my mum, sister, cousins and best friends was just wonderful. We took over our local hairdressers Capelli, and had a whale of a time drinking champers and getting pampered.
♥ Seeing the vintage red bus arrive at our house to take all the guests to the church was so exciting!
♥ Then arriving at the church and hearing the bells really made it feel like it was actually happening!
♥ Walking down the aisle with my dad to the flute solo and seeing all my favourite people in the pews and finding James at the end looking so handsome but extremely nervous was just wonderful!
♥ James'cousin Becky Mills sang 'Your Song' and I couldn't hold back the tears.
♥ Seeing the teepees all lit up the woods was magical and just perfect.
♥  The whole day I had face-ache from smiling too much!
Advice
Just do whatever you want! Don't follow traditions if that's not you. If you want a wedding in some muddy woods then go for it! Also, you get to a stage where you simply can't plan any more! Just relax and know it will be a great day because you're marrying the man you love, surrounded by friends and family. Who cares if it rains or if the vintage table cloths are forgotten! The day will be just as special.
Biggest surprise
I didn't really have any surprises, but the speeches by my dad and James made were brilliant. My mum also gave me her garter she wore on her wedding day!
Supplier Shout Outs
Mark Tierney (Photography) www.tierneyphotography.co.uk
Petalis (Flowers) www.petalis.co.uk
The Tailors Cat (Bridal Shop) www.cambridge-bridalwear.co.uk
The Cake Booth www.cakebooth.co.uk
Vintage Bus www.yorkshireheritagebus.co.uk
Papakata (Teepees) www.papakata.co.uk
The Slowdown Boys (Band) www.theslowdownboys.co.uk
Coco Catering www.cococatering.org.uk
Capelli (Hair) www.capelli-hair.co.uk
Leona Seymour (Make-up) www.leonaseymour.com
Fore more information on Mark's work go to:
www.tierneyphotography.co.uk 
tierneyphotography.co.uk/blog 
[email protected]
FACEBOOK
TWITTER
07981 347019
 ♥  You can see more Real Weddings featured on the Blog HERE  ♥