Are you bored with the same old wedding shows? Do you feel that the standard shows don't cater for the sort of thing you are looking for? Well you're in luck, because this afternoon I am going to tell you all about a BRAND NEW wedding show, that has been put together just for the less traditional wedding couple.
If you are looking for like minded wedding suppliers then you need to head over to The Eclectic Wedding Extravaganza – 'It's all about EWE!!'  on Sunday 4th November @ Fazeley Studios in Birmingham at 11.30 – 5pm.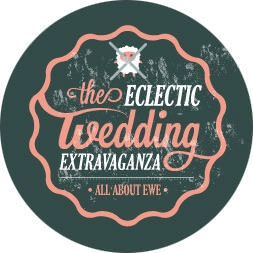 And to hep you along I have 3 PAIRS OF TICKETS TO GIVE AWAY!
All you have to do is head over the website http://allaboutewe.co.uk/ and the first 3 couples to email [email protected] with the answer to "What kind of sheep is on our homepage?" gets the tickets………..simple!
Photo by Assassynation
CoutureCompany by Assassynation

The Eclectic Wedding Extravaganza will showcase the cream of the UK Wedding Suppliers, Photography from  Assassynation, Emma Lucy Photo, Lisa Devlin, Steve Gerrard , and Shelly from Toast of Leeds.
Dresses from: The Couture Co, Liliia,Victorian Gothic, Luxe Vintage Bridal, Alexandra King of Make me a Dress
As well as a whole host of other amazing wedding suppliers, to mention a few: Boutique Baking, Restoration Cakes, Sharper Millinery, Natasha Jane, Elbie van Eden, Love Illustrated, Ava Event Styling, Cherry Pie Lane, Sassy N Frank, Simon Clarke.

(You can see the full list of Bad Ass Wedding Suppliers HERE)
Liliia by Assassynation

Interested??? Well here is a bit more information from the organisers themselves……….

What happens when three slightly mad wedding suppliers come together? They hatch a crazy plan….that's what!!  When Sassy (Assassynation), Jo (Couture Company) and Vikki (Liliia) got nattering over a glass of wine (standard)  they decided  that they would put on an Eclectic Wedding Extravaganza with a real mix of suppliers

"We want to put on an amazing wedding extravaganza (aka fair) that would be exciting for both the suppliers and  couples alike, so we hatched a plan  "A-team" style (Hannibal Smith would be proud).

The idea is that we want people to shake off the shackles of what is considered 'normal' or 'traditional' and to take their own personalities and loves and  stamp them on their weddings ,so we have picked suppliers who can help EWE do that!
Toast of Leeds
conjurers kitchen
Lisa Devlin
ink love
Emma Lucy Photography
Le Keux Couture Co by Assassynation
Elbie van Eden by Sarah Gawler

This is no ordinary wedding show, the suppliers aka the Baad Ass Mother Flockers have been chosen and invited based on their personalities, the quality of their end product and the fact that they offer something unique. White linen covered trestle tables are discouraged and hard sells are banished, we want you to come along, have a drink and a good old natter to the Mother Flockers that catch your eye.
The Mo Flo's are being challenged to create stands that are totally unique and interactive. As well as having awesome Mo Flo's at the show, we will be running some competitions, having a fashion walkabout/ramble and organising a treasure hunt! Prizes will include free photography sessions, make overs and styling, free cakes, accessories and Big BIG Discount vouchers
Sharper Millinery by Assassynation
Steve Gerrard Photography
Rawhide Corsets by Assassynation
love llustrated
Revive Me Boutique by Assassynation
Luxe Bridal by Louise Holgate
Vintage Salon Hair and Makeup by Assassynation
Beautiful Bird Creations by Daffodil Waves

So we are putting a call out to all you gamers, goths, geeks, rockabillies,  psychobillies, off the walls, mods and rockers, steampunks, new punks, old punks, flappers ,happy clappers, hipsters and hell-raisers, bohemians, folks who are inked and pinked, or if EWE just want YOU to shine through.

We hope to offer you some things that are really EWE-nique for your weddings.

Our Motto -'Don't be a wedding sheep…it's all about EWE!!! '
Steve Gerrard
Cabinets of Curiosity
Assassynation
Ava Events Styling by Assassynation
Cherry Pie Lane by Assassynation
Restoration Cake by Chris White
Le Keux Couture Co by Assassynation

Our venue, Fazeley Studios, was chosen due to the fact it is such a gorgeous space (and yes they do have weddings there) with tons of natural light to show off our Mo Flo's work in the best possible way.

Have a ramble round the website, register and get your tickets early at a BAAAAArgain price of £3 YES !!! EWE heard right…..only £3 !!!!

www.allaboutewe.co.uk 
[email protected]
TWITTER
FACEBOOK 

*This is a Sponsored Post*