Today I have a very special wedding for you, as it's one I had the honour of working on, one of my very own Boho Planned Weddings! As you all know it rained this summer……it rained a lot! However my amazing couple Rebecca and Luke didn't let this put them off! Despite a weeks worth of rain the day before the wedding and indeed more rain the day of the wedding they kept a smile on their face and got stuck in!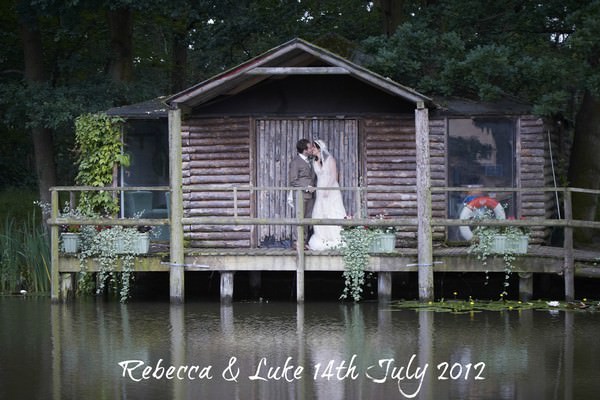 The wedding took place on the 14th July at Wokingham Town Hall with the Reception at Park View Farm for 100 guests and what a beautiful venue! Set next to a lake on the most stunning plot of land (if not a tad soggy!) Rebecca and Luke hired tepees for the reception and bell tents for camping to carry through their festival themed wedding. With guests (and me!) wearing wellies and dancing into the early hours they certainly knew how to throw a party!
Rebecca and Luke hired me to co-ordinate the suppliers and manage the day for them, as well as finish the set up of the reception on the day of the wedding. I am finding more often now couples that choose to have a DIY wedding are choosing to have a planner on site for the day of the wedding to pull it all together and make sure everything runs on time and to plan.
It was an amazing day and between the heavy rain showers everyone had a fantastic time. Rebecca and Luke both looked amazing, and the attention to detail they both put into the decoration and finishing touches was amazing!
Thanks to Jules May for the photographs.
How they met
We met when I was a student and working in the local pub.
The proposal
When we first started dating we use to go to loads of gig's, sometimes 3 a week, so it seemed appropriate that we got engaged at Brixton Academy. Luke booked tickets for The National (a band we both love) back in the June with the intention of asking me in the November. During my favourite song "Slow Show" Luke tapped me on the shoulder and asked me to marry him. I thought he was joking at first, it was dark and very crowded and I couldn't see the ring. I couldn't wait for the band to finish so I could get out in the light and see it properly!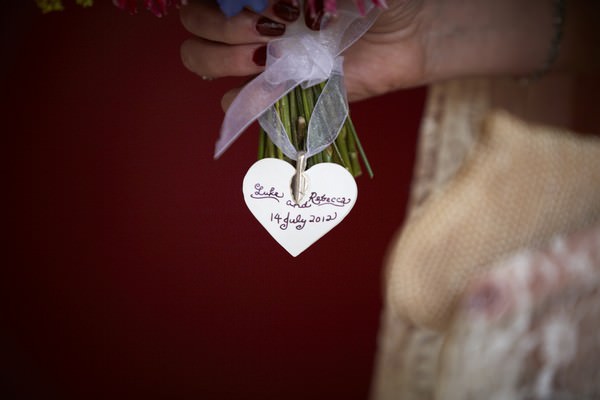 The planning
I always knew I wanted to make a lot of the decorations etc for our wedding. We got engaged in November 2010 and decided to wait until the summer of 2012 so we had plenty of time to plan and make everything perfect.
The venue
We always knew we wanted our reception in the tepees, so we looked for some land to hire and managed to find Park View Farm. Once we had the perfect space we looked for somewhere nearby to have the ceremony and found Wokingham Town Hall. The Ceremony room was beautiful!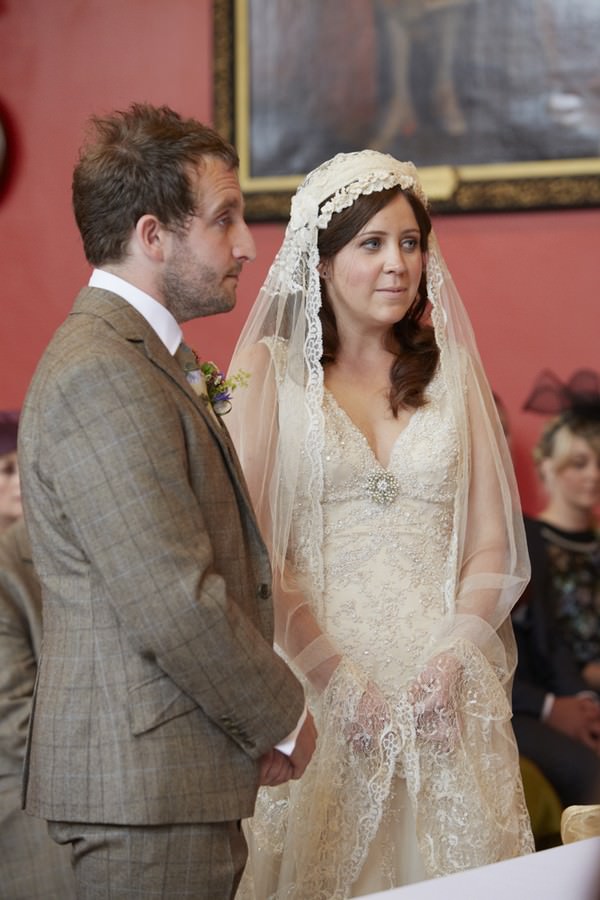 How did you choose your photographer
I knew Jules through work and had seen some of his previous weddings. As soon as we got engaged I knew I would ask him. His photographs are so lovely and capture special moments so well.
The dress
My dress was an accidental purchase. I bought an old vintage dress years before that I had always intended to wear if I got married, but when Hayley and I went to a wedding dress shop to try on some big dresses (just for the experience) I spotted my dress! It was the only one in the shop that wasn't white/ivory. My original 1920's lace veil was from a vintage shop in Islington. My wedding band was my Nan's, it had 24 tiny cubic zirconia's, half of which were missing so Luke got it reconditioned and my friends and family each bought me a tiny diamond to go in it my 30th birthday in 2011. For my something borrowed Hayley lent me her bracelet and for my something blue my Mum lent me my Nan's Blue opal ring.
The suit and bridesmaids
Luke and my Dad had bespoke suits. Luke chose a brown fabric to fit in with the country feel of the wedding and although he had no idea what colour my dress was it complimented it perfectly. All the traditional satin bridesmaid dresses didn't feel right for our wedding so for Hayley we opted for a silk Temperley dress. Amber's little flower girl dress came from I love Gorgeous, they had so many lovely dresses I had a tough decision choosing one!
Theme
Our colour scheme started as cream and green, the idea was to keep everything natural to match the tents but once Luke chose his suit fabric, a brown Prince of Wales check with a blue stripe, we had to incorporate a few other colours: pink and blue.
Food
We had Fish and Chips for dinner and our bridesmaid Hayley is famous for her white chocolate & raspberry cheesecakes. She kindly agreed to make 10 for desert. Then for the evening we booked Creperie Nicolas to serve sweet crepes from their classic Citroen H van.
Entertainment
We booked Jalikunda for the drinks reception. We didn't want a cheesy DJ for the evening so we hired the sound and lighting equipment and put the playlist together ourselves, it seemed to go down well! The party was still going at 2.00am!
Flowers
Our flowers were by Thoughtful Flowers in Shropshire. I met Juliet from Thoughtful Flowers at a vintage wedding fair in London. Her husband grows the flowers on their flower farm and Juliet is the florist. All the flowers are seasonal so I didn't choose any flowers in particular; I just gave a brief of colours and said I wanted them to have a wild, country feel.
Personal touches
Our families all helped make things.
• My Dad made the signposts, cake stand and he stenciled the seed trays for our table decorations.
• He also made us a house for the cards.
• Luke's Mum made the cupcakes and my Mum decorated them.
• Luke's friend Simon made us a Victoria sponge for the top tier.
• My aunt made the chilli jam favours (Auntie Deb's Chilli Jam)
• I made little bags for the kids and filled them with things to keep them busy during the speeches.
• I also made "with compliments " bags for the guests staying in the Bell tents and filled them with camping essentials like torches and snacks.
• I decorated a wooden tray and bought little muslin bags for the confetti, the ushers gave everyone a bag when they arrived at the ceremony.
• My Nan made the bunting – all 100 metres of it!
• My mum made the lace tablecloths
• Luke's Mum collected all the vintage crockery.
• My friends helped me decorate 100 jam jars for tea lights, which were lit in the evening.
• We displayed old family photographs of weddings.
• My favourite thing was our invitations that were designed by Maggie Ellis and looked like festival lanyards.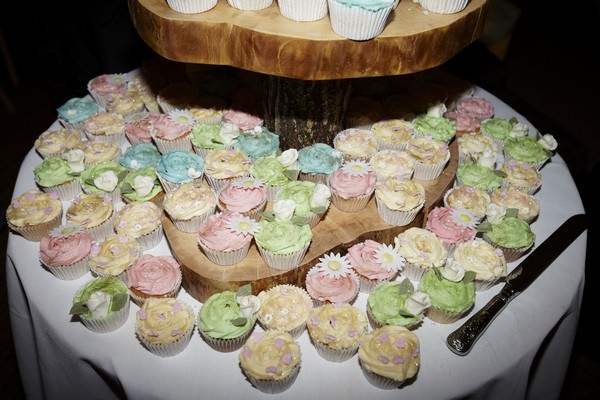 Special moments 
There were so many highlights!
• Seeing the flowers for the 1st time when they arrived at my parent's house.
• We were worried that our flower girl, Amber, was going to be very shy as she was only 2 and a half and would refuse to walk down the aisle, but once she had her dress on and her flower hoop she turned in to a superstar and loved the camera!
• We forgot the knife to cut the cheesecakes, so Luke and I had to get the wedding car to take a detour to the local golf course on the way to the reception to ask to borrow one. The golfers all looked very confused when we turned up and Luke ran back to the car with a big kitchen knife!
• The actual ceremony was our biggest highlight. For me walking in to the room with my Dad and seeing Luke with all our friends and family was very overwhelming, I managed not to cry, just! For Luke it was the ceremony and seeing my dress for the 1st time.
Advice
Don't rely on the British weather!Accept it is very unpredictable and make sure you have a contingency plan.
Biggest surprise of the day
The weather in the lead up to our wedding was terrible; there was so much rain! I expected everyone to be disappointed with the muddy field but to my surprise on the day everyone just embraced it, even the ladies wearing satin high heels! I was so relieved that everyone enjoyed it; people said that mud just reinforced the festival theme!
Boho Wedding Planning
What planning service did you book from me?
On the day Co-ordinator
What made you decide that you wanted to book a planner?
As we had booked everything separately we realised that we needed someone to manage all the suppliers on the day so we could enjoy it with our friends and family.
What do you feel were the biggest benefits of having me involved with your wedding?
It was a great relief to hand everything over to you a couple of weeks before the wedding. It was a very stressful time and it was a good to know that you were checking everything that I had booked so there were no surprises on the day! Like suppliers not arriving. Also knowing you had arranged lots of weddings was very reassuring.
Supplier Shout Outs
Photographer – www.julesmayphotography.com
Flower girl dress – www.ilovegorgeous.co.uk
Make-up – http://jodiehyams.carbonmade.com
Land hire – www.landforevents.co.uk
Bell tents (camping) – http://m.thetipihirecompany.co.uk
Tipi tents – www.beautifulworldtents.co.uk
Lighting and sound – www.heathrowsoundhire.co.uk
Fish and chips – www.christianfaversham.co.uk
Flowers – www.thoughtfulflowers.co.uk
Car – http://classicandpink.co.uk/ClassicandPink/Home.htm
Drummers – Jalikunda (booked through www.hoptiludrop.co.uk)
Wedding planning – http://www.bohoweddingsandevents.com/
For more information on Jules work go to:
www.julesmayphotography.com 
www.julesmayphotography.blogspot.com
07837 935 067