For regulars to the Blog you will know that I am a MASSIVE fan of Debbie Carlisle, not only does she make THE most beautiful vintage inspired crystal bouquets but she also makes the most stunning accessories in the form of headbands, hair clips, cuffs, sashes and garters. As well as that Debbie is local to me here in Sheffield and is a good friend of mine. So when she told me about the launch of her new 2013 accessories collection that went live on Monday I knew I just had to share all this amazing sparkly goodness with you!
The new Collection contains 12 headpieces  inspired by Deco and floral styles.
Debbie said: 'The six 'Divine Deco' headpieces were inspired by the sumptuous glamour of Baz Luhrmann's The Great Gatsby and also by Downton Abbey and Boardwalk Empire. Like these on-screen dramas, all the headpieces combine elegance with a slightly decadent edge that is perfect for brides who want to make a stylish statement on their wedding day.'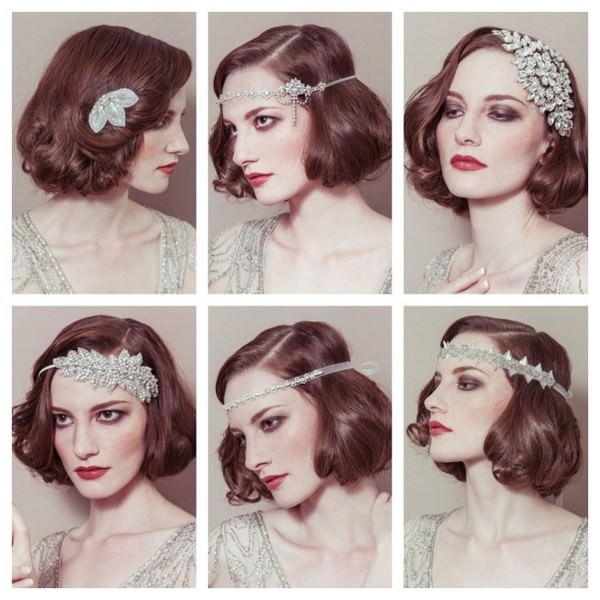 'The six 'Floral Fantasy' pieces are my take on the blowsy flower crowns favoured by Lana Del Rey but with an ethereal twist inspired by the fantastical images conjured up by Shakespeare's A Midsummer Night's Dream. This collection mixes dreamy textured fabrics with colour, warmth and beading which are perfect for brides looking for individual glamour without full-on sparkle and shine.'
'While there is a strong vintage feel to the new designs there are also modern touches with forehead bands and off-centre headpieces set on my trademark organza ribbon which gives them a slightly relaxed festival-chic edge as well as making them very comfortable and light to wear.'
'When designing a collection I always try to give brides plenty of choice about how they wear their pieces, from 'Lottie' – which can also be worn as a choker – to 'Lily' and 'Delores' which can double as a sash. I like to think that brides will be able to wear their headpiece again after their wedding day – maybe to dress up a little black dress or to wear to a ball or other special occasion.'
Personally I LOVE this collection and am gagging to find some amazing event that I can wear one of thee beauties to! I love the shiny art deco details along with the pretty flora's  I mean what is there not to like!!, so get shopping ladies!………..here's the full collection
Hattie  £195 head band –  sash £215
Make a statement with this lavish diamante headpiece which mixes navette and floral crystals. Hattie comes on a detachable thin ivory organza ribbon which ties at the nape of the neck and can also be gripped into place.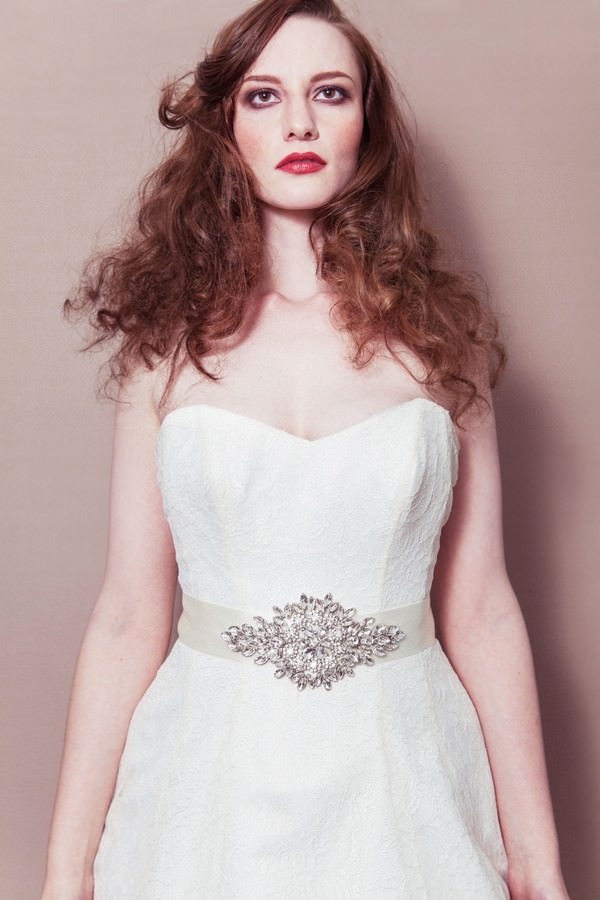 Lottie  £145
A striking diamante droplet forehead band which can be ordered with the droplet on the left or right for a Deco-inspired look, or in the centre of the forehead for a more exotic feel. Ties with a thin ivory organza ribbon.
Connie £80
Glass seed and bugle bead leaf trio comb with a pretty circular diamante centerpiece  A simple and elegant choice for a bride or bridesmaid – try styling with two combs for added impact.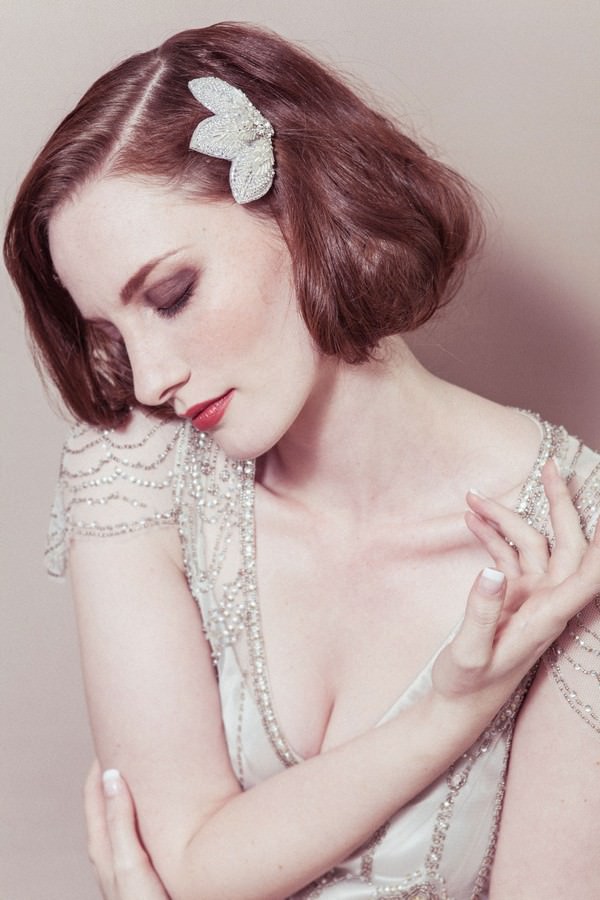 Delores  £85 – Cuff  £30 – Sash
Glass seed and bugle bead Deco style headband – wear it across the forehead for a 1920s look or in 'tiara' position for a more relaxed feel.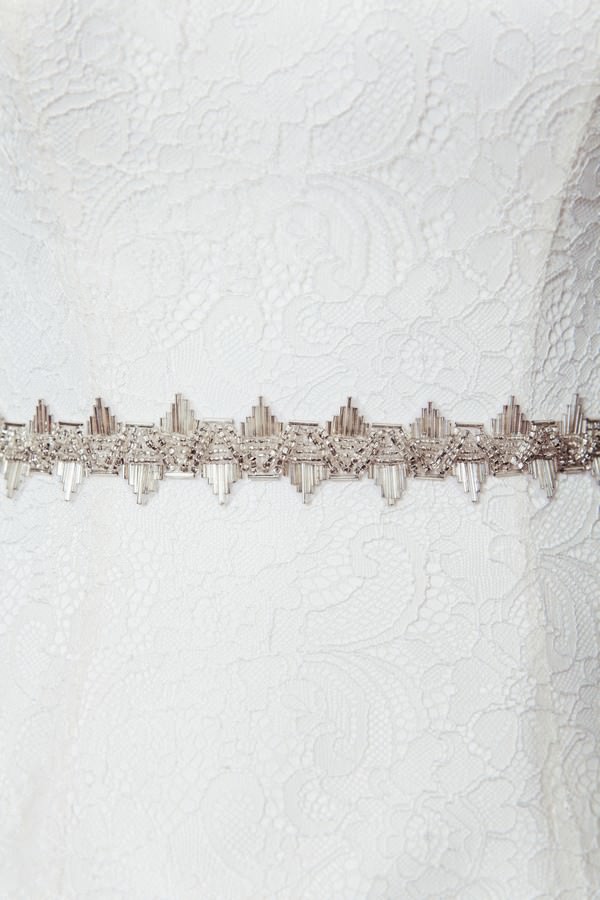 Greta  £95
Greta is a simple, delicate wave design diamante headpiece on an ivory organza ribbon. Wear as a forehead band, in tiara position, or as a traditional headband. Greta is perfect for brides who want a simple sparkling look or for wearing with a statement gown.
Lauren  £125
A striking leaf design diamante headpiece. Sits on an ivory satin ribbon-wrapped headband and can be worn as a traditional side headband or positioned across the forehead for an edgier look.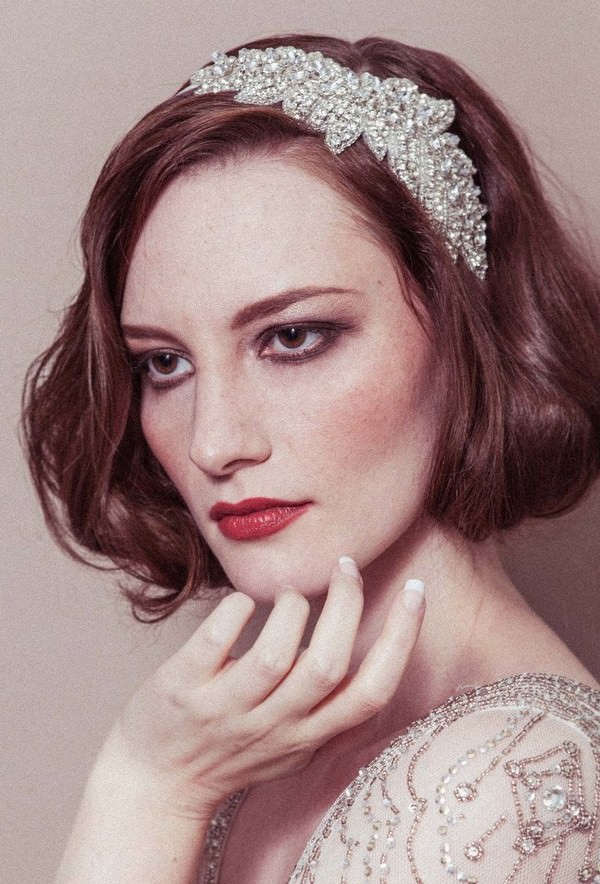 Primrose £110 – Cuff    £80- Sash £130
This fine ivory organza floral fabric base sits on an ivory organza ribbon and can be worn in a variety of ways. Primrose is hand-beaded as standard with ivory pearl and clear crystal beads and can also be beaded in any colour of your choice at no extra cost. Pictured with pale antique pink beading.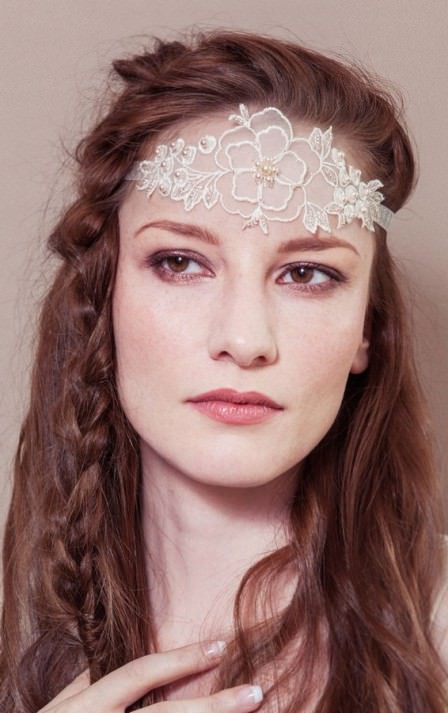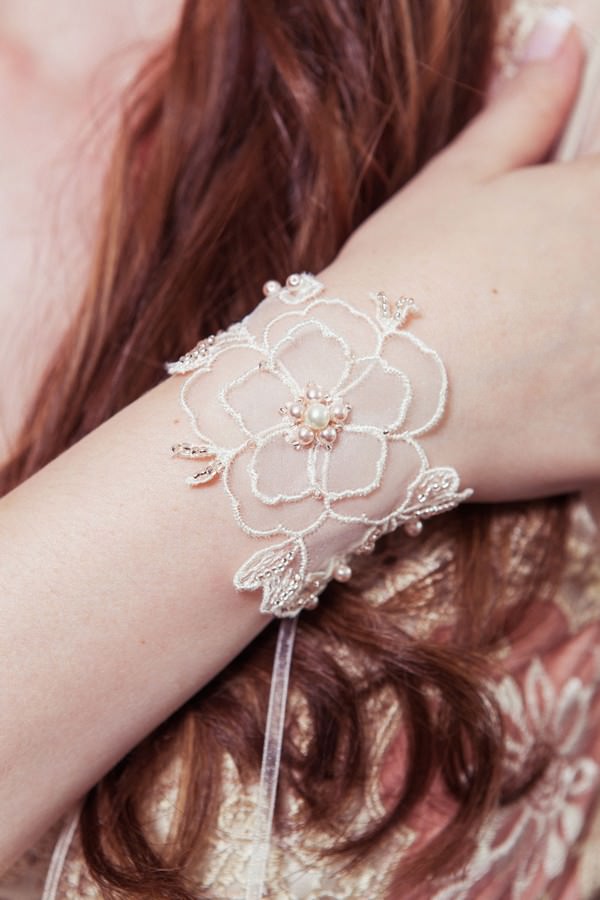 Ivy  £90
Ivy is a delicate and very lightweight headpiece which pins into place with Kirby grips and combines silver sequins and glass bugle beads with a pretty circular diamante centrepiece. Ivy is wired to be shaped to fit your head – try it above or below an 'up-do'.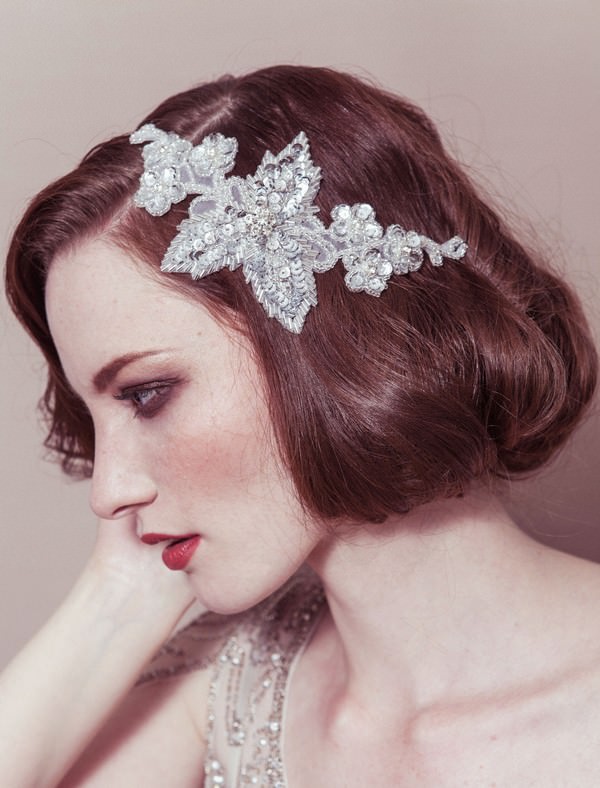 Lily £155 – Sash £155
Lily is a statement floral headpiece which mixes silver bugle and seed beads with pearl beads and diamante and has a soft, warm tone which works well with silver and gold. Comes on an ivory organza ribbon and can also be worn as a sash.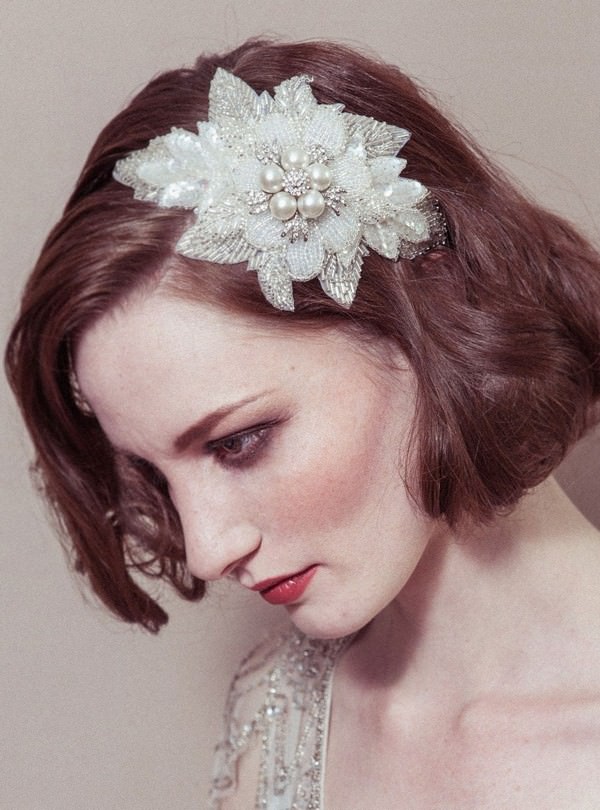 Magnolia  £80 – Single flower comb/cuff £25
This ivory floral headpiece has a pale peachy pink and green floral centre with three pearl beads creating a delicate sparkle. Three large flowers sit asymmetrically on an ivory organza ribbon which can be worn as a forehead band, bun wrap or a traditional headband.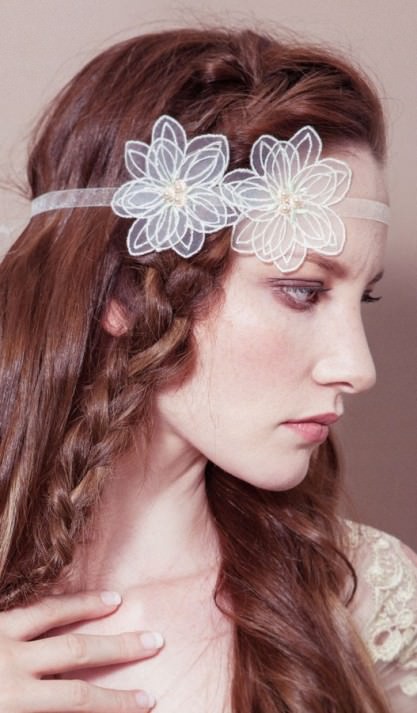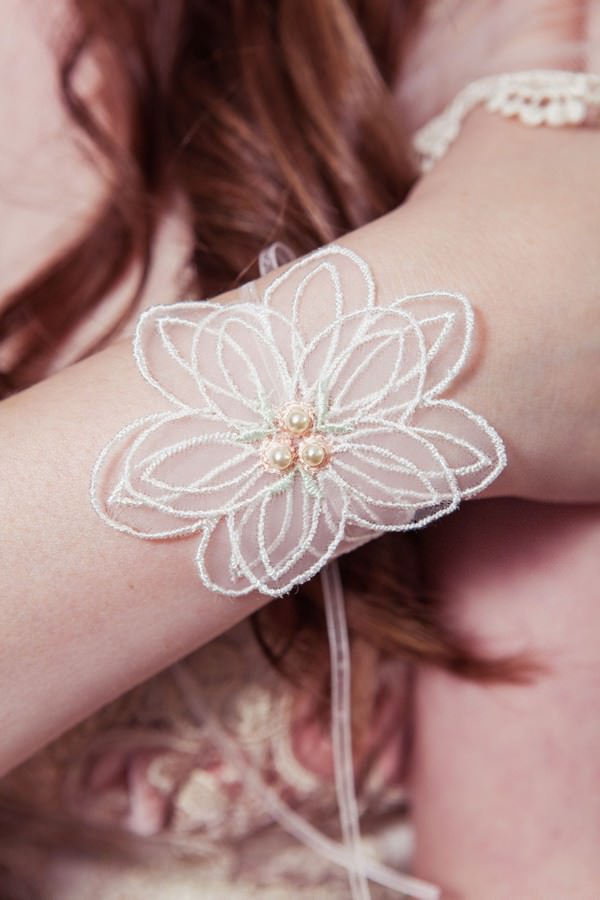 Blossom   £75 – Sash £75
Pale ivory pearl beaded flowers sit along an organza ribbon and create a delicate, pretty headpiece that can be worn as a headband, forehead band, bun wrap or a sash. Tones well with white or ivory gowns.
Violet   £80 – Cuff   £25
Violet is a delicate yet striking white floral fabric headpiece which curves around the head on a thin ivory organza ribbon. This piece mixes pale green, violet and peach tones and has a small scattering of antique pink pearls.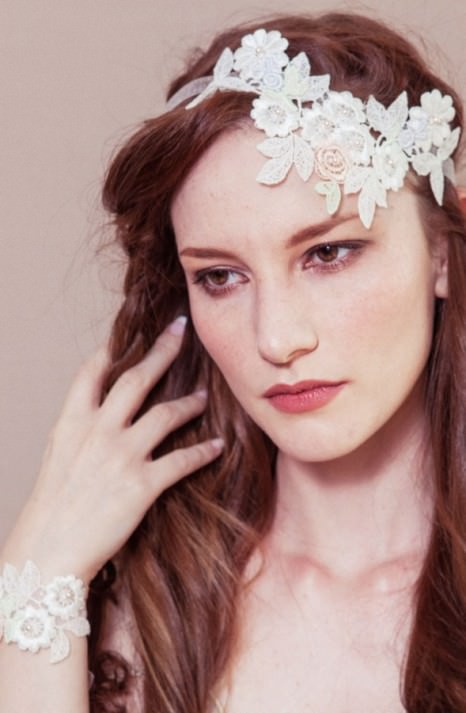 Lola garter £40
Vintage cream tulle garter with Deco jewelled droplet. Make a classy statement on your wedding day with this elegant vintage style design.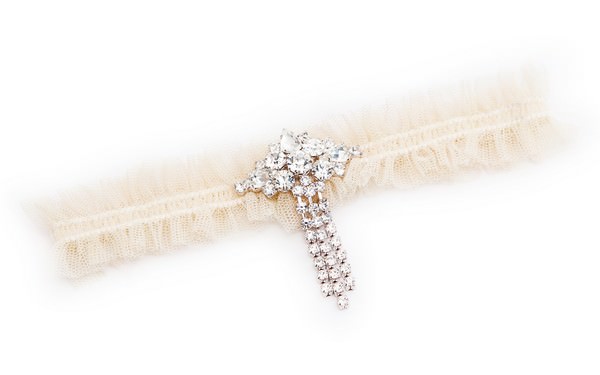 So what do you think? aren't they gorgeous!?! having seen them all in person I think my Favorite is Hattie for the pure sparkle value and Lottie for the 1920's inspiration. What about you? which one would you pick?………To be honest I'd have all of them and wear them round the house every day!
For more information on Debbie's work go to:
www.dcbouquets.co.uk
www.dcbouquets.tumblr.com
FACEBOOK
TWITTER
You can meet Debbie at the Following Events:
♥ Friday 12th October – 'Meet the Designer Event' at The White Room bridal boutique in Sheffield –  20 Norfolk Row, Sheffield, S1 2PA – 3pm to 8pm
♥ Thursday 1st November – 'Meet the Designer at  Cicily Bridal in Tamworth. –  Offa House on Orchard Street, Tamworth, B79 7RE – 3pm to 8pm
♥ You can read more Bridal Style articles  on the Boho Blog HERE ♥