I love featuring weddings that I have planned on my blog, it makes me immensely proud to show you all what I do when I'm not tapping away on my keyboard writing the blog for you all. Today is one of those proud moments when I share with you a rather gorgeous wedding that took place in August of this year. The wedding is of Adrienne and Matt who got married in Garstang, Lancashire on 5th August.
Adrienne contacted me in March of this year to ask my advice about her wedding. She at that point was living in Texas and was due to marry her fiance Matt in August who lived in Garstang. The distance was making the planning of her big day incredibly difficult, doing things by email was hard and not knowing the area was even harder! She asked if I could help and of course I said yes!
The first thing I had to do was to find them a venue, with Adrienne in Texas and Matt tied up with work it left me to go and hunt out a perfect venue for them. The brief I was given was quirky, English venue, not traditional and not to big, which also needed to be close to the church they were to be married in in Garstang. After a lot of hunting I came up with 3 options on my shortlist and went off to visit all of them. I took pictures while I was there so I could email them across to Adrienne so she could look for herself. In the end She decided on the The Priory in Scorton, which is a cute village restaurant set in the gorgeous Lancashire countryside. I can not say enough good things about this place, Julie the owner was amazing and so accommodating! working with her was a dream!
Adrienne had already sourced her dress, make up artist and her photographer when I started working with her, but pretty much everything else needed to be sorted. All I knew about the dress was that she had had major problems with the dress shop where she had brought it from In Texas, BUT luckily her mum is a dab hand with a needle and thread so after many email conversations Adrienne seemed much happier as her mother began transforming the dress into something much more suitable for her. Adrienne had chosen Lucy Stendall to take her photos on the day, and it was great working with her and her husband, very relaxed and really fitted in with the day perfectly. And the amazing Elbie Vaneeden worked her magic on Adrienne's hair and make up!
One of my jobs was to keep an eye on Adrienne's budget and to make sure that we didn't go over her allocated costings. But one of the most important things to her was the flowers. She had really struggled to find anyone herself and seemed to be getting a lot of negative feedback from suppliers she had contacted. But I knew just the person to ask. I had met Adi from Verdure at the Tatton Wedding Show, based in Manchester I knew they would be more than happy to travel to Garstang and with a modern contemporary style mixed with a bit of vintage, Adrienne was delighted when I told her I had found her perfect florist and when she came to meet Adi, it was like they had been friends for years! he and his team did a fabulous job with the flowers, totally amazing transformation of both the church and the venue! I LOVE this man so much!!
Then came the cake again another sticking point! Adrienne had originally wanted a red velvet wedding cake, but couldn't find anyone in the Gartsang area who could make one. I had met Lisa from Diva Cakes at the GMEX wedding show in Manchester so gave her a call. Lisa was just lovely, so accommodating and totally helpful. She said yes to the red velvet cake and when we came to meet her for a cake tasting (the favourite but of my job!) she was brilliant! Adrienne loved her and they talked for ages about cake! Adrienne eventually went for a buttercream covered 3 tier cakes with no red velvet deciding that her older guest woudln't like it instead choosing, chocolate orange, carrot cake and coconut and lime……..I have to say the cake was AMAZING!!! OMG I can not tell you enough good things about it!! and it looked so pretty as well with the peach butter cream!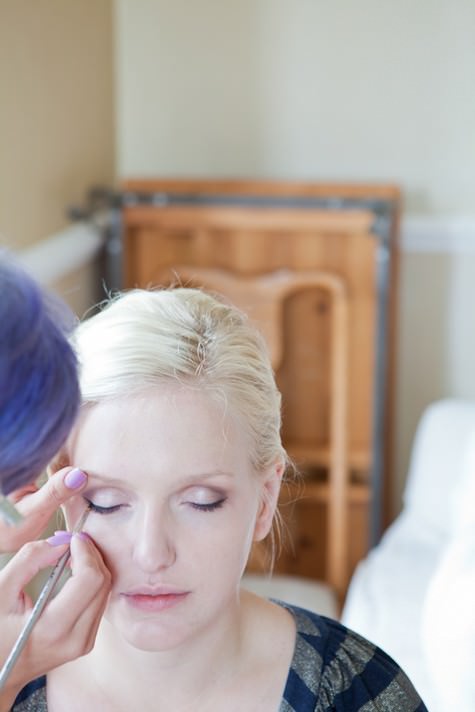 After this was the entertainment, Adrienne wanted live background music to play while the wedding breakfast was being eaten, so I found her two local musicians a brother and sister combo who played the guitar, piano and also sang.
The wedding breakfast was a traditional English afternoon tea served as a buffet, with a  few extra savory bits added in. I hired in lots of vintage cake stands and plates to display the food  from Jennie at Hansley Beard prop hire which finished the table of beautifully.
I eventually got to meet Adrienne a month before the wedding when she moved over to the UK permanently to start her life with Matt. I didn't know quite what to expect but when I finally got to meet her it was like we had been friends for years. In her own words she really is a 'peach' really easy to chat with and just a lot of fun.
The day of the wedding was just gorgeous, it was a stunning day full of sunshine. I met with Adrienne at the cottage her family had hired for the week, I met with her mum and sister and then went over to the venue to start setting up and making everything perfect fro her.
With a full Catholic Mass, the ceremony lasted about an hour and a half, I met with Adrienne before she entered the Church, making sure she was calm and then wished her well before she waled down the aisle…….she looked stunning! after that the day ran smoothly, the guests made there way to the reception venue after the ceremony, where they were greeted with Pimms,  Texan sweet tea and canapes. They were then seated for dinner and afternoon tea was served. Lucy managed to steel Adrienne and Mat away for some photos and made use of the gorgeous village backdrop! As a lot of her guests were quite elderly they decided to finish the wedding celebrations at 7pm, but carried on a smaller celebration back at the cottage. Here Lucy took more photos against the setting August sun, which was just stunning!
All in all it was a gorgeous wedding, Adrienne looked a million dollars, and it was so nice to see her and Matt finally united as man and wife. Knowing the hard few months that Adrienne had had in the run up to the wedding, I knew how much it meant to her to finally get her man! and to spend some proper time on her own with him! the wedding itself was a joy to work on, so relaxed and easy, with a group of fabulous suppliers by my side at all times, I can't thank them all enough. working with a team you can relay on really does make my job that much easier!
Congratulations to Adrienne and Matt, I Have spoken with her on several occasion since the wedding and they have now moved into their own place and are getting on wonderfully, she is enjoying married life and seems to be settling into life in the UK very well.
I will remember their wedding with great joy, a gorgeous sunny August day with a beautiful bride!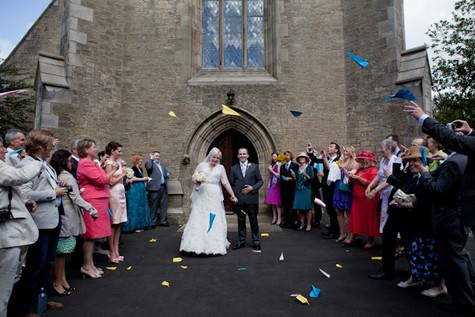 Adrienne has been kind enough to answer a few questions about her day and about my planning services
Date of wedding
5th of August 2011
How did you meet and how long have you been together?
We met online in 2008 (he was in the UK and I was in Texas) and have been smitten ever since.
What planning service did you book from me?
Partial planning
What made you decide that you wanted to book a planner?
I was planning the wedding from overseas and was having a horrible time organising suppliers from such a distance. I decided enough was enough and began looking for the perfect planner.
Location of the wedding
Garstang, Lancashire, UK
What made you decide to get married where you did?
A few things, really. a) he had elderly grandparents that couldn't travel for a wedding and b) we were engaged in February 2011 and wanted a short engagement…and August in Texas is REALLY hot.
How many guests?
Just over 50
Who was your dress by
Allure Bridal Couture, but with tremendous alterations (it's almost unrecognizable from the original dress)
And the shoes, accessories etc.
The shoes were Kate Spade "Tessa", but then I changed into my boots, which are by Lucchese. My mother and I made the veil and the comb that held the veil in ourselves (gotta love DIY!). The only other accessories I wore were earrings (borrowed from my mother, belonged to my late great grandmother) and my engagement ring, which was an antique.
And the suit?
We purchased the suit at Moss Bros. and the tie from Debenhams. Shirts were custom tailored by mytailor.com.
What do you feel were the biggest benefits of having a planner involved with your wedding?
It takes your stress levels WAY down! You still get to be involved and make choices, but the stress of finding the perfect thing is lifted. Before I hired Kelly, every time I made contact with a supplier I had a nagging feeling that I hadn't found the best option or that there was something better that I hadn't found. Having Kelly made me feel much more confident in all of our supplier choices since I knew that she knew what I wanted and where to find it. And it was really great having someone to bounce ideas off of! Plus, the last thing you want to be worried about on your wedding day is when flowers are arriving and napkins and musicians. It was really wonderful not to have to worry about logistics on the day.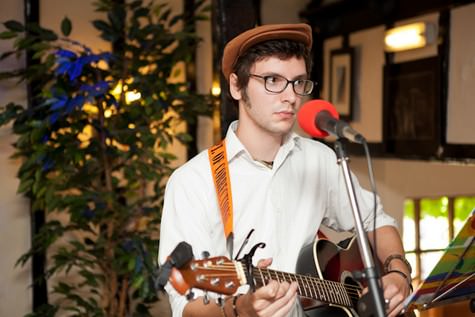 Did you have a theme or colour scheme?
Soft pinks, peaches and cream
How would you sum up your day?
A beautiful day, all about love.
Did you have any personal touches? Or things that you did yourself?
My dress and accessories were a pretty big personal touch since my mother and I pretty much made them! We also had photos of our parents and grandparents at their weddings on our guestbook table- lots of our guests commented on how nice that was.
What were your special moments/highlights?
I would say one of the most special moments was right before and as the wedding started… Before the choir started singing it got strangely quite and my dad and I had a very special quiet moment together before we walked in. We also broke with the English tradition of the groom facing forwards as the bride walks in- so as I walked in Matt and I saw each other and it was a really perfect moment- all of the nerves melted away and it was a great reminder of what all of this crazy planning was about!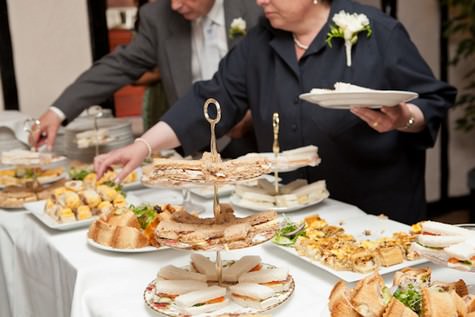 Is there anything you would do differently?
Honestly I would have worried less about the details. It all ended up fine in the end! I would also have spent more time with my family at the reception. You get so caught up trying to play hostess to all of your guests that you forget your family!
What advice would you give any other couples?
Don't sweat the small stuff…or even the big stuff for that matter! I chose everything for our wedding without ever having been to any of the venues or having met any suppliers AND then my dress was late coming in and then it was too small… and it all worked out in the end! It's not worth stressing about…it's a wedding after all! You're getting married, and that's wonderful. Cherish it.
What was your biggest surprise of the day?
Probably that everything went so smoothly on the day…nothing went wrong (or at least Kelly didn't tell me if it did)! We had gorgeous weather and everything went down without a hitch. And then we were surprised with a barrage of paper airplanes as we left the church! I have to say that was a great surprise and a fitting end to a transatlantic relationship.
What was the best bit about having me involved with your wedding?
Being confident that Kelly knew what we were looking for and worked really hard to make it a reality. It was easy to relax because I trusted her!
Supplier Shout Outs:
Photography –  Lucy Stendall http://lucystendall.blogspot.com
Venue – The Priory www.theprioryscorton.co.uk
Flowers – Verdure www.verdure.co.uk
Cakes – Diva Cakes  www.divacakes.co.uk
Hair and Make up  – Elbie Vaneeden http://elbievaneeden.com/#home
Vintage Cake stands – Hansley Beard prop Hire www.hansleybeard.co.uk
Cars – Fylde Executive
Choir – Manchester Chamber Choir
Piano player – Lisa
Guitarist – paul
Wedding Planning – Boho weddings and events www.bohoweddingsandevents.com
And here's a lovely testimonial that Adrienne wrote for me
'Kelly provided an absolutely invaluable service in planning our wedding. With a short engagement of only six months and a literal ocean between us (I was living the the US and the wedding was in the UK), we definitely had some obstacles to overcome! However, Kelly was a superstar in translating all the emails and photo-inspiration I sent her into our perfect wedding day. She was amazing as my "boots-on-the-ground"- hunting down ideal suppliers and an amazing reception venue all within budget. More importantly, she was an incredible support to me during the planning process, assuring that I felt at ease and confident. I really can't say enough about the value of her service; she is not only a consummate professional in her job, but also just a really lovely person and a pleasure to work with.  I don't think anyone would be disappointed in hiring her!'