I have my third farm wedding of the week on the blog today, totally unplanned but I can certainly see a trend in my blog posts! Who would have thought that  few years a go farms would be the new big thing in weddings, but I have to say I am getting more and more submissions from couples choosing to hold their weddings on a farm or in the middle of the countryside! This wedding is a total beauty and not only is it set on a farm but it includes a tractor ride where the guests got to feed the animals…..my deam wedding! It has been sent into me by the very talented Hannah from Lifeline Photography.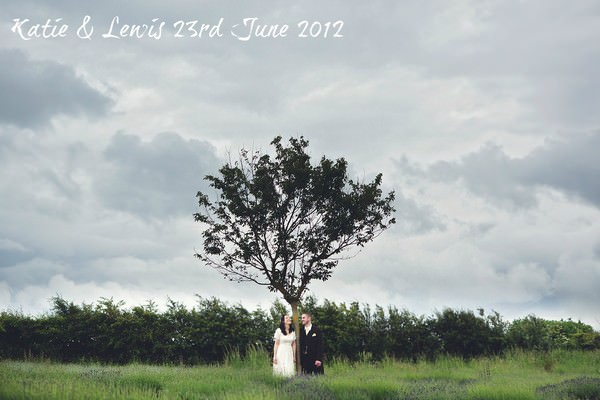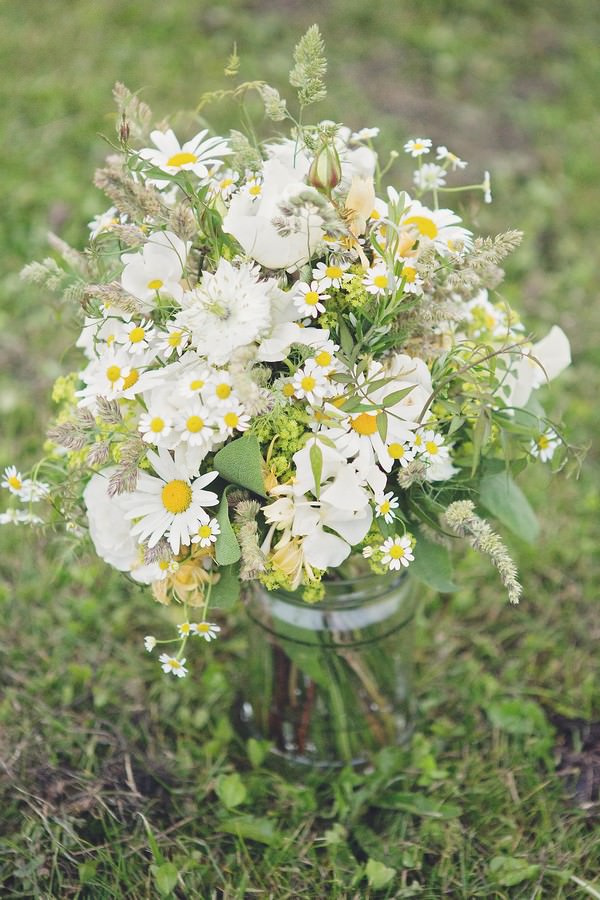 The lovely couple are Katie and Lewis who were married on 23rd June. The ceremony and reception both took place at Church Farm, Thurstaston, Wirral. The humanist ceremony was held outside a lavender shed and the reception in a marquee by Posh Frocks and Wellies. 'We loved the beautiful views and 'the good life' ambience! We also wanted to plan a wedding that was as eco-friendly as possible and this venue allowed us the freedom to do this.' We had 70 guests and it took Just over a year from booking the venue to the wedding day to plan.
'A vintage inspired wedding under the open sky on an organic farm overlooking the River Dee and Welsh hills. Featuring amazing guests, tractor rides, yummy food, great music, awesome dance moves and some very dapper flat caps and wellies!'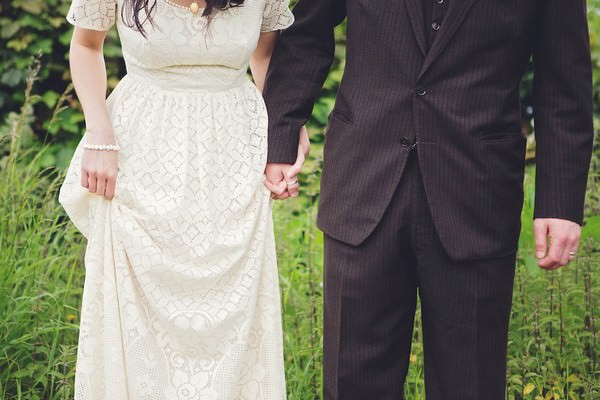 How they met
We met as teenagers in sixth form college hanging out in the same social group and going to punk gigs where Lewis played drums in a local band. After a year as friends Lewis finally plucked up the courage to ask me out and we have been together ever since that day, 14 years ago.
The Proposal
After losing my job at 26 I decided it was now or never to go travelling for a few months. Lewis decided to stay in the UK but supported my abandoning him for a little while! One night I dreamt he proposed to me in the airport, and sure enough he asked me at Manchester Airport when I returned from my adventures. He was so nervous and sweet, it was adorable.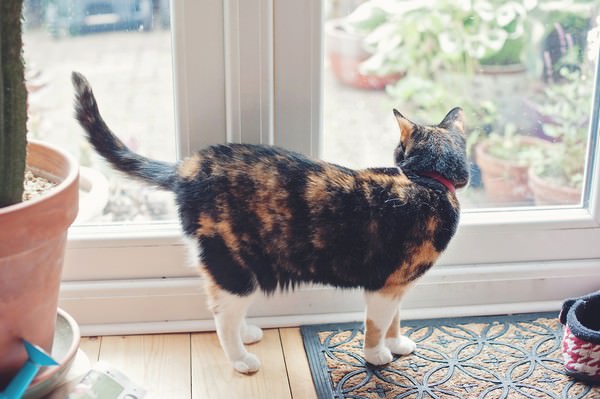 How did you choose your photographer
It was all a bit last minute due to unforeseen circumstances, but I sent a plea to Sassy from Assassynation and she recommended Hannah from Lifeline Photography. I looked at her website and was impressed with her work, it was just the right style of journalistic photography I was after.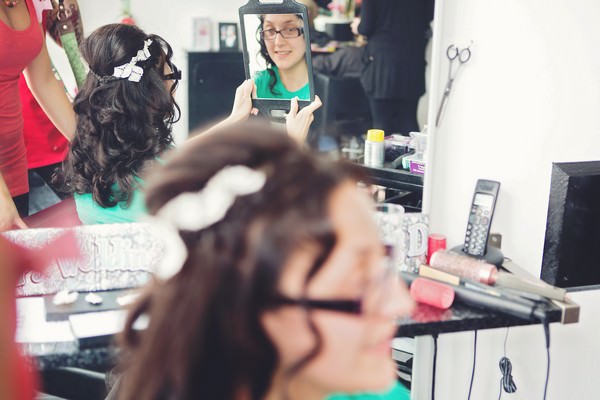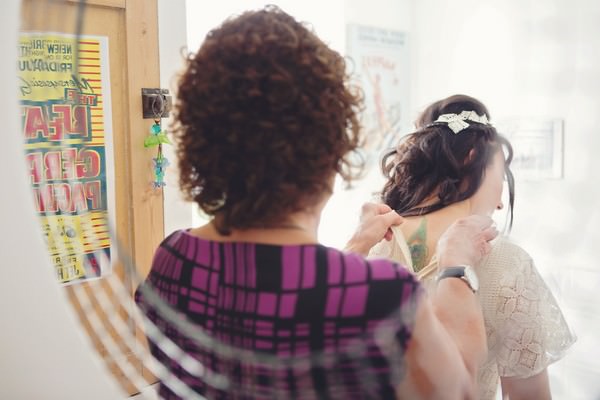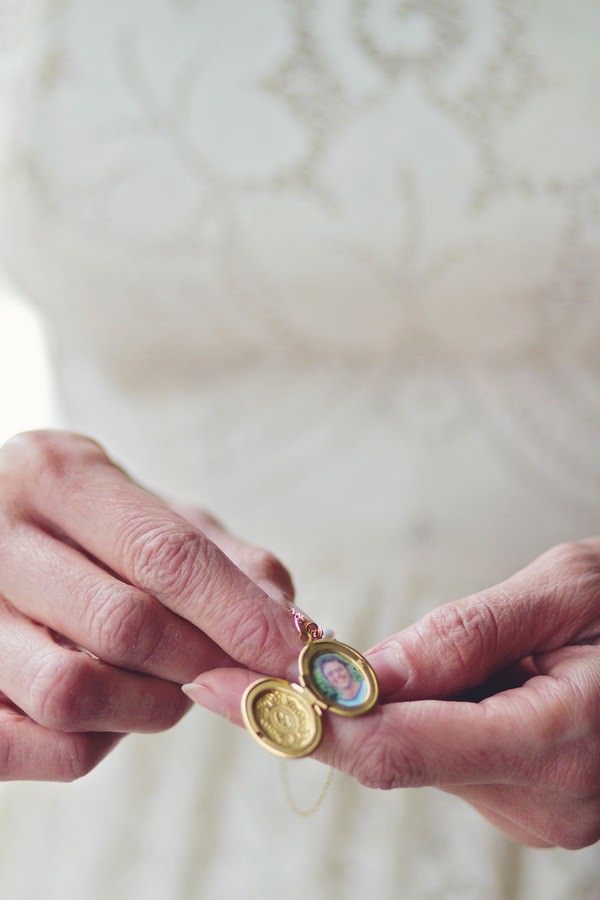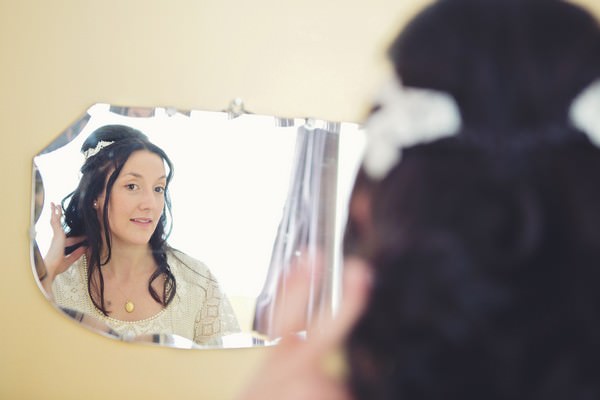 The dress
I bought a late 1960s Mike Benet boho wedding dress from the fabulous online vintage clothing company Love Miss Daisy, and my 50s navy polka dot party dress from a Judy's Affordable Vintage Fair in Manchester. After hunting everywhere for comfortable vintage wedges I ended up getting them from Clarkes! In the evening I changed into red Converse pumps for dancing. My locket is by Brooke Elissa, the pearl earrings and bracelet were from Chattels of Hay in Hay-on-Wye.
The suit and bridesmaids
Lewis' 60s suit he bought from Shirts and Skirts on Ebay, polka dot tie and pocket square from Gracey Bags. My sisters wore beautiful dresses from Monsoon and Villa Moda.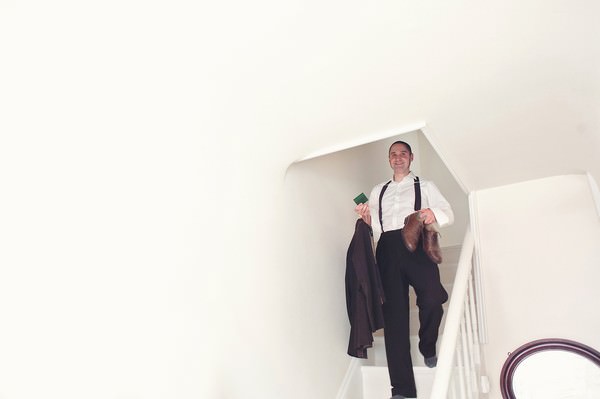 Theme
The marquee had yellow drapes, so we decided to go with a loose colour scheme of yellows and creams in the bouquet, cake, bunting, Lewis' tie and my shoes.
Food
We ate lots of tasty cakes and sandwiches by Ceri at Gorge'Us for afternoon tea. In the evening guests enjoyed an organic hog roast by Manna Foods, with halloumi kebabs for the veggies and vegan sides of fennel slaw, Greek salad, roasted veg couscous and new potatoes.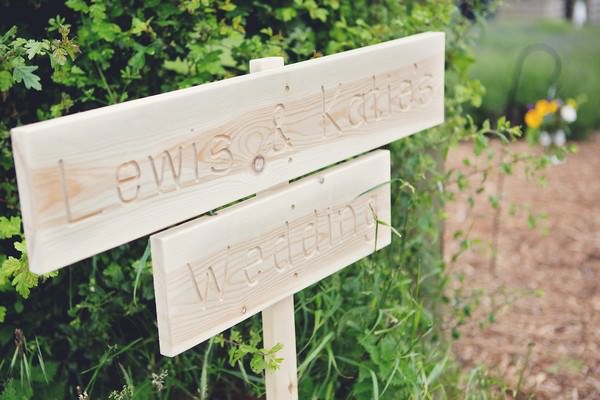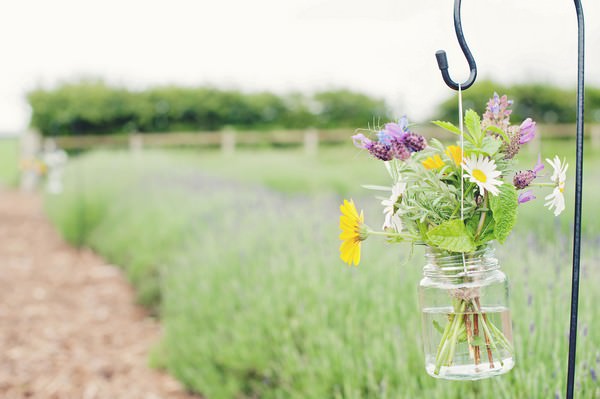 Entertainment
Jazz and swing gramophone records were played by the debonair DJ, Dr Sid during our afternoon tea. For the kids there were outdoor games including skittles and quoits and a tractor ride around the farm to feed the animals. In the evening our band 'I Do' played a mix of our favourite songs and got the dancefloor bouncing.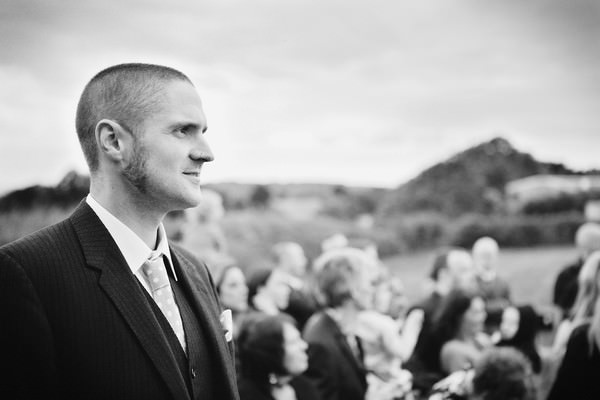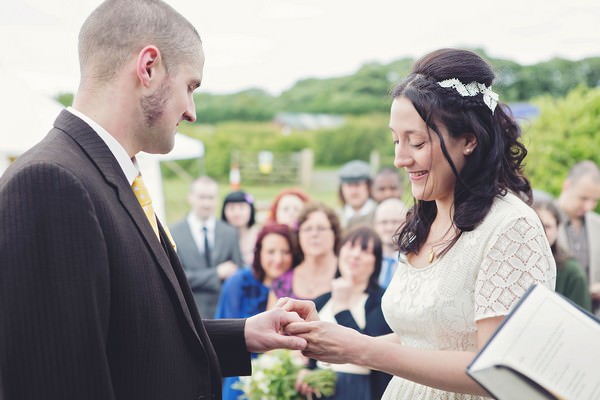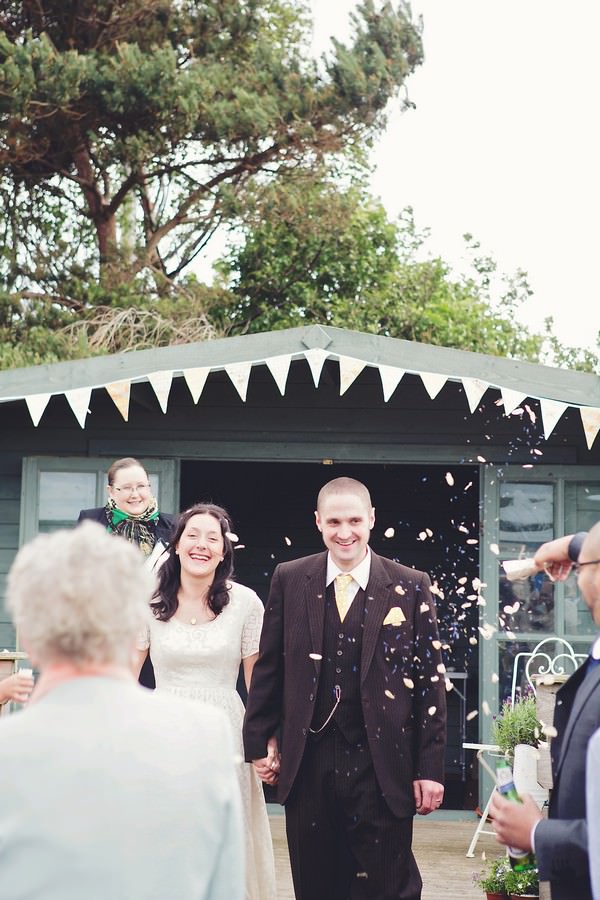 Flowers
Gorgeous combinations of home grown herbs and wild flowers decorated the aisle and tables, along with pots of mini strawberry plants, lavender and dahlinis. My bouquet from the Traditional Flower Company included roses, feverfew, nigella, ox-eye daisies, honeysuckle and grasses.
Decoration
Vintage crockery, teacup candles, old bottles, bunting, jam jar candles, lace tablecloth, old wooden crates, willow branches, milk jugs, a coal scuttle, galvanised steel buckets and fairy lights.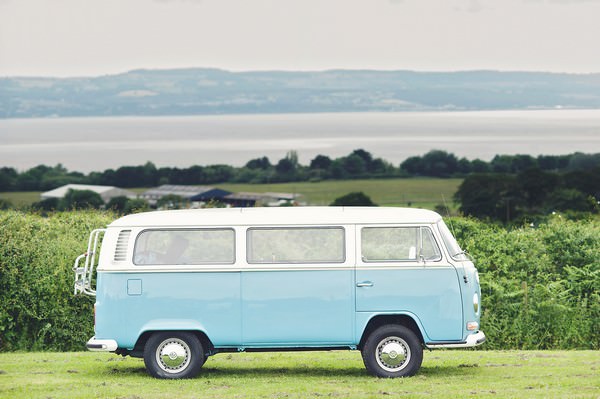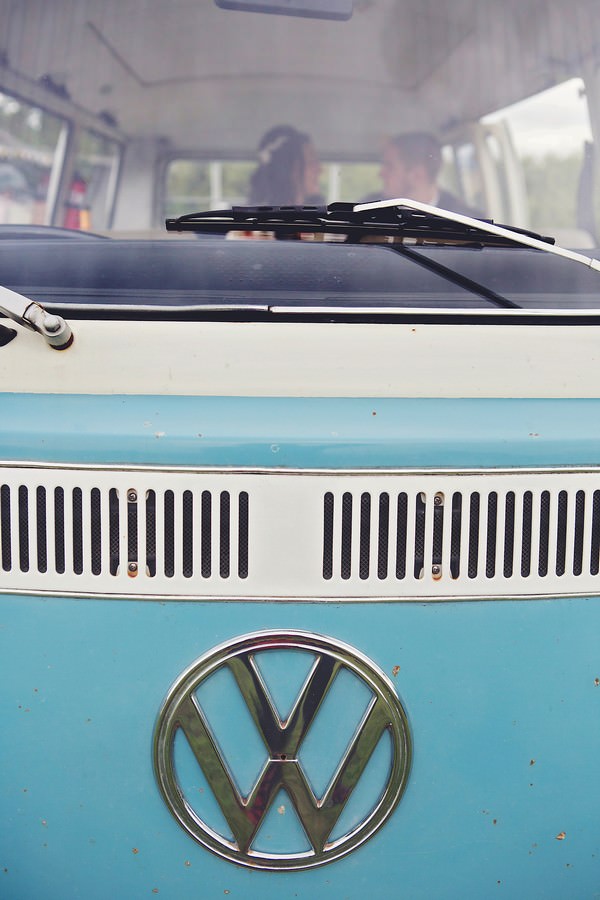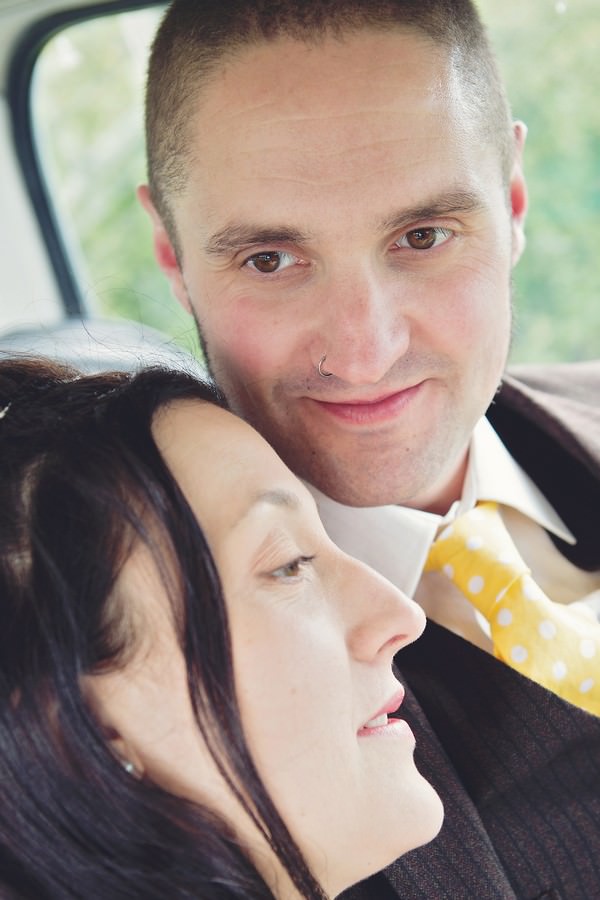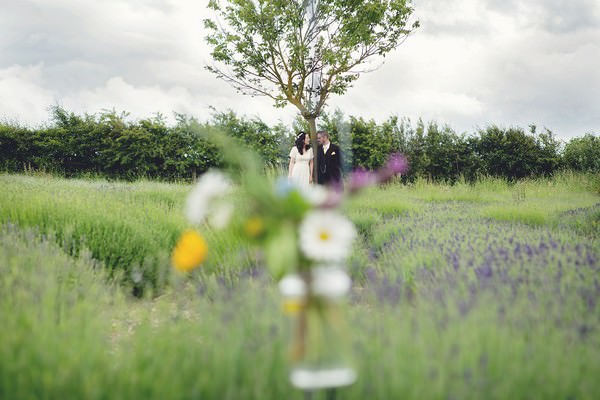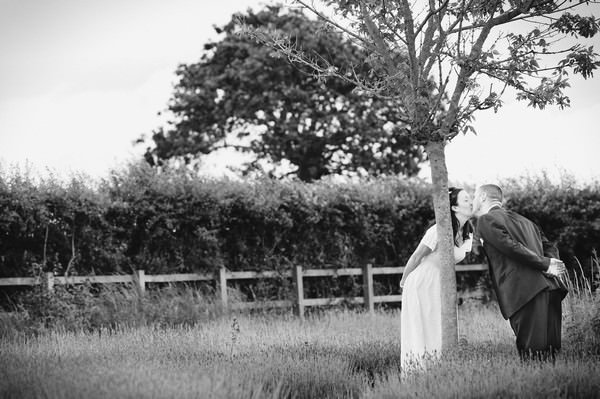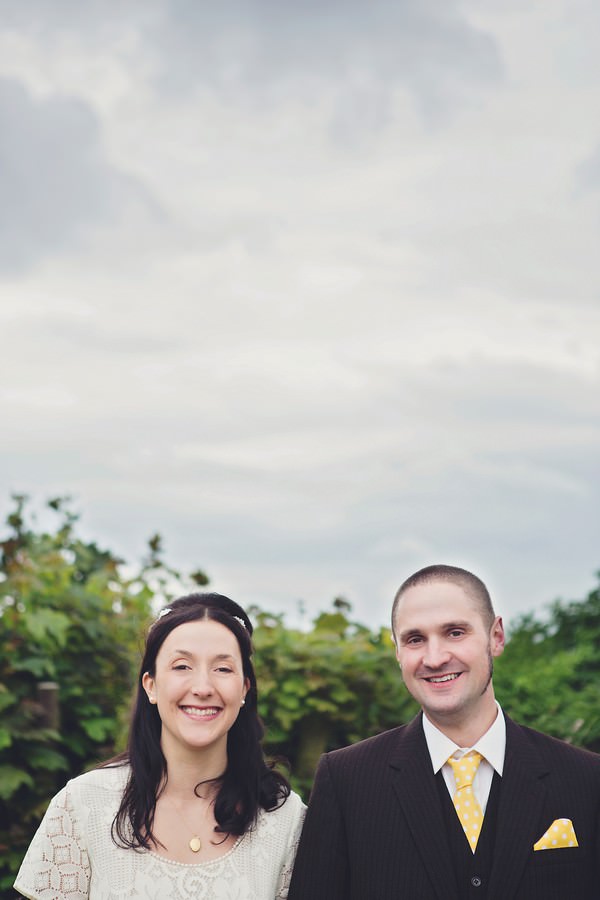 Personal touches
• I spent many hours looking for cheap and 'green' things to decorate our venue so most of the items we collected came from rummaging in second hand and antique shops, flea markets, vintage fairs and Ebay. Some of these things involved a bit of work, but this was the creative and fun bit, and friends and family were only too happy to help out.
• We collected lots of jam jars, made metal handles for them and turned them into flower and candle holders decorated with lace. Old bottles, jugs and crockery were used instead of vases and my family helped decorate bucket planters with yellow polka dot ribbon.
• We spent a sunny afternoon in a production line of petal confetti mixing and pillow box making.
• My sisters also lent a hand making the vintage teacup candles using soy wax and Lewis handmade the wooden wedding sign.
• We asked Holly, a very artistic friend, to make a 'wishing tree' for our guests to fingerprint and sign their names.
• Another creative friend Katie used offcuts from the sleeves of my dress to make lace hair accessories, to which she added tiny pearls and ribbon.
• My mum was a total gem and grew all the flowers for the wedding with help from the lovely ladies at our local community allotment.
• My brother-in-law Elliot lent us his VW for the day, and the fire-pit was welded by my sister's partner Nigel.
• I designed a cake with daisies and polka dots, and this was meticulously created by friend and legendary baker Desreen.
A big thank you to everyone who helped make our ideas come true and the day so 'us'!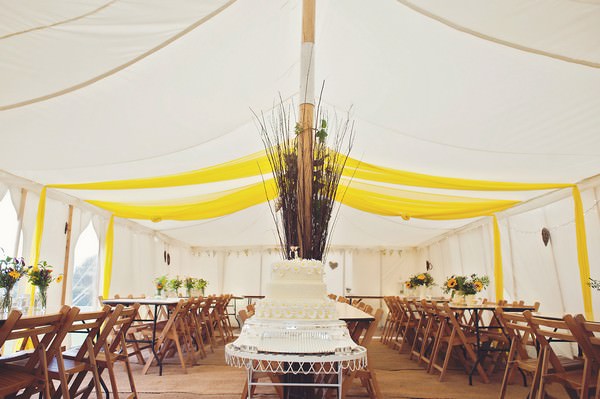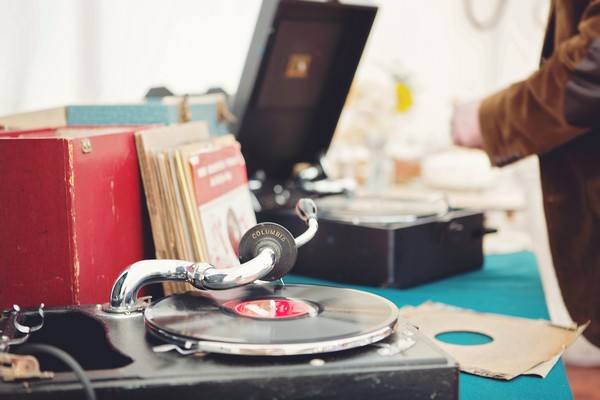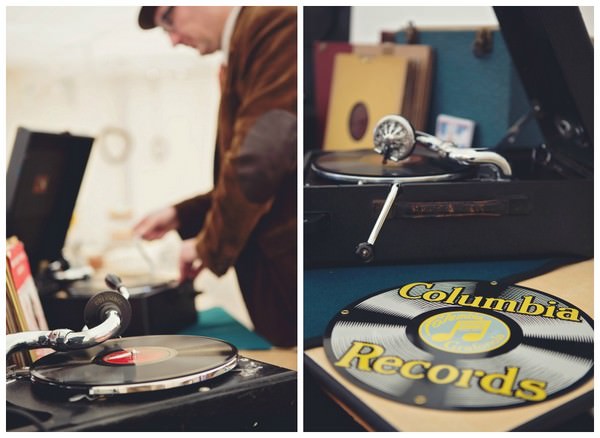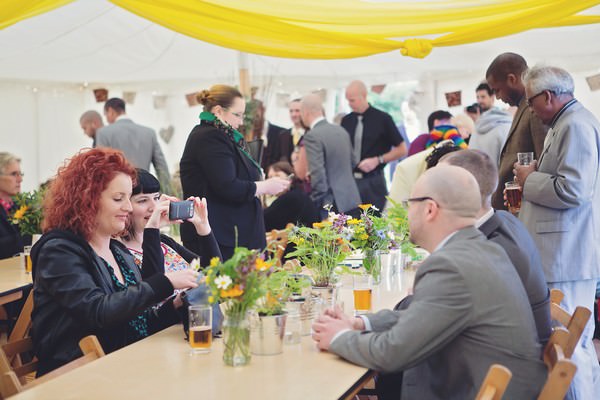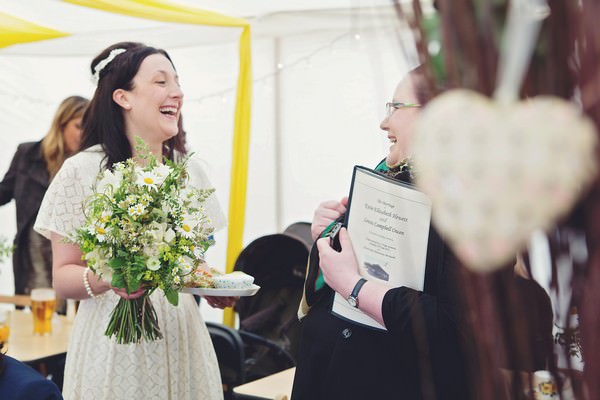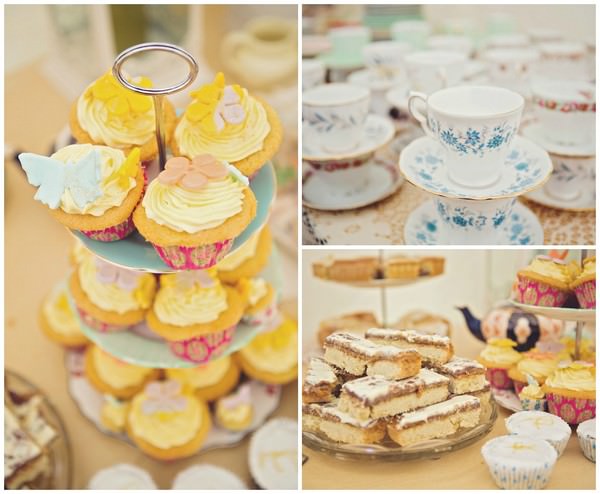 Special moments
Lewis and I wanted to have a very intimate and informal wedding so we chose a humanist to conduct the ceremony and wrote our own pledges and promises to each other. Saying those special words was one of my favourite parts of the day and drew a few tears and laughs from the guests.
The fun activities, being able to reunite members of my family, sharing the day with the people we love and seeing the kids go mental on the dance floor were all highlights too.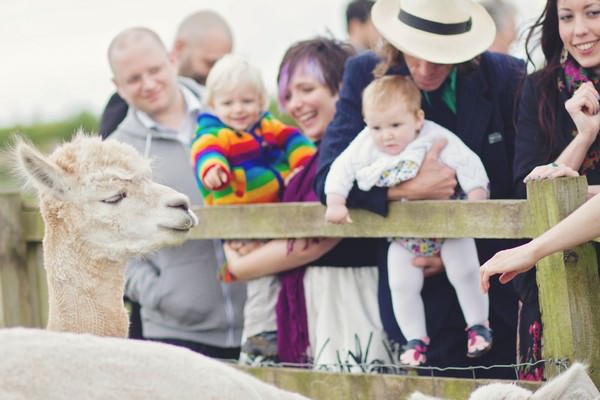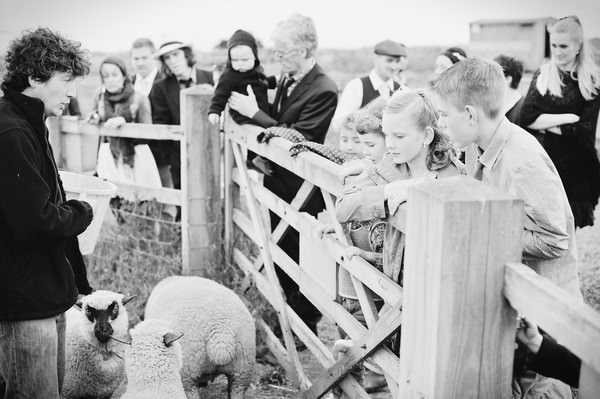 Advice
Based on experience my tips for the day would be:
Don't forget your bouquet and have to get your photographer to race home with your mum to pick it up.
Don't drink champagne in the back of a VW van whilst en route because you will spill it all down yourself.
Don't forget to look up during your walk down the aisle no matter how hard it is to walk on bark in heels.
Don't try and squish the wedding cake into your hubby's face in front of everyone if there is no cream filling as it just bounces off.
Don't play drunken Twister if you don't have a spare pair of stockings with you, and book a taxi in advance so you don't have to wait an hour and a half in the rain.
But most importantly – Know that not everything will always go according to plan (see above), but if you can relax and laugh about it, you'll have the most enjoyable day of your life.
Biggest surprise
How quickly it flew by!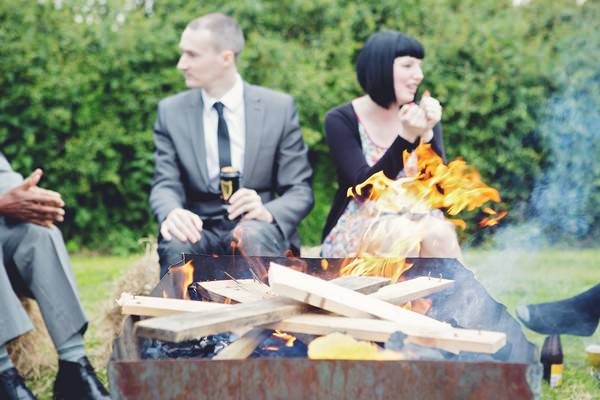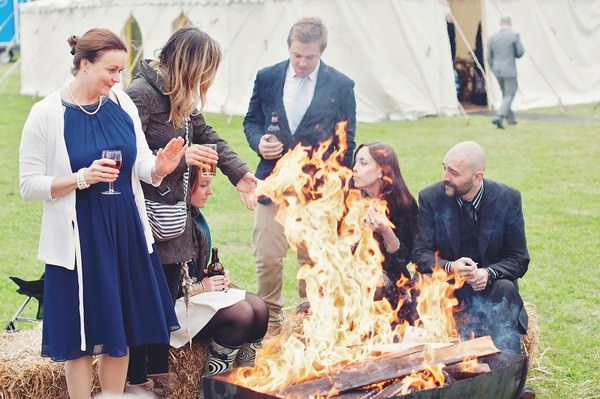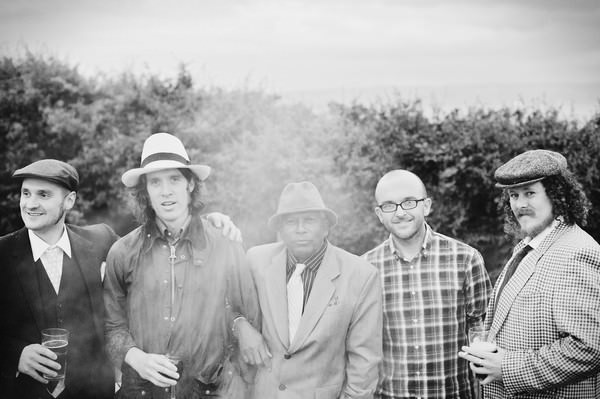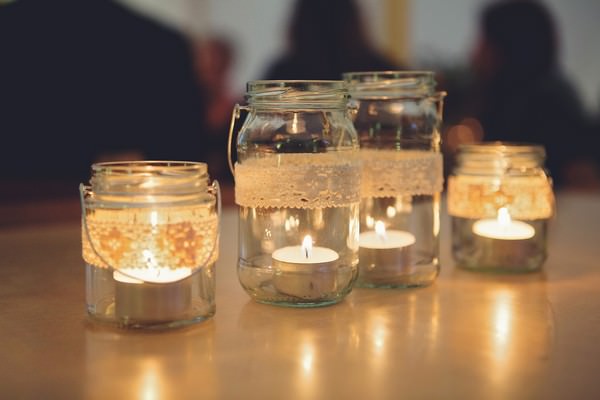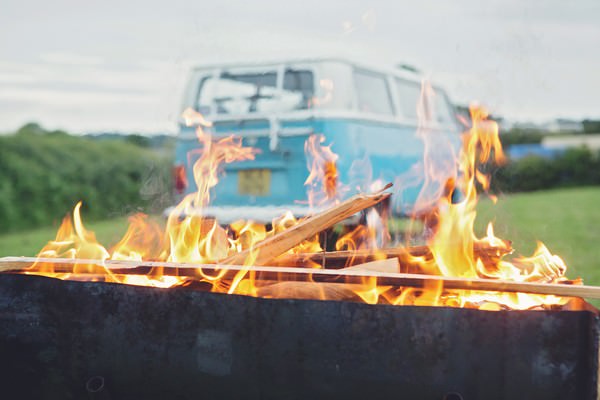 Supplier Shout Outs

Fore more information on Hannah's work go to
www.LifeLinePhotography.co.uk 
www.LifeLinePhotography.co.uk/theblog
[email protected]  
FACEBOOK
TWITTER

Hi. I'm Hannah, the smiley face behind the lens at Lifeline Photography. I'm a tattooed adventurer with a passion for pretty pictures and all things lovely.
LifeLine Photography is a quirky wedding and lifestyle photography business offering engagements shoots, wedding shoots, trash the dress shoots, maternity shoots, newborn and family shoots, boudoir and much much more.
I'm always open to ideas and I absolutely love anything a bit different.

♥ You can see more Real Weddings featured on the Boho Blog HERE ♥

[jprel]