I just LOVE today's wedding, thanks so much to Heather at Brighton Photo for sending in this amazing Cow Shed Wedding! Everything about this farm wedding set in the gorgeous Scottish countryside is just brilliant, and is so personal to the couple. Complete with Humanist ceremony, the couple have gone for a bright rainbow theme from the bridesmaids dresses to the decorations, even the cake! The wedding screams out individuality and is everything I love about the wonderful world of weddings!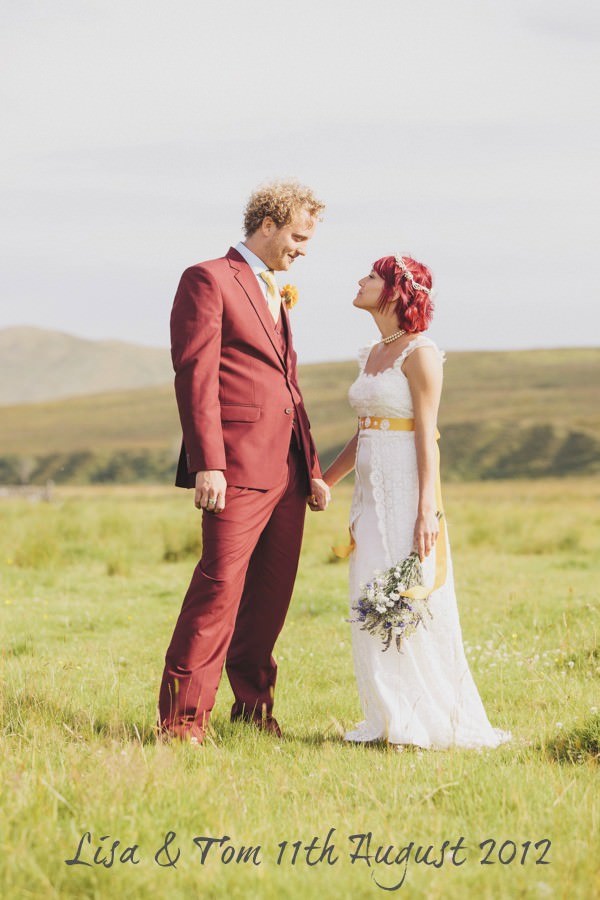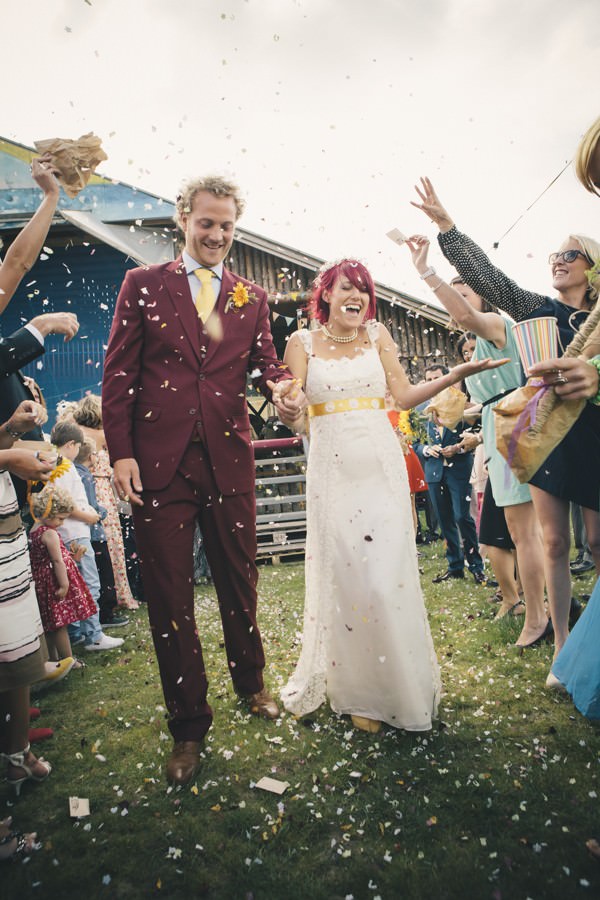 Lisa & Tom who were married on 11th Aug 2012 with both the ceremony and reception at Knockengorrogh Farm– Dumfries and Galloway in Scotland. 'The laws in Scotland mean you can get married anywhere…..we wanted to get married outside in a really natural setting. The fact that there was nothing but a cow shed on the site meant that we could make it completely our own- but there was a lot of things to organise to make it work!! we had 80-90 guests and it took 9 months to plan.'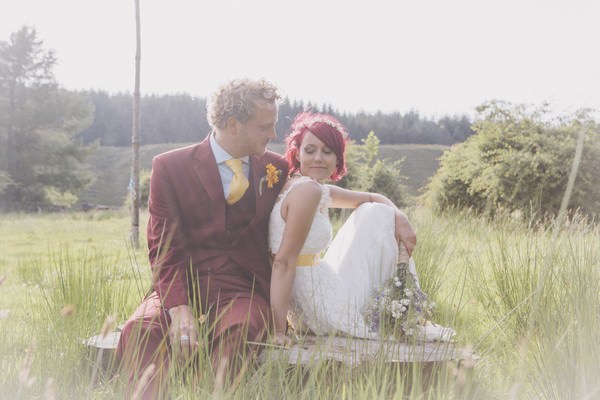 How they met
We met at university in 2003/4 so that makes it 9 years! Crikey! We both studied fine art at Northumbria University and used to fancy each other from afar, we didn't know each other's names so I used to call him 'the fox' and he called my 'Sky' cause he thought I looked like sky from Neighbours (!?). One day I slipped my number under his door in halls of residence and we went from there!
The proposal
Tom had planned it for months!! He asked my dad in Feb and at the end of October we were down in Brighton visiting some friends and we arranged to meet at a farm/restaurant (or so I thought…) We arrived and it was very dark, tom led me into some dark woods and then we came across a trail of fairy lights! We followed the trail for about 5 minutes or so and there was a clearing with a picnic blanket and the trees were filled with lights- he got down on one knee, said some lovely things and asked me to marry him!
It didn't end there though! He pushed me on through the trees and there was another clearing with a fire and a tipi. I unzipped the tipi and was greeted with a huge cheer- it was filled with all of our closest friends! Magical stuff! good job I said yes!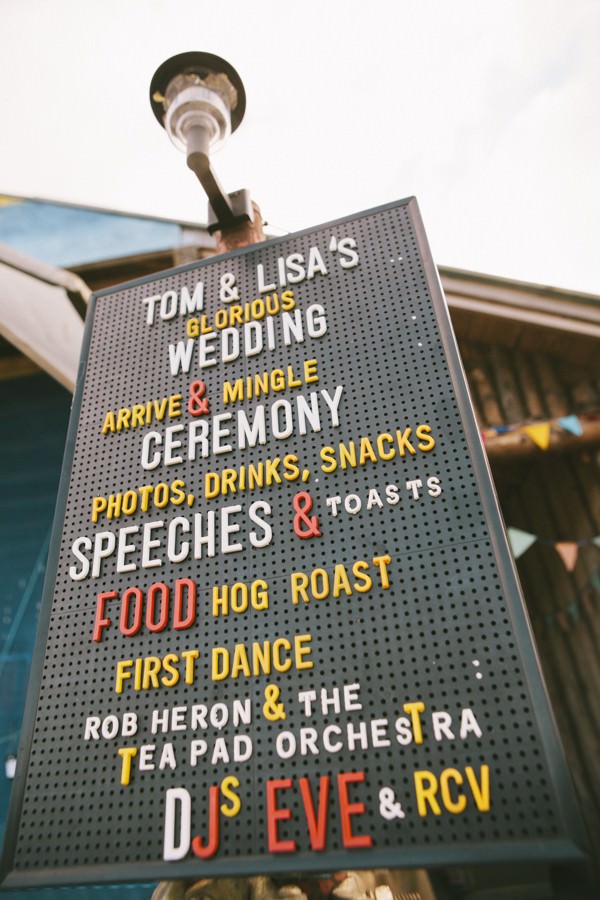 How did you choose your photographer?
Both Tom and I teach A Level photography and use a lot of photography in our own work so getting the photographer right was so important to us. I had been searching for someone who worked in just the right style and I came across Heather Shuker, oh dear me the lady is amazing! I loved her wedding photography but I also thought her own personal work was really impressive too. I decided there and then I must have her as my photographer! Heather doesn't shoot an awful lot of weddings but when I explained to her what we had in mind for our wedding we won her over and she agreed! The' nearly married' shoot was really useful too, although we take a lot of photographs – we weren't the most comfortable in front of the camera so it was good to meet and have a mess around before the big day.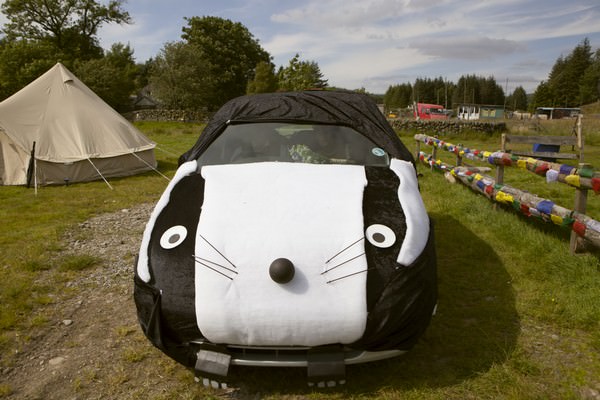 The Dress
The dress was called Colina by Pronovias but we changed bits of it – like the sleeves and the band around the middle and I wore a Vivienne Westwood pearl necklace and yellow brogues from Office.
The suit and bridesmaids
Tom and my dad had their suits made in Nepal! They were made to measure and they both looked dashing!
Each bridesmaid chose a colour of the rainbow and chose a style in that colour that suited her there were 8 of them so they looked wonderful stood at the front in their rainbow dresses!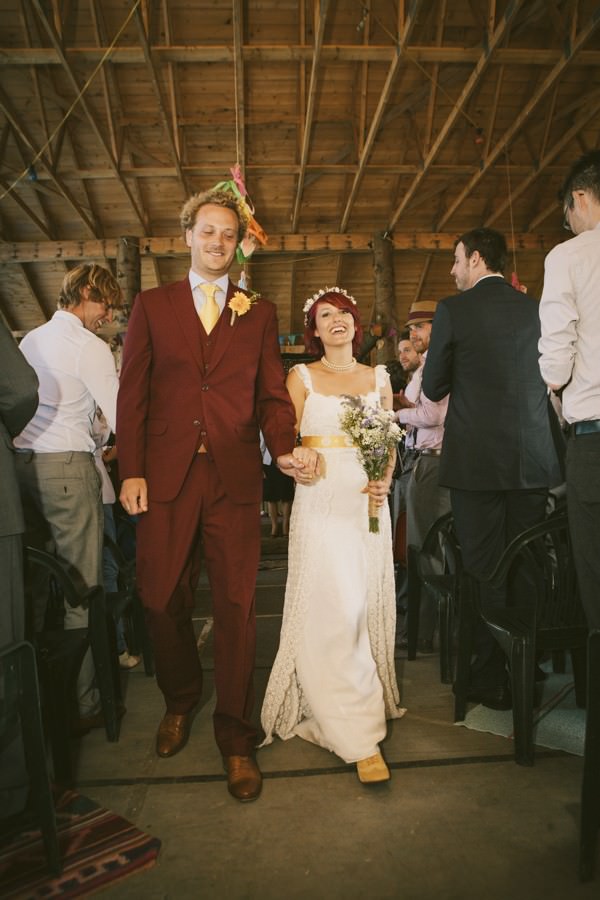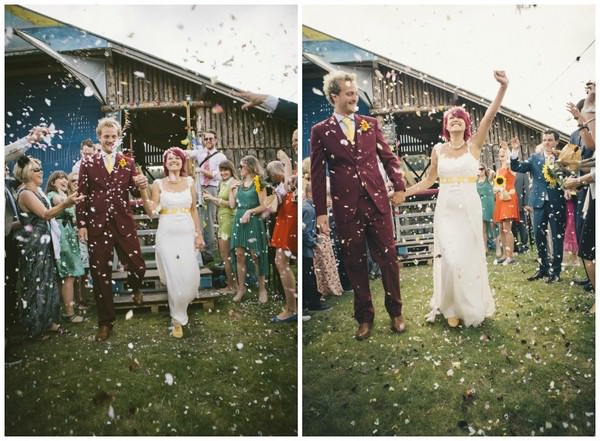 Theme
Rainbow themed I suppose… but there was a mash up of all sorts of things going on!
Food
Hog roast! The crackling was AMAZING!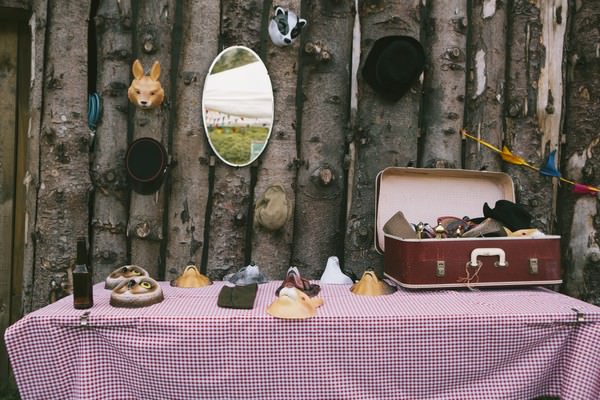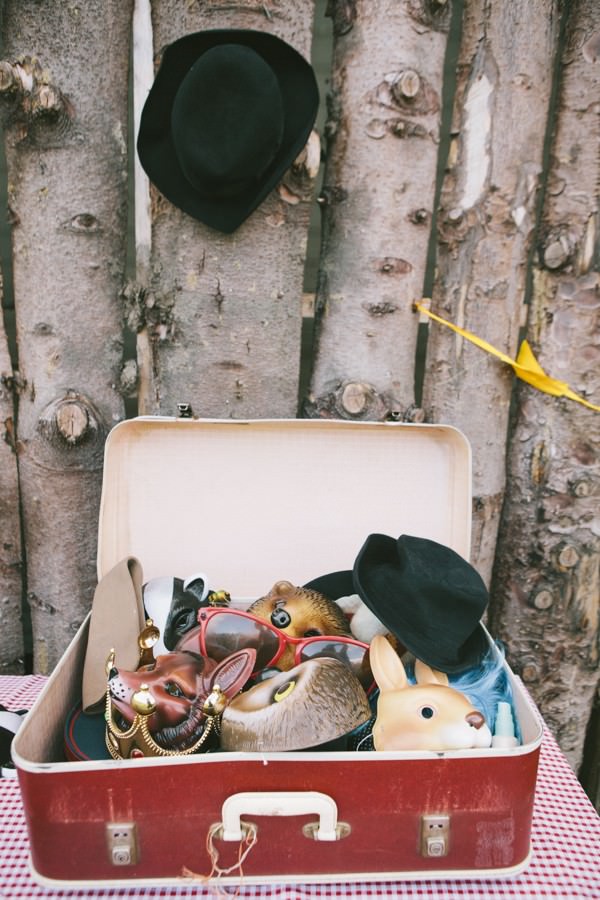 Entertainment
Rob Heron and the Tea Pad Orchestra! They were a mixture of folk gypsy swing craziness. They have a song called Lucy don't like the fish and coincidently I am terrified of fish- so they changed it to 'Lisa don't like the fish'… there were some crazy shapes being pulled on the dance floor!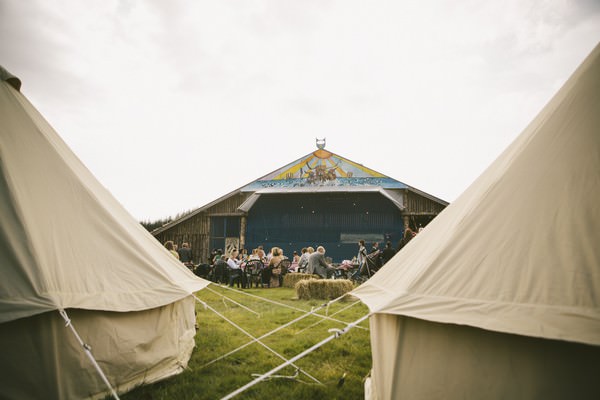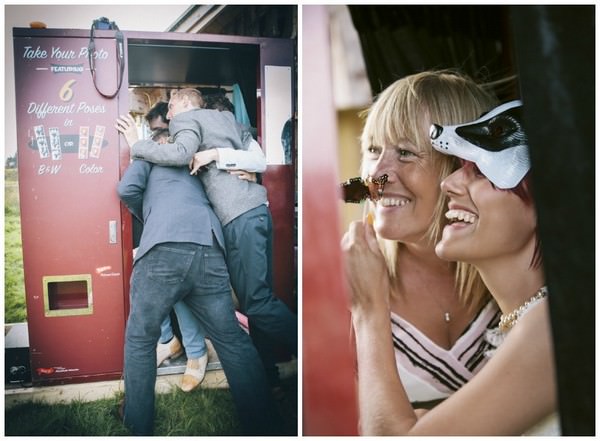 Flowers
My sister (Sambalino Heslop) did the flowers and they were gorgeous! I had a wildflower bouquet, the bridesmaids had sunflowers and lavender, the groomsmen had lavender and thyme herb gatherings as buttonholes – all tied up with brown twine!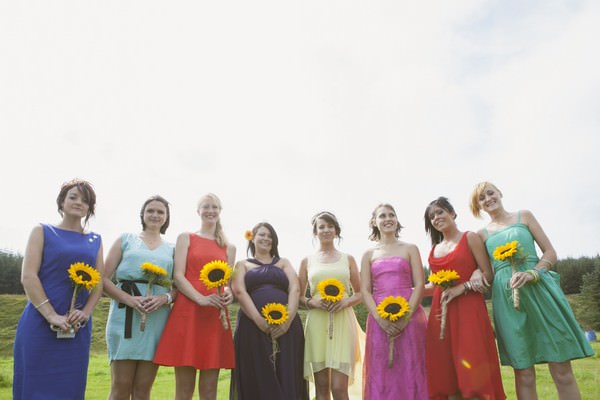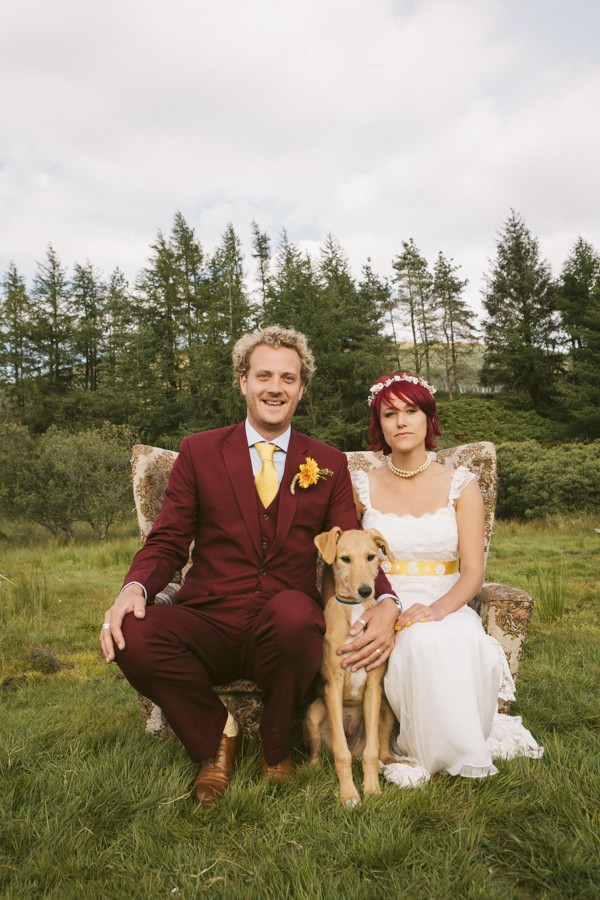 Decoration
All homemade!
• Gingham tablecloths
• rainbow bunting
• some colourful prayer flags we had collected from Nepal
• paper rainbow flowers that we all made together the day before
• Lots of old medicine bottles I had collected for the flowers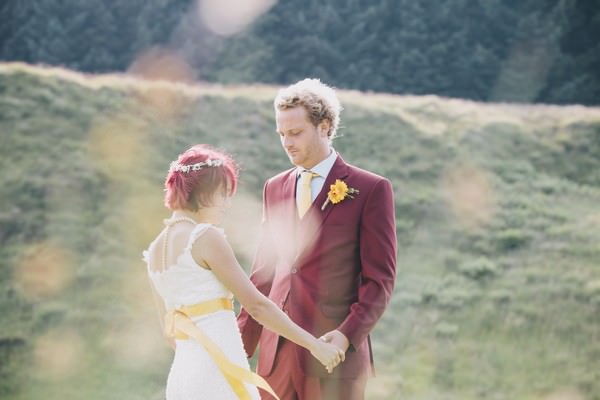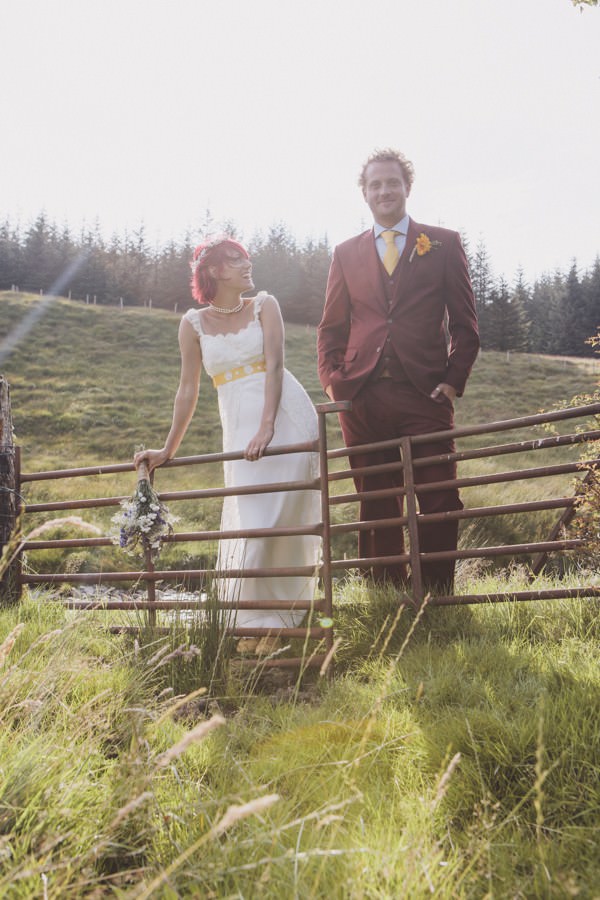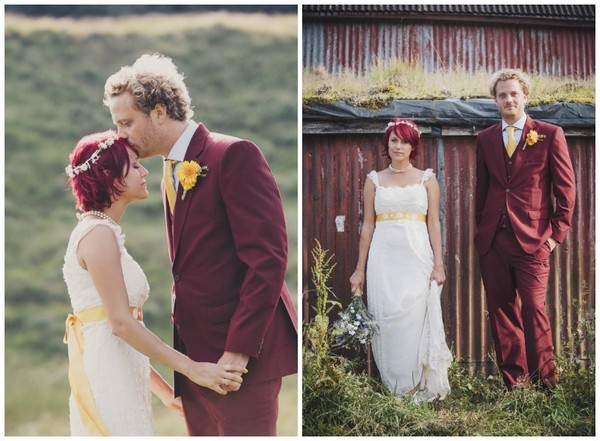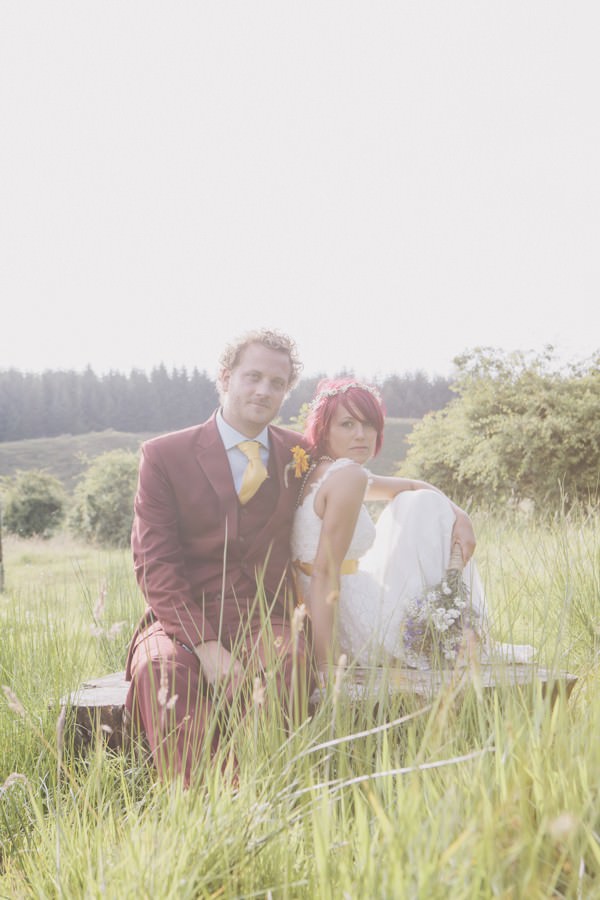 Special moments
We loved having our ceremony done by a humanist, Maggie made it just how we wanted. We had a close friend- Nick Porter do a reading and it was beautiful. During the ceremony there were swallows swooping around our heads and butterflies dancing past! It couldn't have been more perfect!
Also- the cake (made by my sister in law) was a giant stack of rainbow sponges covered in frosting and white chocolate flakes (topped with a pair crochet Mr and Mrs Badger made by Beth- my other sister in Law!) …what was fantastic about the cake was that everyone was completely unaware that the cake was a rainbow until we cut it! There was a huge cheer and the first slice was passed around for everyone to have a bite! Yummmm!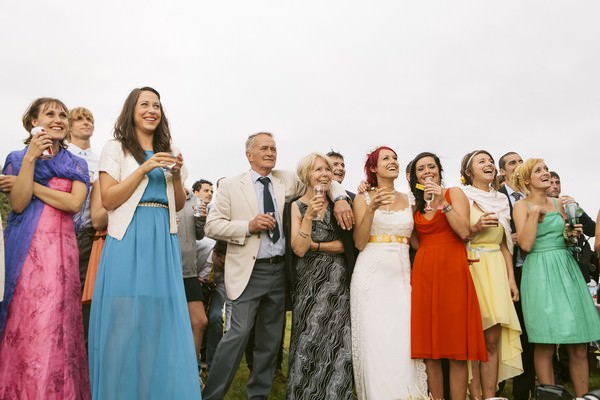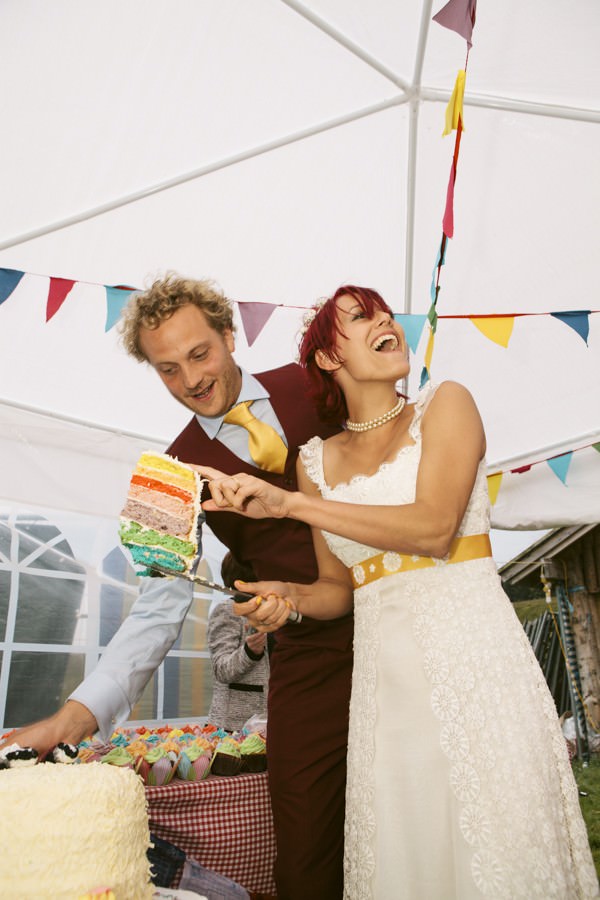 Advice
Enjoy the planning- it's so exciting! Don't let any of it stress you out, it's too much fun to spoil with worrying or stress!
On the day itself let things happen as they will… just enjoy the day as it unfolds and don't worry about anything! What's the worst that can happen- you are surrounded by people who love you- they won't care about little hiccups!
Biggest surprise of the day
My dad had dressed the car up as a giant badger and came to collect me in it! Glorious…yes I do have a bit of an obsession with badgers!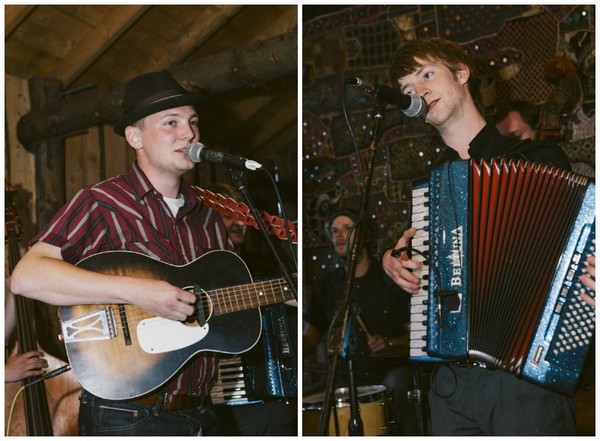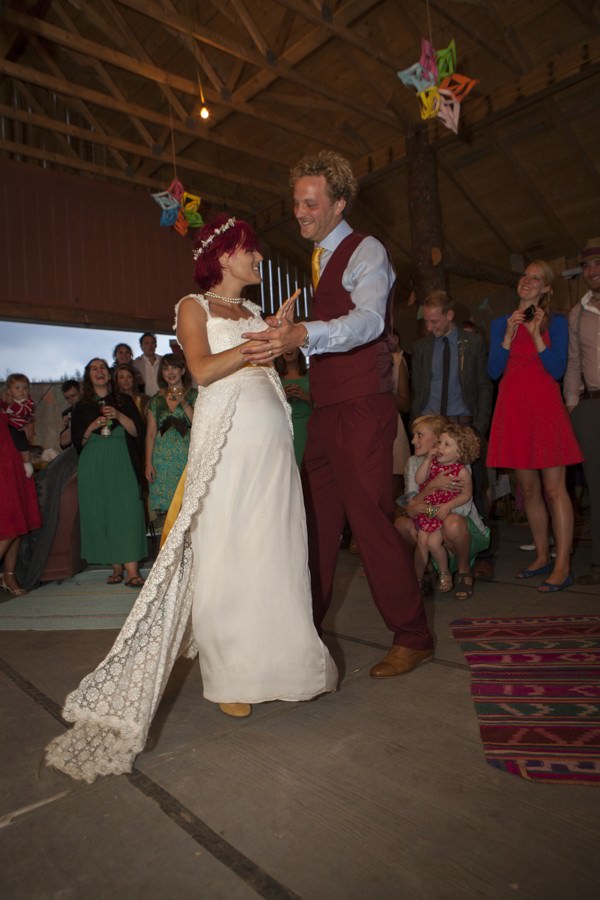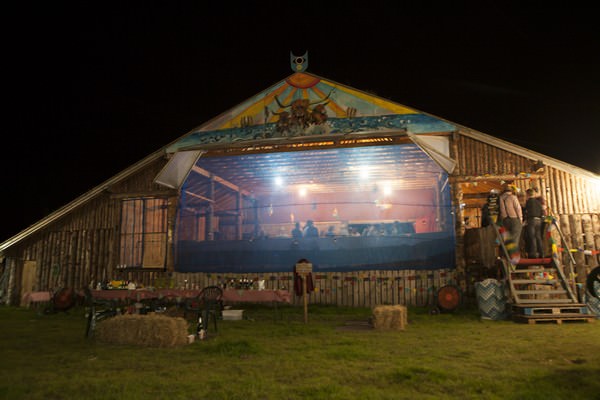 Supplier Shout Outs
For more information on Heather's work go to
Brighton Photo -07782 315393
www.brighton-photo.com
www.brighton-photo.com/blog
facebook
twitter 
 ♥  You can see more Real Weddings featured on the Blog HERE  ♥

[jprel]