I have something completely and utterly gorgeous to show you today! I hope your ready for a lot of wedding pretty as I have some amazing items to share with you today.  You may know Debbie Carlisle Bouquets as mainly a vintage inspired bouquet designer, bouquets may I say of outstanding quality and and design! But Debbie has just launched her first accessories range and as soon as I saw it I knew I had to share it with you as it's completely stunning!
Debbie is a good friend of mine, we both set up in business pretty much at the same time, so it has been amazing to see how her work has moved on and grown over the last 2 years. I am so proud of what Debbie has achieved, and her her work certainly does stand out from the crowd as it's unique and always made toe the highest quality.
With this accessories collection Debbie has really stepped up the next level, and I can't tell you how much I love each piece she has created! And what's more Debbie got to launch her new collection at the Designer Wedding Show a couple of weekends ago!
The collection of headpieces and cuffs which take inspiration from the 1920s, 1950s, 1960s and 1970s – with a modern fashion-forward twist. The bands can be worn as headbands or
forehead bands, allowing brides to mix up their look – and wear their headpiece long after their wedding day. Sparkling combs, off-centre beaded headbands and fabulous feather headpieces complete the collection Debbie said: "I wanted to make this collection as versatile as possible so brides could wear their chosen design in many different ways. I wanted to give them maximum choice about their on-the-day look – or looks – and  also give them the option of wearing their  bridal headpiece over and over, long after their wedding day has gone!"
So here is the collection, I hope you love it as much as I do. For more information go to www.dcbouquets.co.uk or email Debbie on [email protected]
Daisy – headpiece £60, cuff £20.
Daisy is a simple, fresh embroidered floral ivory headpiece which can be worn as a simple single-strand headband or a forehead band. Delicate metallic embroidery completes the look with a warm glow that would work well with silver or champagne tones. Buy two headpieces and wear together for extra glamour – this style twinned with an 'up-do' and an empire line gown creates a beautiful regency look. Daisy sits on an ivory organza ribbon and has a matching Daisy cuff – wear two for added impact.
Natalia – £145
Natalia is a stunning diamante headpiece which sits fluidly against the head in a design reminiscent of delicate lace. The soft curves created by the sparkling diamante combine to create a romantic yet striking look. Natalia comes on a comb so it can be placed in different positions – but can also be placed on a headband by request which will be wrapped with satin ribbon in the colour of your choice.
Mae – headpiece £150, cuff (not shown) £45
This delicate creation can be worn as a forehead band, headband, or wrapped around a ballerina bun. Pearl, diamante and glass bugle beads embellish a fine lace backing on an organza ribbon and bring high drama and glamour when worn on the forehead and sophisticated elegance worn as a band or wrap. Matching Mae cuff available.
Florence – £160
This show-stopping diamante headpiece is designed to be worn both as a fashion-forward forehead chain and a more traditional headband. Sitting on a delicate organza ribbon, this is a really versatile piece which combines glamour with romance – wear with loose flowing curls for a hippy chick look or a more structured style to channel your inner rock chick.
Eva – £95
Eva is an elegant diamond-shaped headpiece which adds real vintage style to your look. Ivory pearl beads nestle alongside glass bugle beads which give a delicate warm sparkle to the piece. Eva is available on a comb or a satin ribbon-covered headband in the colour of your choice.
Clara – headpiece £120, cuff £45.
This ivory floral headpiece can be worn both as a forehead band, headband and a bun wrap – and is a really delicate but striking piece. Three large flowers sit asymmetrically on an ivory organza ribbon with an embroidered floral centrepiece on each bloom sprinkled with the tiniest dusting of glass bugle beads. Matching Clara cuff available.
Olivia – £125
A vintage clip earring forms a sparkling centrepiece to this elegant design. Three delicate leaves created from glass bugle beads make up the base of this design which will be topped by a unique vintage brooch sourced to complement your dress or other accessories. Try wearing two Olivia pieces close to the hairline for a striking fashion-forward look. Olivia comes on a comb but can be placed on a headband by request.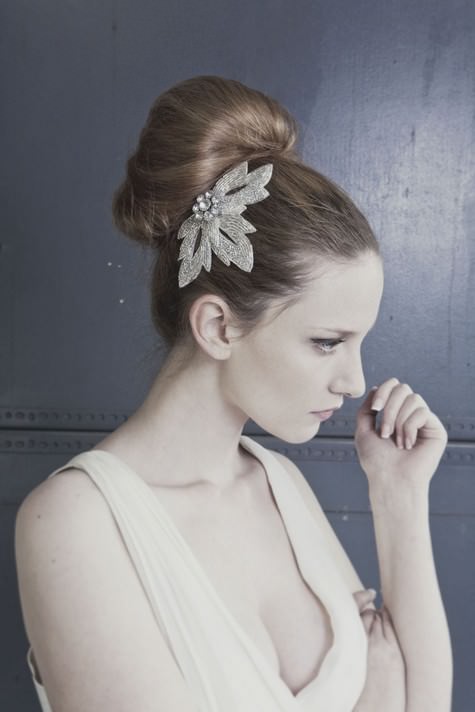 Brigitte – headpiece £120, cuff (not shown) £60.
This pale ivory floral headpiece is a simple feminine piece which really plays with texture. There's sparkle too with lots of beading interspersed with the tiny applique flowers creating a fresh bohemian look. The headpiece sits on organza ribbon and can be worn as a headband, forehead band or bun wrap. Matching Brigitte cuff also available.
Evita – £120
Elegant feather-topped headband finished with a diamond-shaped design made of ivory pearl and glass bugle beads which give a delicate warm sparkle to the piece. The Eva comb or headband could be worn by your bridesmaids to complement this design.
Rosa – £110
Rosa is a delicate floral design created from silver tone glass and ivory beads and designed to sit on a comb so it can be worn with a variety of hair styles. It can also be placed on a headband on request which will be wrapped with satin ribbon in the colour of your choice – choose bridal ivory or go for a colour
that tones with your hair to help the band 'disappear'.
Small Ava – £85
This delicate ivory feather headpiece sits on a clip which allows you to position it anywhere you like on your head. Each headpiece features a vintage brooch or dress clip – sourced to complement your gown, embellishment or other jewellery. This piece is a smaller version of the Ava beaded headpiece from Debbie's first headpiece collection which remains available to buy.
Thanks you to Debbie for letting me share these amazing pieces with you, so what's your favorite, I think mine is Daisy!
For more information about Debbie and her work go to
www.dcbouquets.co.uk
[email protected]
or call Debbie on 07719 034931