Boho Weddings, no I'm not talking about the blog but about the massive trend that has taken the wedding world by storm. When I started the blog 13 years ago, the boho style was a pretty niche one. Boho was seen to be an alterative style of weddings, bit now it has grown in popularity and you can see boho inspirations all over the wedding world. From flower crowns, to tassels, leather jackets to scattered rugs, Boho is EVEYWHERE!!! Which in my opinion is never a bad thing! Today we are looking at ways to bring a bit f Boho into your weeding outfits, whether you are the bride, the groom, the bridesmaids or a gust, you can incorporate a bit of boho anywhere you like.
How to dress for a boho wedding
Brief history of boho
'Boho' style originates from the word Bohemian and it is often referred to as bohemian or boho-chic. Bohemia was a country in central Europe, now located in modern-day Czechia. Boho was originally influenced by the gypsies who lived there.
Other inspiration has since come from the '60s and '70s, especially hippies, flower power, and Woodstock. The noughties saw another iteration of boho, with VIPs such as Sienna Miller, Kate Moss, and Mischa Barton leading the way.
Meanwhile, newer music festivals like Coachella continue to bring a modern twist to the classic look. The focus these days is on natural aesthetics, fabrics, and materials. Think plaits and pampas grass, or silk and suede.
Romantic and folksy
Boho style is wonderfully romantic and folksy, making it ideal for a charming fairy-tale wedding. Boho garments are feminine and flowy. Muted neutral colours such as white and beige meet attention-grabbing patterns and tie-dye.
Wear A-line silhouettes rather than figure-hugging dresses. Boho is the perfect style for plus-size clothing for ladies who appreciate flattering shapes which accentuate your curves in all the right places. Plus, light and breathable fabrics are a blessing on sweltering summer days.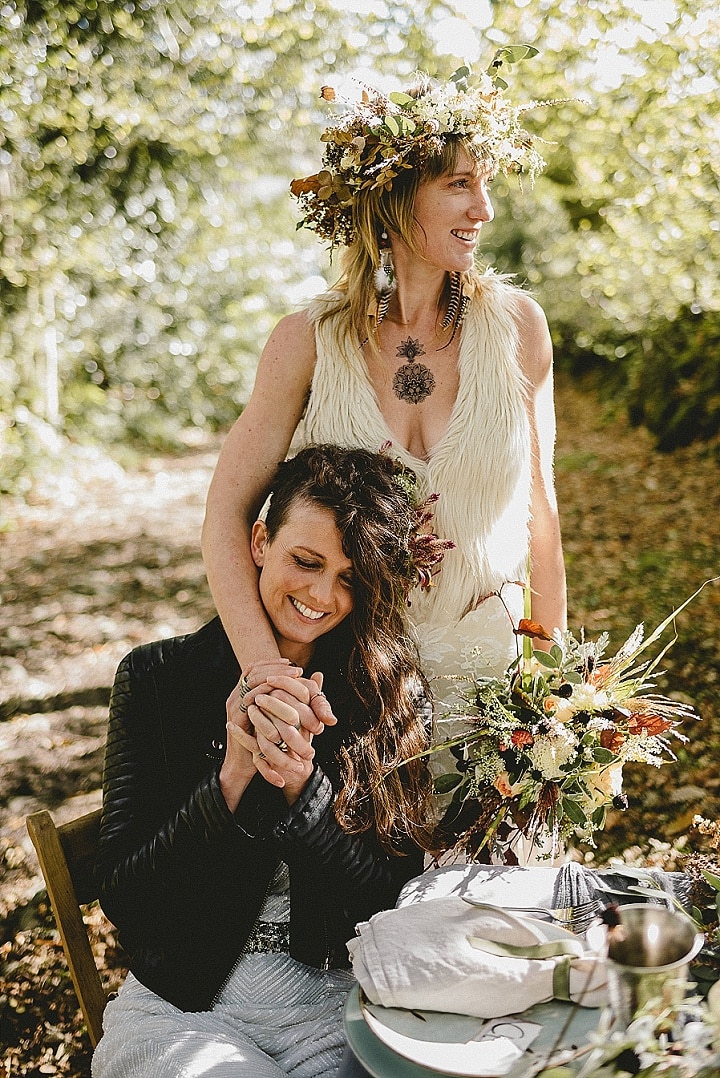 Boho wedding-worthy outfits
If you've been invited to a laid-back boho wedding, you'll have so much fun curating your own eclectic style. Luckily, boho fashion is all about being down-to-earth and mixing and matching to find your unique look.
Not sure where to start? Begin by thinking about the location. Is the wedding taking place on a sun-kissed beach or are we talking more woodland vibes?
Let the setting guide your dream boho ensemble. Shells are perfect for a beachy boho look. Sage is a beautiful colour for a fairy-filled forest wedding.
Below is a list of some typical features to inspire you to create your own mish-mash style for any boho dress code. Who says you can't wear white too?!
A-line maxi dress with capped sleeves under a white fringe cardigan
Feather-trimmed silk dress
A white crochet or lace dress paired with a denim waistcoat
A long patterned kaftan-style dress
Floral maxi dress under a linen wrap
Tulle maxi skirt paired with a white top
White dress paired with a denim jacket
Vintage leather jacket over a billowy white maxi dress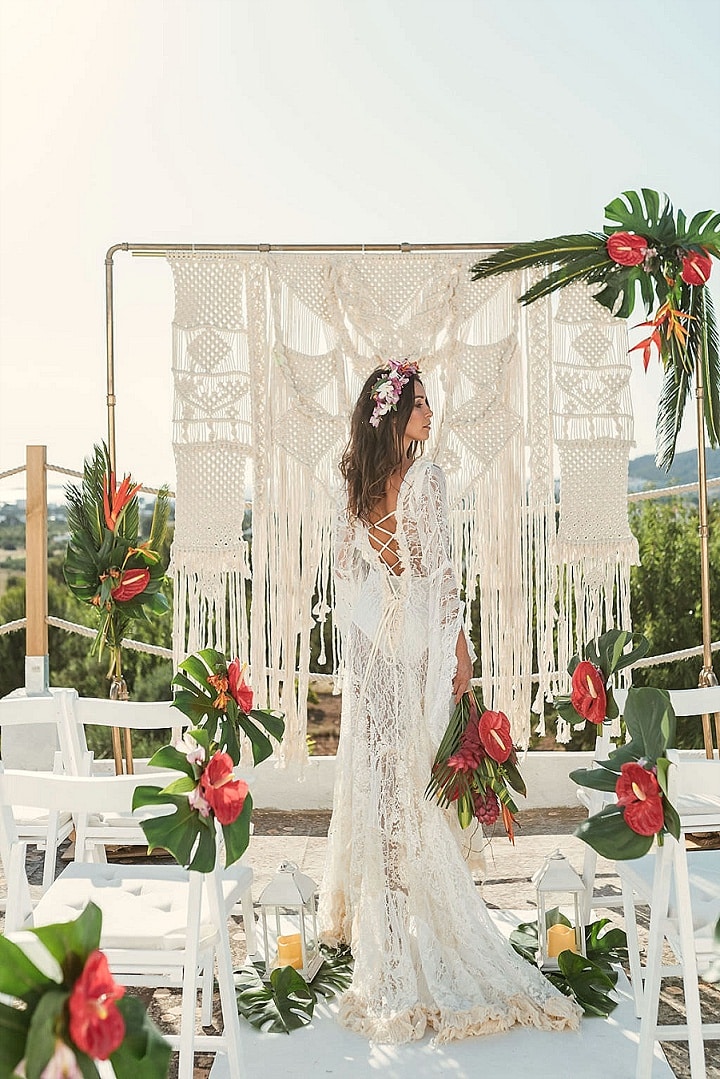 Best foot forward
So, you've chosen your outfit, now it's time to find the perfect boho footwear to team with your eccentric boho look. Boho shoes should be as fun and comfy-yet-stylish as the rest of your boho wardrobe.
Boho and summer are a match made in heaven, ideal for open toes. Opt for gladiator sandals or flatforms for a current look. Or go for classic mules or a pair of moccasins. For cooler climes, you could even wear brown suede ankle boots or over-the-knees if you're feeling especially daring.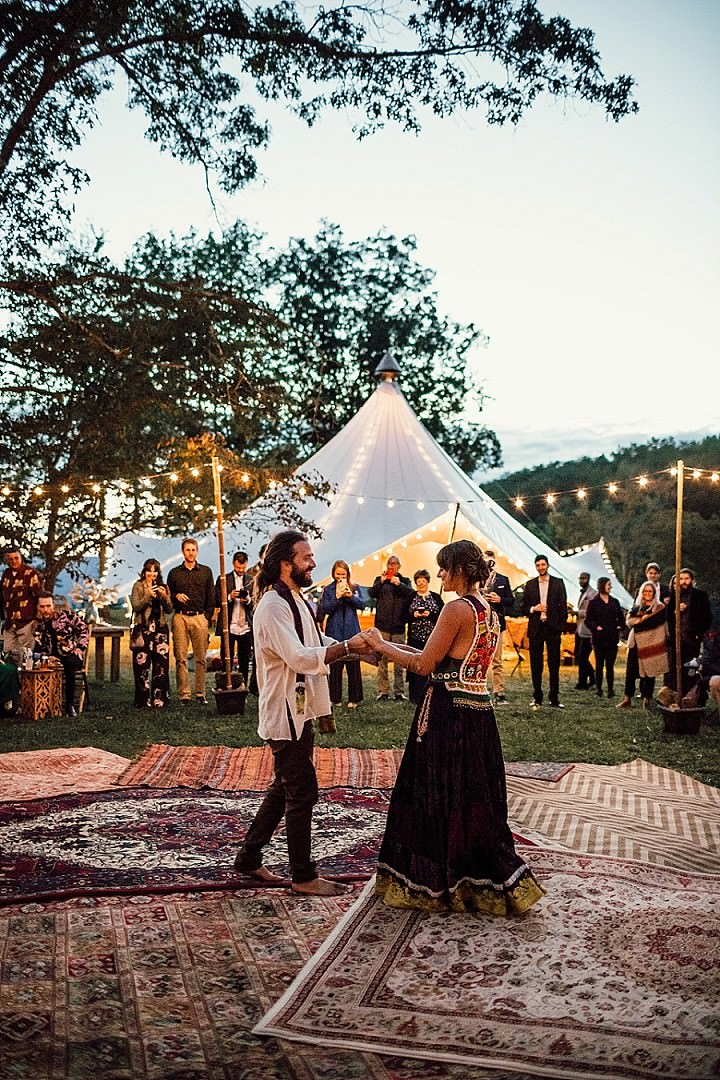 Accessorize like a boss
Boho style lends itself especially well to accessories. It's all about trinkets and tassels, flowers and feathers, and everything in between.
If you're planning on wearing your hair down, why not add a fedora or floppy hat for the perfect finishing touch? Pin on a flower to really nail the look.
Belts are another token boho accessory as they help to define more flowing, floaty boho pieces such as long dresses or ponchos and kaftans. A brown leather or a beaded belt would be a great addition to a white knit crochet dress paired with a denim jacket.
Scarves and fringe bags are also staple boho accessories. Finish off your boho wedding outfit with a stunning anklet, toe ring, or shell necklace. And don't forget to slip on some bangles!
Now that you've got your boho wedding outfit in the bag, all that's left to do is relax, unwind, and enjoy chilled boho wedding vibes.
this is a collabortive post