Happy Friday everyone on what has been a funny old week! This Friday sees the start of a long weekend as we all take Monday off to pay our respects to our late Queen Elizabeth II. The blog won't have any posts going up on Monday as a mark of respect but normal service will resume on Tuesday. So today I am taking you off to Pennsylvania for the gorgeous wedding of Nicole and Danielle. these two lovely brides held an Indian and American Fusion wedding filled with lots of bright colours, some traditional Indian elements along with some gorgeous rustic decoration. It was all planned to perfection by Elegant Events Planning & Design  and photographed by Lightyear Studio.
'THE BEST DAY OF OUR LIVES'
Nicole and Danielle were married on 11th September 2021 at Thornbury Farm CSA in West Chester, Pennsylvania. 'We chose the venue because the fact that it is a historic and a haunted location, also the obvious beauty. 180 guests came, we invited 250 (tons via livestream due to covid measures) It took over a year to plan it and it took a village. Shout out to Elegant Events and our families!'
How they met 
It was a brunch date that lasted a total of 6 hours, in which Danielle's best friend was our waitress (who also informed every staff member it was our first date). The entire restaurant staff stalked us / checked in on us throughout our 6 hour long date. After 6 months Danielle proposed. Nicole said yes. 4 months later, Nicole proposed back. Danielle also said yes.
The proposal
Danielle proposed to Nicole in Harrisville Rhode Island. They were investigating the actual farm house that "the conjuring" movie is based off of. Danielle arranged a phone conversation with the well known paranormal author and spokeswoman. Andrea Perron to assist in their paranormal experience  and to help Danielle segue into her proposal.
Nicole proposed to Danielle about 4 months later at the graveyard by their home (had to stick with the creepy proposal theme). Nicole called Danielle while she was out on her daily graveyard walk with their 3 pups to let her know "she forgot something important." Of course Danielle assumed it was poop bags for the dogs but Nicole showed up ten mins later, got down on one knee and to Danielle's surprise it was definitely not a poop bag.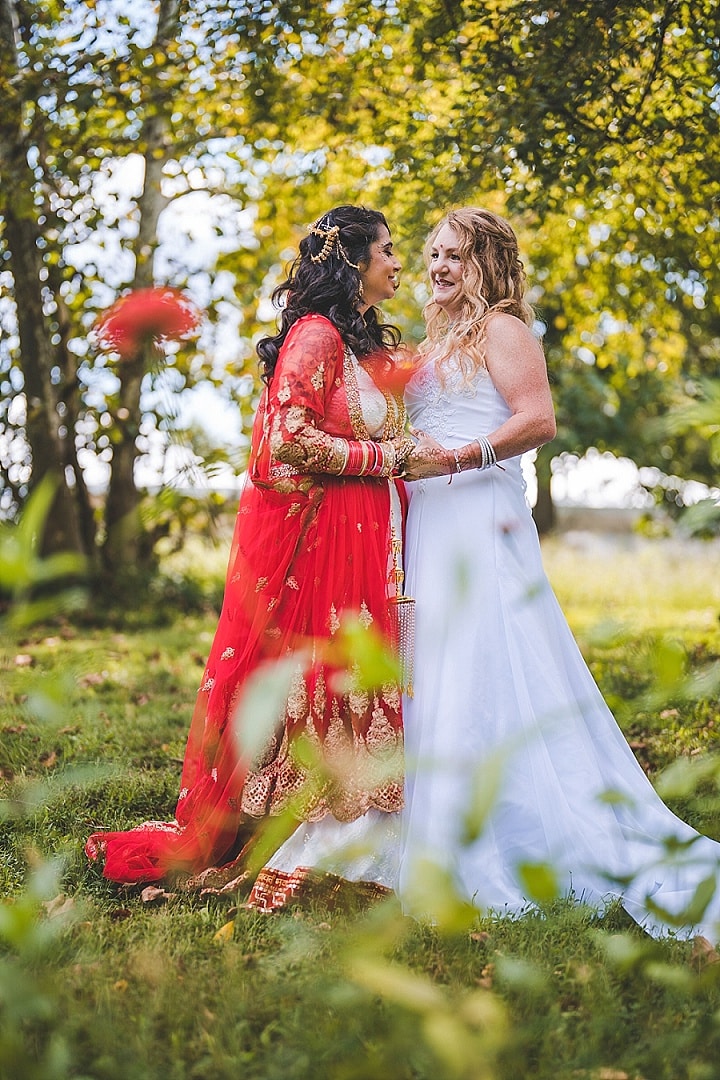 How did you allocate your budget?  
We had a lot of help with decision making.
Where did you splurge and where did you save?
We splurged in catering and saved on venue. We could not have been happier with both.
How did you choose your photographer?
He was recommended to us and we did some insta stalking for sure.
The outfits 
Danielle – David's Bridal.
Nicole – My Aunt (Rupa Dhruv) designed all my dresses and brought them with her when she came from India; she took all measurements and ideas to make the vision come to life via midnight zoom calls.
Bridesmaids
Same is true for our bridesmaids dresses as for Nicole's dresses
Theme or colour scheme 
We definitely had a theme; Indian American fusion. We wanted the traditional Indian ceremony and attire with the westernized American flare. 
Flowers 
Hanging baskets of seasonal plants. Assorted greens, ornamental cabbage, Protea cabbage roses, Succulents (variety) 
Decoration 
Definitely a unique blend of cultures; very rustic, naturalistic, farm vibes with a cross over to some traditional aspects of traditional Indian aesthetics. Thanks to the help of Sheila Corbett and team for making our varying ideas come to life!
Food 
We worked with Subhash Vig — director of events for Mirage Banquet Hall (An Enterprise of Mehtani Restaurant Group). He and his team were incredible! The food was delicious! To this day, we still have people telling us the food was amazing. It was primarily an assortment of Indian food ranging from meat (chicken, lamb) dishes to dahls, with rice, nahn, and rotis/chapati.
Wedding cake
We worked with Deserts By Dana located in both Newark DE and Philly PA. We wanted a very specific request — an elegant cake with the inside full of rainbow. And they deliver just that. And it was quite delicious. 
Entertainment
DJ Ravi Jackson (he was INCREDIBLE!) 
Who supplied the stationery?
The Knot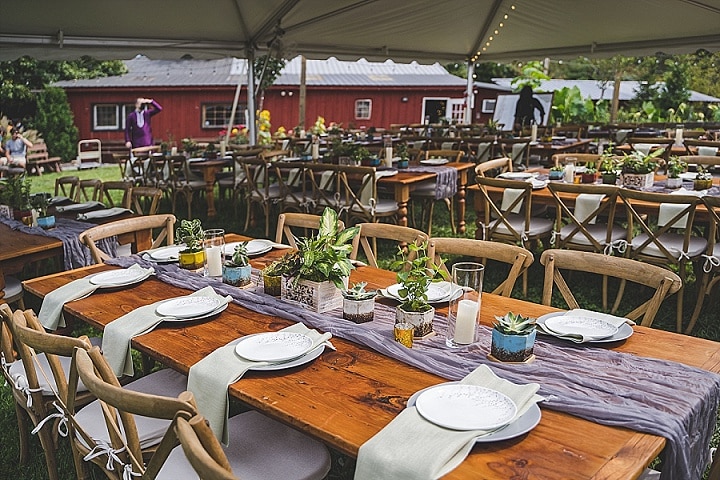 Special moments 
Nicole's Favourite Wedding Detail:
Was a great day… but Danielle's baraat was amazing… I secretly watched as she came in with her parade dancing while riding a horse. Her smile was so big and it was incredible. Second best was being up in my palki probably 10 ft off the ground seeing literally everyone & everything… but, the best sight was straight ahead — Danielle's big big smile at the end of the pavilion. I get to walk down the aisle to that face!
Danielle's Favourite Wedding Detail:
The entire day. But the moments that stick out most are 2 moments. 1st it was not visual; we were doing "first look" with our photographer. He told me, "ok Nicole is going to come and tap you on the shoulder and you are going to turn around and we will capture moment". So there I waited facing the woods anxiously and then I heard it, my Indian empress dropped her familiar potty mouth; "What the f#*k?! I look like a f#*king Christmas tree! Daniellllle!" I'm cracking up laughing because the voice and commentary are so familiar. But then it happens; I turn around and my jaw drops. I saw a Christmas tree. …. Just kidding, I saw my potty mouthed Indian empress fiancé and I cried because she was so gorgeous. I'll never forget that image.
Personal touches
Yes, definitely our vows were personal on the ceremony day. Also, for Mehndi night, we started the night in traditional Indian attire then made a big switch and had a cowboy/western theme. Everyone joked that it was a "cowboys and Indians" Mehndi. (Obviously, the wrong kind of Indian though).
Advice for other couples
Advice for the planning: if you can afford a planner, do it! We are terrible planners but Donielle and our parents got us through it even with us kicking and screaming all the way. Advice for the big day: take it in, don't rush it, it is the one day in your life that everyone you love will be in the same room. 
Biggest surprise 
Nicole's dad was unaware of the fact that she arranged for a few family members to perform the song that very much reminds him of his daughter for them to dance to.
Supplier Shout Outs