Today I am taking you away from the cold wet weather and into a Mediterranean dream, where boho meets tropical with this gorgeous Ibiza wedding styled shoot. The shoot was sent into me by Sharon Edwards from Cupcake Collection Ibiza. where she worked with a team of excellent Ibiza suppliers. The shoot took place in May of this year at Can Tunis, Benimussa, Ibiza. As you will know I got married in Ibiza over 11 years ago. Things were a bit different back then. There seems to be so many more options now for an Ibiza wedding and this shoot shows 2 ceremony options from one venue. I just love the whimsical macrame detailing with the tipis, mixed with the tropical styling and bright flowers against the white Ibiza backdrop with the gorgeous table set up and all that amazing food. Let's hope next year we can all get on a plane again and enjoy some summer fun, more destination weddings and of course; some Ibiza sunshine.
Macrame boho meets colourful tropical with our photo shoot in Ibiza.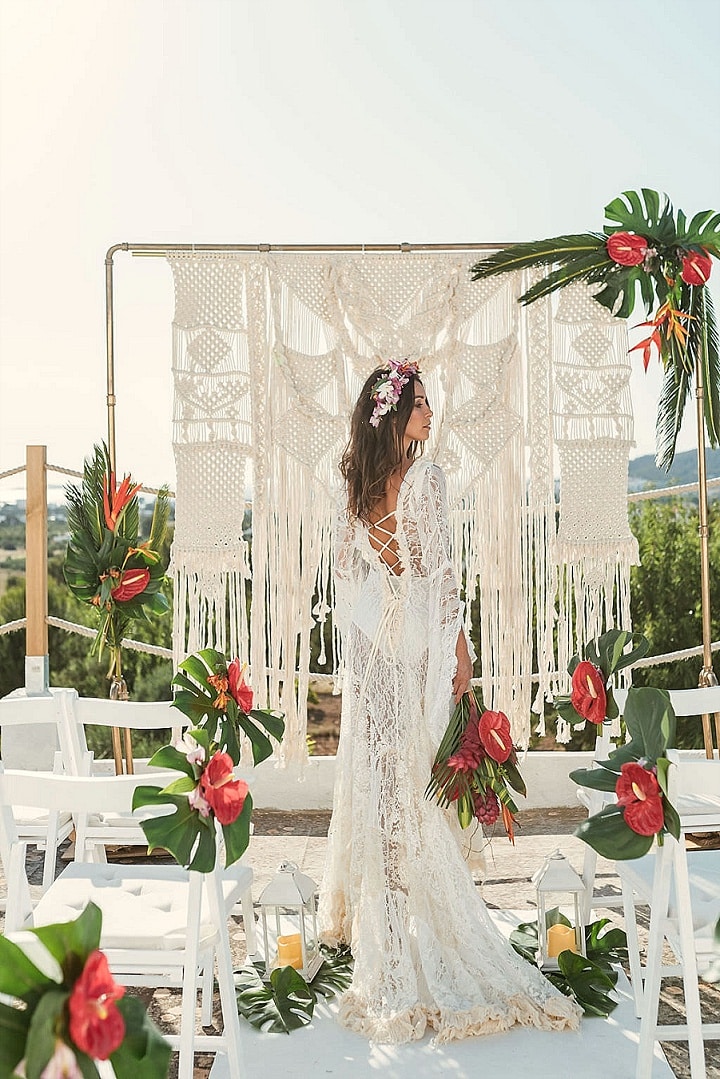 We are marketing the venue for International weddings.  Offering complete all inclusive wedding packages to take the ease and stress out of a destination wedding.  We realise that Ibiza is a growing wedding destination wedding location, and how expensive it is here to rent a villa which cannot be rented normally for one day.  We have the option, which is great for those who are on a budget and want a completely private space.  So we decided to have two ceremony settings on and by the side of the old finca farmhouse.
The view from the terrace of the farmhouse is so beautiful.  You can literally see the whole of the bay. Gala Weddings have a large selection of furniture in-house.  So we decided to use the outside area which is set with the stone walls and abundance of olive, almond and fruit trees.  Teepee's are so bohemian which is what Ibiza is famous for besides many other things  So we decided to set up a very rustic setting for this ceremony.  Long benches, teepee, natural foliage and a long natural weave ceremony rug with baskets and a boho teepee chill out area.  It was a boho dream!  So it was obvious to us that 'boho' was the natural theme for this shoot and the main reason we would love to be featured in your blog.
And then we wanted to style a shoot on the terrace so people can appreciate the space and views.  The white and green with a real splash of colour was why we chose the tropical theme.  The dress and the macrame ceremony backdrop with the most gorgeous wedding couple was what I think stole the show.
We have the green tropical backdrop, ideal for photos, this can be changed to suit any theme wedding.  So we brought in a florist to help with the tropical leaves and flowers.  The long wooden tables with the golden table decor and the hanging basket light shades, all in-house, it was all meant to be.The natural palette of stone and cream colours with the splash of green from the natural pine forest is a perfect platform to base any theme or styled wedding or event.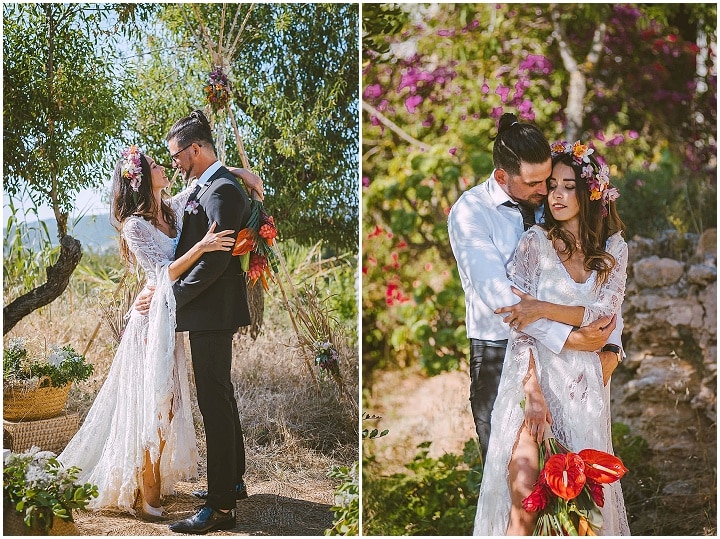 The suppliers who made the shoot possible
Due to an email issue if you have emailed me between the 2nd & 9th of December, please resend it.
X