Happy Monday everyone, I hope you had a great weekend? What did you get up to? Mine was lovely, it's great now we can see more people and go more places. Saturday we met with Nik's sister and Dexter's cousins and went for a bike ride, well the kids did, and then in the evening Nik's mum came over. Sunday it was Dexter's best friend Violet's birthday. We went out for lunch and then to a small  local farm. It was great getting out and at last enjoying some decent weather. Next week we are off for a week in Cornwall, so this week is a busy one getting everything ready for my week away. Starting off with this super laid back wedding from beautiful Croatia. Beata and Ivan held an Eco friendly wedding, that celebrated their love of nature and the outdoors. They created a beautiful environment filled with the most stunning flowers and transported their guests by boat. What an amazing day! Big thanks to Love and Ventures for the wonderful photos.
We wanted our wedding to reflect our lifestyle and beliefs: a mixture of nature, eco-friendliness, adventure, chill-out, casual atmosphere, and authentic emotions!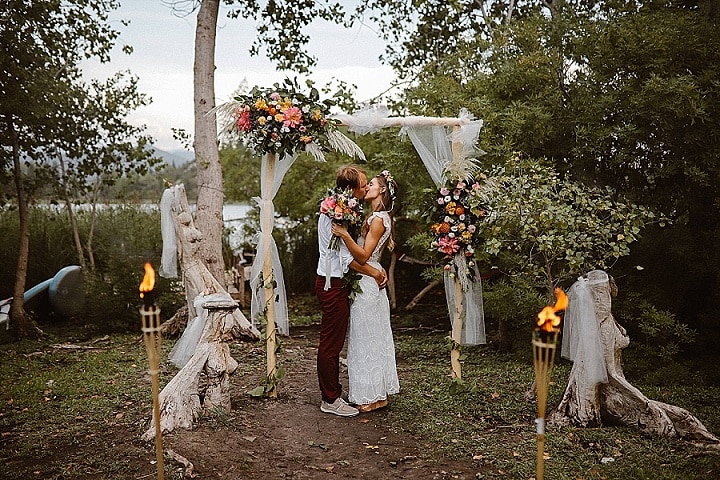 Beata and Ivan were married on 7th September 2019. The intimate ceremony took place on a secret chill zone spot from Paddle Surf Bacina at Bacina Lakes in Croatia. The dinner and party took place at the open terrace of restaurant Adria at beautiful Kuti Lake. 'We knew from the very beginning that our wedding won't be a typical, traditional wedding. For us, it was important to feel carefree, relaxed, and to spend the day the way we feel is real us. It was very important for us to have all the parts of the wedding day in natural settings and no better place for that than our chill base at the Bacina Lakes. This is the place where we spend the most time when we are in Croatia (Beata is Polish so we normally spend winters in Poland), our little heaven on earth, far away from civilization. The spot is our land where we built the modern eco-friendly wooden house and where we host friends, family, and guests on our SUP tours during the summer. For the wedding ceremony, we built an eco-toilet for our guests as well. We wanted to share the love for this place and the nature of Bacina Lakes with our international guests from all around the world. At the ceremony, we invited only the family and close friends (approx. 40 guests) and at dinner, there were 130 guests in total. We started the planning process around one and a half years before the wedding.'
How they met 
Beata is the owner of windsurfing agency Summer Flow and Ivan is the owner of Paddle Surf Croatia agency so the love for water sports and nature connected us. We organize windsurfing and SUP school in the Neretva delta. Before the wedding, we've been together for 2 years.
The proposal
The proposal was a rather funny moment. It happened on Christmas day and everything happened in front of our parents while we were opening gifts.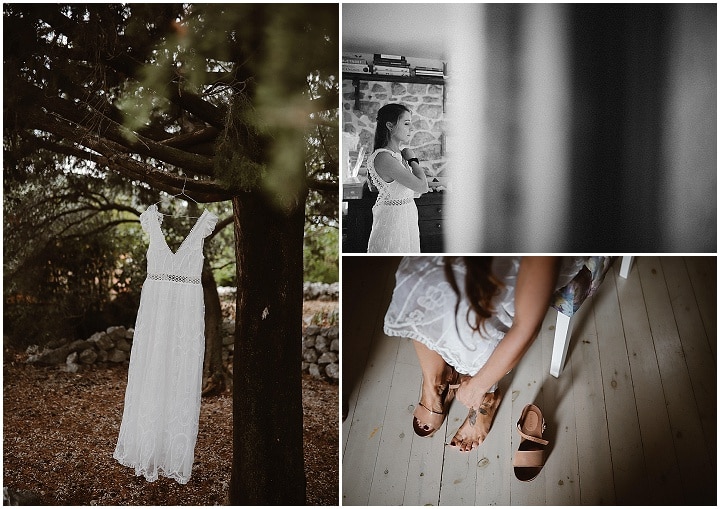 How did you allocate your budget?
Generally in Croatia, the restaurant, band, and then photography+video are the biggest expenses so we knew what to expect and booked these things first and the rest we divided for other things.
Where did you splurge and where did you save?
We spent the most on the restaurant, it was important for us that guests enjoy the beautiful natural setting as well as tasty food. We saved on stationery (we made it ourselves with the help of our friends), on the getting ready venue (we accommodated our guests at our own Ethno Art village Podcempres) and on wedding clothes.
We saved significantly on the officiant. In Croatia, you need to pay additional costs if your officiant is coming to the ceremony spot. In our case, it was around 500euros (instead of 50euros if you do it in officiant's office). So we did the legal stuff at the office and on the ceremony spot, one of Ivan's friends was our officiant and he prepared beautiful, personalized speech.
How did you choose your photographer?
Andrea and Mario are our friends and fellow adventurers. Their shooting style is natural/documentary and they love water sports and rock climbing just as we do so the part of choosing a photographer and videographer for our wedding was pretty easy.
The Outfits 
Beata spent days looking for a perfect wedding dress but nothing was 'really her' and finally she found the perfect bohemian dress online from Bonboho. And it was not nearly as expensive as it would be if she got any other wedding dress from wedding salons. From accessories, she had a floral hair wreath made by the florist. Shoes were from Lasocki.
Ivan wore Zara Man burgundy suit (also very unconventional suit color) and sailboat-style shoes.
Bridesmaids were free to wear anything they like as long as they did not wear high heels because the ceremony spot was suitable for flats and flip-flops only :)
Theme or color scheme
The theme of our wedding was nature: wood, flowers, water, and chervil. The Colour scheme was Hawaii style colors.
Flowers 
Our florist created beautiful bouquet and flowers decor for the wooden ceremony arch. These were made from different flowers including coral peonies, dahlias, Limonium, lisianthus, protea, laurel, and for the restaurant decoration we had roses and eucalyptus.
Decoration 
All our locations were in natural surroundings and for us, nature is the best decor. We had some fairy lights backdrop in the restaurant. We have made the wooden 'gates' previously and used it as a wedding ceremony arch. Ivan's father is a sculptor so his wooden sculptures were making the ceremony spot even more special.
We are strongly against plastic waste so it was important for us that we use recycled and degradable materials wherever we can.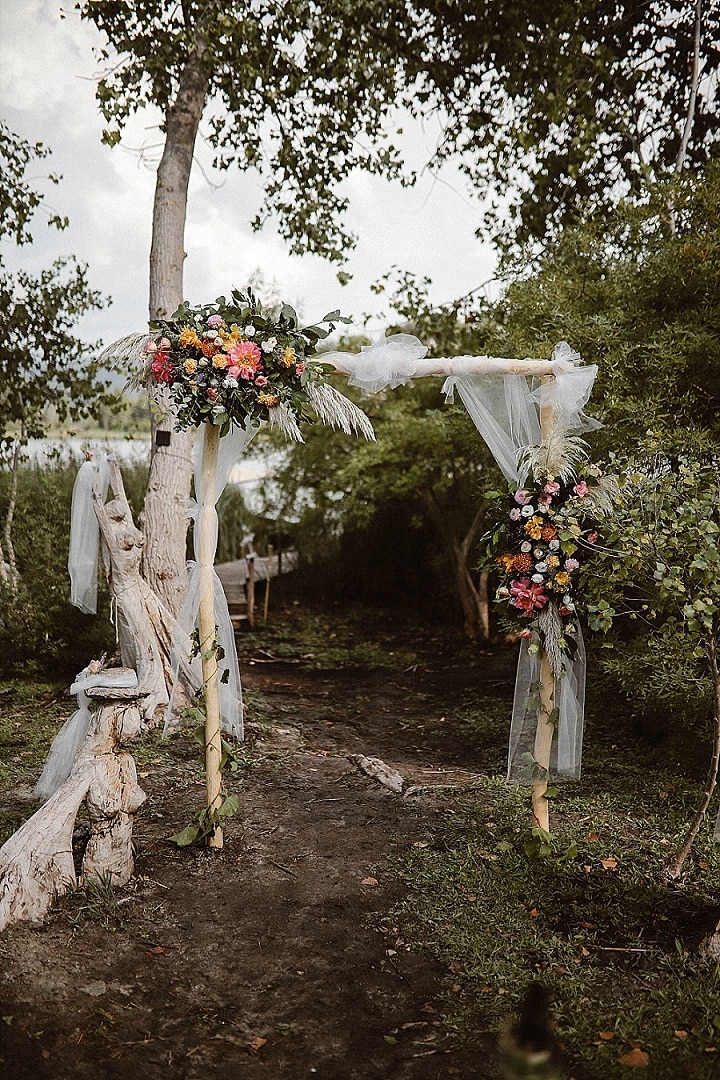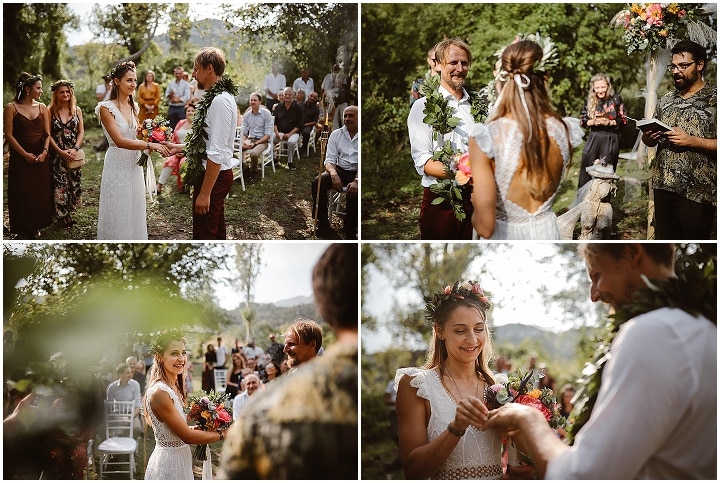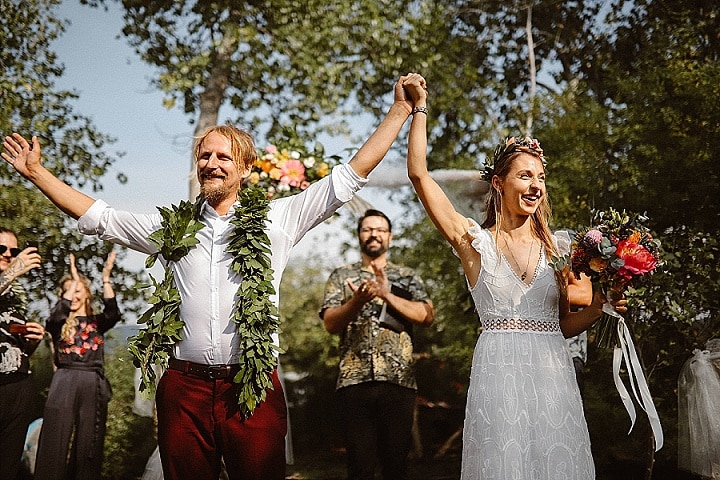 Food
Our menu had several courses including local prosciutto and cheese, risotto, and, on Croatian weddings inevitable lamb. There was a vegetarian menu as well.
Wedding cake
We had a simple wedding cake decorated with eucalyptus leaves.
Entertainment
We hired a band that plays funk, rock, and reggae music from Croatian and international artists. As Ivan has his band, at one point they entered the stage and played some grunge music.
Who supplied the stationery?
We made all the stationery including invitations, table names, etc. by ourselves with help from the team at Summer Flow.
Where are you going on your honeymoon?
We planned to visit Morocco in 2020. however, the Covid-19 messed up with our plans so it is postponed, for now.
Personal touches
So we built the whole wedding ceremony spot on our own (even an eco-friendly toilet for the guests), we made all the stationery and Ivan's father made the wooden sculptures.
Four of the wedding cars we had and old-timer Citroen cV2 – the same model in which Ivan's parents were driving on their wedding day.
We were using the traditional 'lađa' boats to reach the ceremony spot with our guests. That was a very special and unique experience for all of us because we had the opportunity to show them the beauty of the lakes we love so much.
Special moments 
The boat ride and reaching the ceremony spot, driving in the oldtimer and the mini-concert of Ivan's band.
Advice for other couples
Just be relaxed and do not adhere to the standards imposed by today's society, make a wedding on your terms, no pretending – be what you are.
Biggest surprise
We were surprised at how everything was going easy!
Also, there was pouring rain during the whole morning that threatens to mess up with our wedding plans but as soon as we stepped into the traditional boat, the rain stopped and we had sunshine until the evening hours.
Supplier Shout Outs
For more information about Love and Ventures go to
www.loveandventures.com / Our blog  /  [email protected] / +385 98 508 702 / Instagram / Facebook / Pinterest
Love and Ventures is Croatia based elopement photo+video couple who also happens to be adventure guides. We are dedicated to helping adventurous couples plan an elopement or intimate wedding in the most unique way. Whether you want to get married on the top of the mountain or secluded beach, we are all in to document your one-of-a-kind wedding experience! We create timeless imagery and wedding films rich with natural moments by showing your authentic side, no staging at all.