Whether you're planning an elegant traditional or boho-chic wedding, you want the day to reflect you as much as possible. Although you can find an array of by-the-numbers wedding templates, these are just a good place to start. Showing off who you and your partner are demands customisation so the day is specifically tailored to your preferences.
You'll quickly find many small but crucial elements that go into wedding planning. Although you thought you didn't care about them before, you'll soon discover the opposite. If you're planning a wedding and want to get it just right, here are six tips to plan a wedding that matches your style perfectly.
Discuss It With Your Partner
As much as it can feel like it's your big day, remember you won't be the only one at the front when the wedding arrives. You already have a range of preferences for your wedding day, but you should still discuss it with your partner to keep you on the same page.
The last thing you want is to plan styles and decor that don't match their vibe. It's not solely about one of you, so you should compromise colours, music, and styles to avoid wedding planning stress that could derail the wedding before you make it to the big day.
You should discuss all the details with your loved one in a timely manner. Weddings aren't just about style, but about meaning as well. Make the wedding meal menu by sharing what you enjoy eating or what you've experienced at other weddings. Make sure your bouquet of flowers reflects your personality and conveys the message you want to convey. Discuss everything early, so you won't miss the freshest catering service or bouquet of flowers.
Look For Matching Rings
Matching your rings is a traditional approach, and visiting a jeweller to choose your rings together is an exciting moment for any couple. But it isn't just about matching your wedding bands. Many brides want to find engagement rings and wedding bands that link together through a design that makes the ring look larger, bolder, and more elegant.
If your partner has a ring passed down from their relatives, you may be able to find a band that matches this, too. It may seem like a small detail, but it's one of those things that make your big day feel even more special, and it's something you can both look at throughout the years and smile.
Bring In Your Own Stuff
You may have discovered that wedding decor is expensive. While this wedding decor is nice, it may not match your vibe entirely.
Bringing your own stuff to the big day and using this as decoration can help you save money and enable you to maintain your style throughout your big day. You can entrust this with the wedding party and leave them to arrange everything before you make your grand entrance.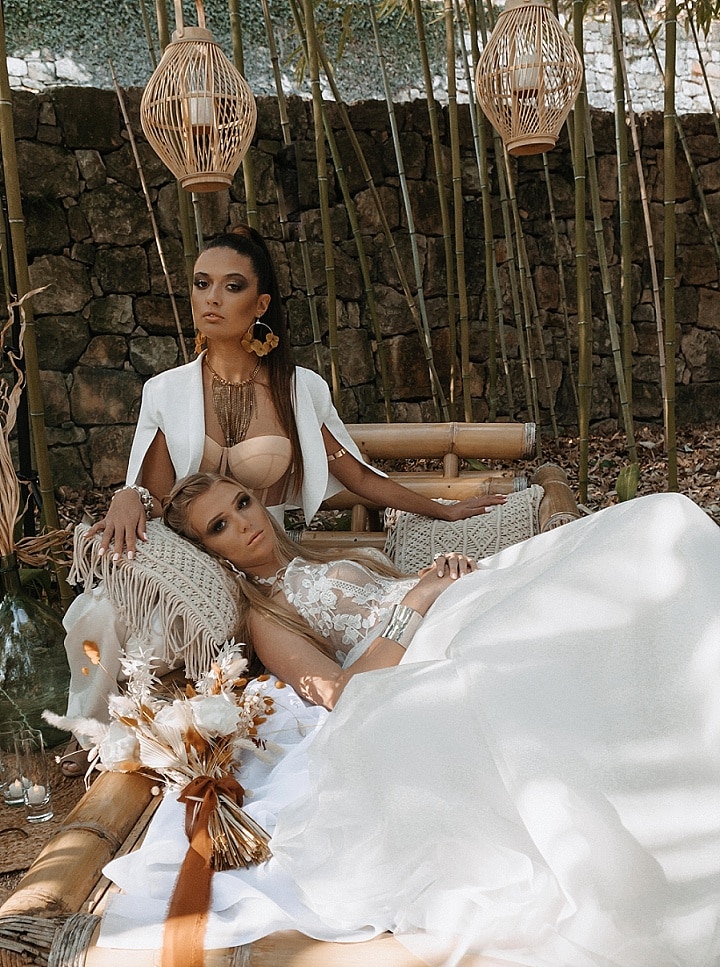 Work With a Coordinator
Your big day will go by in a flash, but you want assurances that everything will go to plan. As the main event, you shouldn't be expected to deal with all of this yourself. Your wedding party can keep things running smoothly, but a wedding coordinator can be an even bigger help, even if just for the day to prevent any delays or mistakes.
A coordinator will understand your vision entirely and they will do everything in their power to ensure you get whatever you demand. This can take the stress off you and lets you enjoy your day as you should, without any meltdowns or last-minute panic.
Don't Go Overboard
Many couples are guilty of trying to do too much for their wedding, but these additions usually include too much stuff that guests won't even care about, so they are not even worth having. Even if your style is to go as big and bold as possible, there are some areas you can ignore and this allows you to go even bigger and bolder on other aspects.
Similarly, those who would prefer a minimalist wedding can keep things simple and present a modest vibe that still gets people on the dancefloor, keeps the drinks flowing, and ensures everyone has fun.
Let The Vibe Do the Talking
You are bound to spend the next few months worrying about every aspect of your wedding. But, at the end of the day, all that matters is that you and your soon-to-be spouse are surrounded by friends and family. You know your style, and whatever you choose, you can let the vibe do the talking so people can immediately see that the wedding is yours.
Everyone has a unique style they want to implement in their wedding. These styles can be subtle or bombastic, and whatever you choose, you'll know that your big day is a significant reflection of the love you and your partner will share forever.
this is a collaborative post