Hello Monday and welcome along to another fun packed week on the blog. It's another super busy week here at Boho HQ, the weddings are flooding into my inbox as are the wedding articles and featured posts, so much fab content to share with you over the next few weeks. It was a busy weekend for me as well. Not one but two parties. My best friends 50th party on Friday night then we had Nik's 40th birthday party on Sunday. Lots of fun, lots of food and lots of drinking! Good times all round! So on with today's gorgeous styled shoot and I just LOVE the burst of colour this shoot brings with it. The shoot took place on 23rd April 2022 in Winchester, California and it's an absolute beauty. With accents of peach, teal, cream and lilac this shoot with it's AMAZING balloons, candyfloss and bouncy castle is everything that a fun stylish wedding should be. If you are looking to inject some colour into your wedding day then this shoot will offer up some first class inspiration. Big thanks to JenEvents for sending in the submission and to Melissa Fe Chapman Photography for the wonderful photos.
When you think about Temecula, you automatically think, wine, vines, and fields. Well that's where you've got it all wrong here. A little outside of Temecula is this hidden gem of a venue called The Rustic Ranch Weddings. And it is all your rustic wedding dreams come true. From day to night, this venue is absolutely magical. The venue is managed by the amazing Outdoor Luxury Events who has the most beautiful rentals that can be added to the venue itself!
JenEvents and Melissa Fe Chapman Photography stumbled upon this beautiful venue when finding a place to put together this styled shoot! They wanted to put together a wedding day that was full of colour and fun! With the help with the vendor team, they were able to achieve that.
Melissa Fe Chapman Photography was able to capture all of the details perfectly and really show off each aspect they had to a tee! The bride was beautifully dressed by AW Bridal that had us swooning with every movement. Donna Does Beauty gave our bride this beautiful natural glam look that enhanced her beauty even more. Our dapper groom was dressed by Friar Tux in their Ivory Paisley Shawl Lapel Tuxedo with camel pops of color.
Lobo Floral was able to encompass our fun colour palette in her all dried floral collection. The invitation suite was beautifully designed by Design by Laney and did not disappoint in colour. What is more fun: a jumper, a cotton candy cart, or a traveling DJ? How about all three? AirPlay has an incredibly elegant all white jumper that would go with any wedding theme when paired with the colour matching balloons that will give your guests, no matter their age, hours of fun and laughter. The Cloud Cart Co gives us this great nostalgia of our childhood with cotton candy, but with a modern twist of yummy flavours like coconut and matcha green tea!
If you are ready for a party, Dellinger Entertainment is your DJ. The Rock Box was beautiful to look at as well as so much fun! Playing jams all day and lighting up the night with their sparkler boxes.
The absolute star of the day (besides our gorgeous bride and groom) was Wrap It In Lace who decorated everything with her amazing balloon skills! The colours were incredible and tied everything together that was just magic.
The colours did not stop at just the balloons. The sweetheart table and reception tables were full of colorful details as well. From the place settings by Party Animal, to the naked tea cakes and macarons by Miranda's Sweet Treats. They wanted to keep the colour party going from start to finish! The details could not be complete without the amazing skills of Blukat Baking. The custom sugar cookies included the balloon arches, dried florals and even a picture of the bride's dress! Not only beautiful, but delicious as well!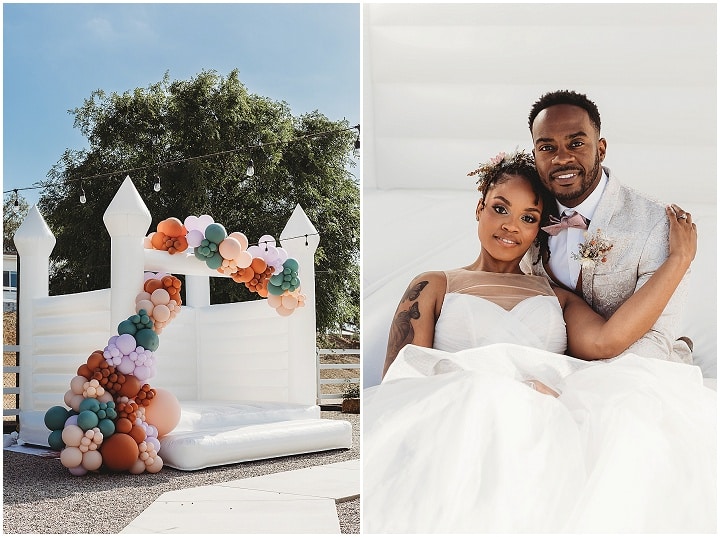 Supplier Shout Outs