Today's shoot is absolutely bursting with colour and vitality. Using the events of the past two years as a catalyst, this amazing shoot came about to show the world that love can carry on, that love is still here and that it should be celebrated and embraced. Using Frida Khalo as their inspiration, both in spirit and with her use of colour, this team of talented suppliers led by Artium Weddings Croatia have really embraced her essence and created a shoot that oozes life and vitality. The shoot took place on 8th May 2021 at Jural – an undiscovered cliff on the Lim bay, Region Istra, Country Croatia and the backdrop is as stunning as these images. If you are thinking of adding bold bright colours to your wedding day then this shoot is a fine example of how it can work beautifully.
Breath-taking and emotional, intimate wedding shoots with a strong character.
We were and still are very disappointed about the whole Covid situation. People are forgetting to enjoy life, to cherish the small moments. Celebrating love is put under so many rules. When it comes to love no rules are valid. Love is what runs the world. Love cannot be banished. And from there we got all the inspiration.
Design and styling are signed by Artium weddings Croatia. Guided by renegade ideas, we took several unavoidable motives for their inspiration. Frida Khalo, the heroine of the dissolved spirit, served as a balm for this virtuous passion. Her desire and will for life, for pleasure and the artistic side served as a message and inspiration to this project.
Frida Khalo joined us. We have implemented motives that are so Frida. The rebel accent is present in every stage. We used a very specific bright full of life colour palette to amplify the greatness of life.
We wanted to shook up everyone. The idea is to wake up the society and to remind them how great the life is. Every situation has their own difficulties but they can be overcome.
Our Istrian region is just amazing. There are so many undiscovered places. Dare to find out those locations. Dare to feel love and their extraordinary power. That was our goal. To show that we can and you can organize your amazing free spirit wedding in our country.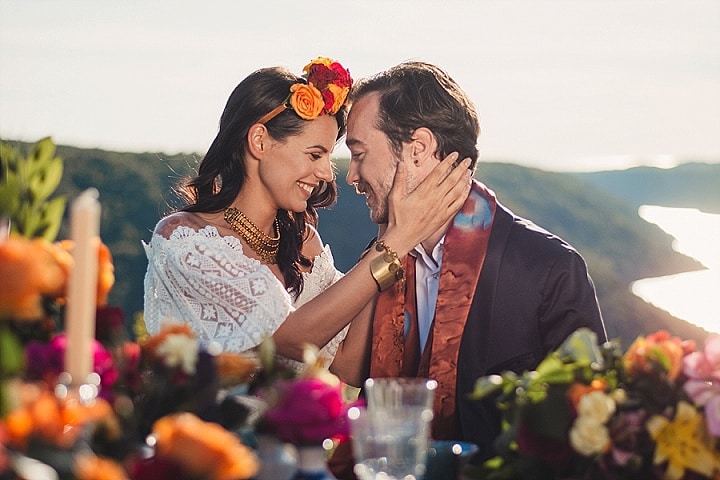 Supplier Shout Outs