Today I have a real treat for you with this fabulous festival themed wedding from my good friend Jon at S6 Photography. Carmel. todays gorgeous bride will be familiar to you as she has been writing for the blog in the diary of a boho bride feature for the last year. Each month she shared with us her wedding planning story as we found out all about her wedding planning journey, from the dress to the hen do. Today is the day we get to see the finished results and the wedding couldn't be more amazing! Carmel and Dan have done a fantastic job of creating a fun-filled festival themed wedding. With beautiful flowers, amazing entertainment to the fab decor and amazing outfits. I just adore this wedding and I am so glad that Carmel and Dan had the wedding they deserved. May I wish them many, many years of happiness together.
A day we will never forget, we never stopped smiling and laughing with all the people we adore! Ooozed everything we love…. Great venue, awesome music, amazing food, drinks flowing, better than we ever imagined!
Carmel and Daniel were married on the 18th of June 2016 at St. Johns the Baptist Church, Adel, Leeds followed by a reception at The Mustard Pot, Chapel Allerton, Leeds. 'We wanted our ceremony to be in a church, for us we just felt it signified the commitment we were making to each other. We had 100 guests in the day, and a total of 160 to the evening reception. The wedding took 15 months to plan.'
How they met
We met in Leeds on a night out, we had our first date on Friday 13th May which was just over 5 years ago.
The proposal
It was Friday 13th February, Valentine's Day eve. Dan's sisters and Mum had asked me to go out for tea. They were going to my favourite bakery in Leeds; I had told them all about it and even bought them a voucher so they asked if I fancied joining them. I jumped at the chance! Dan dropped me off and headed home for a night in solo, or so I thought! Next thing I knew, Dan walks in, he's on one knee and I'm in full floods of tears! We had a wonderful evening and had cupcakes for breakfast!
How did you allocate your budget?
I have to admit working within a budget isn't one of my strong points. We worked hard over the 15 months, both taking on a second job and using Airbnb too as an extra income. It wasn't easy and we knew it wasn't going to be but we knew it would be all worth it in the end! We paid things off along the way, using each month's pay packet, we started with the big things so then at the end we only had little things left.  This worked well for us, ticking things of the list rather than waiting till they were all asking me!
Where did you splurge and where did you save?
We knew we wanted to splurge on a good venue! Ensuring our guests had good food and a nice laid back atmosphere was our vision. We then placed importance on the photographer, videographers, and the music! It was a festival theme after all!
Why did you choose your photographer?
I thought choosing a photographer was going to one of the hardest decisions, turns out it was quite the opposite. We knew we didn't want to spend the day being asked to pose, jump and say cheese, although I'm guilty of loving a good selfie on a Saturday night I know Dan isn't. Neither are my parents. Natural shots, people enjoying the day, those moments that usually are forgotten, that's what we wanted captured! Jon Dennis at S6 Photography was the obvious choice! When we when to meet him we knew. We loved him, we loved his photos! Easy!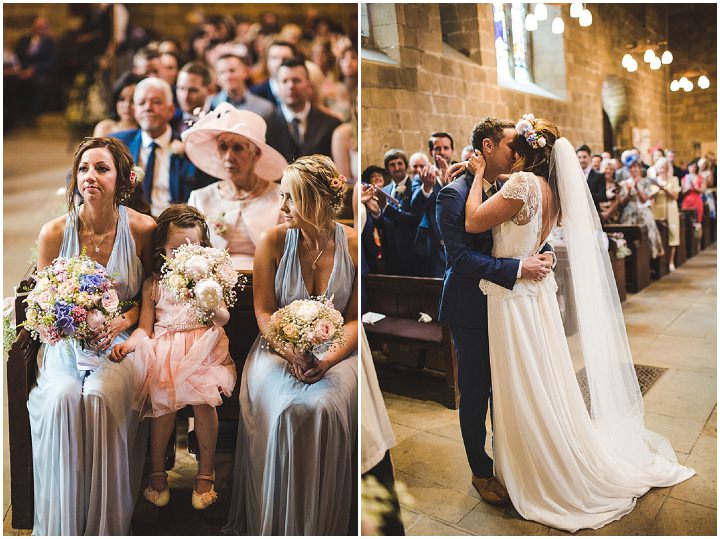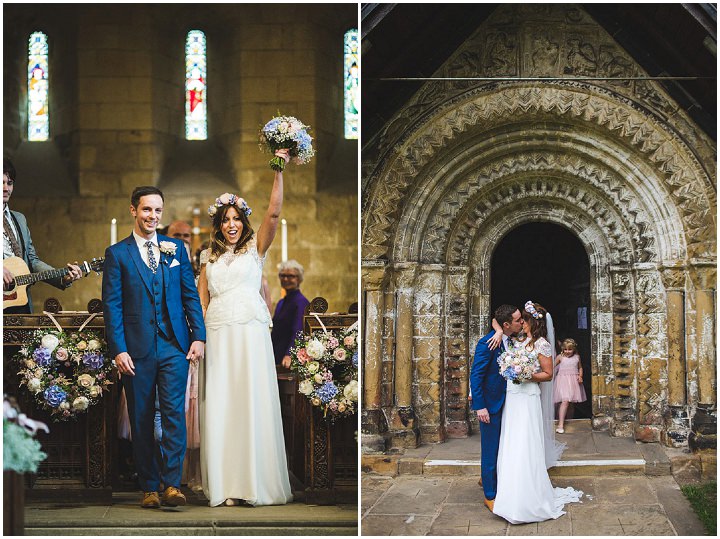 The Dress
My dress was a Jesus Peiro from Lovebird Brides in Ikley. I wore Sophia Webster Coco Crystal nude shoes and as a wedding day gift Dan bought me a rose gold Links of London heart bracelet.
The Suit and Bridesmaids
Bridesmaids wore both ASOS shoes and dresses. Flower girls and page boy rocked Next. Dan and all the groomsmen wore Burton's suits (that came with free shoes)! Bargain! We then splurged on a Hugo Boss shirt for Dan that cost as much as the suit, ha! Ties and Accessories from River Island and Primark! True high street shopper!
Theme or colour scheme
Festival Theme (to a certain extent – I didn't want wellies)! We had a colour scheme of pastels, blue and pink.
What sort of flowers did you have?
My flowers were a mix of hydrangeas, roses, peonies and gypsophila. It was a beautiful bouquet that complimented by colour scheme perfectly. We had gypsophila bouquets at the end of the pews, as well as two heart wreaths in the church. The bridesmaids had a gypsophila and roses bouquet and we all had afloral hair accessory too! I had the prettiest floral crown!
Decoration
Our reception was gorgeous inside and outside, decorating wasn't even necessary but I was keen to make our own mark in it. The garden was covered in bunting, a 'dance tent' yurt, large festival letters spelling out BARTONBURY, mini tepees, balloons! It all came together perfectly. Inside was covered in candles, roses and gypsophila. It looked dreamy!
Food
We had a 3 course meal where guests could choose from 4 options. From risotto to fishcakes, pork belly to venison steak, sticky toffee to chocolate brownie there wasn't a complaint in the house! Just empty plates all round!
The Wedding Cake
My very talented friend of Buttercream Cake Design made the wedding cake as our gift. 3 tiers of yummy-ness! The bottom tier being chocolate, the next salted caramel and last vanilla. All as good as each other! It was covered in buttercream and donned a 'BEST DAY EVER' cake topper.
Entertainment
We had a singer in the church, Sam Scherdel, who also came to the venue for our drinks reception. We had a band to kick start the night called Festival Sons who was followed by DJ Rich Banks. We had a photo booth from Booth Generation which when down a storm!
Stationery
We had stationery from Something Kinda Cute – We had a custom illustration of myself and Dan, using the colour scheme of Pantone
Personal Touches
I made lots of things myself, I didn't want to stress myself out too much but I also love to be creative and wanted to put my stamp on the little touches. I made the table plans, all the wedding signs, cards crate, we had CD's as wedding favours with songs we love.
We had a 'pimp your prosecco' stall, a pamper station in both toilets, we provided flip-flops and blankets as the majority of the day was outside, we had lawn games for the children plus a cool VIP seating area for them with their own personal activity books. All handmade with help from my Mum and sister. We made the order of services too plus extra little jars to decorate the place with.
We treated our guests to a round of donuts before we left the church, eating a Nutella Krispy Kreme whilst wearing a wedding dress! Dangerous, but oh so good!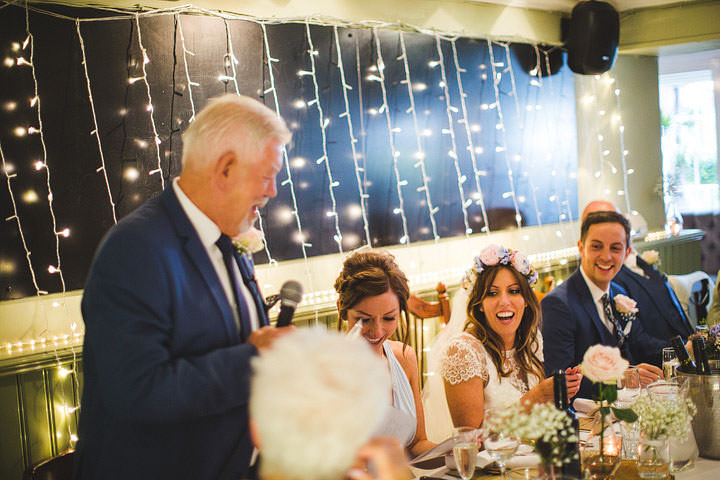 Special moments or highlights
I had secretly planned with the church to read a poem out to Dan, he had no idea and I knew he was going to be really taken aback. I nearly finished it without crying!! I loved surprising him with this!
Arriving at our venue was a highlight for me, just to take a step back and really look around! The place look great and seeing all our loved ones waiting for us! Was such an  amazing feeling!
Advice for other couples
Make sure you stick to what you as a couple love and find important, it's so easy to start to do things to please others. Don't let stress or minor problems take over, just always remember that the most important thing is your marrying the person you want to spend the rest of your life with. That's what will make the day a success, everything else is just background detail!
Biggest surprise
I was really worried about the speeches; I wasn't even going to ask my Dad to do a speech as I thought the pressure of it would ruin his day. My sister helped him to write something and it really did blow me away. The same for Dan too, I do most of the talking for both us a lot of the time so I knew doing a speech would be really nerve racking for him. I was so proud of them both. They really did surprise me!
Supplier Shout Outs
FOR MORE INFORMATION ON JON'S WORK PLEASE GO TO:
www.s6photography.co.uk / www.s6photography.co.uk/blog / FACEBOOK / T:@s6photography I:@s6photography