Hello to you all and welcome to Friday! What a mixed up week of weather we have had. I honestly thought the other week when the sun came out that we all might be able to wear our flip flops again but I think we may just have to wait that little longer.
Today we are back with our weekly feature a Diary of a Boho Bride and I today it is the turn of Carmel and Dan. Today Carmel is giving us an update so far with her wedding plans and also sharing some of her engagement images from our wonderful friend Jon of S6 Photography.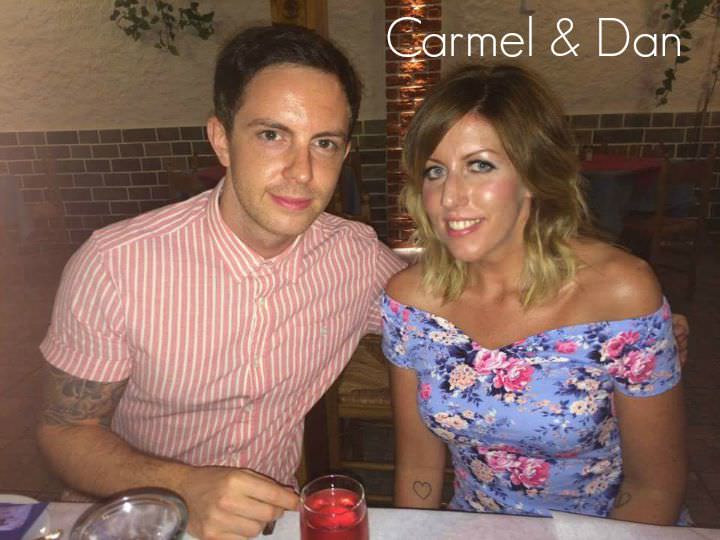 I'll pass the blog to Carmel and Dan….
Has another 4 weeks gone by already?! It all seems a blur. I was lucky enough to take a full week of work just after the Easter weekend to help organise myself. (Although recovering from the weekend itself was hard enough, hangovers are so much harder these days!)
Over the past year I've scrolled through Pinterest and impulse ordered anything that I thought I 'NEEDED for the wedding'. When I was out shopping I was constantly buying bits and bobs that caught my eye. I had a plan of course, I had just forgotten it! Now I just needed to refresh my memory and go through what wonderful things were amongst the collection. Ha! I have all these grand ideas in my head but not sure how they're all going to pan out! Hopefully okay, I have all my table centrepieces now and I was really happy with how they look. That's a good start! I've not been wildly adventurous, seeing as were having a pub wedding I really liked the wooden tree slices. After I searched online I was shocked at actually how much it might cost be for this specific rustic look, luckily I found a local tree surgeon that did them for me at such a cheap price! They look perfect! I've collected jars and found small vases from bargain shops and small high street stores. Items like this can be rented from wedding planners and florists but I just felt this was a much more budget friendly option! Plus I hope someone can get use from them after me too.
Next, the cake! One of my lovely friends has offered to make our wedding cake as our gift! I'm quite fussy when it comes to cake flavours; I'm not a fruit fan, I don't like icing or jam! I really just prefer chocolate fudge cake, however I'm not sure this is acceptable for a wedding cake! I love the naked cakes and the ombre ones. I've sent a few pictures of what I like to my friend and I'm happy for her to unleash her creativity! As long as chocolate features somewhere, I'll be happy!
We too this month had our engagement shoot with our wonderful photographer. Jon at S6 is fantastic! We opted for a city centre shoot and spent the day around the streets of Sheffield. This was of course after I had spent the morning being pampered by Jenn Edwards and her team. They are based in a cool studio in S1, they share the space with florists and photographers who are all part of the wedding world. It's lovely! I thoroughly enjoyed being in their wedding bubble. Choosing make up is much harder than I thought; what colour lipstick, what colour eyes, eyeliner; yes or no! I was a little scared of make up at first, trying to find a balance between super-hot bride/au natural is hard! We played around with some colours and tried different hair ideas too, I still haven't decided! Luckily, Jenn sent me over the photos and I don't have to decide until the day! Great news! That means I have…… 70 DAYS! Oh em gee!
Best get on with my table plan.
Speak soon.
Carmel and Dan xx