Finally it's the weekend! Well, it is for me because this afternoon I am taking time off and I am starting the weekend early! How are you all? Did you enjoy any Bonfires last night. I do love Bonfire Night. Pie, Peas, Bonfire Toffee and Sparklers and the lovely fire smell in the air. It is definitely one of my favourite times of the year.
Today we are back with our weekly instalment of our Bride's Diary and today it's the turn of Carmel and Dan.  Last time they talked all about their Save the Date's and today they are back talking about Wedding Dresses.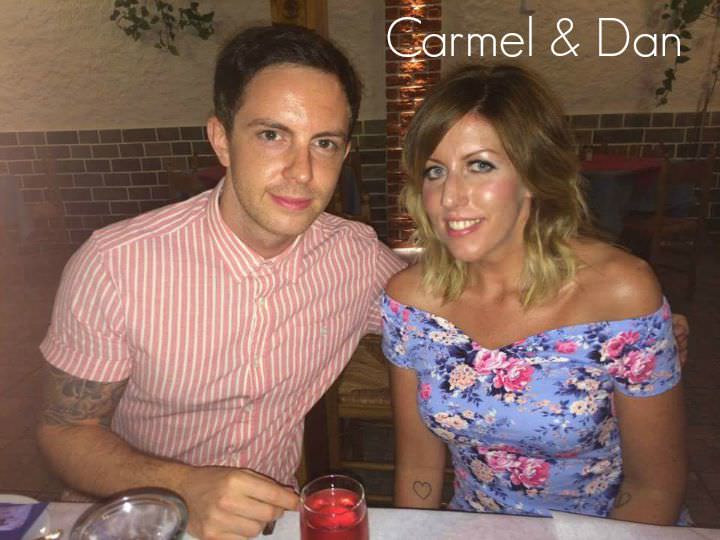 I'll pass the blog to Carmel and Dan….
Hello again, I can't quite believe how fast time is flying by. I feel like I have blinked, months have come and gone, the wedding is getting closer by the day. I've been tackling the wedding 'To do' list, booked transport, the florist, entertainment. Found groomsmen suits, flower girl dresses, and bridesmaid attire, it really all seemed quite in hand!
However, the task of finding my dream dress was well under way and I really didn't think it would be as
hard as it was. In my head, I'd go to a shop, try on a few dresses, get this massive rush of emotions, everyone would cry and I'd go home and tell everyone I'd found 'the one'! If only it was that simple. I made the mistake of falling in love with a dress on Pinterest and trying to track down said dress was somewhat impossible. After serious google investigation I was informed that the dress was made by a Parisian designer and I would have to be measured for the dress in her atelier in France. Wow, my imagination loved this idea! I immediately began to mentally chose my outfits and plan my city break itinerary! As amazing as it all sounded, Dan brought me back down to earth by explaining that our wedding budget couldn't stretch to 6 trips to Paris for a bespoke wedding dress, huh! Of course I knew he was right, but I still sulked!
I continued to visit shops in and around Leeds, many gorgeous boutiques filled to the brim with beautiful dresses. That was the problem, they were all so beautiful! I liked lots, too many, and I hadn't quite had this 'feeling' everyone talked about so my doubts began to set in. Finding the dress had become a bigger task than finding the man I wanted to marry. Pressure began to kick in and I decided to go back to the first shop I visited where I liked a particular dress. I tried it on again and with the help of my Mum decided it was the one. The decision was made and I was happy! Or I thought I was, I started to really worry, I think I panicked and chose a dress because I felt time was running out. I didn't know what to do; I decided to email the lady at the boutique. I told her my worries, and she told me to come back to the shop. Fortunately, there was also a new dress that had arrived that week that she felt had everything I had told her I wanted. I tried on the new dress and instantly felt amazing; I was on my own so just listened to my own intuition. I decided to also try the dress I had originally chose and there was really no comparison in my mind. I had no doubts, the new dress was perfect and I LOVED it!!!! The best part is no one has seen me in it yet so I can't wait to take my family and bridesmaids.
The only advice I can give when searching for the one is to take your time, don't rush, don't pressure yourself into getting a feeling that may never come and just listen to your own gut instinct! Also, make sure you feel comfortable and confident with the shop you purchase your dress from; this really helps to make you feel more at ease!
Now I have to just have to find shoes!
Love Carmel x