Hello and welcome to Friday! It's finally the weekend. We have shared with you this week so many fantastic wedding posts and today we are finishing the week with our weekly Boho Bride feature.
Today is the turn of Carmel and Dan and sadly this is their last post. I have really enjoyed Carmel's wedding updates and the emails we have exchanged. They get married tomorrow and we are so looking forward to sharing the images with you especially as she has picked an amazing photographer – Jon at S6 Photography.  Good Luck Carmel and dan it's been an absolute pleasure to share your story with all our Boho readers. We know you are going to have the most amazing day!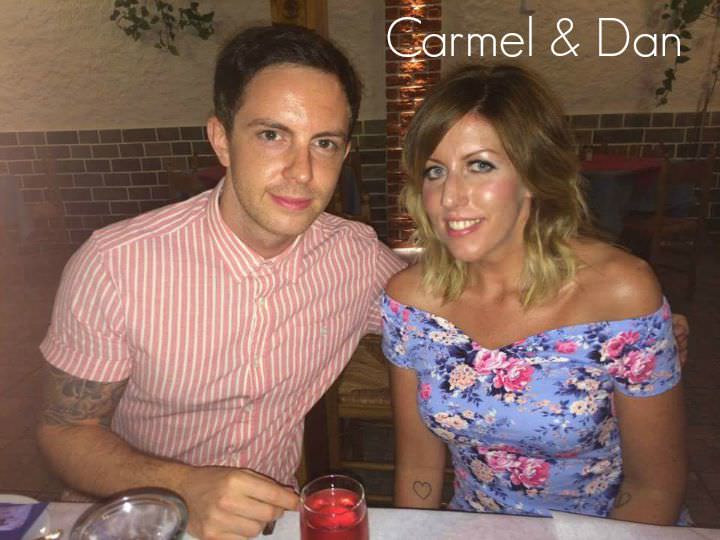 I'll pass the blog to Carmel and Dan….
It's my Wedding Eve!!!!!!!!!!
I think it's registered. I'm not quite sure, still feels a little surreal. I finished work on Tuesday which was a huge relief, my colleagues gave me a lovely send off. I've picked up my dress, dropped items off at the florist and venue. Finalised table plans, centre pieces, gifts, name settings!!!!! I've spent the last year planning and making every detail. Now I've just sent it all off in a van. How exciting, seeing it all come together! I can't wait!
I think I'm still quite calm, (Dan may say the opposite!) I'm just doing what every bride does the week before their wedding. Going over plans and timings to ensure there's no flaws. Worrying about the weather, losing sleep over hypothetical situations. Having irrational moments then realising I'm being crazy and laughing about it. Totally normal yeah?
It's so easy to get caught up in the minor details, having mini meltdowns over decisions that in reality don't even matter! It's something that I've had to remind myself of over and over. The perfect day I've dreamed of Vs. just bring married to Dan and letting things go. I am a perfectionist and of course want things to go wonderfully! But all that really matters is that at the end of the day me and Dan are married, surrounded by our loved ones and ready to start the rest of our lives together. Everything else is just in the background. (But still, please pray for sun!)
I'll leave you with that as my last entry! I've LOVED being a boho bride and reading blogs from others going through their wedding plans has been amazing too.

See you on the other side!

Love MRS BARTON-to-be!
Xxx