Good afternoon and welcome (well almost) to the weekend!  How are you all?  Today we are back with our weekly Boho Bride feature and today it's the turn of the lovely Carmel and Dan. They have certainly been very busy since their last instalment back in February.  It won't be long now before the wedding day! Today they are here to tell us all about choosing their menu amongst other things and oh my how I wish I was a guest at this wedding the food sounds amazing!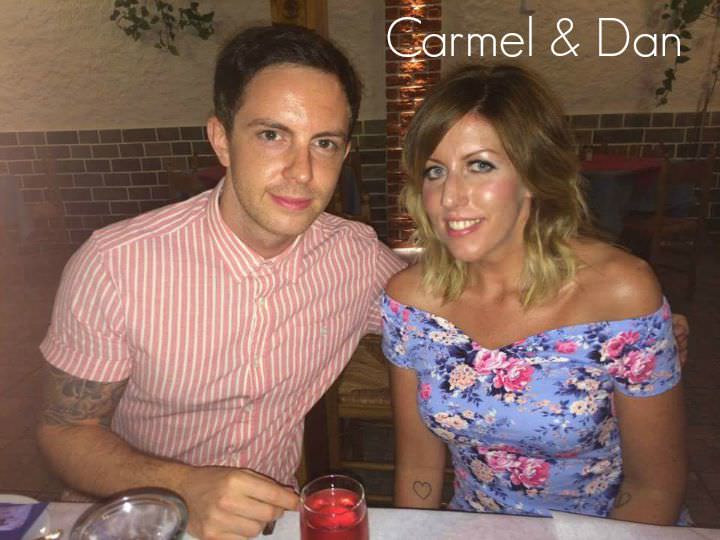 I'll pass the blog to Carmel and Dan….
Hello again! I can't begin to explain how excited I am, we get married in just over 100 days. I've had a very pro-active couple of months! The invites have gone out, it feels really real now. I get excited arriving home work each day to see another RSVP lying on the mat eager to see what our family and friends have chosen to eat. Choosing our wedding breakfast was easier than I thought. We wanted to please everyone and therefore needed a range of dishes. Our venue definitely delivered! Guests have 4 choices for each course, and they all sound amazing, the only problem is committing to a meal now!

We went to London for our 'engagement anniversary' if that's even a thing, but any excuse! We went to a great jewellers in Hatton Gardens called Diamond Rocks and chose our wedding rings. I've played it safe really, gone for the exact same band as my engagement ring. Dan played it safe too! We were easy customers and it was easy knowing exactly what we wanted. Another job ticked off the list! Bad news is they had to keep my engagement ring in order for them to make my wedding band. I feel lost without it! The next day my wonderful fiancé trailed after me in the shops as we searched for a pair of wedding shoes. After getting soaked wet through in the rain and trying every shop I left disappointed. I spent the evening being wined and dined as I tried not to sulk. We were due to head back to Leeds the next day and we just had enough time to hit a few more shops. I dragged Dan into Selfridges on Oxford Street and before I knew it I found the perfect pair of wedding shoes and was handing my debit card over with the biggest smile on my face! Thank goodness for Sophia Webster and her beautiful designs!
Later that week I received an email to say my wedding dress had arrived in the shop. My excitement levels were struggling to remain calm, I quickly gathered my entourage (my Mum, sister and niece) and booked an appointment. Laura at Lovebirds in Ikley is wonderful. In one of my previous blog entries I mentioned how indecisive I was about my dress. With this in mind I was a little worried about seeing it. Would I love it as much? Would my entourage? Was it definitely 'the one'? I'm sure every bride goes through this but I was extremely nervous! My Mum and sister had never seen the dress so that didn't help my nerves, if my Mum didn't like I knew it would be written all over her face! I took my shoes with me and stepped into the changing room. As I looked up and caught myself in the mirror I was over the moon, I LOVED it! I eagerly showed the rest of the room, I could immediately see they loved it to. My 6 year old niece even scored me a 10 out of 10! Ha. The shoes matched perfect and I left the shop feeling overjoyed!
Last but not least, we attending a marriage session at the church where we are getting married. It was really informal and we spent the morning with other couples due to be wed within the next few months. Talking about the importance of marriage with others really helped bring us back to what was really important about our wedding. It's so easy to get caught up in all the wedding planning, sulking about shoes, worrying about menu choices, over-thinking minor details about the day when in reality all we want from the wedding is to celebrate our relationship with the people we love most. With that said, I'm still really enjoying all the planning. I always worry about the finer details, I'm a little bit of a perfectionist. Which is not a great thing to be when planning a wedding! I'm trying to be more laid back but it's just not in my nature. Ha!
Now to prepare for the next few months, more planning, more sulking and highly likely more worrying . Hopefully a hen do will help ease the stress!
Speak soon Carmel xx