Yay it's Friday! What a great week weather wise we have had here in Yorkshire this week, the sun has been cracking the flags! I absolutely love Autumn, it's my favourite season by far. We have had a great week here on the blog and we have shared some really beautiful weddings with you and some great wedding inspiration, I hope you have enjoyed this weeks posts.
We are finishing the week with one of my favourite features. Diary of a Boho Bride, this week we bring back Carmel and Dan back to the blog. Last time we introduced Carmel and Dan and they told you all about their wedding plans.  This week it is all about the Save The Dates.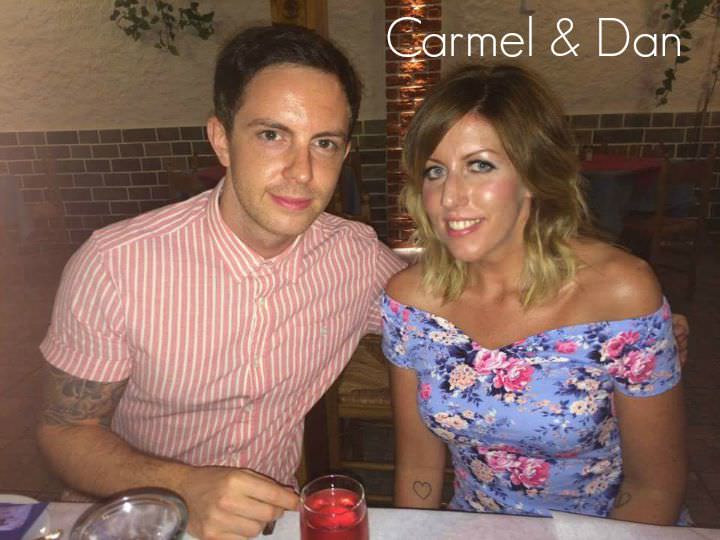 I'll pass the blog to Carmel and Dan….
After 'The Proposal' time seemed to pass extremely quick. We were flying out to Thailand for a 2 week island hopping holiday in 3 weeks time and I wanted to get things in full wedding swing! I knew I didn't want a long engagement and I knew I wanted to have our wedding close to home so we could have all our nearest and dearest there. With those massive decisions made, let the wedding planning commence!
As every bride does, I began a love-hate relationship with Pinterest to help fuel my crazed wedding mode. My secret wedding board from pre-proposal looks extremely feeble in comparison! I had broken boards down into categories and sub categories! It was extremely impressive – Pinterest stole my sleep for the first week. I was too scared to miss anything! Within a week, with help from the fiancé and Pinterest (mainly Pinterest!) we had a wedding vision and a list of our priorities!
Next on my list was 'The Bridesmaids!' Deciding who I wanted by my side was both easy and hard. I'm lucky to have lots of special friends from all different parts of my life but I knew I wanted a small number to help me during this precious time. Ones to keep me sane mid-meltdown and ones who knew me inside and out! I chose my sister for my maid of honour and 3 of my best friends. I enjoy being creative and decided to ask them all by using a bridesmaid box using my Birchbox obsession. We're also really lucky to have 4 gorgeous nieces, you can never have enough Mini-Maids! Throw in a best man, 3 groomsmen and our cool little nephew as a page boy and we officially had our wedding party!
Just before we jetted off to Thailand we wanted a few of our main priorities booked in. We looked for a photographer and researched many and S6 screamed perfect-ness right from the off. After meeting Jon at his uber cool studio we had no doubts we wanted him to capture our day. Another thing ticked off the list! This is easy!
Image Source Via www.s6photography.co.uk
Next…. Wedding venues! We researched the local areas, different options and ideas and began the search. We didn't want to rush this but we also had a clear idea for our day and knew that many places wouldn't cater for it. We wanted somewhere with character, outdoor space, great food, laid back atmosphere and we thought finding that was going to be difficult. That was until we went to The Mustard Pot, it was everything we were looking for. The only thing now was to decide a date.
With Thailand just around the corner we decided to take the decision with us.
Deciding the date seemed to big for me to deal with. From mid-week to weekend, in term time or out of term time, what season, what month, what would suit family and friends best! After a few Samsong buckets at a pre-Koh Phangan full moon party we decided the date really doesn't matter at all, as long as the outcome of the day is that we're married, then everything else is just details! (Something I constantly remind myself of when making wedding decisions!) We emailed the venue there and then with our chosen date and celebrated by sharing a picture with our family and friends with some very luminous body paint! (See half naked photo!)
On return home we had some 'proper' save the dates made up and tackled the task of writing our guest list! Now that people knew the date and the main priorities were booked in, it all seemed to become extremely real! My emotions race from excited to petrified on a daily basis (definitely more excited)! It's been a busy few months and I look forward to sharing more of my planning dramas with you all!
Carmel 
Xxx