The royal wedding is nearly upon us, some can't wait (me included) and some just are not interested! Some of you may be compleetely bored with the whole thing by now, which is why I havn't really mentioned it on the blog at all. I'm not sure why I love the royal weddings so much, I'm not a huge royalist, I can take them or leave them really, and I dont think this wedding will throw up any big surprises interms of it being anything but traditional….BUT I just LOVE weddings, so I guess it's only natural!
I'm actually working on Friday I have a wedding that I'm co-ordinating on which is going to be beautiful……but I have to say I hope the hotel have aTV to hand as I have no intention of missing the moment when Kate steps out of her carriage/car/…..whatever moad of trasport she choses to get to the abby!
I'm hoping to catch up with it propperly when I eventually get home that night!
So I thought I would have a little trip down memory lane and have a look at what other royals have worn through the ages.
1923 Lady Elizabeth Bowes-Lyon (the Queen Mother)
A traditional full-length gown with a court train was what Queen Elizabeth the Queen Mother chose for her marriage to the Duke of York, later George VI. Designed by Madame Handley, the dress was on trend for the 1920s with its unshaped lace bodice – a style made popular by Coco Chanel.
1937 Wallis Simpson
The marriage of Wallis Simpson and Prince Edward wasn't a royal wedding as such as the prince had decided to abdicate the throne in order to marry divorcee Mrs Simpson. The bride wore a simple blue dress with a fitted waistband, gathered bodice all finished off with a neat hat – the style was widely copied for its simplicity.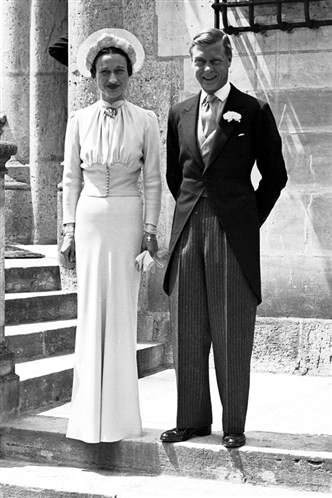 1947 Queen Elizabeth II
Queen Elizabeth II's wedding day at Westminster Abbey was a grand affair. The Queen's dressmaker Norman Hartnell had the honour of designing the ivory duchesse satin gown adorned with crystals, 10,000 tiny pearls and appliqué tulle embroidery. The 15-foot train was also embroidered with pearls and crystals as well as appliqué duchesse satin and was inspired by Botticelli's Primavera, to signify hope after the war.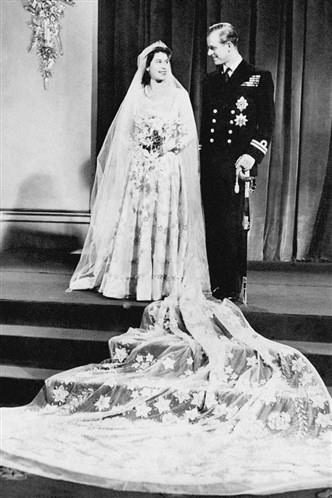 1956 Grace Kelly
MGM wardrobe designer Helen Rose had the honour of creating Grace Kelly's wedding gown in the 50s – the dress featured a full skirt of ivory peau de soie and a fitted bodice made of Brussels lace and embroidered with seed pearls. Grace's veil was adorned with lace lovebirds.
1960 Princess Margaret
Queen Elizabeth II's younger sister, Princess Margaret, was the subject of the world's first televised royal wedding and she chose a simple gown by her favourite designer Norman Hartnell for the occasion. The bride wore a white silk organza dress with a short train, a Claude St Cyr of Paris veil and the Poltimore tiara, purchased at auction.
1973 Princess Ann
princess Ann married Captain Mark Phillips in 1973 and she wore an embroidered Tudor-style wedding dress with a high collar and mediaeval sleeves designed by Maureen Baker of Susan Small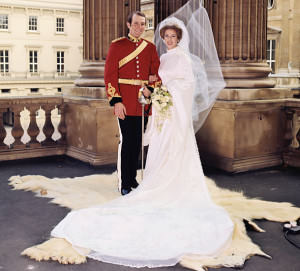 1981 Lady Diana Spencer
Lady Diana Spencer's marriage to Prince Charles had people around the world glued to their tellies and the late princess certainly looked the part. The bride wore a silk taffeta gown designed by Brits Elizabeth and David Emanuel – complete with enormous puff sleeves, 10,000 hand-stitched pearls and a record-breaking 25-foot train.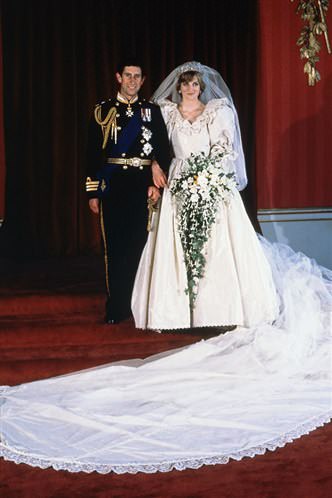 1986 Sarah Ferguson
Sarah Ferguson's duchesse satin gown was an elaborate affair  – the 17-foot train featured an anchor to represent Prince Andrew's time in the navy and an 'A' was also embroidered onto it to reflect her love for her husband.
1994 Lady Sarah
Lady Sarah, the daughter of Princess Margaret and Anthony Armstrong-Jones, married Daniel Chatto an actor on July 14, 1994.Lady Sarah's wedding dress was a picture-perfect gown of white simplicity. The gown was designed by Jasper Conran, a favorite of the bride. He also designed the bridesmaids' dresses.
1999 Sophie Rhys-Jones
Sophie Rhys-Jones looked stunning in this silk organza coatdress by Samantha Shaw – the outfit was embroidered with 325,000 pearl and cut glass beads. Prince Edward also had a hand in the outfit – he designed the black and white pearl necklace that Sophie wore on the day.
2005 Camilla Parker Bowles
It was Prince Charles' second wedding, and Camilla wore an outfit designed by Robinson Valentine. Camilla accessorised the full-length coat and chiffon dress with pale beige suede shoes by LK Bennett and a plummage and lace detail portrait hat by Philip Treacy.
2008 Autumn Kelly
In 2008 Peter Phillip the son of Princess Anne married his Canadian love Autumn Kelly. Peter's sister Zara was a bridesmaid, and the bridal party's color was a fresh, lovely light green. The bride's gown was designed by Sassi Holford Holford created a beautiful ivory duchesse satin gown with a lace Bolero jacket. Down the back of the dress were satin bows, and the veil was trimmed with lace.
2011 Kate middleton
I'm not even going to speculate on this one…….we think we know then the media tell us somerhing differnt! I just hope Kate wears something that she loves and not what is expected of her. She has such an amzing figure I'd liketo see her in a sleek, colum dress….backless would be amazing, but I can't see that happening! something that is youthfull  and not all about what is on trend (well look at Diana….that was never going to be a good look for anyone!)
Love it or hate it come Friday we will all know and the guessing will be all over!……..and then make way for a new trend in weding dresses, bridesmaides, hair accessoreis, veils, colours, becasue what ever kate decied to wear on Friday will be emulated across teh worlsd for months,. maybe ecven yeras to come!
Do feel free to add your thoughts on the dress, what do you think she will wear? what would you like to see her wearing? also let  me know which is your favourote from the dresses above, I think Wallis Simpson's dress is doing it for me……simple and un fussy!
Infomation Souce:
style.uk.msn
Mandys Royalty