Unless you have been living under a rock for the past few months, you will know that today is a very exciting day in British history. As today Prince Harry who is 6th in line to the throne will be marring his American sweet heart Meghan Markle.
Personally I am super excited for today, as you know I love a good wedding here at Boho and a Royal wedding is the icing on the cake. It has been fantastic having weddings in the forefront of everyone's minds over the past few weeks. All the wedding related stories across the news and internet, hearing other people's love stories has just been lovely! The speculation on who has designed her dress, the flowers, the cake, all such fun! I can just imagine how they are both feeling right now because, after all, even though they are used to being in the media, they are still just two people deeply in love currently getting ready for their wedding ceremony and probably just as nervous as you will be/were on your wedding day.
So I wanted to take the opportunity to congratulate Harry and Meghan and wish them the very best for the future. I can't wait to see what the day has in store for them.
A Look at the Royal Wedding Dresses Through the Years
In Celebration of todays Royal Wedding I thought I would take you on a little history lesson and show you a few of the royal wedding dresses from the past years. Starting off in 1840 with Queen Vitoria. I can not wait to see what Megan has chosen to wear, whether she will stick with something traditional or mix it up in her own special way with a modern twist.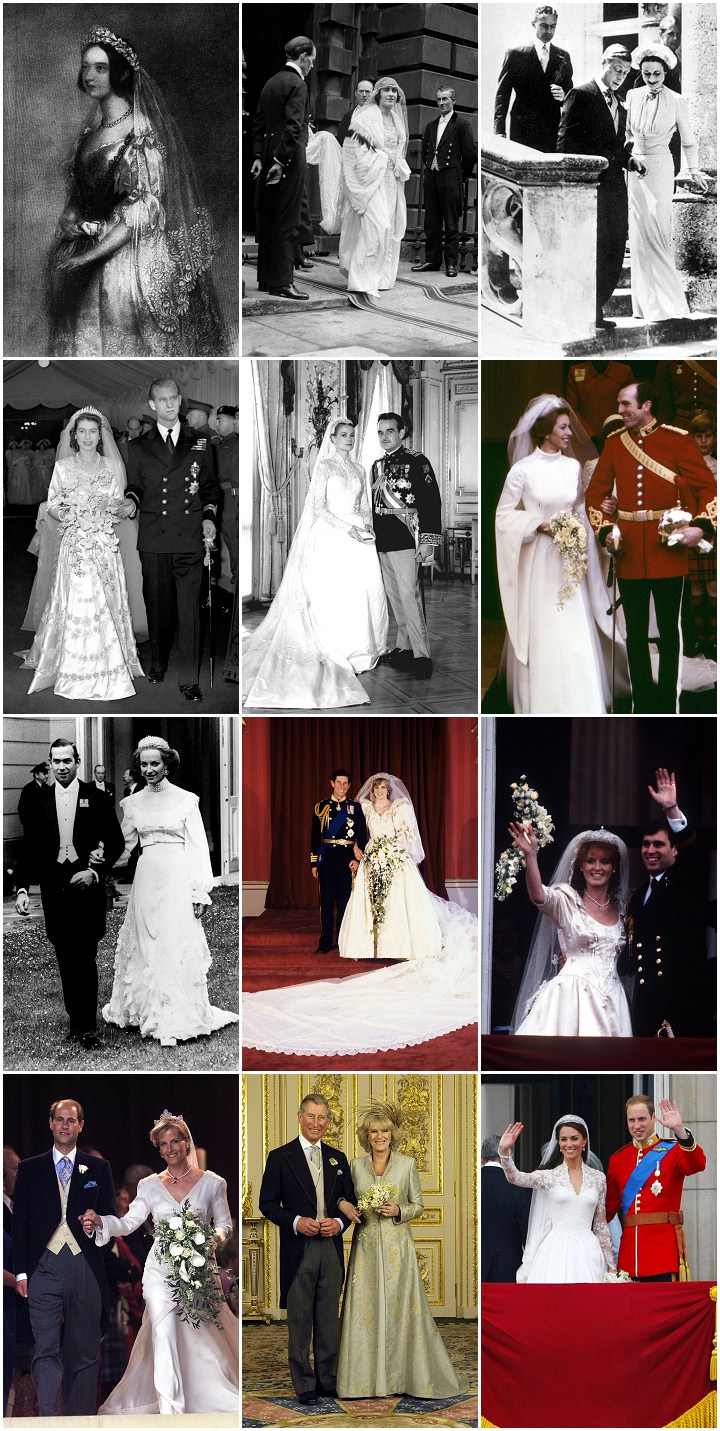 1) February 1840 Queen Victoria and Prince Albert  2) April 1923 Lady Elizabeth Bowes-Lyon (later the Queen Mother) and King George VI 3) June 1937 Wallis Simpson and Duke of Windsor  4) November 1947 Queen Elizabeth II and the Duke of Edinburgh  5) April 1956 Grace Kelly and Prince Rainier III  6) November 1973 Princess Anne and   7) JUNE 1978 Baroness Marie-Christine von Reibnitz and Prince Michael of Kent  8) July 1981 Lady Diana Spencer and Prince Charles  9) July 1986 Sarah Ferguson and Prince Andrew 10) June 1999 Sophie Rhys-Jones and Prince Edward  11) April 2005 – The Prince of Wales and Camilla Parker Bowles  12) April 2011 Kate Middleton and Prince William.