Well its Wednesday already, it will be the weekend before we know it! I have a gorgeous wedding for you this Wednesday – a classic barn wedding from sunny Sussex. The wedding which has been sent in to me by Paul Fletcher is a classic English wedding, from the roast beef and the cake table to the VW camper van and not forgetting all the DIY details and the meters and meters of bunting. Pip and Adam, the bride and groom, were looking to achieve a classic English garden party, taking in the English countryside and they did just that!
'We wanted to create a relaxed English summer affair with a modern twist. We also took advantage of many talented and helpful family and friends to make it a homespun and personal day.'
Pip and Adam were married on the 17th of May, with a ceremony at The Meeting House on the University of Sussex campus then on to a reception at Fitzleroi Barn, Fittleworth, West Sussex. 'We really wanted a ceremony venue that had sentimental value for both us. Music is important to us so a religious (Anglican) wedding allowed us to have hymns, an organ and a choir. For the reception we wanted somewhere we could make our own with personal touches and DIY decoration – Fitzleroi was perfect for us and Julia was great. We had 100 guests at the ceremony and reception, another 40 or so for the evening party. We took 18 months in total to plan the wedding – it was great doing it over a long period of time as we really wanted to add some home spun touches and it meant we didn't feel too rushed about things and enjoyed the wedding planning process.'
How they met
We met in our final year at University (hence the decision to hold our ceremony on the University campus) in 2008 after initially meeting in 2007 at a friend's birthday pub crawl. We later bumped into each other on a night out when Adam bought me a drink but I ran away without thanking him. Feeling guilty I messaged him and we decided to go on a date. The rest is history!
The proposal
We got engaged on the 4th anniversary of our first date. Adam surprised me with organising a trip to Brugge. He then proposed on the corner of one of the main squares when we were walking back to the hotel after a night out.
How did you allocate your budget?
We were incredibly lucky that Pip's Mum generously donated to the wedding day, and Adam's Dad's wedding present to us was our honeymoon in Barbados. We decided to prioritise 4 key things – the food, venue, music and photographer. Everything else we tried to do cheaply but creatively spending time together making things and drafting in the talents of family and friends, for instance my mum, Adam's step mum and I did all the flowers (including 10 centrepieces and 2 standing flower arrangements) in the days leading up to the wedding.B
How did you choose your photographer?
Our photographer, Paul Fletcher, was recommended to us by friends. We had seen the beautiful photos he'd produced for them so decided to meet him. One of the main things we liked about Paul, in addition to his fantastic photographs, was that he was so easy to get on with and we could see him fitting into the informal and relaxed atmosphere that we wanted for our day, whilst still being confident and assertive enough to get people's attention when necessary. In all regards Paul didn't disappoint – we are so happy with the photos and all of our guests have since remarked at how friendly and unobtrusive he was during the day.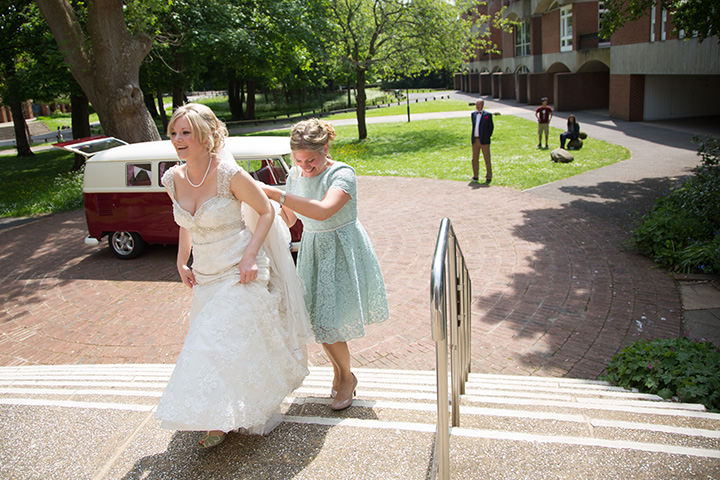 The dress and accessories
My dress was by Madeline Gardener – from her Mori Lee range. It was one of the first dresses I tried on. I didn't buy it initially but after going to other shops nothing else compared to it so I had to go back and buy it. I wore a string of pearls that my grandparents bought me for my 21st birthday and a pair of diamond earrings that my mum gave me on the morning of the wedding as an extra wedding present. I wore Rachael Simpson shoes, Mimosa, in mint green to match my bridesmaids dresses – I always knew I didn't want to wear ivory shoes as I wanted to be able to wear them again. For the ceremony I wore my grandmother's veil (made for her wedding to my grandfather in 1953 by her mother-in-law-to-be) which was an absolute honour and I was so pleased with how well it went with my dress as they both had a silver thread detail running through. I would have loved to wear the veil all day but it was long and I was worried about damaging it so I swapped it for a dried flower comb from the Artisan Dried Flower Company, which matched the smaller dried flower kirby grips in my bridesmaid's hair.
The suit and bridesmaids
Adam and his ushers wore traditional morning suits hired from Moss Bros. They wore double breasted waistcoats in grey and mint green ties to match the bridesmaids. The bridesmaid's dresses were in mint green – it took me a while to persuade them to wear green, and even longer to find a green that suited their different skin tones but eventually I was surprised to see these gorgeous day dresses from M&S. My mum made beaded belts for them to add something and tie in with the beading on my dress.
Theme or colour scheme
We weren't really working to a colour scheme or theme. Much to the hilarity of most of our suppliers we decided that we had a 'concept' but because it wasn't strict and we were mainly focusing on the day being relaxed and enjoyable for everyone involved we didn't want to label it a 'theme'. We were really going for a summer garden party atmosphere with influences from the English countryside.
The flowers
I had very simple bouquets – this was a necessity as we wanted to do all of the flowers ourselves. I initially fell in love with amnesia roses (not very English countryside but they are just beautiful) but I wanted to soften them so added gypsophila. The centrepieces were made out of tripods of sticks of wood collected from both of our parent's gardens which we white-washed. We then put oasis in the tops and made flower arrangements with lots of foliage, a few roses, white alstroemeria and gypsophila. We also made two larger versions to have either side of the barn doors. We bought all of the flowers from Triangle Nursery and they were delivered on the Thursday before the Saturday wedding. I was disappointed to have some flowers delivered that were unusable but I guess that is normal in transporting flowers but my advice would be to order slightly more than you need. Having said that their customer service is great, giving advice over email prior to making an order.
The decoration
We were so lucky because at Fitzleroi they only do one wedding per weekend which means you have the Friday to set the barn up. It was a great day bringing helpful family and friends together to make the barn look how we wanted it to. The main decoration was the bunting that my aunt kindly made for us and the flowers. We also had a cake table, around 50 jam jars decorated with a mixture hessian, lace, raffia and music scores, hessian and lace table runners and heart shaped table confetti. As favours we gave people either some homemade sloe gin or some spicy red onion chutney. We also collected champagne bottles that held the table names, and champagne corks which had each of the name tags tied to.
The food
We had Asian-inspired canapés during the drinks reception in the afternoon, followed by pan-fried fishcakes to start, roast beef with all the trimmings (where each table had a joint of meat and a nominated carver) and a trio of desserts. All fantastically cooked and served by local caterers, Buns to Banquets.
The wedding cake
We had a cake of cheese provided by our caterers that was great for food during the evening reception. We also wanted traditional cakes but didn't like the look (or price) of the formal iced wedding cakes so we asked Adam's Nannie to bake some – she used to provide the cakes for the local village shop so she had experience and was happy to help. She ended up making so many that we had a whole cake table which was great and well enjoyed by all of our guests.
The entertainment
For the ceremony we had my brother-in-law playing the piano for the bridal party entrance, he played an arrangement of Bach's Prelude in C. We also had a choir made up of friends of mine from the choir I sing with, singing during the signing of the register, and the church's organist for the entrance of the guests and hymns. It fantastic to have such a variety of talent for us and our guests to enjoy and it made the ceremony so special. We had an acoustic jazz band in the courtyard during the drinks reception which gave a great atmosphere when guests were arriving. We also had a local band, The Mad Hatters Tea Party who was great at getting everyone up and dancing in the evening.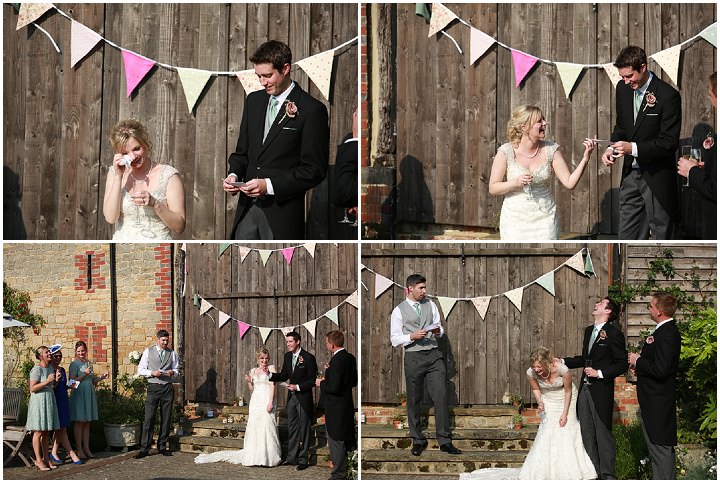 Buy or DIY your Stationery?
We made all of our stationary. The central motif that we had running through most of it was a combination of images I found on the internet that I put together on the computer. I then printed it onto card, cut it out with a craft knife and we used it as a stencil with spray paint for the invitations and order of service. We also used the same image for the background on the printed menus. There are so many freely accessible printables that you can find online that were really useful for cake toppers, borders for the table name labels and other general signs.
Personal or handmade touches
I've mentioned so many already as it's hard to talk about any aspect of our wedding without mentioning the bits that we got creative with! For us we really wanted to add personal touches, save money, get creative together and have control over the finish of the little things. It's so easy to do if you just invest time and effort into it and we really enjoyed it! Here's a list of the things we (and friends/family) did DIY in one place: bunting, flowers, centrepieces, jam jars, table runners, stationary, name tags, champagne cork name tag holders, table names, favours, cakes and table confetti.
Special moments or highlights
Pip: holding my Mum's hand whilst trying my best not to blub walking down the aisle, listening to the choir during the ceremony and using it as an opportunity to steal some glances with my husband and the drinks reception with everyone mingling and having fun and all of the kids running around enjoying themselves.
Adam: seeing my beautiful wife-to-be turn the corner to walk down the aisle, watching the procession of the carvers walk out of the kitchens proudly holding their joints of sirloin beef, travelling between the ceremony and reception in a VW splitscreen campervan with Ally and Richard from Behind the Barn Door and spending some time with my new wife outside with Paul having photographs taken.
Biggest surprise
The weather – we were so lucky that it was the first really sunny day of the year!
Advice for other couples
Enjoy the planning phases and use it as an opportunity to express yourselves and learn about each other. Even though we had been together for 4-5 years (living together for 3-4) when we were organising the wedding we learnt so much about each other's tastes and expectations.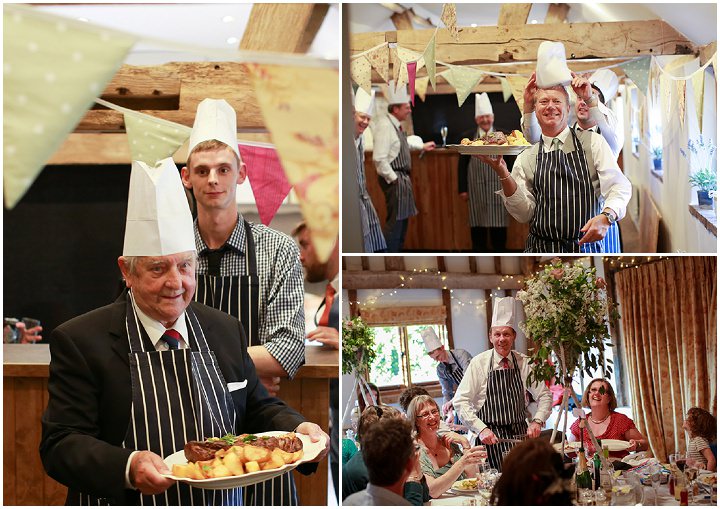 Supplier Shout Outs:
All of our suppliers were great, here are the main ones:
For more information on Paul's work please go to:
www.paulfletcherphotography.co.uk
www.paulfletcherphotography.co.uk/photoblog
[email protected]
FACEBOOK
GOOGLE+
@fletchpix
Paul is based in Brighton and is available for weddings throughout the South, nationally and internationally. Paul is a documentary wedding photographer who will allow your day to flow naturally, with subtle engagement to ensure you get a wonderful and exciting set of images.