I do love a barn wedding, but a barn wedding with yellow as the main colour goes to the top of my list and that's what today's wedding brings you. Amy and Ben decided on the beautiful Upwaltham Barns in West Sussex for their day, with 'relaxed, fun and beautiful' being their main theme, mixed with touches of yellow. Their day is so gorgeous, so full of love and laughter and of course this stunning venue. Mix in lots of DIY projects and personal touches including a wonderful dessert table this wedding really is a pure delight. Big thanks to Dan Corbett for the wonderful images.
'When we got engaged we set four key feelings that described what we wanted and that we referred back to, to keep us from getting carried away: Beautiful, fun, relaxed and full of love. The day after the wedding we realised that's exactly what we got.'
Amy and Ben were married on the 22nd of September at Upwaltham Barns, West Sussex. 'Ben's family is Jewish and mine is Catholic so getting married somewhere beautiful where both families were equal was really important to us. We needed somewhere that we could include some traditions from both families. We didn't want a hotel or a registry office and we wanted the ceremony and reception to be all in one venue so we explored the Barn idea. We visited a few but absolutely fell in love with Upwaltham as soon as we came through the drive. When we met Nicola and Tim we knew we'd found the perfect place. We had just under 100, and we got engaged on 13 March, first visited Upwaltham on 9 April and were married on 22 September so just over six months to plan in total.'
How they met
We both worked at for the NSPCC in different fundraising teams but we first met in the most romantic setting: Inferno's nightclub in Clapham. We chatted but didn't really speak again until Ben moved into the team I was working in. For nearly two years we sat back to back and grew to be good friends. Poor Ben heard all the tales of my crappy love life! It was a fundraising event that gave us the final push, when I taught Ben how to ride a bike and we cycled 40km raising £1,500. We have been together for five and a half years.
The proposal
I always thought Ben would plan a grand gesture so when I took him to Bath for a hot air balloon ride for a late Christmas present in March I really wasn't expecting him to propose. We'd been wandering around Bath for a few hours and were planning to go to the Thermae Bath Spa for sunset and paid for a two hour package. After 15 minutes we were bored! We went to explore the steam rooms and Ben disappeared to go to the loo, leaving me in a hot steam pod relaxing. After what felt like ages I went to look for him, overheated at this point, and bumped into him. Ben asked me if I wanted to know what my belated Valentine 's Day present was and I told him it could wait and he didn't need to worry. Then he asked me to sit up so I grumpily did, to find him down on one knee fishing in the pocket of his trunks for an engagement ring. We can't remember what he said exactly but I grabbed the ring and said YES!! There was never any doubt I'd say yes. I couldn't believe it and was in total shock. I was sweaty, in my swimming costume and had been in a steam room for 45 minutes by this point! We went outside on the balcony to get some air and to take it all in it took us ten minutes to realise all the shoppers of bath could see us in our bathers in the middle of March. We must have looked crazy. We were so happy! He then whisked me off to Paris for three days so he got the big gesture and the shock factor that he so wanted. It was perfectly us.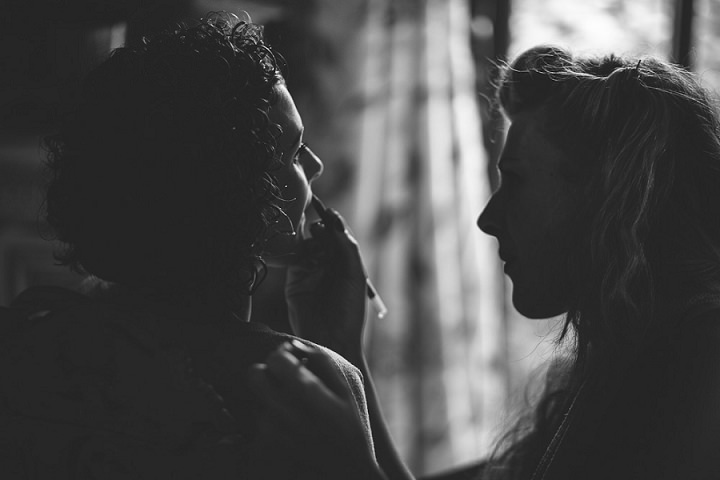 How did you allocate your budget?
Budgeting was not our forte. It's very difficult to make a budget for something that you've never done before as there are so many costs you don't expect. We spent the most on booze and food because that was important to us and we wanted our friends and family to have a fun day. We called in all our favours and were very lucky with some aspects so although we spent more than we had originally hoped (we had set ourselves an unrealistic £10k!) we don't regret anything.
Why did you choose your photographer?
Dan is a friend of a friend and we had loved the photos he had taken of their wedding. We wanted a relaxed feel and someone we could trust. Neither of us is good at having our photo taken so we had an engagement shoot and after that knew that Dan would get some great shots on the day. He is an amazing photographer and we pretty much forgot he was there. He managed our errant families well for the group shots and really captured the essence of the day.

The dress
My dress was a bit of a mishmash as I had tried one on that I fell in love with but it was way over budget. I had never wanted a really traditional dress and I definitely wanted something I could dance in. I think in the end I got an absolute steal! I went to a sample sale at Leonie Claire Bridal in Brighton and found the perfect skirt. Leonie then made me an amazing corset to go with it and shortened the skirt. I never had that 'oh my god that's my dress' moment but I got exactly what I wanted. My shoes were the first things I bought! I love Melissa shoes by Vivienne Westwood as they smell amazing and they're the only shoes that don't destroy my pathetic feet so I bought them on ebay. I am not a big accessories girl so I kept it very simple with a necklace borrowed from my mum and fresh flowers in my hair. I did my own hair and my sister did my makeup.
The suit and bridesmaids
Ben got his three piece suit from Philip Start and we got his tie and those for the best men from Peckham Rye. The bridesmaids dresses were always going to be a bit tricky as one of my sisters lives in Kenya and had her second gorgeous daughter only four months before the wedding so we had to leave it quite late before ordering. I found the dresses through Pinterest and I absolutely love them. I wish I had got one for myself! I got the bridesmaids matching cream rose necklace and earring sets from notonthehighstreet.com. My beautiful flower girl had a dress and accessories from Monsoon.
Theme or colour scheme
Our theme was relaxed, fun and beautiful. The colour scheme kind of came out of that as we wanted the day to feel colourful and bright even if the sun wasn't shining so we opted for yellow but we weren't strict with the tones; nothing matched!
Decoration
My sister had some bunting made in Kenya from Kikkoi material, a traditional Kenyan cotton cloth, sewn by a local cooperative. It's not traditional bunting but we love it and now we have bunting that we will use over the years for any family do's. It meant a lot that my sister could be involved in the planning even though she was so far away.
Flowers
I was incredibly lucky with my flowers. A wonderful rose grower in Kenya who my sister knows gifted us all the flowers. We had the most beautiful yellow and cream scented roses. They looked and smelled incredible and made the day feel so luxurious. A local florist arranged them and added some rosemary and eucalyptus. We collected lots of jars and little bottles over a few months – mainly using all those that a friend had collected for their wedding – so the tables had a relaxed, cottage-y feel. I just loved the flowers.
Food
The food at Upwaltham Barns was great. We had a roast as we got married on a Sunday and it's our favourite food. As I am vegetarian this worked really well – I supplied the nut roast and veggie gravy recipes. Upwaltham were really flexible. For dessert we asked my lovely family and friends to each bake something for a cake table. It was such a lovely way for my friends and family to be involved and part of the day, which was really important to me. The cakes were incredible and because it was so warm we had them outside in the courtyard with tea and coffee. It was perfect.
Wedding Cake
We had a cheese wedding cake from Churchmouse cheeses. This doubled up as the evening food as well. Upwaltham provided a brilliant array of crackers and chutneys.
Entertainment
During the ceremony we had a singalong of All You Need Is Love. My family loves a good singsong and we wanted to end the ceremony on a really uplifting note. We printed the words on the back of the order of service and everyone got involved. After the ceremony we had some Israeli dancing to work up an appetite. It was a nod to Ben's Jewish traditions. We were a bit nervous about it because most of the guests had not done it before but every single person got involved. It was a great way to break down barriers between guests. Some of these photos are our favourites from the day – everyone was smiling and laughing.
Our friend DJ'd for us. The music was perfect – never an empty dancefloor! It was like the best club in the world when you don't have time to sit down because you simply had to dance to every tune. As Ben and I left everyone had sparklers and we had another singalong.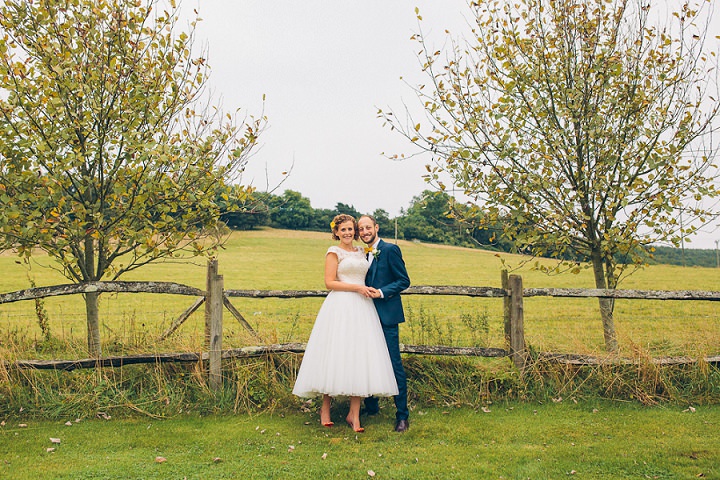 Buy or DIY your stationery?
We designed them ourselves and had them printed. We really enjoyed the process as we were able to make them feel very 'us' and have a theme running through to the orders of service and menus.
Personal or handmade touches
• Our save the dates and invitations were all DIY
• Instead of a guest book we had one of our engagement photos blown up and black/whited out so everyone could write us little messages around the picture.
• We made the cheese cake topper from a caricature that ben made of us, which we also used on the invitations
• Homemade bunting
• Jars as vases with yellow ribbon tied round them for the flowers
• A heart-shaped lollipop and a sprig of fresh herbs tied with a yellow ribbon around the napkin for our places settings
• The table plan worked really well – we bought little picture frames from charity shops and individually printed out each person's name and stuck them on the frames, then arranged them on apple crates.
• Toys for the kids in their place settings
What were your special moments or highlights of the day?
The ceremony was so much fun. There were a few tears but mainly lots of laughter. Ben and I were both much more emotional than we expected just as I was walking in but as soon as I got to Ben it felt so normal and right. The speeches were perfect – my dad's and sister's, Ben's and the best men. It was all so special. There had been a few health-scares in the family over the previous few months so it just felt so amazing that they could be there. The Israeli dancing was brilliant as everyone was involved and it meant everyone mixed. My gift to Ben was a cheeseboard hand carved with our names and the date of the wedding. His face when he saw it was a picture.
Biggest surprise
The weather! It wasn't at all sunny but was very warm! We had been bracing ourselves for cold as the weather the preceding week had been terrible. Also how well the Israeli Dancing went and how fast the whole day passed!
Advice for other couples
The cliché's are all true! – remember that it's all about you; don't get stressed or you'll ruin your own day; the dramas before the wedding will mean nothing on the day;
I don't think anyone can tell you what you should or shouldn't do on your wedding day because it has to be so personal to you.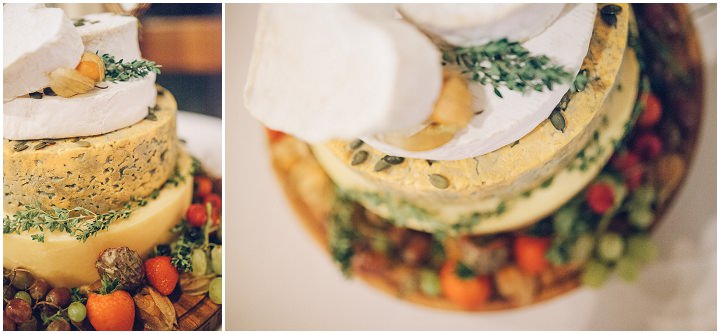 Supplier Shout Outs:
For more information on Dan's work go to:
www.storyandcolour.co.uk
www.storyandcolour.co.uk/blog
[email protected]
07746534553
FACEBOOK
@StoryAndColour
Due to an email issue if you have emailed me between the 2nd & 9th of December, please resend it.
X