I have a lovely Shabby Chic wedding for you today brought to you by the equally lovely Penny and Martin from Tino and Pip. The wedding takes place in East Sussex and brings with it a host of pretty wedding details and lots of DIY touches. With Pretty pastels as a theme, mixed with a collection of Shabby Chic  Decor, the bride and groom have done a wonderful job of making the wedding very personal to them. Penny and Martin have captured the perfectly.
'The best day ever, we want to do it again! It really was perfect.'
Anna and Oliver were married on 29th September 2012. The ceremony was held at St Theresa's RC Church and the reception at The Shelley's, Lewes. 'I fell in love with The Shelley's the first time we went it was perfect and fitted our style, it was intimate and timeless. It had a really homely feel and to me it felt like I was in someone's home admiring all the lovely and extravagant furniture. Oli and I both felt so comfortable from the moment we walked into the venue and we instantly knew it was the venue for us. We always felt comfortable at the venue and that is exactly how we wanted our guests to feel. The staff were all so accommodating and we were given almost free reign of the venue, I really don't have a negative word to say about The Shelley's. We had 112 guests and it took 11 months to plan.'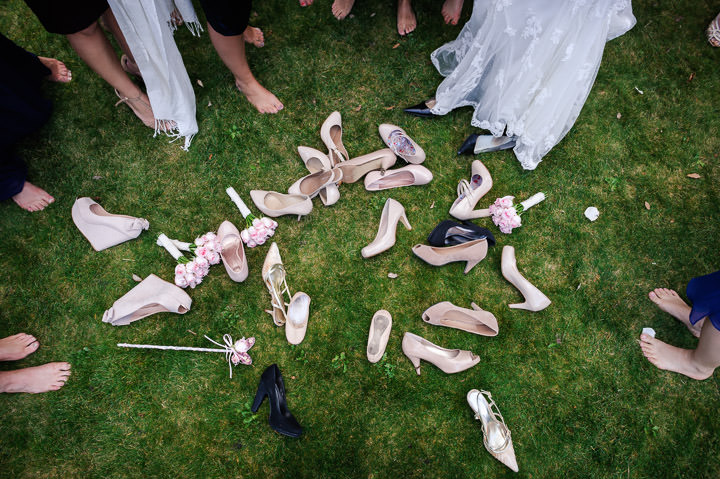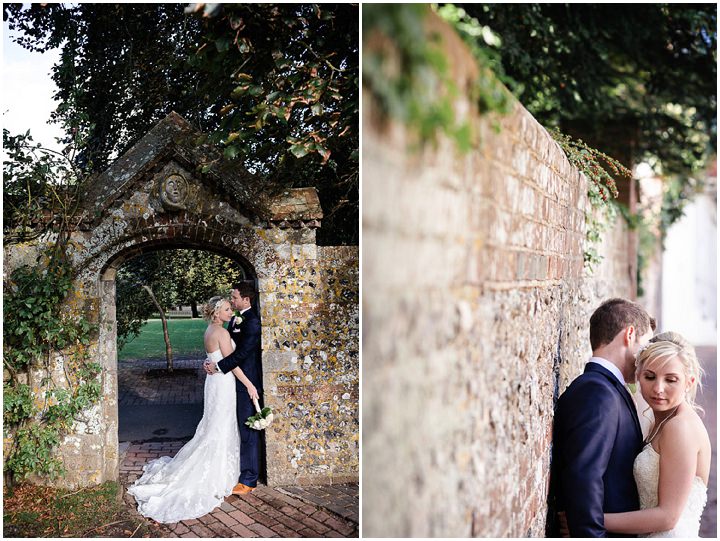 How they met
Well it's not the most romantic of stories, I always want to tell people we met at the library, but unfortunately we met in the beach club in Brighton it was my 21st birthday and I was extremely drunk, apparently I liked and was attracted to his dancing (I was definitely drunk) anyway seven years later and we are still together.
The proposal
Oli and I were in Sicily visiting my Dad's family and attending my cousins beautiful wedding. After the wedding we went off on our own for a few days to Taormina. One evening we had been out for dinner and when we returned to our Hotel I said that I wanted some pictures taken by the pool which overlooked the sea. As we were leaving Oli got down on one knee and proposed, I said yes straight away. Oli had been so nervous that he had not taken the ring out Oli his pocket all I could say was 'where's the ring!', he eventually got the rings out and it was perfect.
It meant a lot that Oli proposed in Sicily as I had spent the majority of my summers there as a child and now it felt like he was a part of Sicily and my wonderful memories too.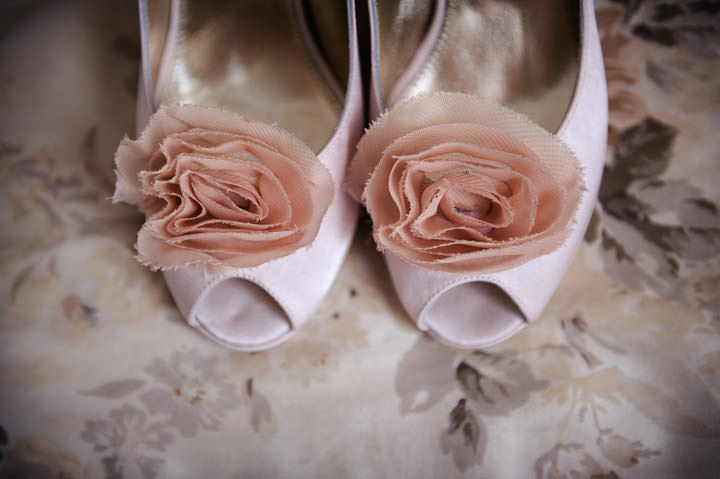 Why did you choose your photographer?
I found Penny and Martin at a wedding fair in Brighton and I immediately fell in love with their pictures, I also loved their original wedding album designs I had not seen anything like it before. I knew they were a little bit above what we had budgeted and wondered how I would convince Oli. However, once we began comparing Penny and Martin's pictures to others we had identified there was no comparison. Oli was impressed by the quality of the pictures and we both loved how artistic every picture was.
Once we met Penny and Martin they made us feel incredibly relaxed, this was a major winner for me as I hated having my photo taken and I wanted someone there who understood what we wanted and made me feel relaxed.
Penny and Martin were so enthusiastic about all our wedding ideas which I loved; I also enjoyed hearing about their wedding plans and ideas.
Prior to the wedding we had regular contact with Penny and Martin and they were brilliant at calming my nerves. On the day of the wedding Penny and Martin was fab I completely forgot they were there, which was exactly what I wanted I really did think that this would not be the case but they proved me wrong!
The brilliant service after the wedding continued Penny and Martin came and met with us to discuss the design of our wedding album, again their ideas were original and exactly what we wanted for our album.
We would highly recommend Penny and Martin as your wedding photographers they really did just get what we wanted and I fell in love with their artistic style from the moment I saw their pictures.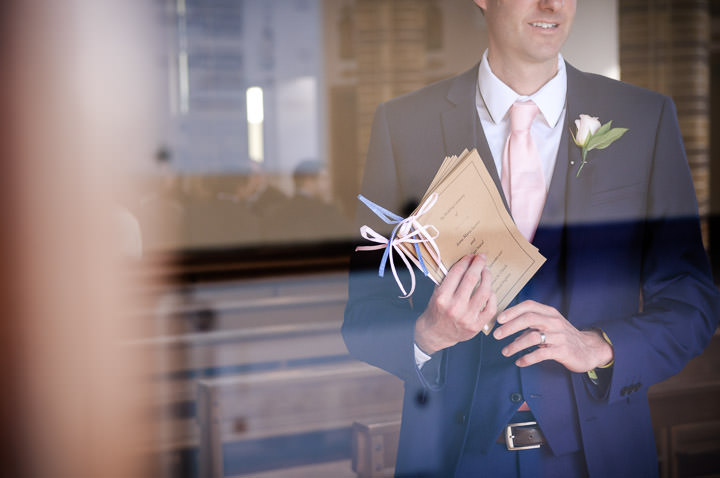 The dress
Leonie Claire bridal in Brighton. My dress was a Justin Alexander design and I had the neckline adjusted to a sweetheart neckline.
I have to say I had the most wonderful experience in here, the staff were all so nice and friendly I always felt very welcome in the store. I asked for my dress to be adjusted, they took on board everything I asked and I was so pleased with the dress when I saw it for the first time. I would highly recommend Leonie Claire to any bride to be, they were fantastic.
Aaccessories and shoes
Shoes-Rachael Simpson. Hair piece –Polly Edwards. Garter and earrings- Notonthehighstreet.com. Pearl necklace- a vintage shop in Brighton. My gorgeous underwear – ouh la la in Brighton
The suit and bridesmaids
Hugo Morris-Brighton tailors. Really helpful and patient with oli, he was so pleased with his tailored suit and he looked very handsome on the day! Coast Dresses , own shoes. Flower girls- monsoon.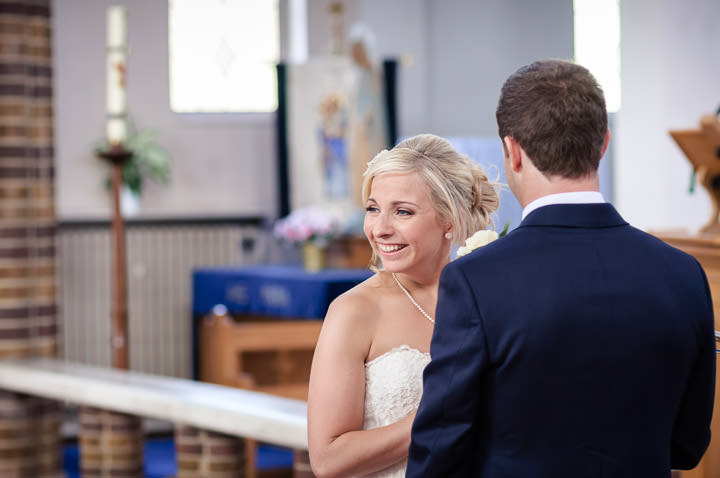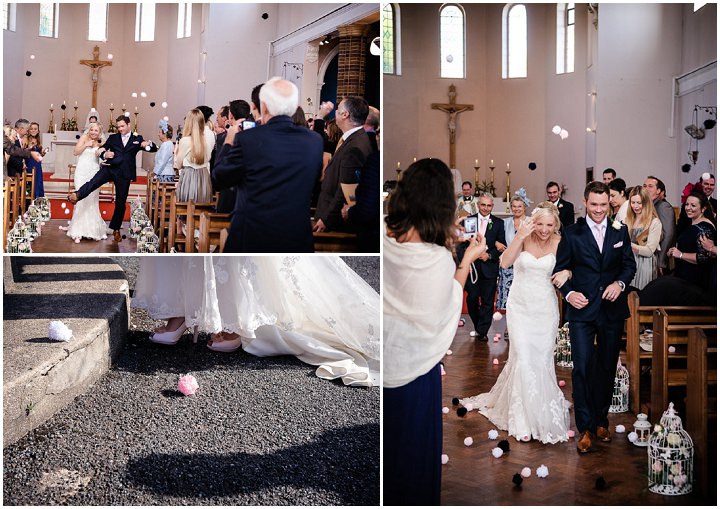 Theme or colour scheme
I have always been a girly girl and I just wanted everything to be beautiful! I started off thinking that I just wanted pink and navy blue however this went to pot and I just ended up having lots of pastel colours, hearts, bird cages and anything shabby chic in the venue.
Flowers
White and pink roses a classic in my opinion.
Food
Starter- Glazed Goats Cheese, fig walnuts, Muzuna Rocket Salad
Main Course- Roasted Rump of Lamb, Dauphinoise Potatoes and Garden peas with mint jus
Dessert-Wedding Cake
Entertainment
Soul City Band- they also play in Casablanca's club in Brighton, they were great and really good fun.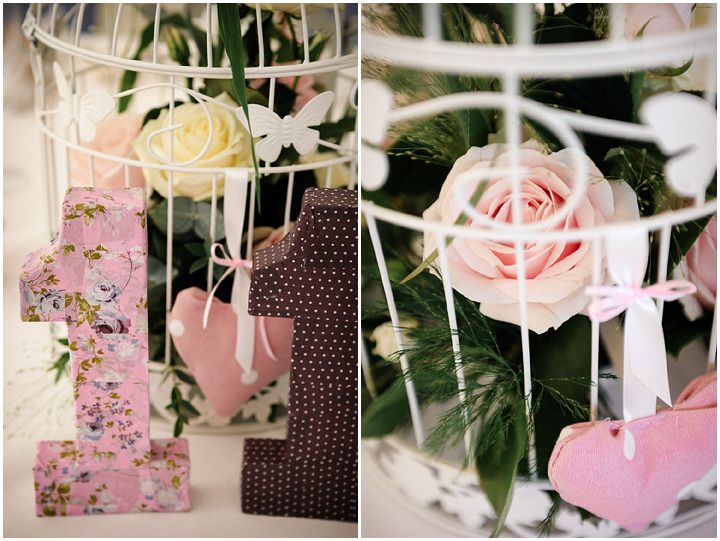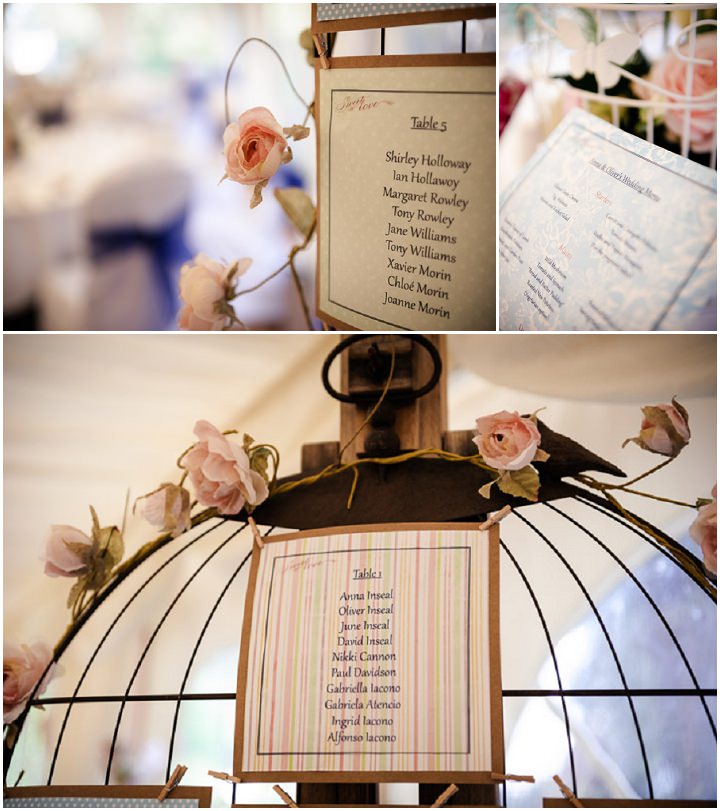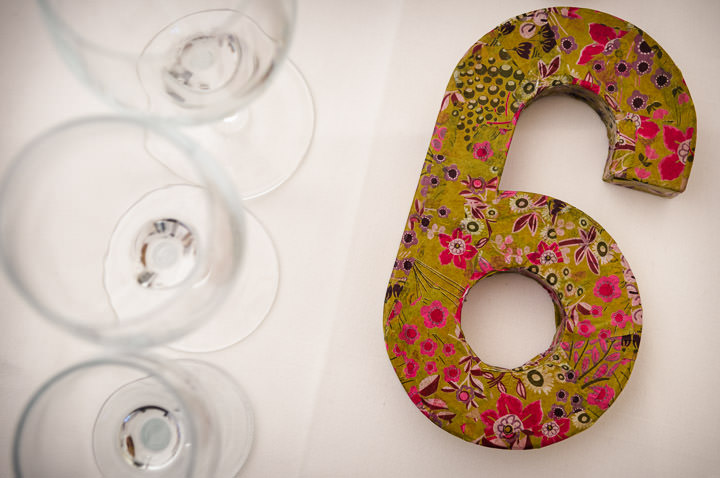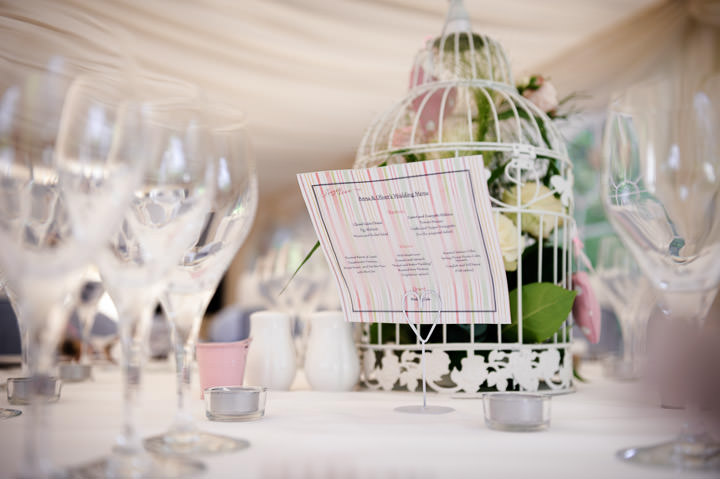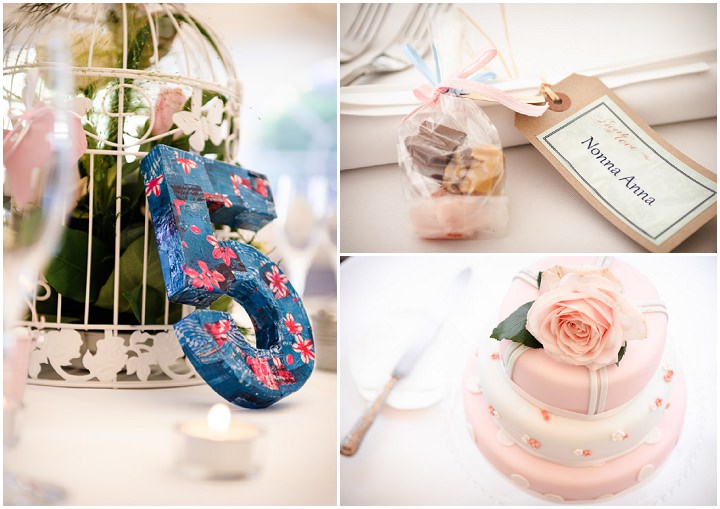 Personal / DIY touches
I was very lucky and had lots of lovely friends who helped me make lots of wonderful things for the wedding.
• Daisy designed my wonderful cards and she also helped to make them along with Lucy my bridesmaid and my friend Amy, I really appreciated this as hours of work went into making them.
• Order of service- Oli and I designed these and had a little help with putting together from my friend Hannah the week of the wedding.
• Favours- I decided I wanted fudge as I love the fudge shop Roly poly in the Brighton lanes, So the week of the wedding my friend Nicola, Oli and I bagged up all the fudge for the favours, it tasted amazing and was so difficult not to eat it all that night, I also had some on my treats table too!
• Birdcages as my centre pieces, designed by Greenfingers florist.
• Place names and table Plan-Oli and I designed and made these, I brought the birdcage from The Range.
• I had hearts hanging in the marquee and around the venue again Lucy and Amy put hours of work into helping me make these. I know Lucy spend hours sewing for me so a big thank you again.
• Pom Pom's- A word of advice if you want to make them start making them from the minute you start planning the wedding, they take so long! However I decided about a month before the wedding that I wanted pom Pom's instead of confetti, they were worth the effort though I loved them. A massive thank you to everyone who helped make them and for the person who got me right in the face as we walked down the aisle!
• Cake and Sweet Table- I was so pleased with the way this looked thank you to my bridesmaids for putting together whilst I got ready in the morning, it was just great and everyone loved it, I heard people were getting sweets and cake in time for the speeches!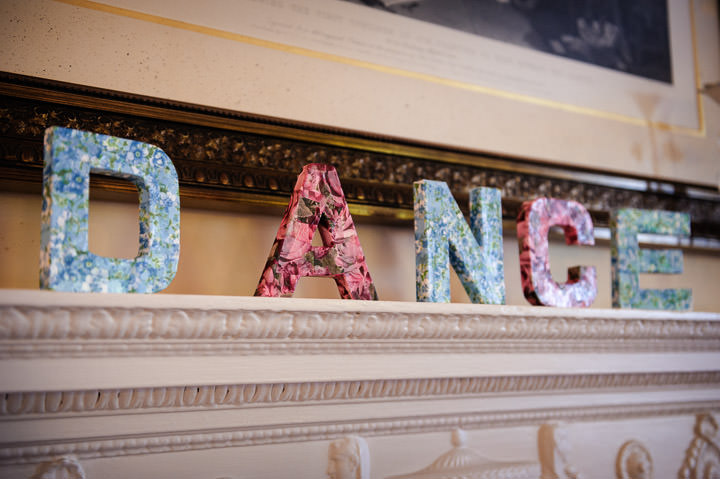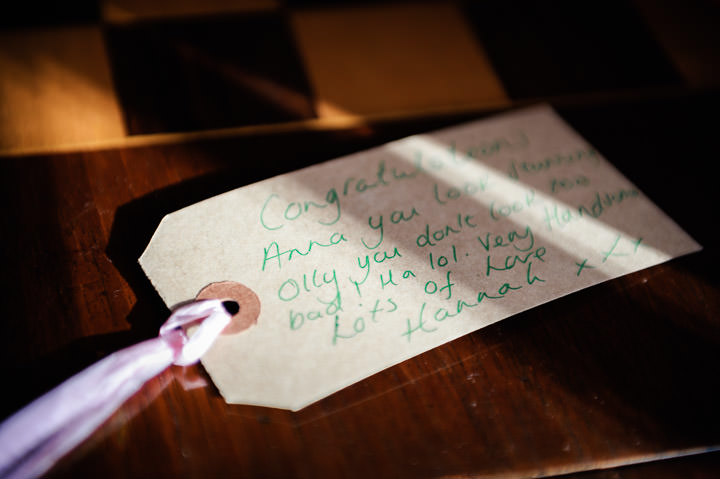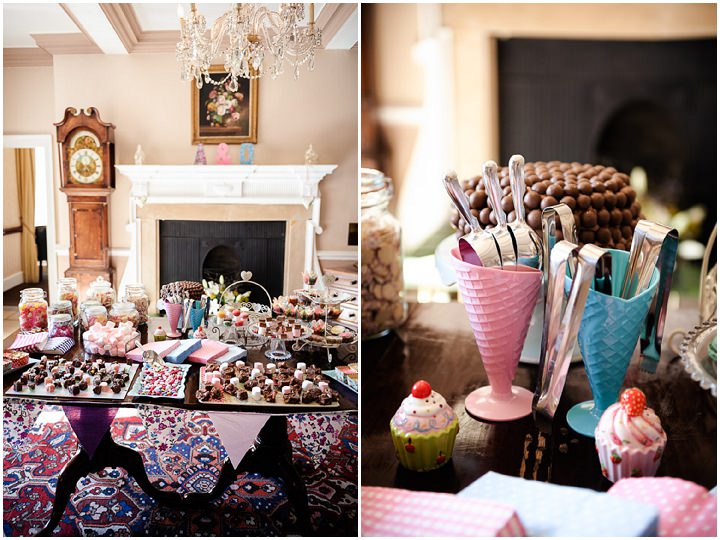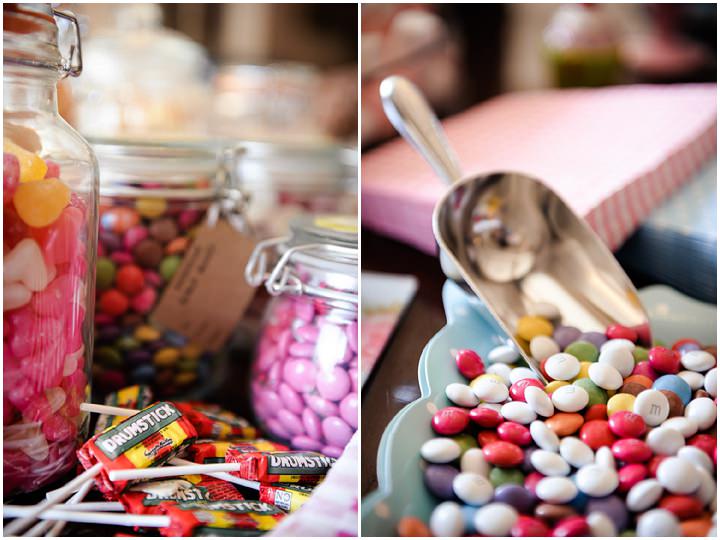 Special moments
If I had to pick one thing I guess it would be the weather, it had been raining all week in the lead up to the day and the closer it got the worse the weather seemed to get. I remember standing in the marquee on the Friday night and just listening to the rain and wanting to cry. Of course I turned into a hysterical bride and just kept saying I just want it to be nice for the pictures! Penny and Martin were brilliant and came and met us to discuss where we could have pictures if it rained, this really reassured me and was pleased that they took the time to meet with us.
Thankfully I woke up on the morning of the wedding to beautiful sunshine; I almost burst into tears I literally felt like the luckiest girl in the world that morning. My mum passed away 16years ago and I like to think that this was her special gift to us, in my mind it truly was a miracle and surprise the Sunday was terrible and rained most of the day!
It was also so lovely to have everyone that we cared about in the dame place at the same time.
Advice
Pick suppliers that make you feel comfortable and remembers it's your day.
Just enjoy the day everything will go the way you want it.
Biggest surprise
I thought I would stress about every little detail on the day, but after a glass of bubbles I forgot about everything and thoroughly enjoyed myself.
Supplier shout Outs 
For more information on Tino & Pip go to
www.tinoandpip.co.uk
www.tinoandpip.co.uk/Blog
FACEBOOK
@TinoAndPip
Pinterest
07852 131435/07948 992221