Barn weddings have become more and more popular over the last few years, I see so many lovely barn weddings land in my in box on a daily basis. Upwaltham Barns in West Sussex is the location of todays wedding and what a beautiful venue it is. Cat and Oliver fell in love with it as soon as they visited and from there on the rest of the wedding planning fell into place. With a loose colour scheme of peach and pale blue, this wedding is full of pretty details and personal touches, with images from Dan at Story and Colour. What a perfect way to finish of a fabulous week.
Our Beautiful Barn Wedding
Cat and Olivier were married on 3rd October2015 at Upwaltham Barns, West Sussex. 'It's nearish to where I grew up in Brighton. When we didn't find anything in Brighton or London so we extended our search to Sussex and feel in love with the venue as soon as we visited. We had a total of 100 guests. We got engaged in March 2014, so I guess 18 months to plan but that was plenty of time – we were able to get one thing ticked off the list each month.'
How they met
We met at work, when he joined our desks were right next to each other!
The Proposal
It was a rainy Thursday and we were shopping for a new dining room in central London. We decided to grab some dinner out and Oli asked me to marry him as we were eating our steaks and drinking red wine. I was really shocked and completely taken by surprise! I think he was too…he hadn't pre-planned it, he just said it felt like the right time to ask!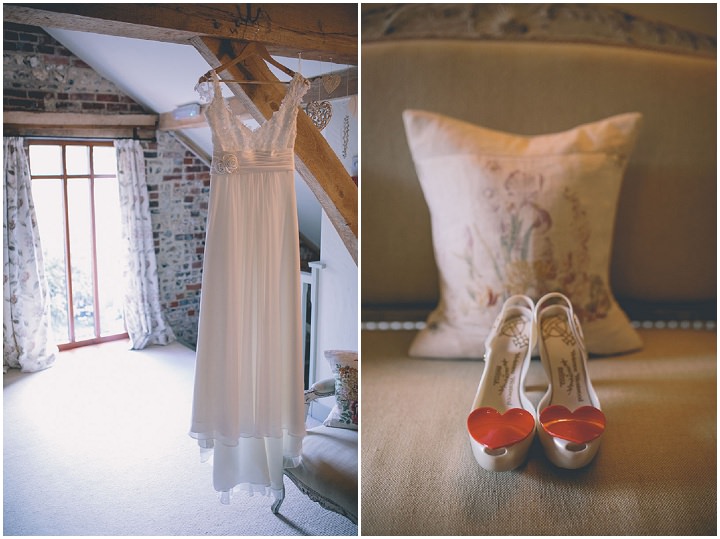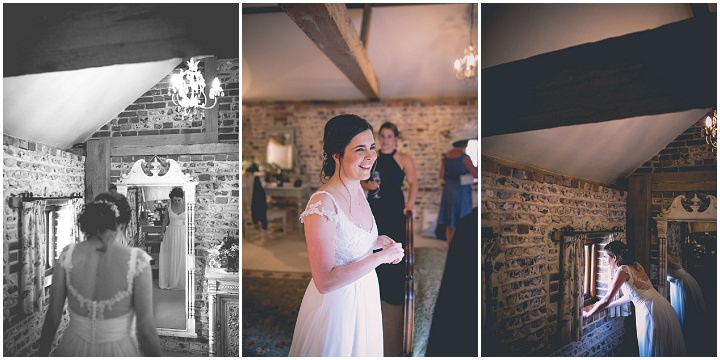 How did you allocate your budget
We prioritised items which were important to us and spent less in areas we weren't too bothered about. Most importantly we set up a handy excel spreadsheet to keep us on track!
Where did you splurge and where did you save
Oli is french and an amateur wine connoisseur so it was important for us that we had good wine and champagne! The venue was already so beatifically decorated that we didn't need to spend very much on decorations, just a few personal touches here and there.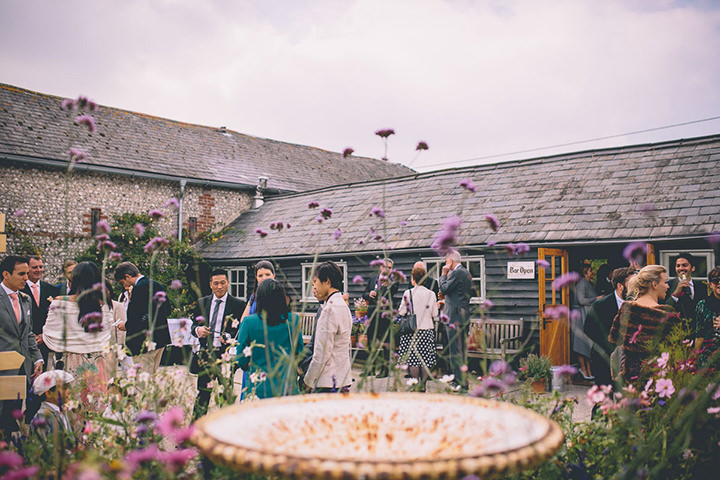 How did you choose your photographer
We started off by looking at photographers who had shot at the venue before. We looked at numerous blogs and came across a wedding that Dan had shot at Upwaltham Barns. Each time we went to another blog, we kept returning to Dan's photos – the relaxed, reportage style and was Dan frames photos in great! Once we met him to discuss the wedding, we knew it was the right choice.
The Dress
Dress is by White Leaf in Brighton – they do bespoke, affordable dresses. My shoes were Vivienne Westwood.
The Suit and Bridesmaids
Oli's suit was from Hawes and Curtis.
Bridemaids dresses were from Coast.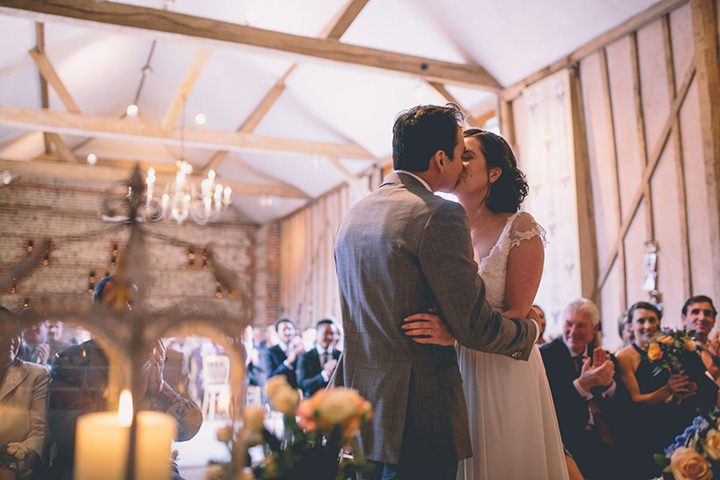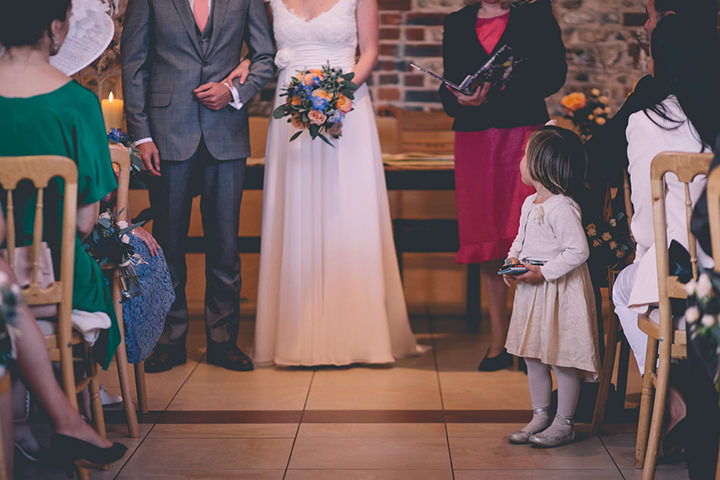 Theme or Colour Scheme
We started off with a vague blue, peach theme but ended up just choosing items were liked and not worrying too much about making sure all the colours matched.
Flowers
We had a mix of peach and coral roses, blue delphiniums and blue thistles to reflect my Scottish heritage. We wanted them to be colourful but relaxed, with a just picked rustic feel. We had a bike at the front of the venue with a large selection of the flowers in the front basket, it was our favourite decoration by far!
Decoration
The venue is so great and didn't need much decoration. We had a vintage sweet cart which was a big hit with the guests.
Food
The wedding has a catering company they use for all their weddings called Nibbles to Nosh and we gave guests 3 choices to select before the day. We served mini canapés in the afternoon – mini fish and chips, mini Yorkshire pudding with roast beef and mini rostis.
Wedding Cake
Neither us really like cake, but we love cheese so our cake was made of cheese from the fine cheese company – the venue supplied chutneys, crackers and fruit to go with the cheese.
Entertainment
We had a guitarist (called Alan Oliver )during the ceremony and champagne reception, and then a band in the evening called the Deloreans. The band was such a hit, Oli's mum didn't stop dancing!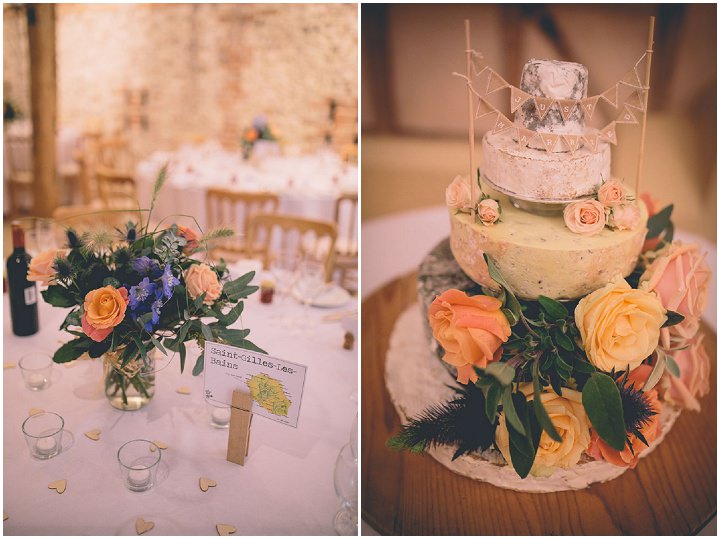 The Stationery
I designed the invites; we wrote them in English and French, and Laura (Story & Colour) then got them printed for us. I created and printed out the rest of the stationery myself.
Personal or Handmade Touches
We made quite a few things: Signs to direct people around the venue and a signpost listing all the various locations people had travelled from to get to the wedding.
Homemade chilli jam jar favours – we both love cooking so we really enjoyed making these for everyone.
I made all the stationery for the venue – the place cards, the chilli jam jar labels, the table names and I made a table plan using an old apple crate we had at home.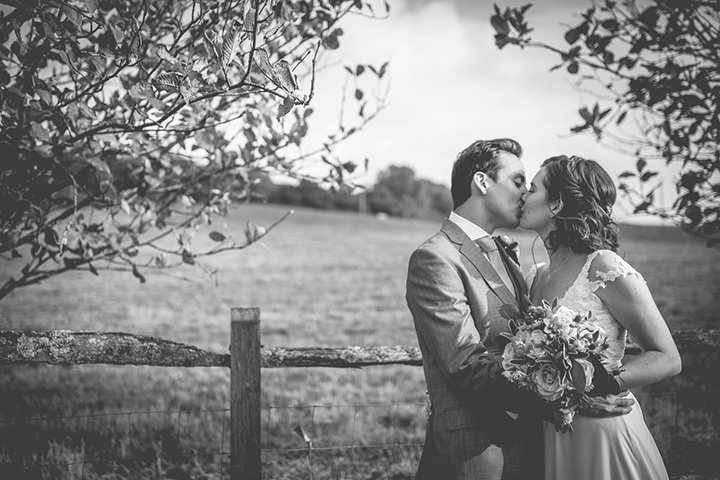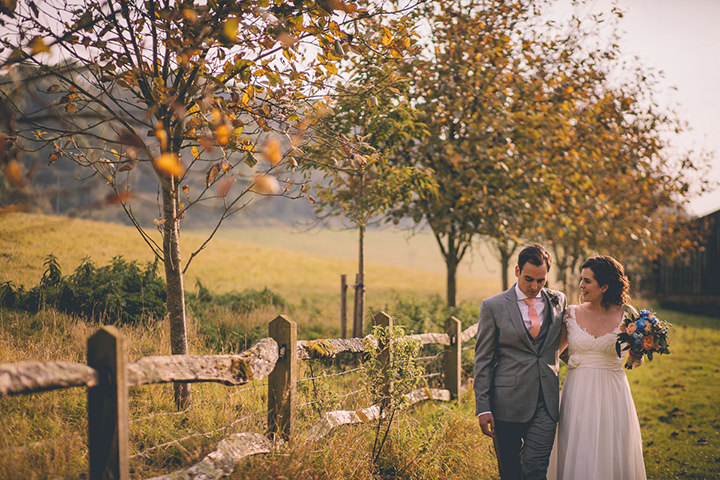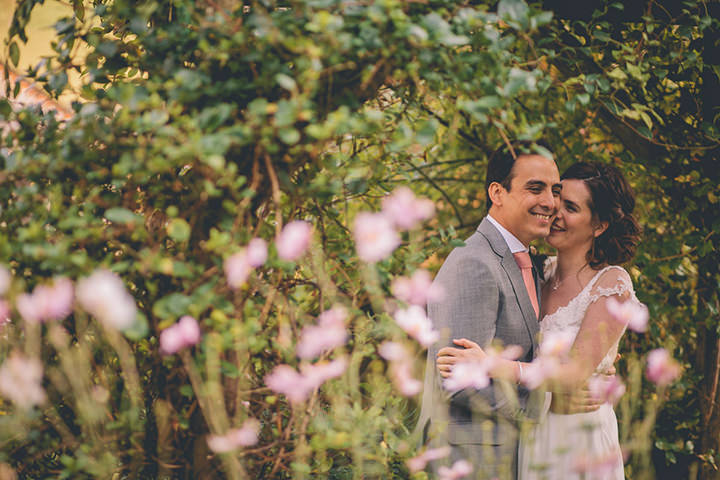 Special Moments
Oli's brother in law gathered all the children together (15 or so) and sat them on a step in the courtyard. He got them to shout for us and when we made our way out we got some great photos with them all! Having all the kids there made the day so much fun and we organised treats for them throughout the day, from lego and gift bags on the dining tables, to glow sticks and sparklers in the evening.
Advice to other couples
Enjoy it! Have fun with the planning, you'll miss it once the wedding is over!
Biggest surprise
How relaxed we both felt! We planned so much leading up to it, but always wanted the wedding to be relaxed and chilled out. We were surprised at how well that worked out on the day!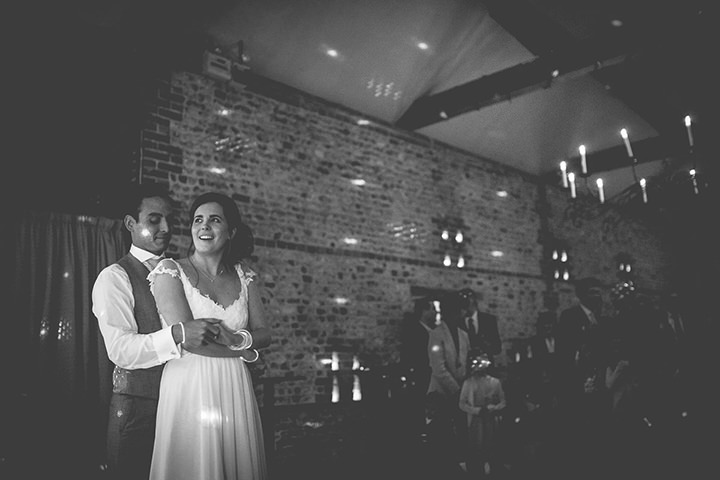 Supplier Shout Outs
For more information on Story and Colour's work please go to:
www.storyandcolour.co.uk / [email protected] / 07746 534553 / FACEBOOK / @storyandcolour / I:storyandcolour / PINTEREST
We tell the story of a wedding day by capturing all the details that make it wedding unique, in a creative, relaxed and unobtrusive way. From amongst friends and family, we create honest, emotive images with no forced direction or too many posed pictures (everybody needs just a couple of portraits!). We love meeting people, we love weddings and above all, we love the love.
Due to an email issue if you have emailed me between the 2nd & 9th of December, please resend it.
X