There's nothing traditional about today's wedding. The bride designed her own tattoo instead of wearing an engagement ring, the wedding was decided upon and organised in just a few short months and Carrie wore three (with an extra one just in case) yes, three dresses. Carrie and Simon's photographs by Becky Ryan show their true characters and personalities. A barrel of laughs, a barrel (or two) of beers and all their loved ones gathered in tipis for their beautiful, personal humanist celebration.
'Big fun in big tents fuelled by beer and beef.'
Carrie and Simon were married 10th May at Bakewell Town Hall and then had a humanist ceremony and reception in tipis in Carrie's parents' paddock in Hassop, Derbyshire. They then had everybody back for a buffet lunch on the Sunday. "Neither of us are particularly traditional and we really wanted to avoid the standard country house wedding. I had quite a strong idea of what I wanted from the start and although we knew having the wedding at my parents' house would mean a lot of work, it also saved us money in a lot of ways too. "All in it was about 8 months from deciding to get married to the big day itself. But we had everything planned within about two months, then it was just six months of making stuff!"
How they met
We met on our first day at Solent University, which also happened to be Simon's 20th birthday. We were on the same floor in halls with just one room between us, which happened to be occupied by Steve who became our best friend and was one of the best men at the wedding. We got together after a few months and have been inseparable ever since. We've been together for more than 14 years.
The proposal
There wasn't one. I'd always said I didn't want to get married so we never talked about it. I suppose over time I just changed my mind so one day I just said to Simon 'I think we should get married, Here's my plan…' and I told him my grand vision for the wedding. We told our families, who were all fairly surprised as they thought they'd never see the day. I didn't really want a ring so I designed a tattoo for my back instead and that was it, we were 'engaged'.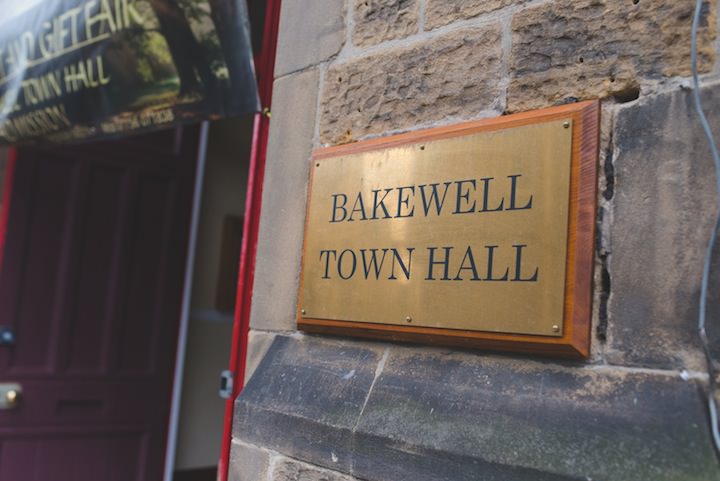 How did you allocate your budget?
The tipis were our biggest expense but right from the start we said we just wanted it to be like a big party so we spent most of the budget on booze and food. Aside from that we just made it up as we went along. We made or did a lot of stuff ourselves so that saved us some cash along the way.
How did you choose your photographer?
I just started out by googling photographers based near to Bakewell and stumbled upon Becky's website. We knew straight away she'd be perfect for us. We hate all those really posed wedding photos and Becky's site was full of really natural looking photos. When we met up with her to talk about what we wanted it really confirmed she was perfect for us. The photos she took on the day are exactly what we imagined. Becky really captured the fun, relaxed spirit of the day.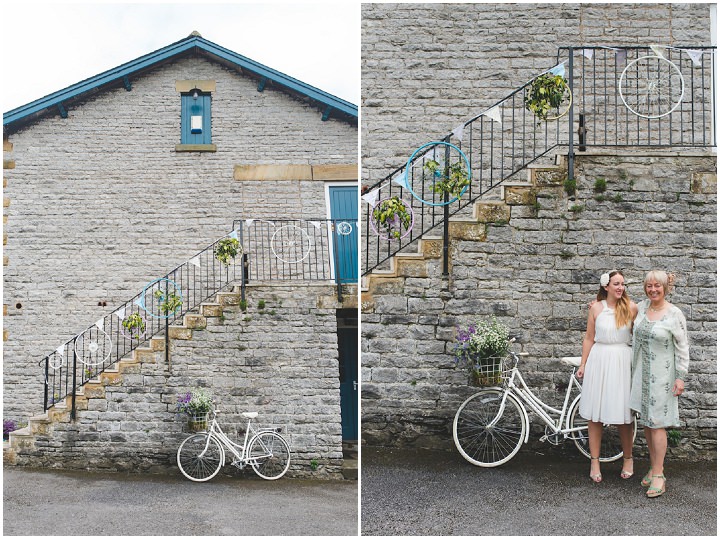 The dress and accessories
I had three dresses for the day. One for the registry office that I got in the sale at Zara for £19.99! Then I had another for the tipi ceremony and dinner from Asos and a final one from Topshop for the evening. Although the strap for my evening dress broke during our first dance. Luckily I had a fourth dress on hand, my mum's wedding dress that she got from C&A in the 70's. All together my dresses cost £160. Keeping the bargain wedding dress tradition going! My accessories were minimal. I had a flower garland that I made, a bracelet I had made from etsy.com and a gold Casio watch, that was pretty much it.
The suit and bridesmaids
Simon's suit was from Ted Baker and he'd had his eye on it for ages. In fact that might be one of the main reasons he wanted to get married! We didn't have any bridesmaids.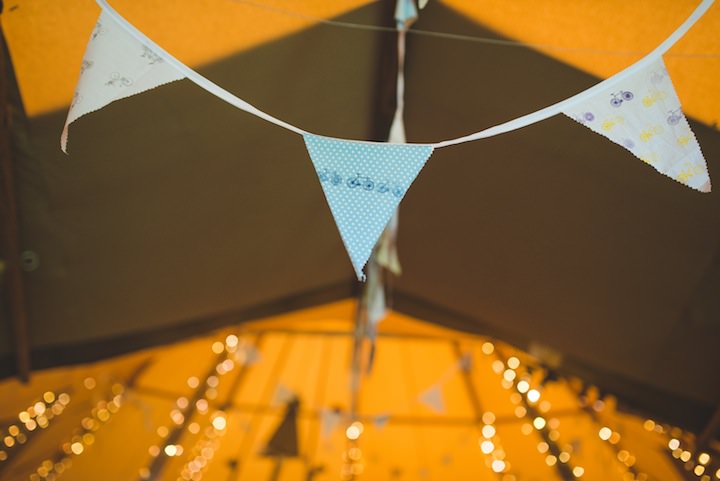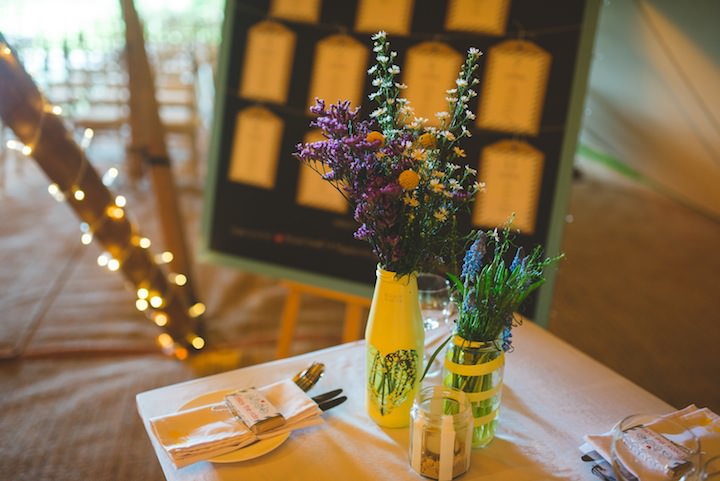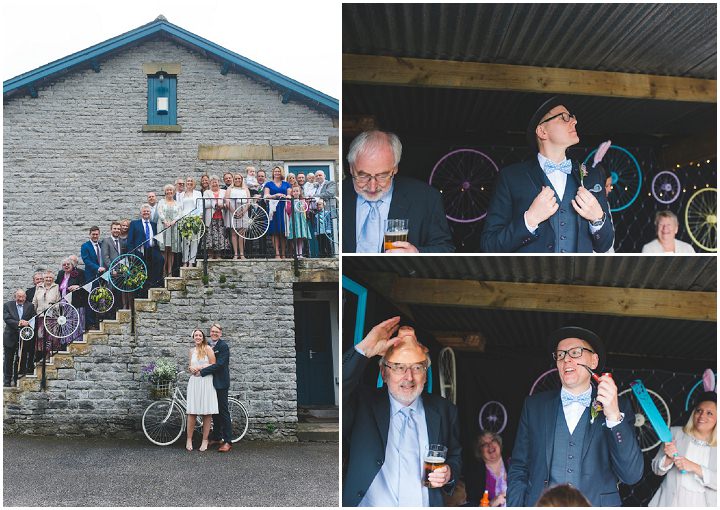 The theme
We didn't really start out with a colour scheme but then we started spray painting bike wheels in white, yellow, blue and purple so decided to try to stick with those when we were doing stuff. That didn't really last very long though.
The flowers
We know nothing about flowers at all. The only thing we knew for sure was that we wanted to use Billy Balls and were going for a wild flower/country garden kind of look. So I emailed the very helpful people at Triangle Nursery and asked them for some recommendations. They gave me a really good list of flowers so I just ordered what they'd suggested. They were delivered to my mum's house two days before the wedding and we had a massive panic about how few boxes they were delivered in, thinking we'd way under ordered. Turned out we had more than we could ever need!
The decoration
In the tipis we had lots of fairy lights, paper lanterns, jars and bottles we'd painted with candles and flowers in them, and bunting made from bike themed fabric we found and made. For outside we spent months going round bike shops to get old bike wheels which then spray painted and mounted in the bar area and on the steps with flowers on them. We also spray painted some bikes to hang signs. I also spent ages embroidering a banner with our initials on it but completely forgot about it until I found it in a box the day after the wedding.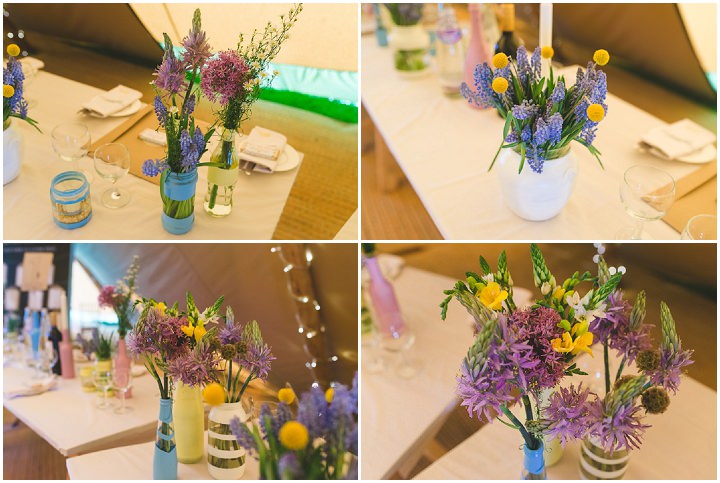 The food
The lovely Jane, who lives next door to my Nana, is a caterer and she made the dinner for us. We had pate or tomato and basil soup to start followed by roast beef or mushroom Wellington. I've never seen so much beef in my life! For dessert we had a three-tier naked cake of Victoria sponge, Chocolate and lemon cakes. We served the cake with ice cream from a local ice cream farm called Blaze Farm, and people went absolutely crazy for it. We also had beer on tap in the bar from the local Bradfield Brewery and made out own cocktail called the Bakewell Tartini (Amaretto and raspberry juice). In the evening we had the delightful guys from Ciccio's Pizza come and do wood fired pizzas, which were absolutely delicious.
The entertainment
Drunken dancing and trying to open the top of the tipi to let out smoke from the fire pit were our only form of entertainment – but that was plenty.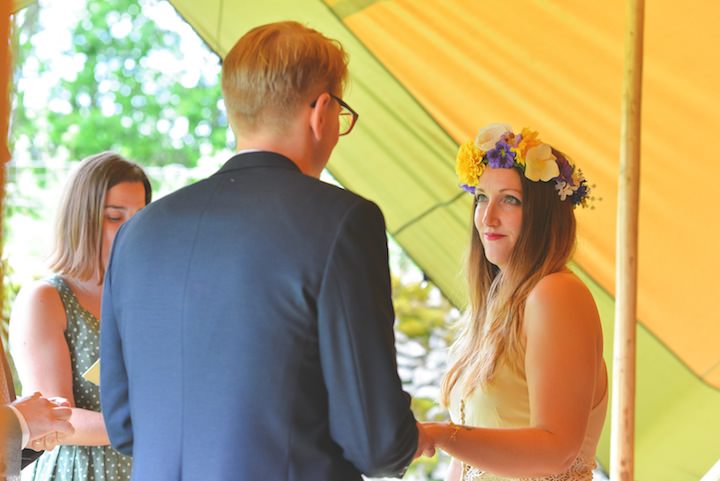 Buy or DIY your stationery?
We DIYed everything. We're both very creative and luckily can muddle by when it comes to graphic design so we designed the Save the Dates and invitations ourselves and had them professionally printed. Then we just spent hours and hours writing all the envelopes.
Personal or handmade touches
We made almost everything ourselves! We printed our own fabric for bunting and napkins. We made little gift bags for the (many) children coming to the wedding to keep them entertained. We spent hours spray painting bicycles, wheels, bottles, jars and signs. We decided not to bother with a DJ, making several playlists for the day instead and borrowed a PA system to use. I made a flower garland for my hair to wear during the tipi ceremony. I even made a film to use for the start of the tipi ceremony. It was to the song Home by Edward Sharpe and the Magnetic Zeros and was made up of photos and video of us from over the years that tied in perfectly with the lyrics. The very end of the song was also my entrance music.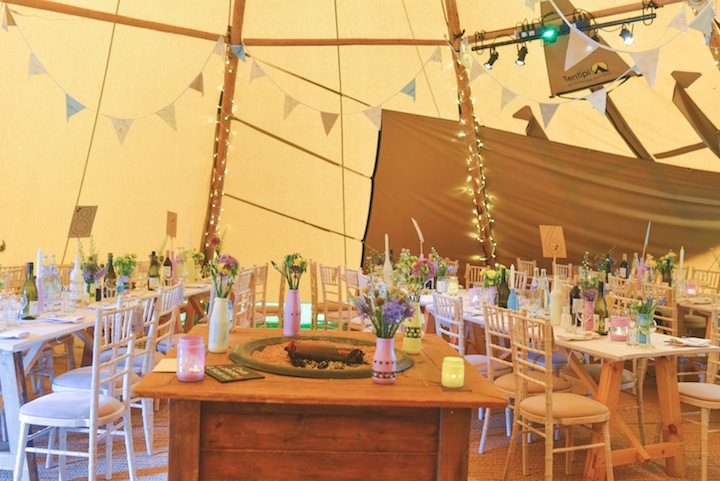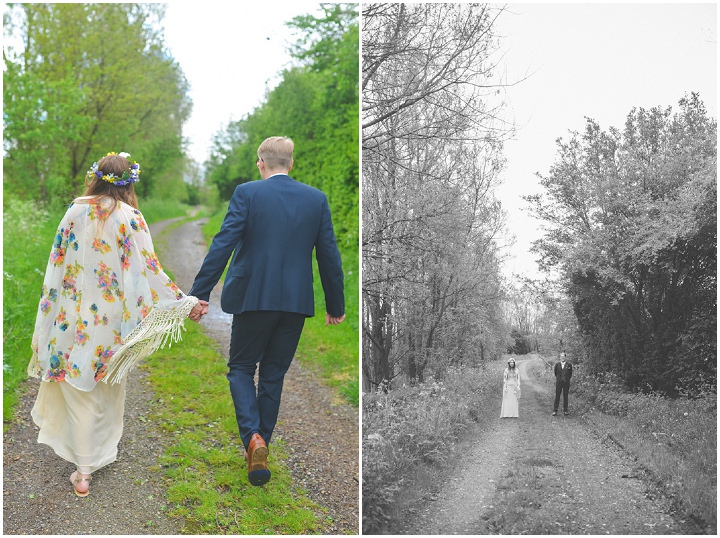 Special moments
I didn't want to be given away but was also quite nervous about walking into the tipis on my own and having everyone looking at me. So we decided that Simon would come and met me half way down the aisle. That moment was really special for both of us. Also the humanist ceremony was really special for us. We me with Kate and exchanged lots of emails so she could write the ceremony for us and because of that it was so much more real, personal and meaningful than a church or registry office ceremony.
Advice to other couples
If you're going to DIY it, you've got to be unbelievably organised. I'm a bit of a planning nut but even with that we struggled to get it all done. It's a lot of hard work so if people offer to help, jump at the chance. And remember to make the most of your friends and families talents, it can really cut down on hassle and costs.
Biggest surprise
How quickly it was over. I know everyone says it passes in a blur and beforehand we'd talked about making sure we had some little moments with just the two of us to take it all in. But it just didn't happen and the next thing we knew it was 3.30am and we were turning out all the fairy lights.









Supplier Shout Outs:
For more information on Becky's work please go to:
www.beckyryanphotography.co.uk
@bec1989
FACEBOOK
I specialise in alternative wedding photography with a vintage twist for couples wanting to do things a bit differently and have a wedding day that really shows their personalities. They want natural, honest photographs that capture the story of their day with a limited amount of posed/staged images.