Todays wedding is a real cracker! It's full of Boho charm, rustic details and retro decorations. A stunning Tipi wedding where the bride and groom actually bought their own Tipi's and now run a tipi hire company www.theboutiquetentcompany.com, how cool is that! The whole day is just stunning, from the tipi's themselves to the location, the little details, the cocktail bar and of course the gorgeous outfits and beautiful couple. All perfectly captured by the talent that is Lisa from Devlin Photos, Enjoy!
'An intimate garden humanist ceremony, followed by a fun filled Tipi party'
Christina and Jack were married on 20th June 2015 at Thurnham Keep in Kent. 'Thurnham Keep holds a special place in our hearts because it is Jack's family home. Not only did he grow up here, but his mum did too, so it has been in the family for generations. Jack's parents held their wedding reception at Thurnham Keep 30 years ago, as did his sister and her husband last year. We had a total of 76 guests and we were engaged just over two years, but did most of the planning in 12 months.'
How they met
We met by chance in an Islington bar five years ago and although not the most romantic first encounter, have been together ever since. The first drink we shared together was a shot of tequila, which we had as our wedding favours, little bottles of 'love potion'
The Proposal
Jack proposed on holiday in St Lucia. As we walked along the beach to dinner, it started to rain and we ran for cover under a palm tree umbrella, where Jack pulled out a ring.
How did you allocate your budget
We worked out how much money we could put aside in 12 months and then found a wedding budget spreadsheet online and used that as guidance. Whenever we went over in one areas, we tried to scale back in others. We put the most important things at the top of the list, such as photography and food, and made sure to prioritise those.
Where did you splurge and where did you save
We splurged on photography and videography. We came across MyFilm on a blog and loved the way they were able to capture the essence of a wedding day in a fun, upbeat clip. It was through MyFilm we found our photographer, the supremely talented Lisa Devlin. We decided it was worth paying for quality photos and footage that we could look back on in years to come.
We splurged and saved at the same time on flowers; we came across Bloomin' Gayles on Pinterest and fell head over heels for one of her floral arch designs – perfect for our garden ceremony. We then saved on the tables flowers, by replacing traditional centre pieces with lots of jam jars and vintage vases we'd collected on ebay. A friend's mum, Rena, who has now set up Christchurch Flowers, did a beautiful job of filling them with wild flowers.
We also saved on food, feeling that a sit down meal would be too formal for our laidback day and opting for a hog roast instead.
How did you choose your photographer
Lisa was recommended to us by our videographer and we were instantly struck with the way she captures the emotion in a moment. Her pictures are intimate and honest, without being obtrusive.
The Dress
My dress was by Clinton Lotter, bought from Blackburn Bridal in Blackheath, Southeast London. It was a very simple design and I must admit, I wasn't sure about it when the bridal assistant passed it to me on the hanger, but as soon as I put it on I fell in love – Clinton creates the most beautiful silhouettes. I accessorised the dress with a flower crown and a bracelet bought from Etsy. My shoes were from Whistles.
The Suit and Bridesmaids
Jack wore a blue tweed, custom made suit from tweed specialists Victor Valentine, paired with a polka dot tie. It was a great investment as he's worn it lots of times since.
The bridesmaids chose their own dresses, bought at various places, from Needle & Thread, to Topshop, to Asos.
Theme or Colour Scheme
We didn't have a colour scheme or theme per say, instead just picked out different things that we liked and hoped for the best! The day took shape naturally and ended up being a fusion of boho, rustic, retro and vintage elements. It was totally mismatched, but that suited us just fine.
Flowers
We sent Gayle at Bloomin' Gayle's a vague brief and a few pictures of flowers we liked, but other than that, she had free reign – and what an incredible job she did! She created the most magnificent floral archway and the perfect 'just picked' bouquets in summery blush, apricot, cream and green colours. Our friend's mum, Rena, also did a beautiful job of arranging wild flowers in blush tones, with foliage and lots of daisies in our mismatched vintage vases and jam jars. Rena worked tirelessly with us to create the relaxed, rustic, look we wanted to achieve. "Not too weddingy" and "pink but not pink" can't have been the easiest brief to work with, but she did a wonderful job.
Decoration
The Tipis are lovely on their own, so we didn't want to overdo it on decoration. We strung tassel garlands from the beams and used lots of pretty lighting, including fairy lights, filament bulbs and festoon lights. The good thing about starting with a blank canvas is that you can really make it your own. We hired in retro props from the super cool Hey Style Hire, including a vintage bike and my personal favourite, a lightbox with the words "you had me at hello". We also made a DIY photo booth with a colourful crepe paper backdrop and styled a trestle table with rustic drinks urns. On the same table we filled a teapot with tequila "tea-quila" and collected mini tea cups for people to use as shot glasses, which went down a treat.
Food
We had antipasti served with the reception drinks, followed by a hog roast with salads.
On the drinks side, we had cocktails served up in a retro VW campervan by the fab Beetle Juice.
Wedding Cake
We decided not to have a formal wedding cake and instead used our reclaimed wood bar as a 'cake bar'. Jack's mum made lots of yummy treats and we let people help themselves.
Entertainment
We had the super talented Motown Supremes, who are just amazing. Everyone was on the dance floor from start to finish. My feet were so badly blistered by the end of the night that all I could wear was flip flops for a week! I was on such a high I hadn't even noticed.
The Stationery
Our save the dates and invites were made by Paper Grace, who did a wonderful job, we used their 'vintage typewriter' range.
Personal or Handmade Touches
The wedding was very much a hands on effort and we couldn't have done it without our incredible family and friends. We decided to buy our own Tipis and have now set up The Boutique Tent Company, providing Tipi hire throughout Kent and the Southeast. I might have imagined that the days leading up to my wedding would be spent enjoying manicures and massages, but in reality I was busy putting up Tipi poles and hanging fairy lights!
Our friends helped us decorate and set the tables; we'd collected vintage embroidered napkins from ebay and tied these round the cutlery with ribbon and twine. We'd made our own favours, which were mini bottles of tequila stamped with the words 'love potion', as tequila was the first drink we shared together. We also made our own table plan with a vintage suitcase and had 'post cards' as name tags, while each table name was a mini retro poster of a place we've visited together.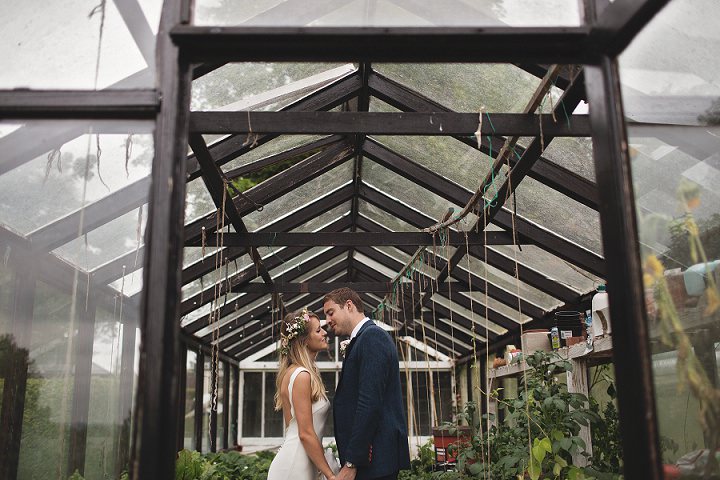 Special Moments
Our humanist ceremony, conducted by the wonderful Zena Birch, was so personal and heartfelt. In the run up to the wedding, we had to complete 'homework' about our story, so the ceremony was completely tailored to represent us a couple. Zena is such a warm person and had us laughing and crying throughout, it was definitely a special moment.
Advice to other couples
Stick to your guns! We dropped a lot of traditions that we felt weren't relevant to us, which can sometimes be hard for people who hold more traditional values to understand, but ultimately the day is about the two of you and your love for each other, everything else is secondary.
Biggest surprise
The rain holding off just long enough for us to have our ceremony outside. There is always a risk with al fresco ceremonies, given the unpredictability of our Great British weather – and we were unfortunate in that our wedding fell on the only rainy day in between weeks of glorious sunshine. The forecast was miserable and we were convinced we'd have to take the ceremony inside the Tipi and forgo our beautiful floral archway. But by some miracle, the rain held off just long enough for us to have our outside ceremony and we even managed to have drinks on the terrace afterwards. The heavens opened just as we all sat down for dinner inside the Tipi, the timing couldn't have been more perfect!
Supplier Shout Outs
For more information on Lisa's work please go to:
wwwdevlinphotos.co.uk / www.devlinphotos.co.uk/blog / FACEBOOK / @devlinphotos