I love that today's bride and groom, Natalie and Ryan, were able to use a family home to get married in and then follow it up with a big party and camping for everyone all in one beautiful place. A tractor ride for the bridal party, a big barn setting for the celebrations and a very over zealous groom for the first dance. What's not to love? Becky Joiner from My Fabulous Life shows the true meaning of 'rustic' and captures the day perfectly. I especially love the image of the girls racing to catch the bouquet. I wonder who won!
'A rustic, farm, woodland wedding with homemade recycled decor and the best bunch of people to party with! An amazing, wonderful day of laughs and love we will always remember.'
Natalie and Ryan were married on 19th April, Easter Saturday at Huxtable Farm Bed & Breakfast in North Devon. "It's my parent's home and I grew up there …It's an amazing farm B&B. It was personal to us and it also helped keep costs down. All the family stayed in the B&B rooms and we had camping on the farmland for guests as well. We got engaged pretty much a year ago to the day so the planning started straight away. Once the main things were sorted pretty soon after engagement I did little by little when I could in around my full-time lecturing job – but lots of homemade touches and help from family made it easier."
How they met
We met at the East Devon College end of year Art exhibition 8 years ago!… and have been together ever since. Both of us are artistic …myself an Art and Design lecturer with a love for recycled craft and design and Ryan a film and photography technician and freelance cameraman and editor – so it's quite fitting where we met!
The proposal
We love travelling and exploring and after a year of being together we ventured out to travel Europe in our campervan for 3 months, we have travelled on smaller trips ever since then and it was on a trip to Iceland last year at Easter where Ryan popped the question at the wonderful Gullfoss waterfall – I was taking a picture out towards the waterfall he called for me to turn around and take a picture of this as I turned and took the picture I only got his head in the shot …but that was because he was on one knee! I then cried…A LOT but of course couldn't stop smiling either!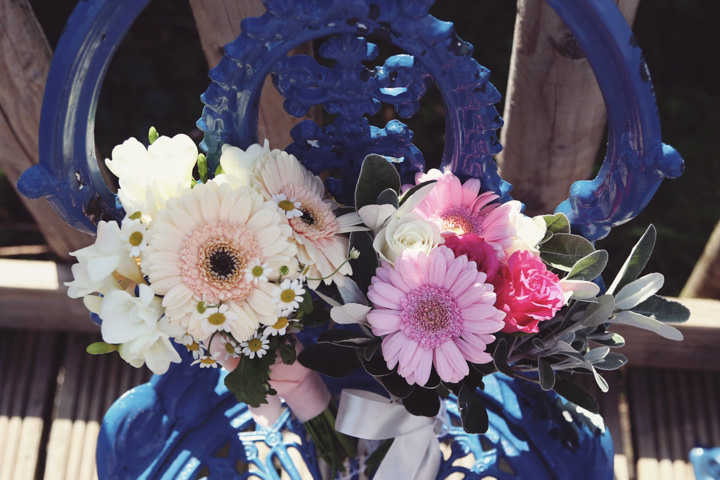 How did you allocate your budget?
We knew we were going to get married at the farm so after that it was the dress and food & booze that took priority then I just spent as I bought things across the year – we had a very DIY wedding so costs were low for a lot of things.
Why did you choose your photographer?
Becky joiner of My Fabulous life was actually a friend of Ryan's. Ryan had previously worked with Becky on Filming jobs and Filmed for Becky's business as well. We also love her style of photography – just amazing and what beautiful moments she has captured of the day.
The dress and accessories
I'll be honest – I didn't really like dress shopping that much….I didn't like the fact you had to order your dress in months in advance and the whole scenario of trying on dresses just wasn't me – many dresses I just found puffy and strapless. So I began to put this off however in Barnstaple a found a small shop at the bottom of the high street with sale wedding dresses. This was actually Julie Drapers of Frilly frocks (of which she sold a couple of years before) but still had some stock to buy off the rail. I ended up trying on a few things but fell in love with a long chiffon skirt (which had a bodice top with it that I wasn't too keen on) I stood there and just thought I love the fall of this skirt and how I feel elegant yet comfortable in it. So ended up buying the skirt reduced from £350 to £120! I wasn't sure at this point what I was to do with the top but after some thought I managed to get a lace top (actually from Topshop – £25) which myself and a colleague from work customised together with my skirt …adding lace and changing the neckline. I loved that my dress was created this way and glad I took a DIY approach to it.
I had shoes which actually where black court shoes with a chunky heel ( I needed a chunky heel for the farmyard walk) I painted these ivory and added lace detail. I had to do it this way as finding chunky heeled wedding shoes was a nightmare this also made them cheap at £20!
I also had a fantastic pair of heeled ivory wedding wellies – I wore these most of the day and all night!
The suit and bridesmaids
Bridesmaids dresses – £206 for all 6. They were from House of Fraser – ivory/navy and long. We didn't have a set colour theme to our wedding just a rustic/woodland scheme so the dress shopping was myself and my bridesmaids hitting Oxford Street in London and trying on all different colour and styles until the girls were happy! Was a great way to do it as quite often its impossible to find exactly what you envisage. I then added grey ribbon and individual lace bands to the dresses and each have a different vintage brooch to fix the ribbon/lace belt around the waist. A little detail that made the dresses perfect.
As for the suits – the boys got their own charcoal grey trousers and white shirt and we picked up all 6 jackets for £30 each from The Officer's Club sale after Christmas. The ties were Jacob wool ties (my mum sells her own Jacob wool products and some over Jacob wool products at the farm) and I hand-made the buttonholes using the farms Guinea fowl feathers. Flower girls dresses were monsoon sale reduced from £64 each to £27.50 and £12.50! Flower girl accessories where BHS sale and Monsoon sale.
The theme
No not really – rustic, farm, woodland you could say was the scheme as we had lots of log stumps and greenery around the barns.
The flowers
A lot of the flowers were picked from the farm and a quick trip to Tesco the day before was where we picked up loads of reduced bunches of flowers for only £20! This together did all the bridesmaids bouquets, my bouquet and table flowers… all the bouquets were put together by 3 of my bridesmaids the night before…they really enjoyed making their own.
The decoration
Recycled newspaper bunting which I had been making all year whenever I had a moment, log stumps, recycled net curtain and hessian bunting, fairy lights, wooden chairs and old wooden trestle tables (hired from local village halls for low cost) log plate mats, vintage crockery part my own collection part collected form charity shops, greenery from the farm, recycled slates with text Art, old photo frames with photographs from of pre-wed shoot with Becky Joiner and photographs of moments together during the past 8 years, jars, hand crafted paper flowers, straw bales and a log feature wall where people left messages on with chalk – basically everything recycled so the decor was practically free!
The food and wedding cake
The wedding breakfast was an array of cold buffet – cold meats, pasta salad, quiche, a lot made by my mum and friends – Most of the puddings were made by friends that bought them on the day. There was an amazing Hog roast in the evening by North Devon Hog roast
The wedding cake was made and iced by my wonderful mum and we decorated it with hessian, navy and lace ribbon – I didn't want anything to fancy. We made the 3 tier effect by 3 tiered log stumps to keep it inline with the wedding woodland feel.
The entertainment
We had the wonderful fabulous beaver brothers playing for us in the evening – which was an absolute blast! Playing amazing covers of contemporary and classic songs, we also made a wedding Spotify playlist that we played through a PA system so the disco part was free! Oh and my husbands dancing was part of the entertainment.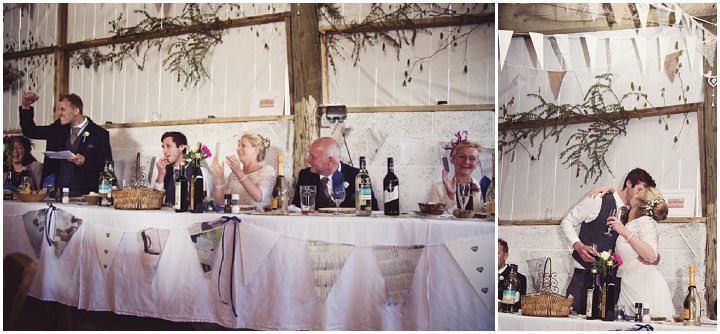 Buy or DIY your Stationery?
DIY – My brother is a very talented graphic designer working in London so his wedding gift to us was to do all of our stationery and signage for the day! Nigel designed the save the day card but I then hand screen printed these myself and sent them out asap. The invite and website was then designed by Nigel, the invite we kept simple – venue, time and all other details and RSVP were on the website. This saved on paper printing and having a large invite. The invites themselves were then hand printed by Nigel and myself and Ryan then hand tied, enveloped and sealed them with a stamped sticker one by one! The website was just fab with hand drawn illustrations and personal touches www.natsandryangethitched.co.uk.
Personal or handmade touches
– Transport – Dad's tractor – with a fresh lick of red spray paint, my parents themselves had the same tractor as their wedding vehicle back in 1984!
– My maid of honour (Charlotte) and I have been friends for life and on the day we recreated a photograph of us both standing in the same barn holding hands when we were about 4. This was great fun as we even put on red wellies to recreate the photograph.
– The log wall was fantastic and great to look at the day after – so many messages some very random! my favourite – someone being creative using the wood crack to draw a picture of Ryan and myself – see attached photograph.
– Log placemats – with chalk names (many took theirs home!)
Special moments
– The first dance as my husband's a bit of a mover – so that just made me laugh.
– Arriving to the ceremony barn on the tractor with my best friend and my dad driving us.
– Seeing everyone special to us there – some friends and family we hadn't seen in a long time.
– The first dance and the rest that kept us going until 4am!
Advice to other couples
Just enjoy it! Don't let the 'you must do it this way' approach get to you. Do it your way – we did and it was great! Who cares if your flowers don't match your ribbon colour!








Supplier Shout Outs:
For more information on Becky's work please go to:
www.myfabulouslife.co.uk
FACEBOOK
@Joinerb
Becky Joiner of My Fabulous Life Photography is based in Devon and works across the UK capturing weddings for those who choose to live a live less than ordinary. My style is relaxed, creative and most of all fun. 
Due to an email issue if you have emailed me between the 2nd & 9th of December, please resend it.
X