From a very public proposal to the intimate Marrakech ceremony, today's wedding, with absolutely delicious images by Andrew Billington, is just beautiful. The sun shone, the peacocks paraded and Zoe and Adam's day just looked like something out of the pages of a very expensive wedding magazine. Zoe's veil is absolutely stunning and you can't help but get emotional looking at the pictures of the bride and groom exchanging love letters before the ceremony. This was truly a family affair and nothing, in my humble opinion, beats a mother of the bride performing a fire dance for guests after the wedding! Now you know you want to read on.  (Zoe is now selling her Vera Wang wedding dess if anyone is interted, all details HERE)
'The wedding day was most intimate, romantic, idyllic day I could have ever hoped for. It was the wedding of dreams and fairy tales.'
Zoe and Adam were married on the 1st June at Fawakay Villas in Marrakech, Morocco. 30 guests in total flew out for the wedding in Morocco with another wedding when they returned home for the people who couldn't make it over. "We always wanted to get married abroad and choosing a place was difficult, we originally thought Italy or Thailand but my mum has been to Morocco and loves it there, so after I saw Villa Fawakay and spoke with Dawn (the owner) my heart was set. Marrakech itself is just beautiful, hectic, but beautiful. I absolutely loved it there, the culture is amazing and it's so different to home."
How they met
We met working at Le Mistral in Wirksworth in Derbyshire, Adam is a chef and I was managing the restaurant at the time. That was back in 2010. We've been together 4 years now.
The proposal
Adam popped the question pretty early on, we'd been together about 6 months but when you know you know right. He popped the question in Tenerife up on stage in front of about 200 people! I was mortified getting called up on stage and watching him get down on one knee but it was crazy romantic.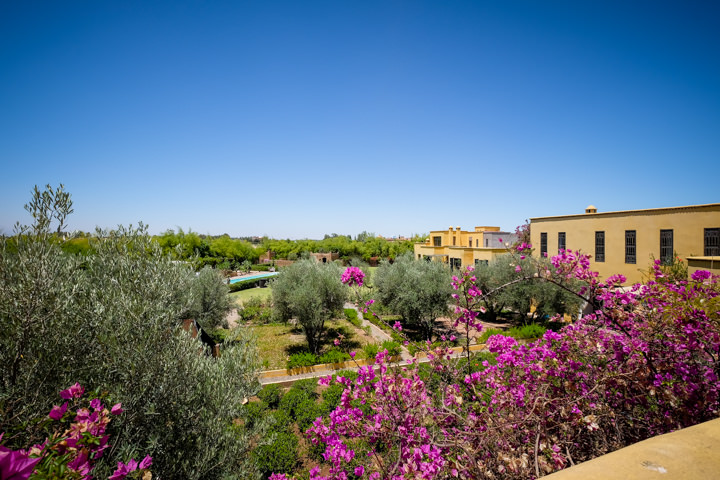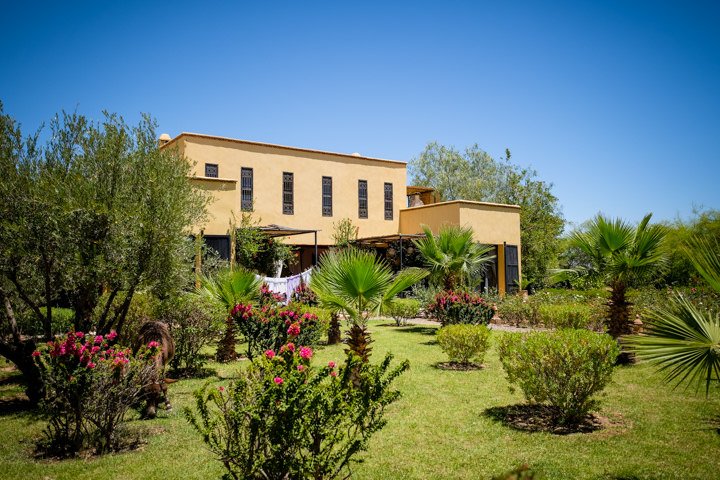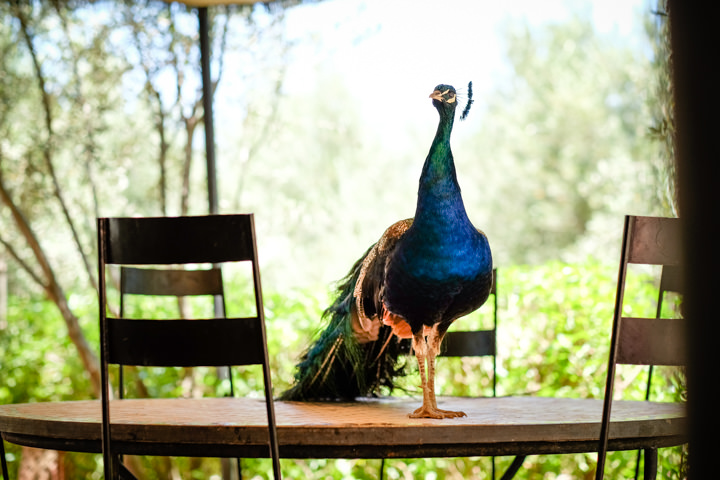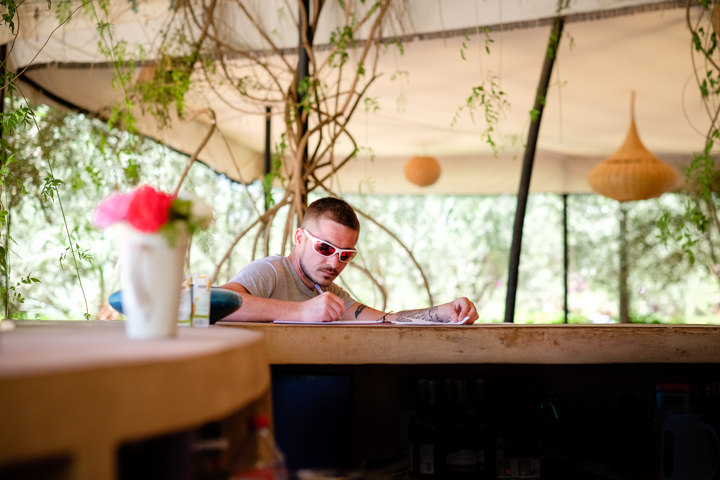 How did you spend your budget?
We didn't really have a budget; just relaxed and prayed we came out the other side without bankrupting ourselves! I did however monitor what we were spending closely so it didn't get out of control without us realising it. We didn't have a huge amount of savings and couldn't have done it without the help we had from everyone! I am so grateful to our families for how much they helped us with the wedding, My dad, mum, my grandparents and siblings were amazing and helped out so much! And to all the guests who came out to Morocco for our wedding, it really meant the world to us!
How did you choose your photographer?
I decided I wanted a documentary style photographer a while ago, Adam is a little camera shy and I tend to dislike wedding photo's where everyone is posing all day long. I love natural, raw emotion shots which have a story behind them. Once I found Andrew he was all I wanted for the day, his work is exceptional! I actually moved my wedding date twice just so he was available for it.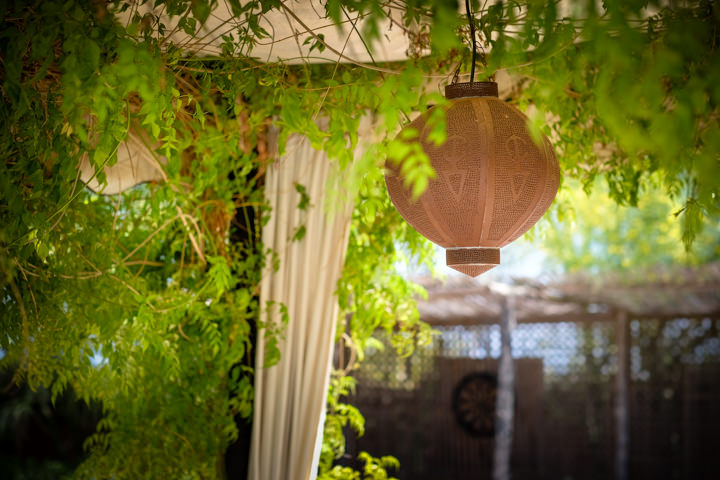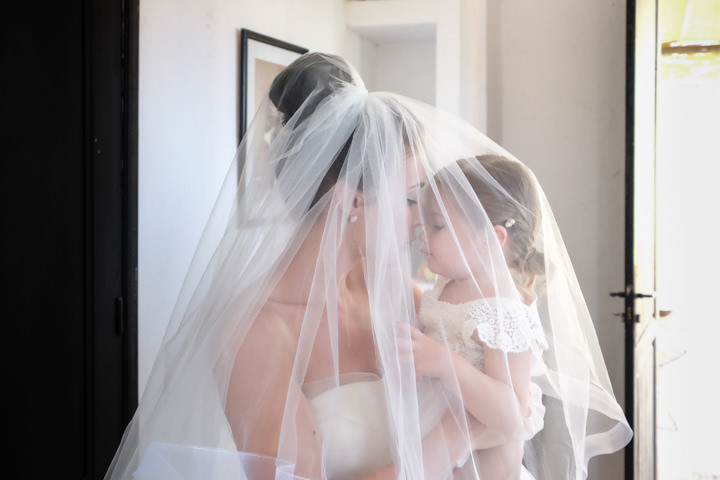 The dress and accessories
My dress was the Vera Wang 'Katherine' from her spring/summer 13 collection, for a ball gown made from mostly Horsehair and tulle it was surprisingly easy to move in. As soon as I tried it on I was completely in love with it.
Because of the dress I wore hardly anything else. I had some simple gold sandals from Aldo, small pearl Tiffany earrings which were one of my wedding presents from Adam, a lovely blue pin broach from my bridesmaid's Grandmother and the horsehair veil was custom made to match my dress by Timeless Couture.
The suit and bridesmaids
Adam's suit was a Hugo Boss two tone navy tux, I think it was the only suit he even tried on! He wore Ted Baker shoes and a Reiss shirt, his tie and the groomsmen's were from Mrs Bow tie.
The bridesmaids' dresses were custom made by a local dressmaker and were exactly what I hoped for, the maid of honour had a strapless style and the other 2 bridesmaids a Grecian style, all in blush pink. The groomsmen were in midnight blue with bow ties.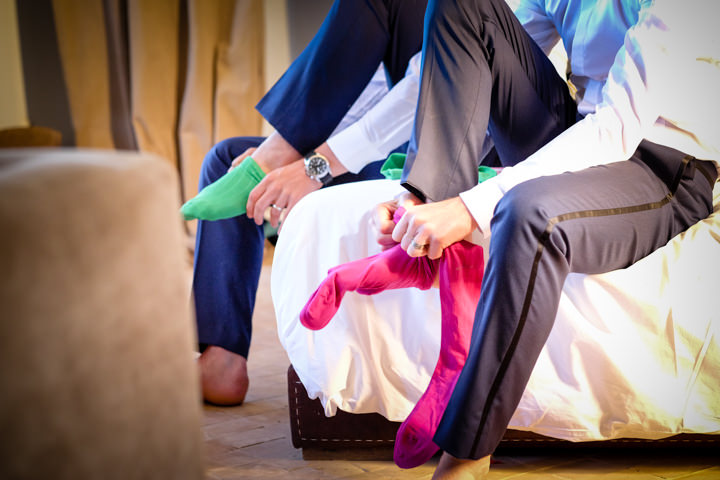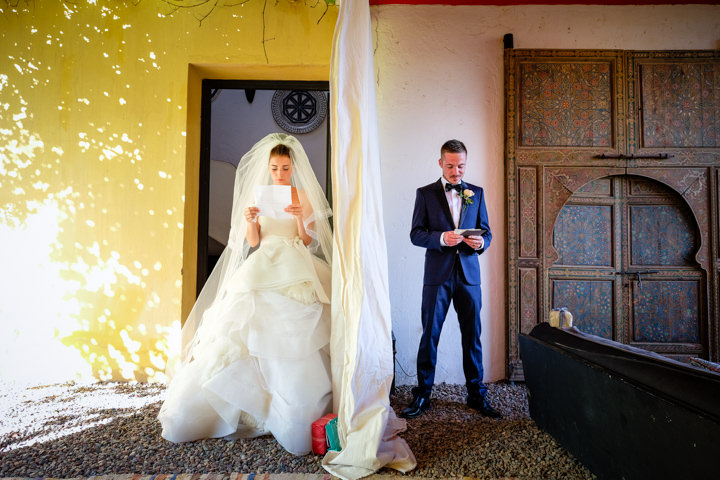 The theme
My colour scheme was blush pink and midnight blue
The flowers
Our bouquets were simple rose bouquets that we sourced in the crazy Marrakech Souks with the help of my French speaking mummy.
The decoration
Dawn at the villas did all the decorations, which were just amazing. We had one long table in a little shaded cove with Moroccan lanterns all around us in the tree's, the table looked amazing, all the flowers Dawn had created from the surrounding gardens were beautiful and tea lights surrounded everything.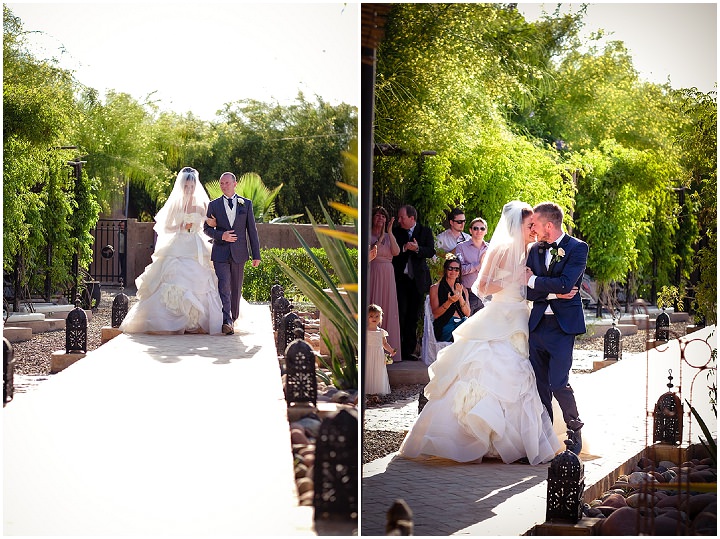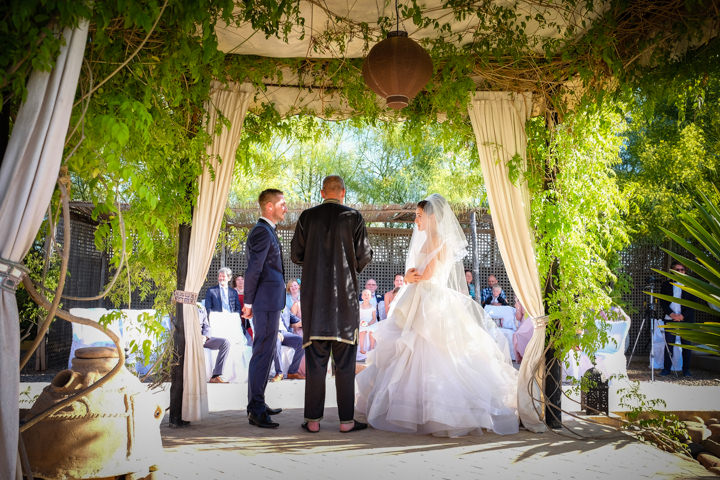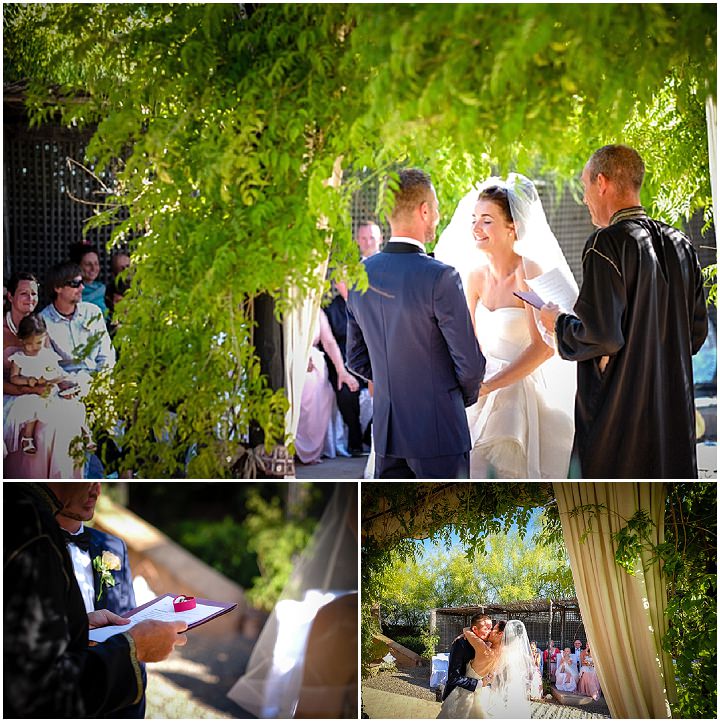 The food and wedding cake
We had gorgeous sharing Moroccan salads to start, tagines, cous-cous and much more for main course and a beautiful lemon sorbet to finish. The wedding cake we also sourced in The Marrakech souks from a lovely french Patisserie
The entertainment
My Dad & one of the groomsmen are fantastic musicians so provided some awesome music, then My mum did a fire show to the beat of my Dad's African drumming. It was spectacular! Probably a first for the mother of the bride!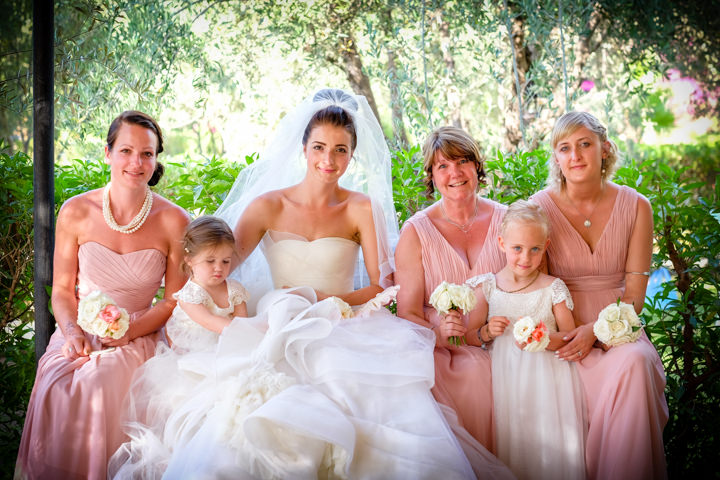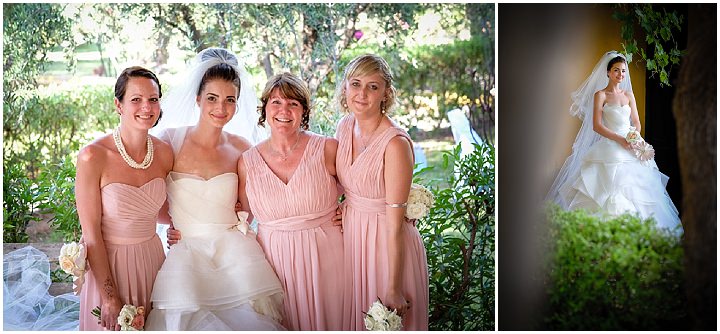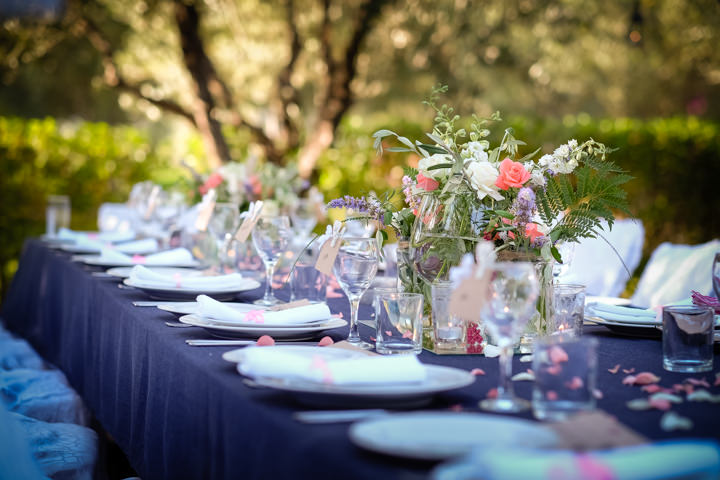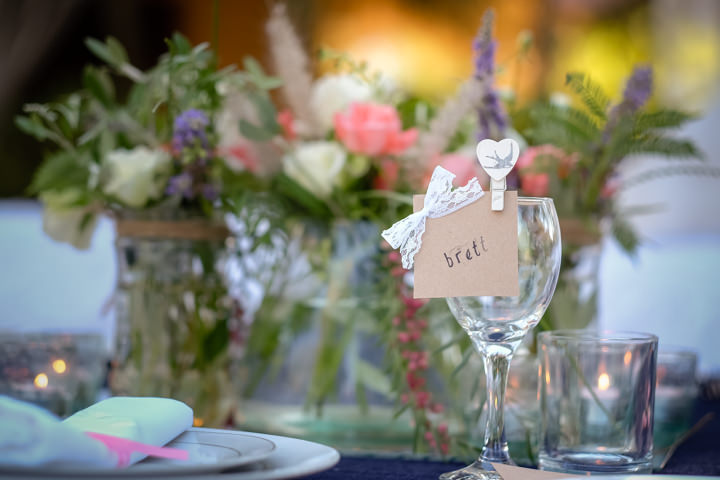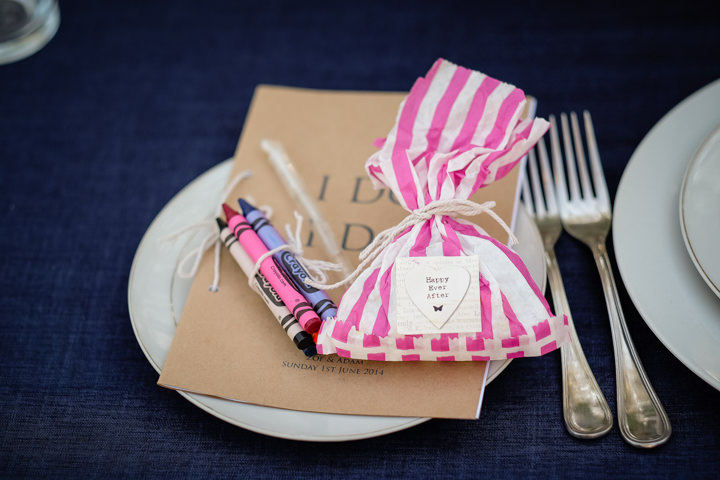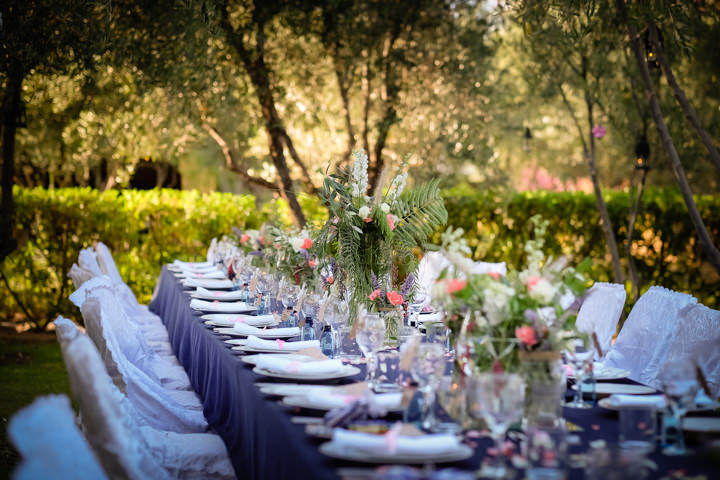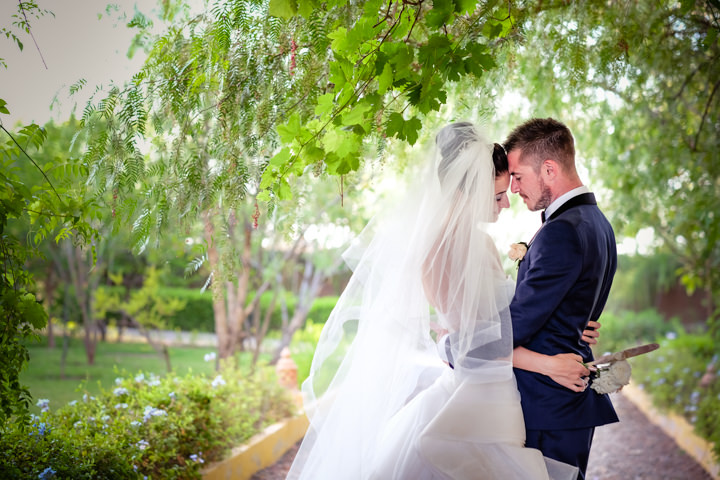 Buy or DIY your stationery?
I DIY'd pretty much all my stationery, including my Save the Dates, Invitation's (with the help of a fantastic graphic designer.
Personal or handmade touches
I did personalised activity booklets for all the kids, handmade all the place cards, the favours were Bombay sapphire miniatures (apart from my brother who got whisky! (He's a bit of whisky snob…) with little kilner jars of jelly bellys for the teenagers and activity packs of colouring books, crayons, bubbles and sweets for the kids.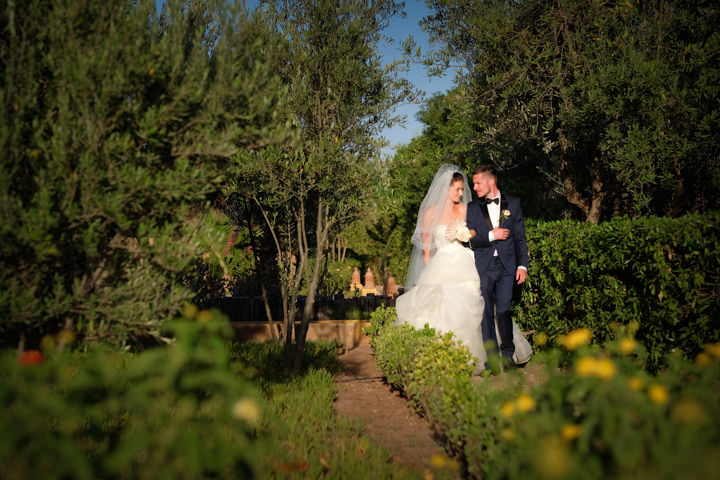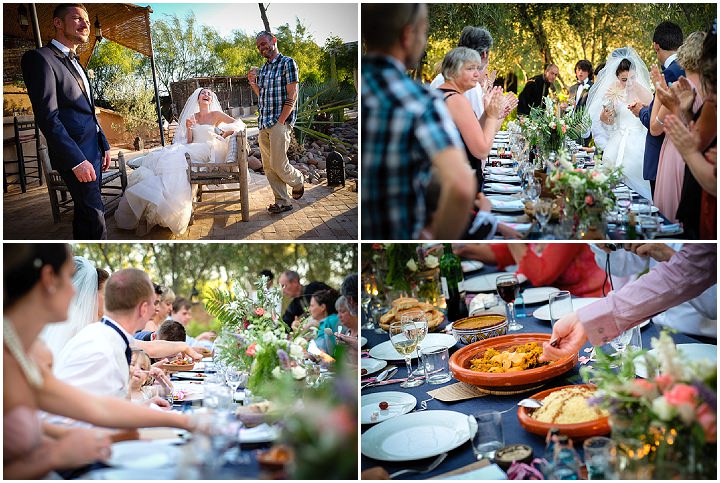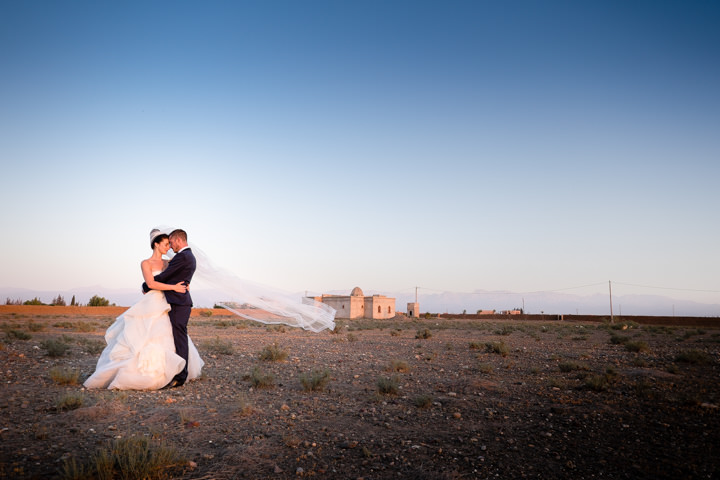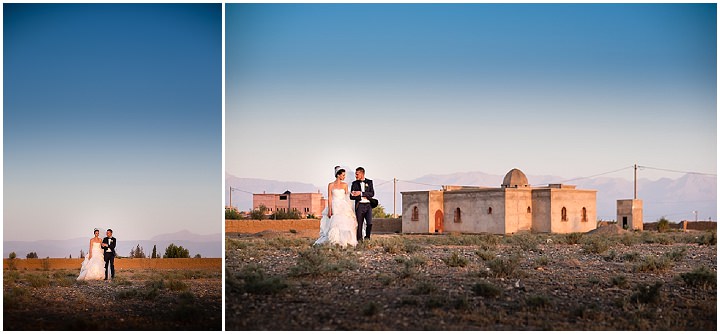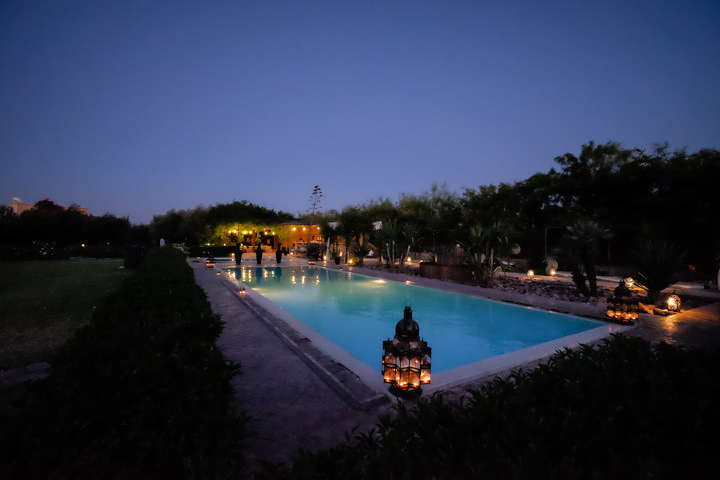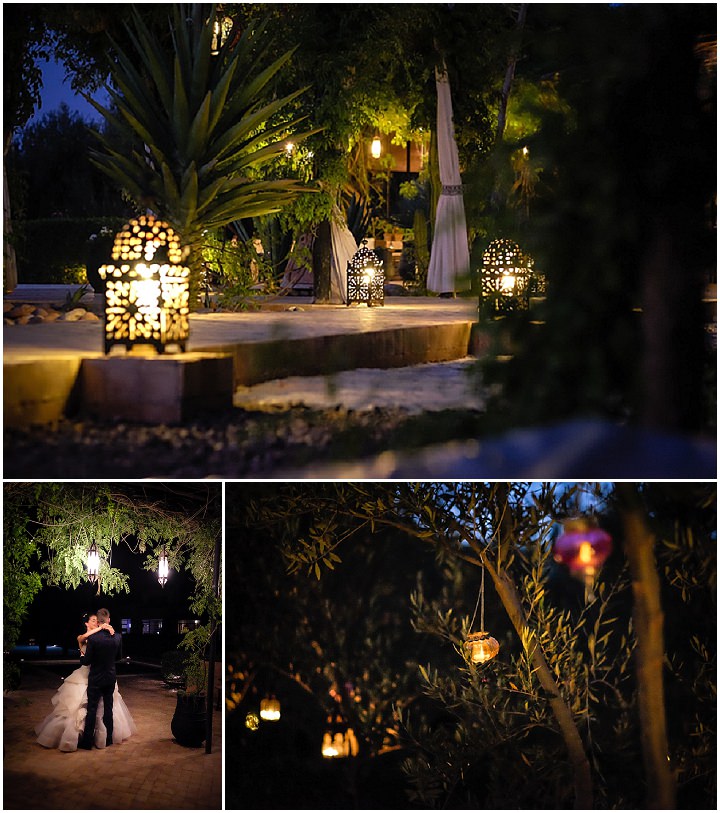 Special moments
The day of the wedding was incredibly laid back and relaxed which I loved, we had till 6 to get ready so us girls just spent the day slowly. Adam and I had vowed not to see each other since the night before which was quite difficult being in a 3 villa complex, but we managed. We did a first look, no look just before the ceremony where we exchanged letters and that was pretty emotional (especially not being able to just give each other a cuddle) but so so lovely and calmed our nerves right down being able to hear each others voices. The ceremony itself was just beautiful with the sun shining and the scenery perfect. The intimacy of the whole thing was beautiful! Also the after party, dancing till 3am, getting in to my wedding bikini and diving in the pool late into the night was so much fun!
Advice to other couples
Try to relax as much as possible and not stress about the little things, easier said than done, but on the day itself it honestly did not matter that the ribbon on the favours didn't match the bridesmaids dresses perfectly, or that one of the groomsmen had left his tie behind at home. All the little things you need to be perfect when planning the wedding, on the day itself the only thing that mattered to me was just the emotion and excitement of the biggest day of my life, marrying the one I love and sharing it with family and friends and it really was perfect.
Biggest surprise
The most emotional part of the day and biggest surprise was probably listening to Adams vows; we had both written our own but his completely took me by surprise, I was a weeping mess during the ceremony.







Supplier Shout Outs:
Fawakay Villa's, Marrakech, Morocco – www.fawakayvillas.com.  Dawn & Francis were just perfect in everyway! They do a lot of weddings and yet made it so personal and intimate to our requirements! Also the 5* accommodation and service is so worth the price just for a holiday! A truly beautiful oasis of calm on the outskirts of Marrakech.
Catering, decorations, ceremony were all supplied by Dawn and Francis at the Fawakay villa's.
Andrew Billington Photography –  documentary-wedding.com.  I cannot praise Andrew enough, he is one of the kindest people I have ever met and just a great guy to have at your wedding! His work is outstanding and so personal. The photos we now have of our special day I will cherish forever! He has enabled us to cherish all those wonderful memories for the years to come in such a spectacular way.
Timeless Couture – www.timelesscouture.co.uk.  Astra at Timeless Couture was a complete angel, the veil she made was so perfect and a perfect match to my dress, her work is impeccable and if I hadn't have had a Vera Wang dress, a timeless couture dress would have been gorgeous, her dresses definitely had me swooning! They are just beautiful. The dress is now for sale, more details HERE
For more information on Andrew's work please go to:
documentary-wedding.com
FACEBOOK
@BillingtonPhoto
I'm based in Leek in Staffordshire and photograph weddings across the UK and Europe. I'm a documentary wedding photographer which means I don't aim to orchestrate a wedding day but photograph it as it happens in a creative and evocative manner. Truthful, narrative and emotional wedding photography.