I have a wonderful wedding for you today which has been sent into me by Andrew Billington. It's a shabby chic/vintage inspired wedding which comes in 3 parts. A small intimate registry office and outside blessing and meal which turned into a cocktail party, followed by the night do. It is a fabulous wedding full of amazing details and lots of fun elements, like a wedding tombola, the couple have really gone to town with all the personal elements.
The very lovely couple are Lizi and Russ who were married on 3rd August 2012 at Leicester City Registry Office, with an outdoor blessing and reception at Entropy Restaurant, Leicester. It took 8 months to plan. I am loving Lizi's Vintage dress and Russ's amazing suit, they sure are a very handsome couple!
'A one in a million day, all about us, spent with family and friends, which exceeded any and all expectations. Our wedding day was the first day we have planned together which generated nothing but smiles for us, smiles amongst guests, and warm immeasurable happy memories for all.'
How they met
We met in a club in Nottingham. We were friends for a number of years and became boyfriend and girlfriend in 2003. We had been together for 9 years April 2012.
The proposal
We were away on a luxury spa weekend at Penny Hill Park. Over dinner in the bistro, Russ presented me with a present of a small silver bell for my charm bracelet he has given me charms for over the 9 years we have been together. I asked what it was, what does it mean? He said it means "will you marry me?". I said "yes"!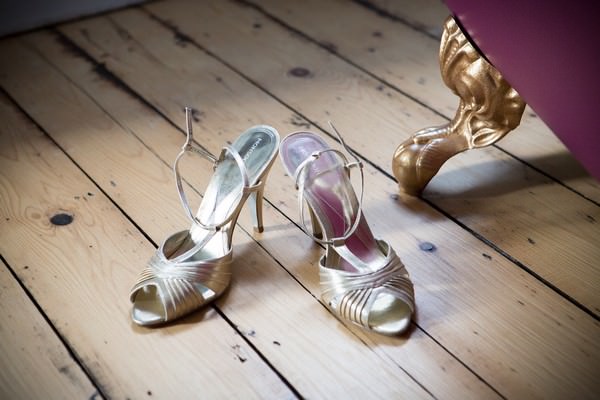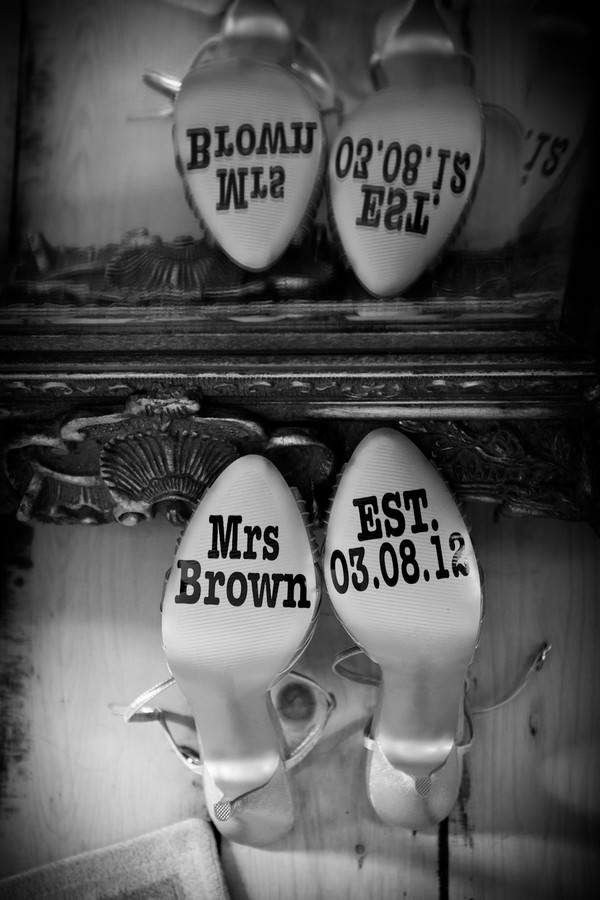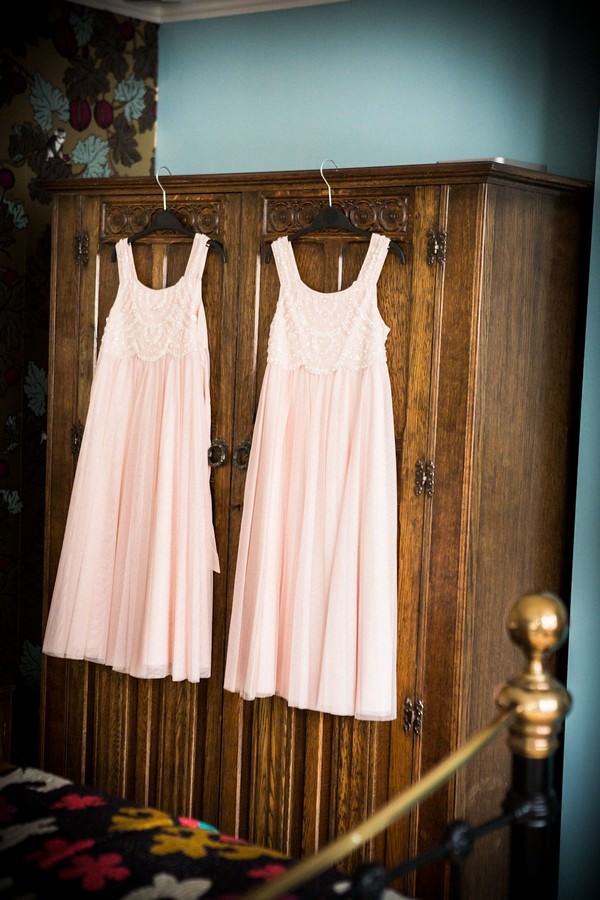 The venue
We wanted to do everything locally, and chose to complete what we perceived as the legalities of tying the knot at our local city registry office. The registry office has a good setting for photographs and is in a very grand building in the centre of Leicester.
Afterwards we went to a city centre park for group photographs .
From here we went to Entropy Restaurant where we had a blessing in the courtyard garden and private meal for our close friends and family.
We chose Entropy as our reception venue as this is our 'local'. We eat here regularly and love the atmosphere and food. The size of the venue, little discreet areas, flow of the areas suited our plan for an intimate wedding party with stages of partying during the day.
In reality the venue exceeded our expectations due to, and with thanks to, the perfect and fabulous personal service provided at the venue in the run up to and during the whole day and the day after by Caitlin, Tom and their team.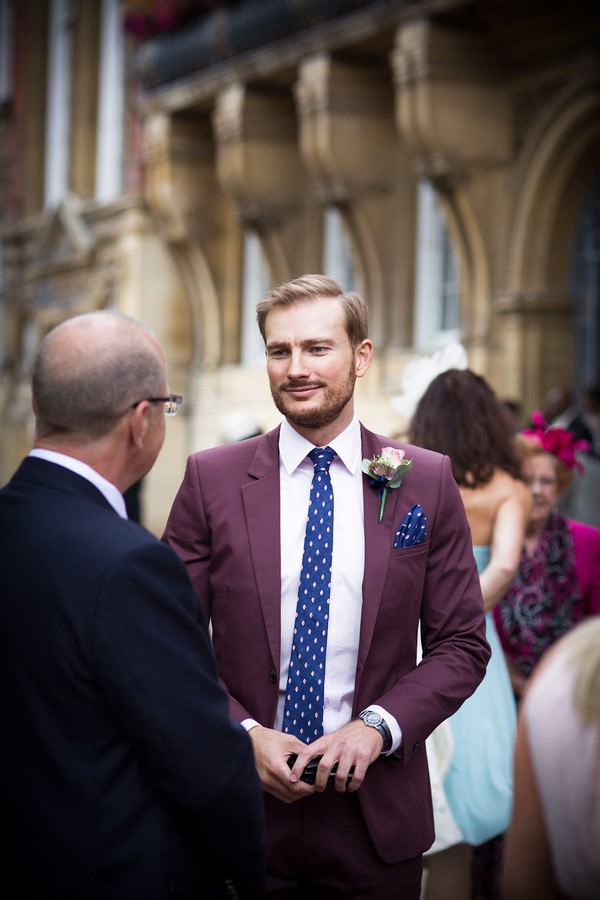 How many guests
Our wedding was staggered with guests arriving in three waves;
1. Registry office, blessing and private dining meal – 25 guests
2. Speeches and cakes and cocktails 5pm onward – 50 guests (total including those from earlier)
3. Evening reception 7pm onward – 80 guests (total including those  from earlier)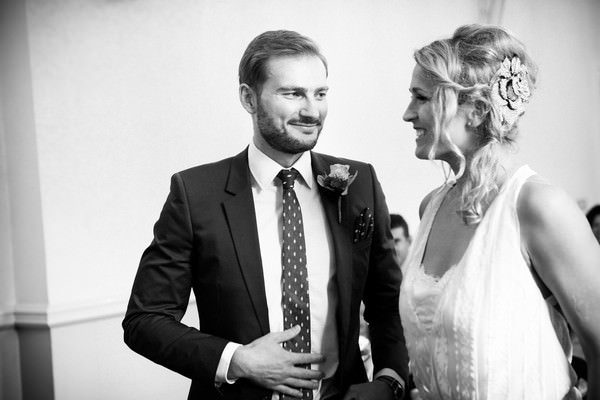 How did you choose your photographer
I had used Andrew Billington for a work creative event at a school I was working at. When looking for a photographer, a friend in common suggested looking at his wedding photography website as he had just set up in the industry. I knew he was a great photographer. He came and met with Russell and I and after he shared some more image ideas we knew he would be ideal. He really didn't disappoint to this end and has provided us with some fantastic images to capture the day. One of the biggest compliments we can give  is that guests and family when looking at the photographs have all commented that they just didn't notice Andrew was there! He did not interrupt guests to capture images yet managed to create a collection of images to give a rounded representation of the celebration.
The Dress
Dress was by the Vintage Wedding Dress Company,  Accessories by Glitzy Secrets online. Shoes Monsoon
The suit and bridesmaids
Groom, Best Man and Usher all in suits/outfits from Reiss.
Bridesmaids Dresses from Monsoon, Shoes John Lewis, Personalised Bracelets as gifts from Bride from local silversmith artist based at Anabis Leicester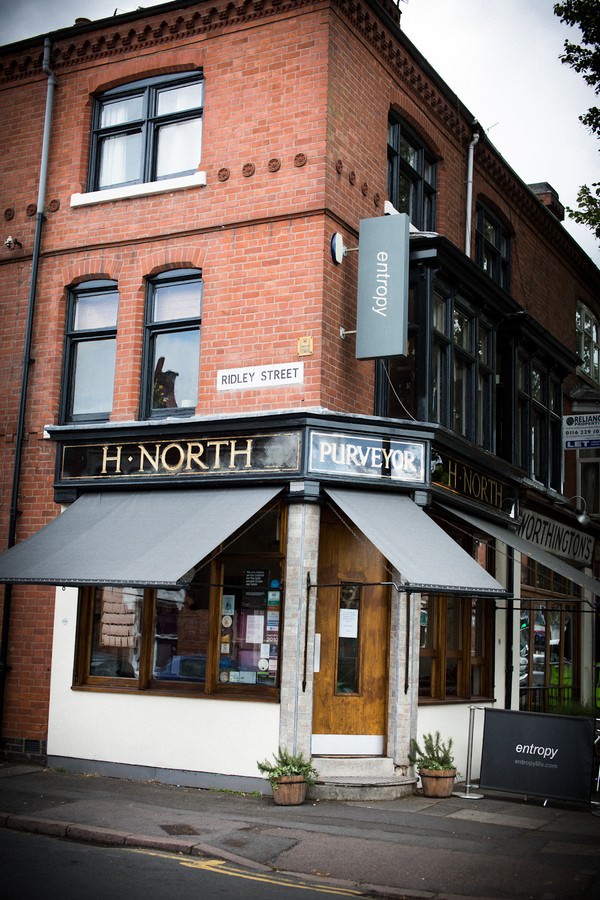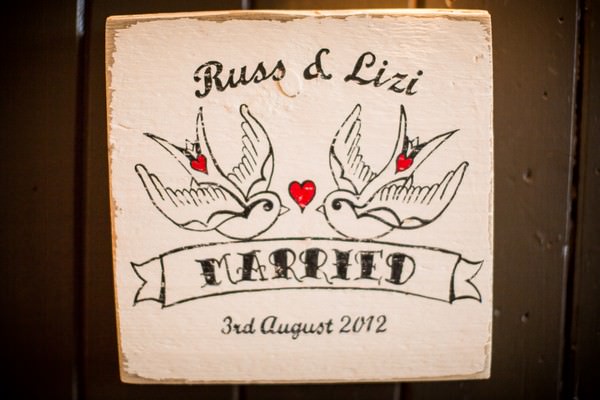 Theme
Vintage shabby chic/ tea party/summer fete
Food
Canapes as we arrived – including mini fish and chips, roast beef and Yorkshire pudding, cheese soufflé
Private dining meal – all guests allowed to select from choice of 5 options from a personalised menu provided by the restaurant.
In the evening there was a hog roast and buckets of chunky chips
The cake table was a buffet all evening and there was a magnificent cake of cheese
Entertainment
We had our friend, Kevin, play one acoustic song at the end of the blessing – Beatles "All we Need is Love". He also played a short set and this ended up being our first dance. It turned out that he had written the first song for us. The disco was superbly provided by 'The Wedding Spinners'. They provided the perfect balance of music to keep all guests happy.
Flowers
The bride bouquet, bridesmaids flowers and all button holes were provided by a local florist and were perfect – Flowerworks!
The flowers in the venue were special as they had been provided by Caitlin's mother in law who grew them especially in her garden for the event, presented in random holders of jam jars and bottles around the room and on tables.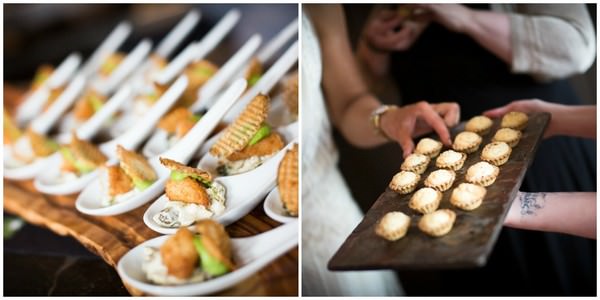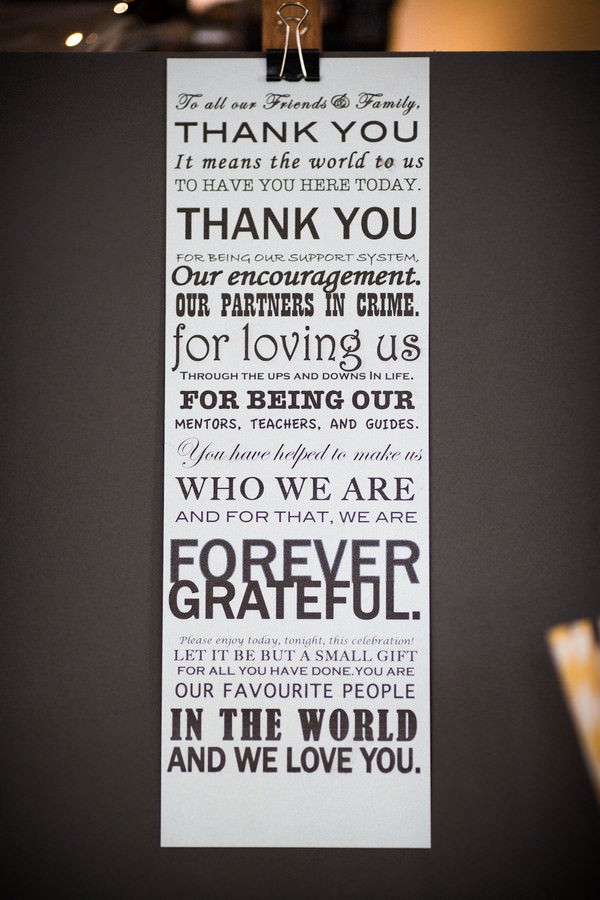 Decoration
Entropy as a venue really allowed us to take over the decoration and display on all walls images and pictures related to us and our lives. We invested in a number of pictures and created our own and put these up on the day.
In addition we brought along our stag heads from our dining room and dressed them up as bride and groom.
The garden courtyard was decorated beautifully with candles, paper poms and letters on the wall. These gave the perfect backdrop for our blessing by my god father.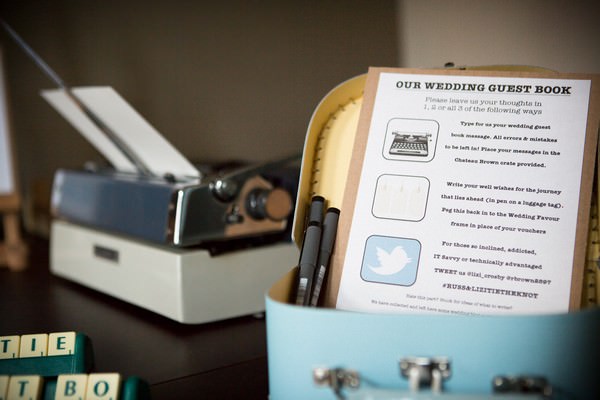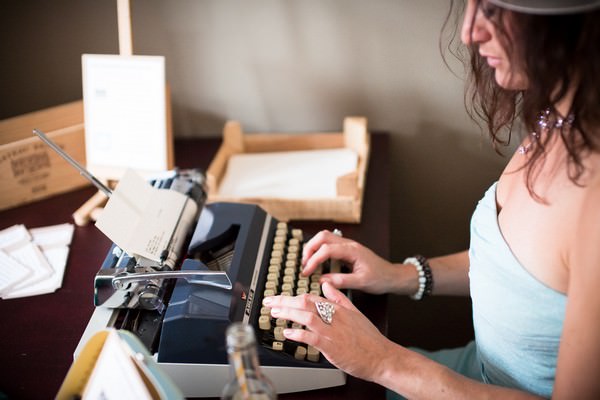 Personal touches
• A blessing in the courtyard planned by us with my godfather (happens to be a priest) to replace a traditional wedding in a church.
• I made a wedding website with all information for guests to be able to access to try to stop the constant asking of questions! You can see this here. http://russandlizitietheknot.weebly.com/
• Personally designed cocktail menu – including the ultimate – An Ironman shooter cocktail, with shots representing the triathlon disciplines of swim, bike & run.
• Photographs, posters and display items around the venue to personalise the rooms and garden
• Wedding favour vouchers for cocktails, ten penny mixes and a go on the tombola. These matched our very fabulous cinema ticket themed invites from Yield Ink.
• A wedding tombola!
• A vintage fete cake table
• A typewriter guest book – we got great comments on this and we left ideas of what guests could write to help them! On the day there was a queue for this! All the guests loved sitting and typing messages for us.
• Plantabox personalised crates – matching with our wedding date and one as a present for my parents too – with their date 45 years earlier.
• Name on the base of my shoes! – Mrs brown est 030812!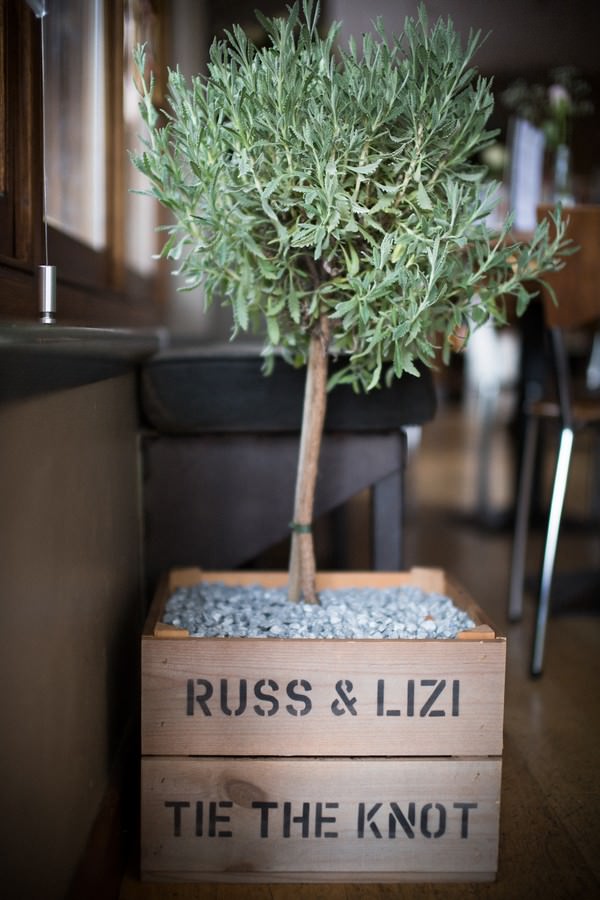 Advice
• Having invites with an RSVP card which included an envelope, already stamped and addressed. We got all RSVPs back well in advance of our requested deadline.
• If you choose a small local venue, consider a space to have official photographs.
• If guests/family are offering to help consider the following – give jobs that they can do and you do not mind them taking ownership of.
• Decide together what you would like to achieve and the non negotiable for the day. Don't be swayed by other people's ideas or expectations about what you have to have at/in a wedding.
• We took time to spend time together and also step back to absorb the atmosphere and enjoy it all.
• Post-it notes! I made a planner out of wall paper with every month on it and all jobs were added on post-it notes that could be moved.
• I got inspiration from online blogs including the Boho blog and Pinterest.
• On a very practical note, since getting married I have tried to change my name. We ordered 2 extra copy marriage certificates. I wish I had ordered more. Name changing is a big job and everyone wants a genuine copy certificate to change your details.
Special moments
Difficult and near impossible to choose. We loved the blessing, speeches and first dance, though the whole day was quite literally perfect from start to finish and has given us hearts brimming full of the happiest of memories.
Biggest surprise
The part you cannot plan is how your guests will mingle, enjoy the day and throw themselves in to celebrating together in a small venue to provide the best atmosphere you can imagine. We provided the tools and the setting but they provided the love, energy and happiness which gave it all the magic glow and finishing touch of our perfect day and for that we cannot thank them enough.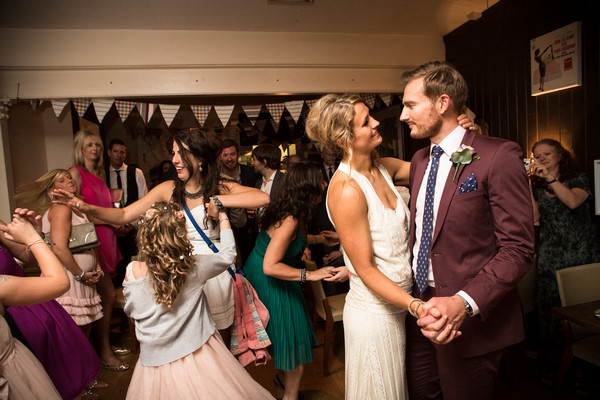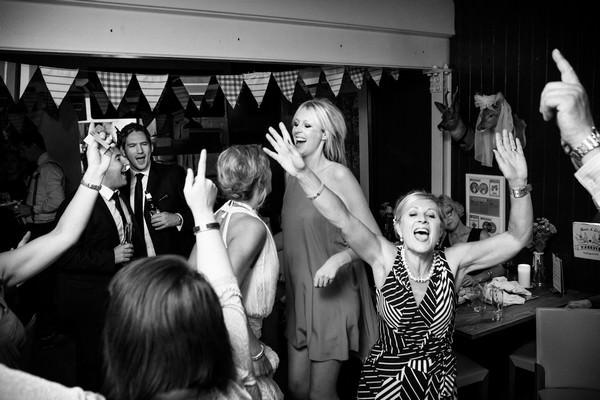 Supplier Shout Outs
Suppliers we had particularly superb service from –  our venue Entropy Leicester, photographer Andrew Billington, invite suppliers – Yield Ink, and our DJs the Wedding Spinners. We would highly recommend these suppliers to other couples getting married.

For more information on Andrews work go to:
http://documentary-wedding.com
[email protected]
FACEBOOK
TWITTER
Phone:  07748 352 464 / 01782 631 994

 ♥  You can see more Real Weddings featured on the Blog HERE  ♥

[jprel]