Today we are back with Lisa and Alex from 2 people 1 life for wedding number 45. Last time Lisa and Alex were in the paradise setting of Bora Bora on a Million Dollar yacht no less! It really was an amazing day. Today they head to a different continent altogether and are in Morocco, Marrakech in fact! This rooftop wedding is just stunning with amazing views of the city, as well as a stunning Riad to get ready in, this wedding is just stunning. Topped off with a little trip into the Medina in the evening we really do get to soak up the atmosphere of this amazing city! Photos from the amazing Bohemian Weddings
(In case you have missed it the whole story Lisa and Alex have spent the last two years travelling round the world getting married in every country they visit, you can read more about their adventures HERE.)
We arrived at El Fenn, the most fabulous Riad, stepping into the door is almost like going deaf…in a good way. The chaos of the street outside dissipates and is replaced by the tweeting of birds and the breeze rustling the palm fronds in the oasis that is the first courtyard in this heavenly, calming place. We were so lucky to have been invited here to celebrate our 45th wedding! Boutique Souk are the destination wedding planner service, based in Morocco that helped co-ordinate this whole wedding.
We collapse onto soft couches and are shown a cage filled with sweet treats and a beautiful teapot filled with the traditional Moroccan sweet minty tea. After the busy streets of  Marakech we never thought we could relax enough to get into the frame of mind for our wedding but we were  instantly soothed. The calm radiates through the walls, the light dapples and gently lands here and there and I am shown to a seat by one of the pools to have my hands decorated for the ceremony. It is traditional for the bride to have her hands and feet painted for the ceremony. I sat down and watched with absolute astonishment as the lady dressed in a beautiful cerise pink Hijab (head scarf) went into the decorating with NO FEAR. Such skill and perfection and so quickly!Within minutes one of my hands was covered and she quietly and quickly started on the other. Once henna'd up I couldn't do a lot for at least an hour. In a traditional Moroccan wedding the day before is when the ladies would have their henna applied so that it had time to show properly for the celebration.
Our room was like that of a Princess. High ceilings, a bed I needed to literally CLIMB onto, a scrubbed silver slipper tub at the end of said bed and a shower room large enough for a small party and high enough to believe you could see into the galaxy hovering above the slowly spinning globe you perched upon. Alex disappeared into the shower…which he found out had an inbuilt steam and I had to tell him three times that it was time to get out!
I unpacked his outfit for the ceremony. He wore a plain white Djellaba which resembles an old fashioned nightdress with a pointed hood and is worn by most men throughout Morocco in varying colours. With it he had yellow babouche (pointy leather slipper type shoes) and a red tarbouche hat (better known as a 'Fez').
I washed off my crusty brown henna to reveal the orange pattern below…I rather liked it better with the actual henna still on it but the pattern was beautiful and I was thrilled with it! I unpacked myself a gloriously sequinned vintage kaftan and an antique Berber headpiece. I was so excited! The Kaftan was beautifully decorated with embroidery, lace-work, sequins and a hundred material covered buttons down the front.We added a belt to make it fit a little better and then tried to put on the headpiece which dripped with red and green gems.
We wandered around El Fenn and could never run out of beautiful places to take pictures with Bohemian Weddings. They have such incredible perspective and great ideas and we were excited to have some fun with them. Before long, the sun was setting and it was wedding time and we made our way to the roof. Liz and Boutique Souk had mentioned that they would provide us with atlas rose 'lollipops' and I, being an avid lollipop fan, anticipated a sugary treat but as we arrived on the roof I saw before us two 5 foot tall amazing atlas rose flower arrangements…in the shape of lollipops! They looked incredible and smelled heavenly. The nerves rushed me as they always do and I blabbered on to Megan, the manager of the Riad about our idea of marriage and got a verbal panic on as everyone else readied themselves for the ceremony.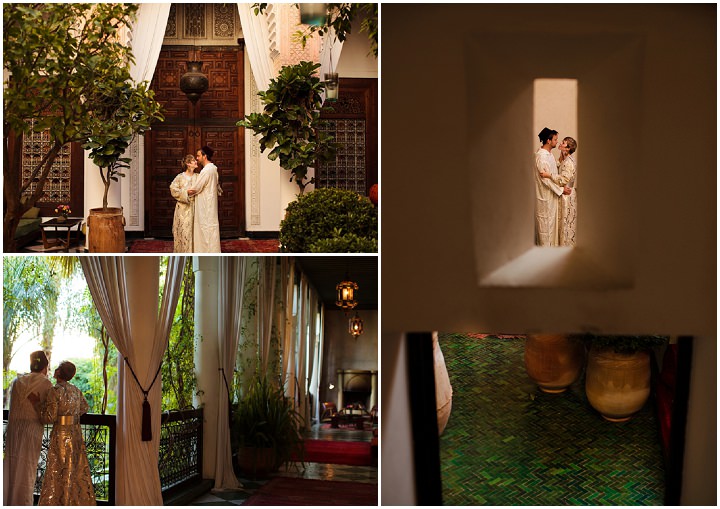 The view from the top of El Fenn is just breath taking. The snow topped atlas mountains are the backdrop of the roof of tranquillity and the iconic Koutoubia mosque, a beautiful reminder that you are in the thick of it in Marrakech! The ceremony was going to be held on a perfectly manicured piece of lawn on the rooftop to create a truly exculsive Moroccan inspired wedding. Sandra, our officiate for the ceremony looked stunning in a lovely flowing kaftan and Liz, acting as ring bearer wore one too and we were ready to go.
Instead of walking down the aisle we started the ceremony side by side facing Sandra and holding hands as we always do. Sandra informed us that holding hands was not allowed until later in the ceremony and we let each other go for the time being!The vows were just beautiful and had us both beside ourselves with emotion…Alex couldn't even blame the sun in his eyes as I faced the sun this time. As with many ceremonies the words Sandra said resonated so heavily with our journey as a couple, as adventurers and travellers and as husband and wife. She also spoke of our future together, something that we take for granted that we will have. We rarely think beyond the end of this trip, we wonder where we will be and what we will do but we have no set plans, it is impossible to plan knowing that we have so long left to travel but of course in our future we are always together. When we were finally allowed to hold each others hands we were relived of course but the next part of the ceremony was the part that made me see our future all at once.
Sandra told us to hold each others hands and to feel them in our palms…to feel the hands of the person that will hold me for the rest of my life, to feel that hands that will hold our children and to feel the hands that will grow old in mine. I was a teary wreck but felt so happy to have those hands in mine, We are both so lucky to have found each other and to be so completely dedicated to one another. The ceremony really brought that home.Finally we were allowed to kiss and celebrate. We thanked the beautiful Sandra for such a touching ceremony, she joked that she guarantee's tears with each ceremony and we felt incredibly lucky to have had her blessing in our adventure.
We drank wine and talked about weddings and just laughed and joked with Liz, Michael and Andrea while we waited for the darkness to fall…our next adventure was awaiting us…we were going to venture into the Djema el Fna square.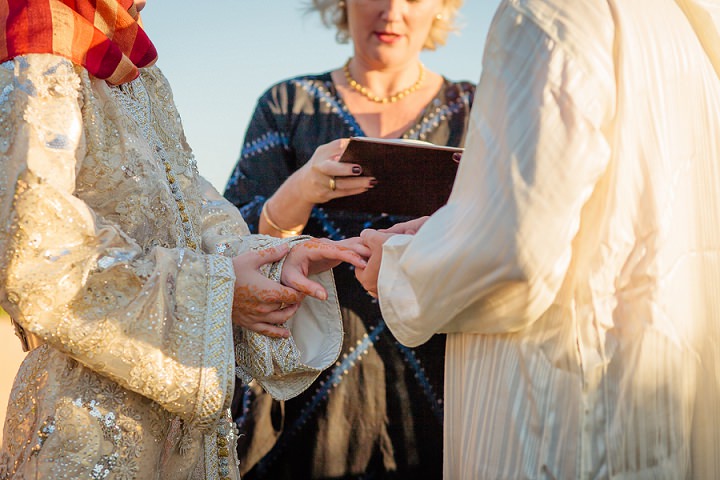 Of course the ceremony itself was a European style wedding with Moroccan inspiration but we were about to go into a very public domain wearing traditionally Berber clothes. We were unsure how local people would react and we were prepared to retreat quickly should we not be welcomed. We made a beeline for the square and were immediately shocked at how busy it was. It was a Sunday evening and as much as the square is never a quiet place, it is known to be Africas busiest square, we had never seen it so busy!We weaved our way through the narrow busy paths to smiles, whistles and cries of 'Fatima' and 'Mohammed', the names of the King and Queen. Once we got 3 feet along the path we knew we would be absolutely fine. Everyone seemed pleased to see us dressed up and ululated for us and asked Alex if we were married and clapped him on the back when he said yes.
We couldn't help but smile inanely at the fact that people were shocked but happy to see us and so much so that they forgot to drag us into their stalls or shops to try to sell their wares to us.
We made it back to El Fenn and again were gobsmacked by the instant calm on just stepping through the door! We changed into our boring regular clothes and went for dinner with Michael and Andrea in the flickering candle light which reflected eerily but beautifully in the ceiling art hanging in the dining room. The food was incredible and we washed it down of course with a few glasses of wine. As always after a wedding collapsed…after literally climbing…into bed. Such an incredible day in a true oasis in the middle of one of the most energetic places on Earth!
Supplier Shout Outs
To follow Lisa and Alex's journey go to
http://2people1life.com/blog/
http://2people1life.com/blog/the-whole-journey
FACEBOOK
@2people1life

If you have missed any of the previous weddings you can catch up HERE 

[jprel]