From the feedback I got back from the readers survey I found out that a lot of you wanted more wedding planning advice (well I am a wedding planner so I guess that makes perfect sense!!) so I have introduced a new feature 'Wedding Planning Wednesday'
One of the first things I wanted to talk about was catering, it's such a BIG part of the wedding day that I thought it needed an expert to tell you about it. I asked my friend Blanche from CoCo Catering (who I can personally recomend after working with her) if she could put together some thoughts on the subject of hiring an outside caterer, so you the reader and forthcoming bride and groom, would know what questions to ask, what to look out for….basically everything you need to know!
Hiring an outside caterer


What to do first?
You want your wedding day to be fabulous, and so the food you provide for your guests has to be wonderful.  Planning at an early stage will make sure it is.
Think first about how much you want your outside caterer to be involved with the coordination of your day. Caterers can assist with more than just food.  If your venue doesn't have an in house catering team, then it probably won't provide any kind of wedding planning service as part of their package.
Services included in caterer's prices can really vary. With some you are simply paying for the food and others will include waiting staff, drinks service, crockery, cutlery and glassware, linen hire and on-the-day coordination. Once you have decided the service you would like, start collecting brochures from local caterers and see what is included in their pricing.
Here are a few points to consider when deciding what services you would like provided:
Do you want to provide any of the food yourselves? Perhaps you have an aunty that makes irresistible desserts or you fancy having a pork pie wedding cake. You can save a lot of money this way but make sure you have made provisions for someone to organise serving these on the day
Arrival cocktails, Champagne toasts, table wines and open bars can work out very expensive. Most hotels will expect you to pay for drinks packages or outrageous corkage fees whereas caterers usually offer reasonable and flexible drinks services so you can provide your own drinks
Most caterers can arrange crockery, linen, cutlery and glassware hire if they don't provide this equipment in their pricing. Decide if you definitely want these items or make a big saving by having disposables.
If you have splashed out on a designer wedding cake make sure your guests actually get to eat it. Arrange for the caterer to cut and serve the cake so everyone can have their cake and eat it! I have catered at a few weddings where the cake has only been admired and it's a lot of cake to eat if you have to take it home.
Budget
The total costs for outside catering can vary a huge amount. You can spend anywhere between £1000 to £6000 depending on your guest numbers, food requirements, level of service.
Here are a few points to consider and some top tips for keeping costs down:
As with all things wedding related, fewer guests means lower costs so decide whether you want everyone you've ever met or a intimate gathering.
A great way of saving money is by holding the ceremony later in the afternoon and having the wedding breakfast as an evening meal. This way you are not paying for extra food in the evening
Get everyone involved; many of your guests will want to be part of your special day. If you can ask friends and family to help set up, provide equipment, arrange drinks or bake cakes then you can definitely make some savings. One wedding we catered for included a pudding competition, the couple saved on paying for desserts and the guests enjoyed the competition
Forget the formalities! Canapés, three course meals and evening buffets are always going to work out expensive. Try considering other options such as crisps, dips and nibbles instead of canapés, BBQs, hog roasts or afternoon teas for the wedding breakfast and bacon sandwiches or cheese toasties in the evening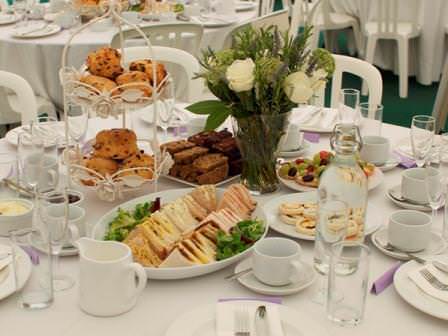 Food & drink
The perfect wedding menu should complement the venue, the theme and the bride and groom's tastes, style, travels, culture and heritage. I believe wedding food should be fun, delicious, beautiful, seasonal, fresh, special and bountiful.
Think about:
Do you want a formal three course meal? Are canapés a must have? Do you want your wedding to have more of a party feel with a BBQ or buffet?  What drinks would you like to provide for your guests? Will you need food in the evening to keep your guests well fed while they party the night away?
Once you havethought about the style of food and drink you would like, be creative about your menu and try not to play it too safe. Your caterer will be able to offer suggestions but it's good to be prepared with a few of your own ideas. We've had clients asking for Italian feasts, family style BBQs, pie suppers, mini fish 'n' chips and vintage afternoon teas. One couple asked us to use potatoes grown on a green-fingered relative's allotment. If you are having a farm wedding, ask your caterer to use produce from the farm, and you could have roast beef that has been bred in the field you are sitting in.
Having a signature drink such as mojitos, Bellinis, iced tea or homemade lemonade is also a great way of using food and drink to complement the style and feel of your day. A couple who didn't like sparkling wine decided the have a selection of real ales for the toast during the speeches; making simple changes to traditions really personalises the day.
Choosing your outside caterer
When you first meet with a caterer, talk to them about how you would like the feel of the day to be, the style of food you would like and try to give the caterer a rough idea of what times you would like food and drink to be served. The more information you can offer at this stage the easier it will be for the caterer provide a detailed and accurate quote.
Listen to the caterer's ideas, talk to them about weddings they have done before.  Get an idea of what style the caterer has so you can decide if they are the right caterer for your day. If the caterer has provided service at your venue before they can offer a great deal of advice around what does, and doesn't, work at the venue.
Following on from your initial meeting you should receive quotes from the caterers you have met with. My advice is to read through these carefully, not just choosing the cheapest or the most expensive because you feel they will be the best.  Look for the caterer who has carefully listened to your requirements and decide who will be able to complement the feel and style of your day.
Making it run smoothly
To ensure your day runs smoothly make sure you give your caterers and other suppliers all the information they will need to set up and provide assistance. Here are some key pieces of information to pass on to your caterer before the big day:
Confirm the final numbers with your caterer at least a couple of weeks in advance. The caterer can then make sure they book enough waiting staff and start ordering the food and drink
Give your caterer all the timings for the day so they can make a detailed plan for service. Also let them know if there will be access to the venue to set up the day before and when other suppliers will be arriving; your caterer will most likely be around for the longest period on the day and will be dealing with most of the suppliers at some point
Send your caterer your seating plan.  They need to know such things as where children and guests with special dietary requirements are sitting, and if any guests need assistance
If there is a particular way you would like to tables set or you would like the caterer to put out favours or decorations on the tables make sure you go through this with the event manager or wedding planner. You have probably have a vision about how you want the tables to look so make sure the caterer is clear about what you envisage
Final tip
Enjoy the food and drink! The big day can go very quickly and there are so many people to catch up with and so much going on that often couples find it difficult to get a chance to eat! You've spent months planning menus and deciding what drinks to have to complement your day so make sure you take some time to experience all the food and drink your guests are enjoying.
Thank you so much to Blanche for all these tips and advice about catering, I hope you found it useful? I will be working with CoCo Catering on several weddings this year and I'm really looking forward to it!
Here is a bit more information about them:
Coco Catering was set up by head chef Richard Spataro and event manager Blanche Duggleby. Blanche and Richard decided to use their passion for food and events to start Coco Catering. They are an exciting independent catering company based in Sheffield and are an ideal choice for private and corporate events. We cater for weddings, parties, family occasions, dinner parties, drinks receptions, special events, corporate events and business meetings.
Experienced in British and European cuisine, Coco Catering take pride in producing excellent quality homemade food with fresh, local and seasonal ingredients. Offering fork buffets, finger buffets, canapés, BBQs, wedding breakfasts and hot suppers in your home or at your chosen venue.
Experienced in British and European cuisine, Coco Catering take pride in producing excellent quality homemade food with fresh, local and seasonal ingredients. Offering fork buffets, finger buffets, canapés, BBQs, wedding breakfasts and hot suppers in your home or at your chosen venue

They pride themselves on offering a personal and flexible service and offering quality homemade food and attention to detail on every event. 

Coco Catering provide catering for events in the Sheffield, Yorkshire and Derbyshire area
Coco Catering, Units A6, A7 & A8,
Alison Business Centre,
40 Alison Crescent,
Sheffield,
S2 1AS.
0114 283 5804 or 07505 648 160.
[email protected]
www.cococatering.org.uk
(all photos courtesy of CoCo Catering)