I have a gorgeous wedding for you today full of colour and fun, courtesy of Sacco and Sacco. The wedding takes place in East Sussex at the couple's family church with a wonderfully relaxed and chilled out reception at The Sussex Barn in Hellingly a stunning venue which acted as the perfect blank canvas they were looking for. As Francesca the bride is a textile designer she was able to carry out a whole host of DIY projects that really pulled the styling of the wedding together. With a gorgeous colour pallet I am just loving everything about this wedding, a perfect summer wedding for a lovely couple!
'Our wedding day was perfect, unique, rustic, relaxed and fun filled. We wanted the main focus to be celebrating our love with our friends and family and we achieved this in a colourful way.'
Francesca and William were married on the 27th of July at St. Luke's Church Stone Cross East Sussex. 'We always knew we would get married at St. Lukes, we wanted our wedding to have meaning so there weren't any other contenders. It is my husband's family church and there is a lot of history there for him, so over the years it had become special to me as well. There is a really relaxed atmosphere there and the support from the community that we had was touching. It was in a fantastic location for our families and friends to get to, plus there was a beautiful little woodland area just behind the church that was ideal for some of the photos! We had around 60 guests and a further 40 guests to the reception. We knew we would be saving for our wedding for a couple of years so it gave us quite a nice time frame to organise everything'.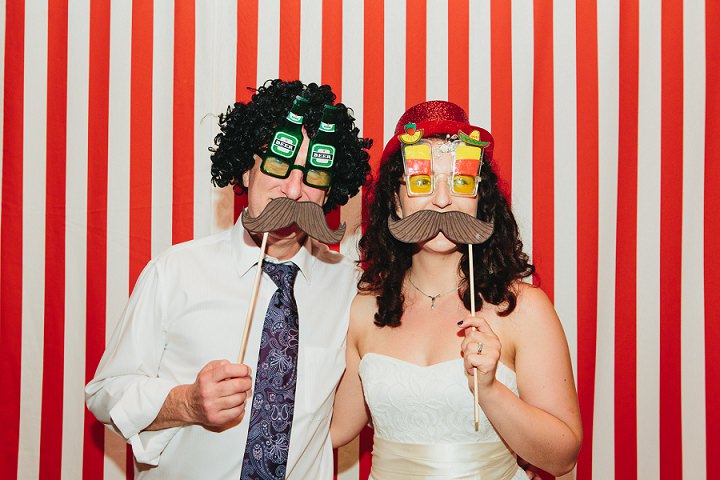 How they met
We met at college where we shared the same group of friends, I was 17 and he was 16. We have been together now for 8 years and still share our group of best friends who all joined us on our wedding day.
The proposal
We knew we would be getting married at some point because we talked of it so often, plus the fact that we had my engagement ring designed together so I knew it would happen soon! The proposal came when we were on holiday in Portugal with his family after I had graduated from University. I didn't expect anything to happen then as we had designed a custom ring which I knew wasn't ready, so I forgot about it and enjoyed sunbathing! Will turned 22 whilst we were away and on the morning of his birthday and he asked me to go and see the sunrise with him on the beach. He surprised me by proposing with his Grandmother's engagement ring which I was to wear until my ring was ready. It was a fantastic day and very special, we celebrated with lots of champagne, lunch on the beach and a jazz band!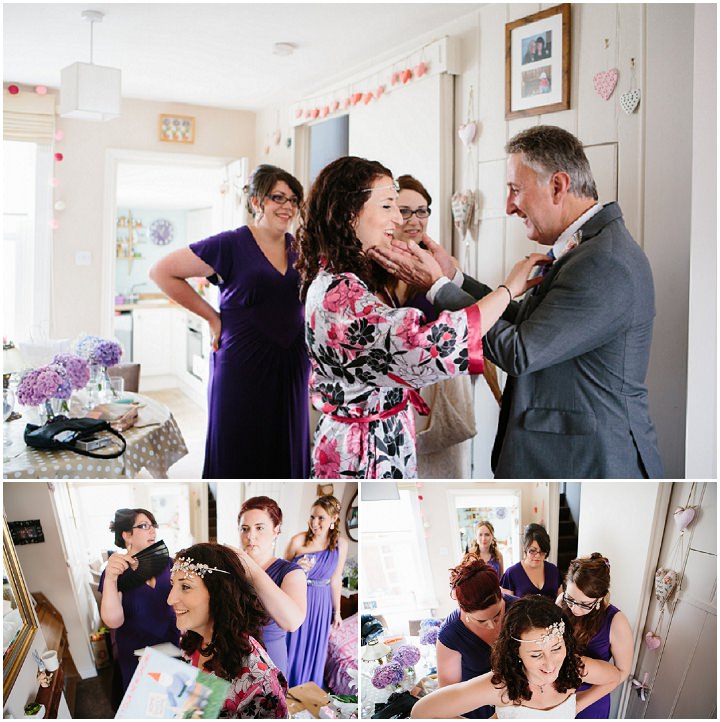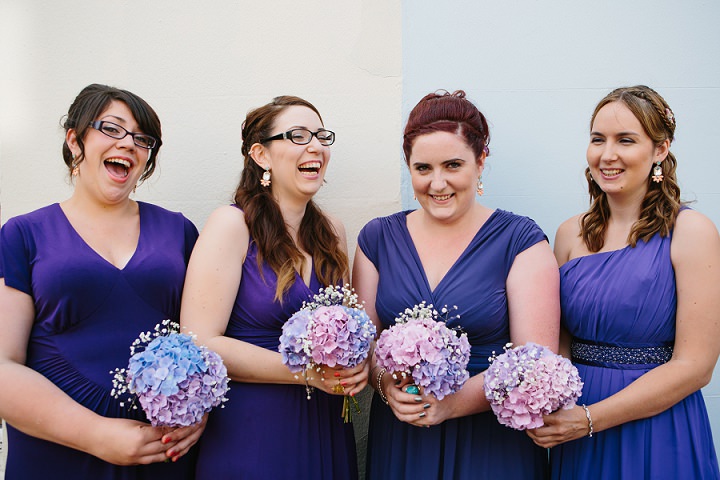 How did you allocate your budget?
We had an idea of what we wanted our day to be about and so first of all looked at whether that was achievable. We then set aside a budget based on what we could save for in the time available to us. Out of that we looked at doing the most expensive parts first, the photographers, the venue and the catering. I am a Textiles Designer myself so anything to do with design and craft I wanted to get involved with! So with the help of our lovely bridesmaids, groomsmen and family we managed to do the rest of the details ourselves. All in all we achieved a lot on the budget we had, we recognised what was worth spending the money on and what we could do ourselves.
How did you choose your photographer?
We knew that with a tight budget we would have to choose carefully and after looking on Boho Weddings and other wedding blogs we knew what sort of style photographer we wanted which then narrowed it down a bit. We also knew that these would be our lasting memories and possibly our biggest regret if we had bad photos so we knew we would be allocating a reasonable amount to the photos. We had a look around and I think in the end Hannah (from Petal and Feast) recommended Sacco & Sacco after seeing us and knowing what our wedding would be like. We looked over their website and photos and that's when we started to get really excited over what we saw. We met up with Jayne and Joe one evening to have a chat and see how they worked. We knew immediately before we left their lovely house that we would have them as our photographers. They put us at ease about the whole process and made it very simple. The amount of work they put into our wedding was unbelievable and we are so pleased we chose them!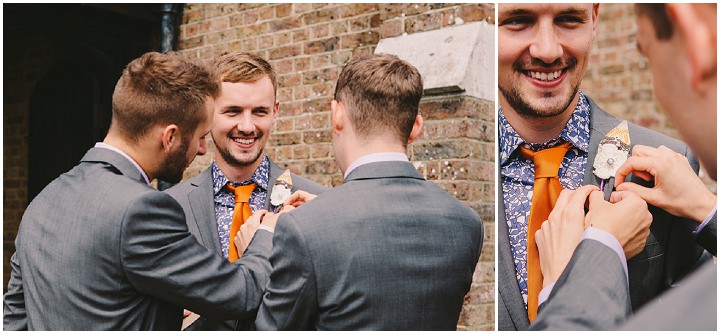 The dress
I went to many wedding dress shops and only ever kept finding styles I knew I didn't want, it's surprising how different the dresses could look on you to what you imagined. In the end I went to one last shop, The Ozone in Brighton. I wish I had gone there first to be honest because I wanted to try on almost each and every dress they had there! In the end I had a Dessy dress, then had it altered so it had a sweetheart top. I had my headpiece made for me by Glitter's Bridal, my veil was from The Ozone too. My Mum found me my shoes from Anne Michelle.
The suit and bridesmaids
Will and his best friends went to Moss Brothers in Hove and found their suits there, Will had his shirt and Tie from Gresham Blake in Brighton.
The bridesmaids all managed to find a different dress each that they liked in purple. It worked so well and looked great in the photos. I bought them all some earrings that had coral and turquoise in them, then made them hair pieces to match so it all came together well.

Theme or colour scheme
We (well, I) knew it was going to be quite colourful, I wanted something really fun and summery, nothing too formal and stiff. So in the end I put a colour scheme together and managed to keep all of the details within that colour. It all looked amazing in the end, we went for a coral/orange, purple, turquoise, pale grey and white.
Decoration
Again, we decided to do the décor ourselves and I am so glad we did as it saved us another small fortune. We spent about 3 years collecting old bottles and jars for all the table decorations that we then added coloured ribbon and lace to for the flowers to go in. I had help from some of my best friends to make all of the tissue paper pom poms for the beams. Our Maid of Honour's mum had found these brilliant vinyl's for us to use which had romantic song titles so we hung those up too. Other then that we put out a few details and touches and that was all we needed.
Flowers
I wanted some lovely wild flowers for the centre pieces at the barn so gave Hannah a loose colour scheme and let her choose! They were just beautiful, as was my bouquet, which she also did. We had the largest coral peonies I had ever seen!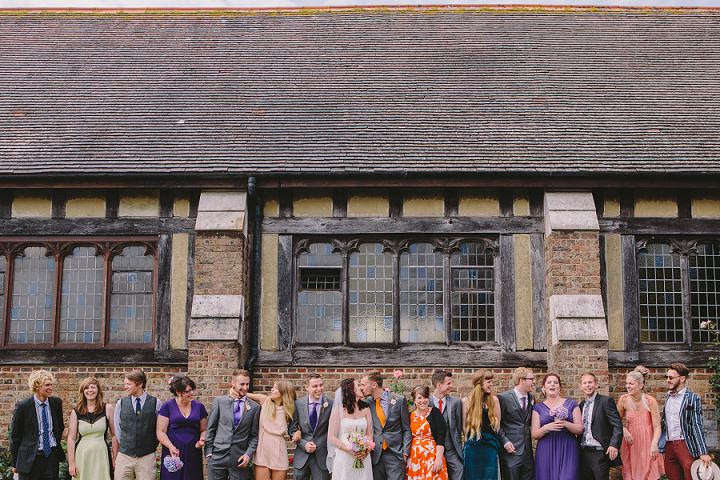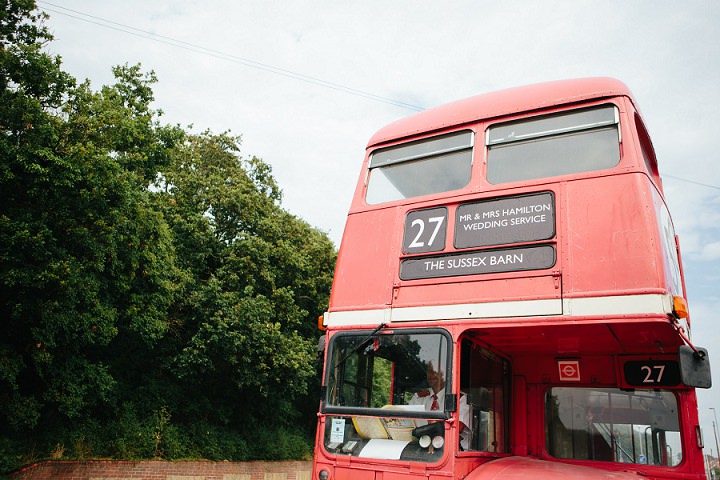 Food
We wanted a really relaxed day so we didn't want a three course sit down meal. We ended up asking one of my colleagues to do us some canapés/pastries for everyone to nibble on with a drink when they arrived. Then we had a hog roast with summer salads for our main meal and a vintage ice cream bike to go with the cake for desert. The food was done by Petal and Feast and was delish!
Wedding Cake
Our wedding cake was made by White Cherry Cakes, she understood exactly what we were after and we had a lovely service from her. We wanted something very rustic and to match the mood of the day, we ended up having a 3 tier victoria sponge with lemon and lime butter cream for 2 of the layers and passion fruit buttercream for the other. One of the local florists then put together the flower posies to decorate the cake and it all worked out really well.
Entertainment
The photographers brought with them a photo booth with all sorts of fun props so we had that for the evening, then we also had a live band, The Cajun Dawgs. The band is local to us and family friends, we've been to many events where they've played and had them for birthday parties too. They were the only band we wanted, they are such fun to dance to and they never have a problem creating a great atmosphere.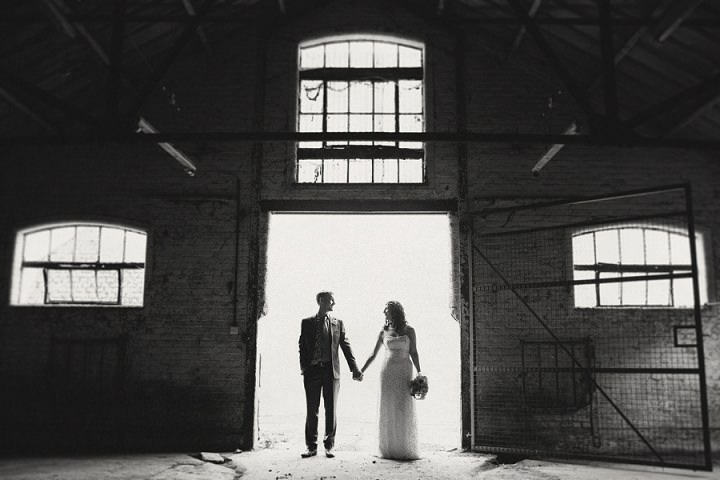 Buy or DIY your Stationery?
I designed all the stationary myself which was great fun, we then printed them at Will's Dad's company, Rare Repro. It was great because I knew what type of design I wanted anyway and it saved us a fortune.
Personal or handmade touches
The whole wedding was so personal to us it is hard to know where to start!
I made/designed:
• The bridesmaid's hair accessories
• The bridesmaid's thank you gift bags
• Invitations, RSVP Postcards, Particulars Cards
• The seating plan
• The time line of the day
• All the little note-cards dotted around
• The favour tags/name place cards
• The signage for the Route Master Bus
• The order of service cards
• Bridesmaid's bouquets
• All the buttonholes
• The Grapefruit and Bergamot soaps (this in particular was so much fun to do!)
• The pom-poms
• The Vinyl table numbers (Will had the idea of laying out the labels as if they were actual album labels but with the story of us as the track listings, this was a great idea and a really personal touch)
• Once all of this was done our family and friends helped us to decorate the barn the day before the wedding so it was a real team effort.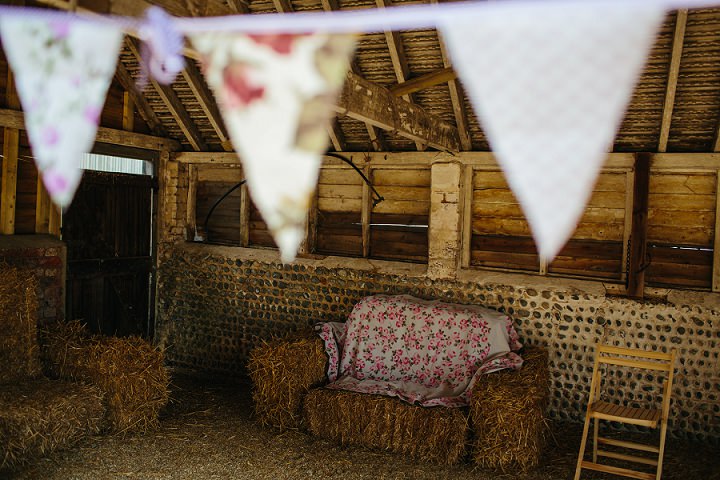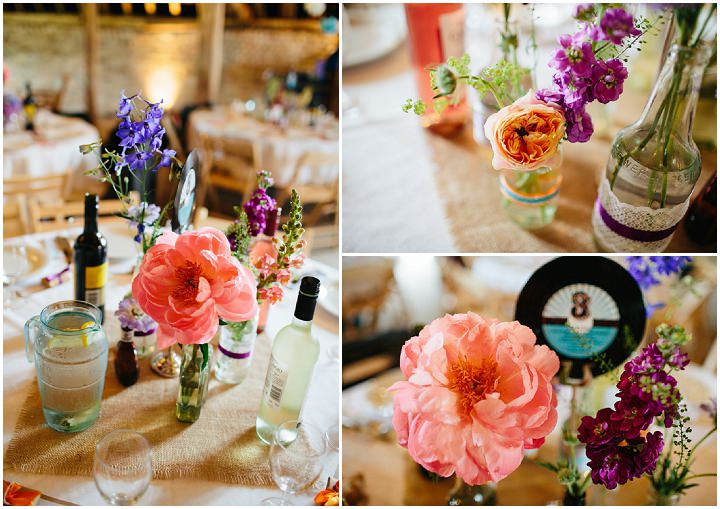 Special moments or highlights
• Getting ready with the girls in the morning, it was lovely to have the time with them and they really calmed me down. I don't really know why but I was extremely nervous!
• When we were getting ready and I was getting my dress on Fleetwood Mac Landslide came on, this was quite moving because this was the song the girls were going down the aaisle too!
• Walking down the aisle with my Dad and seeing Will at the end.
• During the ceremony our best friend and bridesmaid Chloe did one of our readings Johnny Cash, 'I love you Because'.
• During the ceremony there was a thunderstorm, obviously I started panicking about the rest of the day but whilst we were signing the register the sun came out and it all dried up so that was perfect timing!
• Having our first dance together to The Cure, Pictures of You.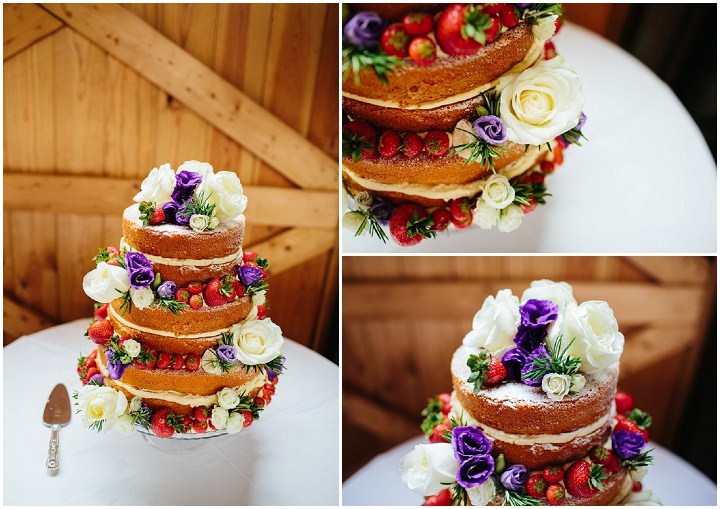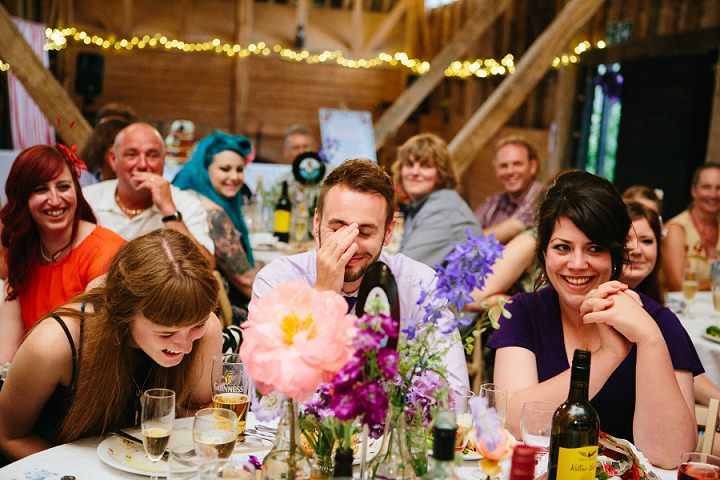 Biggest surprise
The speeches were great, my Dad managed to get through his without crying which was definitely surprising! Alex's best man speech really was the best best man speech, he definitely ticked all the boxes on that one.
We also loved Father James's Sermon during the ceremony, I think it was fantastic how he managed to sum up the both of us and the feel of the day, it was funny, meaningful and moving.
Advice for other couples
A lot of the wedding planning for me was great fun but towards the end it gets very hectic very quickly, especially if you have done so much of it yourself, I would say that it is worth having some quiet time amongst all of this because otherwise it could get on top of you. I also found that when planning the wedding a lot of the smaller details seemed very important at the time, but actually when you get to the day itself it rushes past so quickly that you wouldn't even notice if something was out of place, so try not to worry about those things too much! Most of all I would say that you should stick to what you know you both want, don't let it spiral out of control because the important part of any wedding day is the both of you and your friends and families being with you.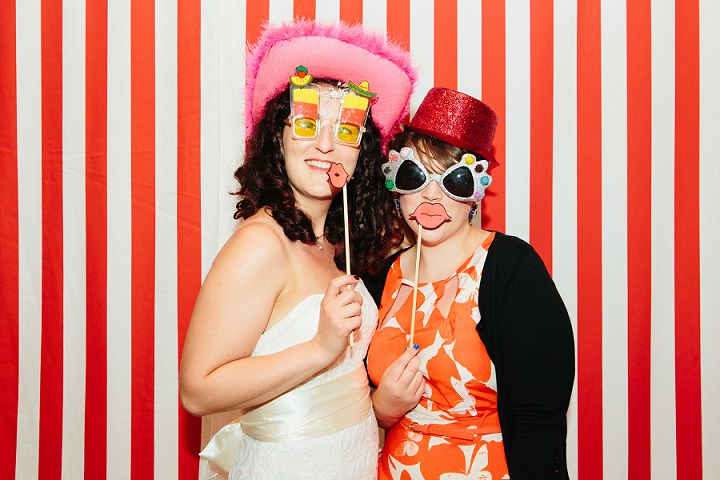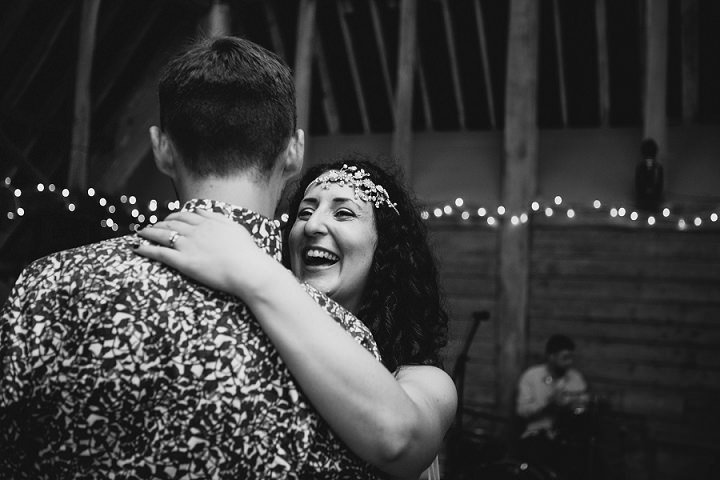 Supplier Shout Outs:
For more information on Jayne and Joe's work go to:
www.saccophotography.co.uk
FACEBOOK
@Sacco2Photo