Today we head across to Ontario in Canada for this gorgeous wedding sent into me by Gee and Ieva from Blue Colibri. It's a gorgeous wedding with the most touching and emotional first look. I do love a first look, not only is the moment so precious but it also means there are often more couples shots of the bride and groom as a first look means there is more time for photographs. The wedding itself is incredibly touching and with 240 guests they certainly have a room full of happy guests. The ribbon decoration and colourful flowers are beautiful and I am just loving Graces's traditional Chinese dress that she wears for the later part of the celebration. I am also loving her words of wisdom when asked for advice, she really does have the right mindset when it comes to marriage.
'We wanted each one of our guests to know and feel that they were loved by us and by God. It was a day filled with high emotions a lot of joy and gratitude looking back at how good God has been to us and our families.'
Grace and Johnny were married in June at Angus Glen Golf Course. 'Our friends had their wedding reception at Angus Glen last year and we loved the large grounds, delicious food, big windows and proximity of the venue. The wedding co-ordinator at Angus Glen was also amazing- she did an incredible job of helping us organize the details and calm my nerves. We had 240 guests, Initially, we wanted to keep it small, but we realized how lucky we are to have a large community of family and friends who have helped shape us into who we are today. We wanted them to be a part of our wedding, to celebrate with us and have an opportunity to thank them for their love. It took a year to plan'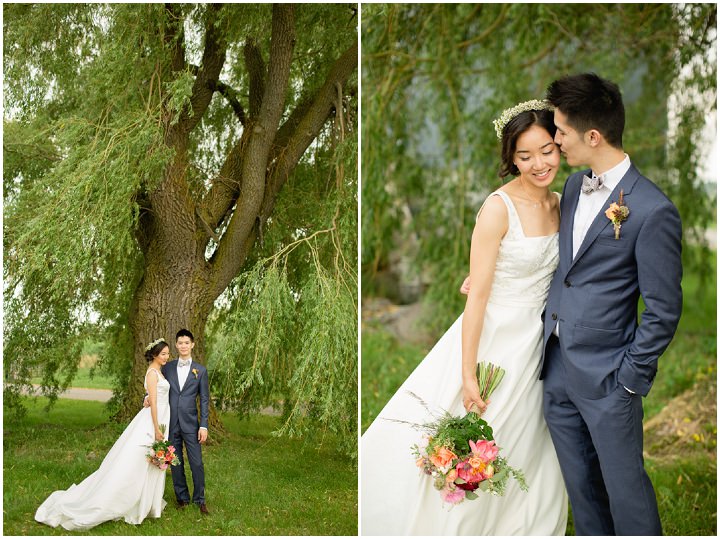 How they met
We met in college playing volleyball together and became friends while serving in the same Christian fellowship there. Before graduation, Johnny professed his feelings for me one night after his graduation formal. Although I rejected him that night and went our separate ways, we kept in touch as friends. Four years later when our paths crossed again (it was meant to be!), I finally agreed to go on a date with him and after 1 year of courting, Johnny proposed.
The proposal
There seems to be a theme of second chances in our relationship. Johnny actually proposed twice. The first time he proposed, he pulled out all the stops to surprise me with candles, flowers, music, gifts and a romantic skyline view of the city. He did a good job- I was so shocked I barely knew what hit me. It wasn't until two days later (when the emotions had settled and we had talked about what our future would look like) that I was able to give him a 'without-a-doubt-nothing-held-back' YES!

How did you allocate your budget?
Since we wanted to be generous towards our guests, the majority of the budget went into things like food, venue and gifts (bridal party, wedding helpers, family), while trying to save on things like attire and decorations by going to thrift stores and undertaking DIY projects.
Why did you choose your photographer?
I was looking for photographers who were more interested in capturing how the wedding day 'felt' rather than how it 'looked'. After searching high and low, I was fortunate enough to stumble upon Blue Colibri's blog and fell in love with their style and resonated with their photo philosophy. They were lovely to work with and the images they produced for our engagement shoot and wedding were so sincere- just what we had hoped for.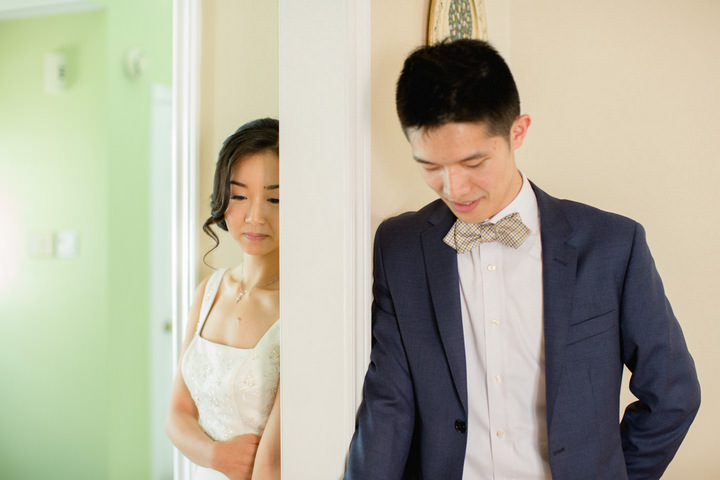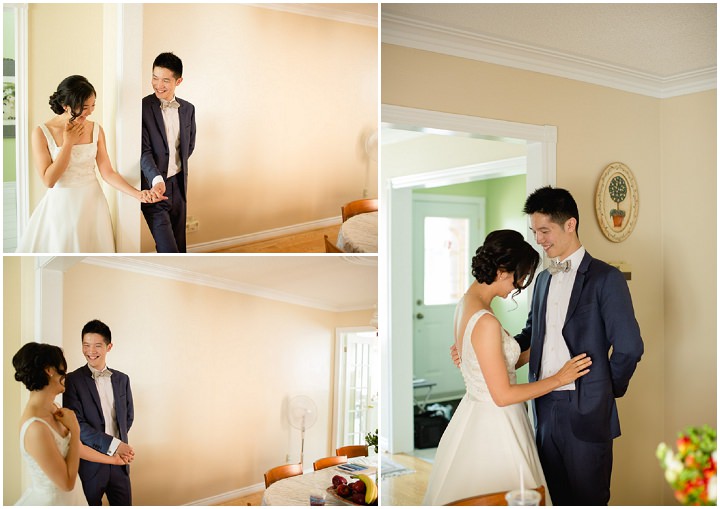 The dress
I don't actually know who designed my wedding dress. I found it at a sample sale and was drawn to its simple elegance (and price!). The dress's open back, button detailing and ribbon train reminded me of Grace Kelly. However, my favourite dress of the day was my Chinese gown, as it belonged to my mother who wore it for her own wedding: authentic, traditional vintage with hand-made silk and gold details that is rare to find today!
The suit and bridesmaids
Johnny's suit was purchased online at Indochino and the bridesmaids dresses were purchased online at BHLDN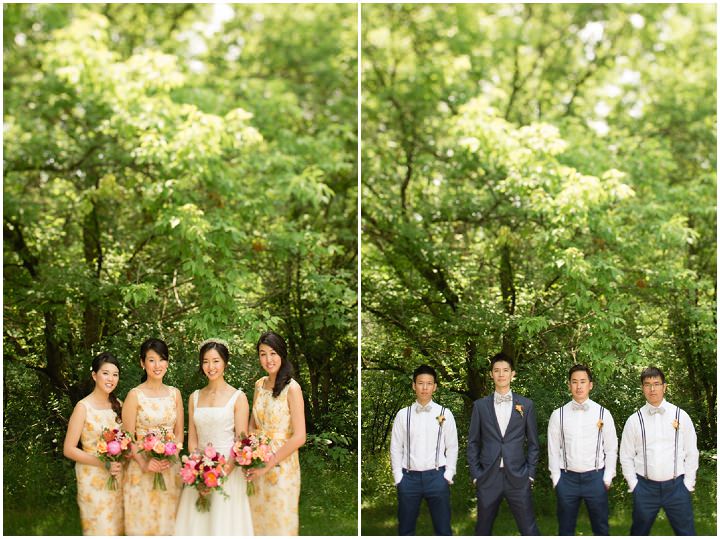 Theme or colour scheme
As a joke, I initially would tell people that my theme was "The Hills are Alive with the Sound of African Drumming (featuring Audrey Hepburn)" ie. a mix of my favourite things and an alternative way to say "I don't have a colour scheme, but that "theme" actually did somewhat end up directing the attire, music and decorations of the wedding.
Flowers
Our florist put together beautiful bouquets of peonies, ranunculus, protea and wildflowers in all splashes of pink, orange, red and cream. They also did a fantastic job creating an 'indoor-outdoor' feel with suspended boxes of free-flowing flowers at the head table. Our florist and decorator really did a great job, exceeding my expectations!
Decoration
Lots of different textures and colours with an unstructured feel. Many of our decorations were ribbon and fabric-based, hung up so that they would blow in the wind which created an ethereal vibe during the ceremony. Our dinner head table was inspired by Amy Osaba's floral designs with large suspended boxes filled with flowers, table wooden boxes filled with flowers and plenty of floating candles.
Food
For dinner we had a 4 course meal, starting with a carrot ginger soup a salmon steak pre-entree, followed by a combination platter of steak and chicken, and finished off with a duo of poached pear and molten chocolate lava cake. They also served a dessert bar after dinner, filled with cakes, cookies, pastries and fruit.
The wedding cake
We didn't have a wedding cake, but my mom made her signature crescent-shaped almond butter cookies (to die for!). We packaged them neatly in gold boxes for each guest to take home as wedding favours. Our family and friends who have had these cookies before snatched up any left-overs!
Entertainment?
A friend of mine DJ'ed for us during dinner and a group of friends played for our ceremony (including African drums!). We had speeches and games throughout the night, including a little booty-shaking contest (which I unfortunately lost).
Buy or DIY your Stationery?
We are so lucky to have talented and generous friends. The best man did an amazing job designing and printing all of our wedding invitations, menus and ceremony programs. Two of my bridesmaids hand-painted the table numbers, while another friend helped to put together our seating chart.
Personal and handmade touches
My mom is extremely crafty. With just a few inspiration pictures, she was able to design all the decorations for the ceremony, the boutonnieres for our families, and the cookie wedding favours. She also found my beautiful veil from a thrift store for under $5! What a steal!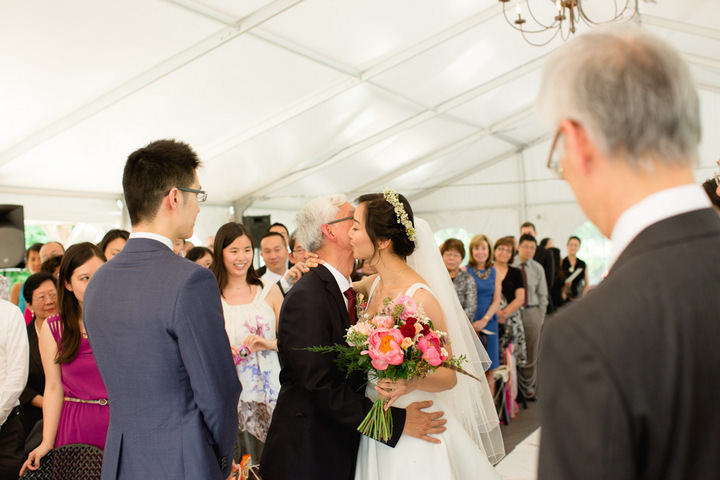 Special moments
Three moments stand out for me. One was when we had our first look and sharing a prayer together before I turned the corner to see him. Second was communion during our wedding ceremony. The sun had landed just on Johnny and I like a glow from heaven. Paired with the beautiful breeze, the vows we had just made and the meaning behind communion, it was a divine experience. Lastly, listening to my father's heart-felt speech in the evening and the father-daughter dance afterwards brought just about everyone (including me) in the room to tears.
Biggest surprise
Without me knowing, my matron of honour rallied the entire bridal party (including Johnny) into preparing an Indian dance for me ("Jai Ho" from the movie "Slumdog Millionaire"), since she knew how much I loved Bollywood. I was blown away when they all got up in the middle of speeches onto the dance floor and the music started playing and they started busting out their moves! Great surprise!
Advice for other couples
The goal of the day is to get married. Everything else could go wrong, but if you are married by the end of the day, it was a successful day. The wedding is just one day, so make sure you put in as much (if not more) preparation into setting a foundation for the lifetime of marriage ahead of you. No one will remember what your colour scheme was in 10 years, but they will remember how you made them feel and will be observing how you live out the vows you make.
Supplier Shout Outs
For more information on Gee and Ieva's work go to
www.bluecolibri.com
FACEBOOK
@GeeBlueColibri