Today on ask the Experts we are talking about one of my favorite subjects, food! The Food you serve at your wedding will play a BIG part in your day, and is more than likely one of, if not the biggest expense you will encore. For this reason getting the food right and making sure your guests are happy is a big part of your planning. There are so many choices these days of different sorts of catering options, and so many ways to make sure your personalities shine through in your menu choice.
So today I have enlisted the help of the guys at Kalm Kitchen to help me talk through the options available for you, we're not talking 3 course sit down meals, today we want to show you some more alternative options open to you.
I'll pass the Blog over to Kalm Kitchen…………
With the flurry of summer wedding season just around the corner, couples around the country are busy contemplating what to feed their guests. With the pressure to create a truly unique and memorable day, more couples than ever before are looking for menu ideas that truly reflect their personality as a couple. From serving a couples' favourite fish and chips dish to offering guests a variety of cuisines through street cart inspired food stations – the choices are endless. Long gone are the days of a traditional three course sit-down dinner as the norm. Here Kalm Kitchen, renowned for their culinary expertise, shares their current favourite menu ideas.
Reception Drinks
The first drinks to toast the all important marriage ceremony, your reception drinks are a great way of creating the first impression for the celebrations ahead. Although you can't beat a good glass of bubbly there is no reason why you shouldn't opt for other drinks that may take your fancy. Many couples serve Pimms or a summer punch; presented in jam jars with stripy straws these make a fantastic fun festival option. We are seeing an emerging trend of couples opting to host a cocktail hour and serving their favourite tipples, signature 'male' and 'female' cocktails served from vintage champagne and martini glasses are also a fun option to get your guest in the mood. For soft drinks we love nothing better than serving elderflower add pomegranate cordial from big glass jar dispensers, served with fresh berries and mint they are bound to be as popular as the alcoholic beverages! For a retro feel why not set up a soda stream station, style with a vintage twist and your guests will have endless fun choosing flavours and reminiscing of years gone by!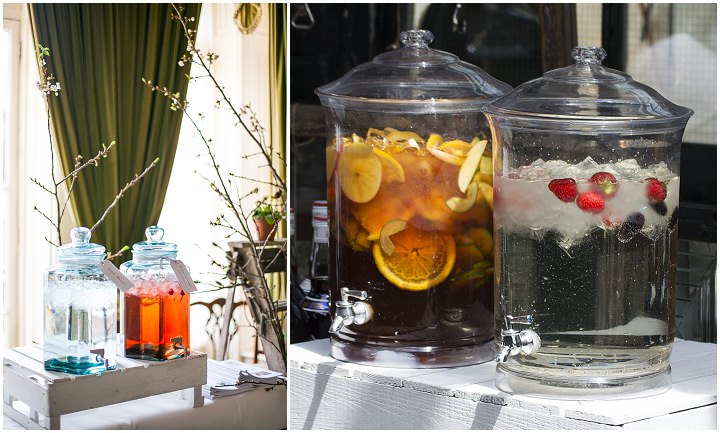 Canapes 
Canapés are a great opportunity to get creative; from mini slider burgers to tiger prawns on skewers, the way in which you present your canapés can really set the tone of the day and create a talking point amongst guests. We are seeing many couples opting for unusual methods of displaying their food and predict this trend to continue, anything from a beautiful old book to a moss garden with old apothecary bottles used to hold skewers. Our quirkiest request to date has to be using tennis rackets for canapé trays – a great idea for a particularly sporty couple!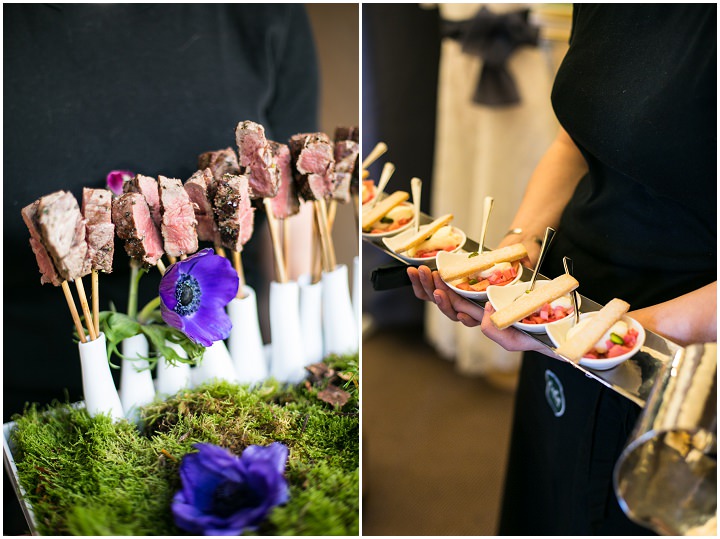 International Cuisine 
If you're planning an international themed wedding, your wedding breakfast is an ideal element of the day to reflect this; nods to various cultures can be made through your menu choices. Mini fillet steak skewers with a hollandaise dip and 48 hour turmeric and ginger marinated lamb skewers with a minted yogurt dip are good examples of subtle cultural influences.
Other options such as chicken wrapped in Parma ham, rare English beef in mini Yorkshire puddings and vegetable tempura with a Asian dipping sauce are extremely popular (and yummy) options.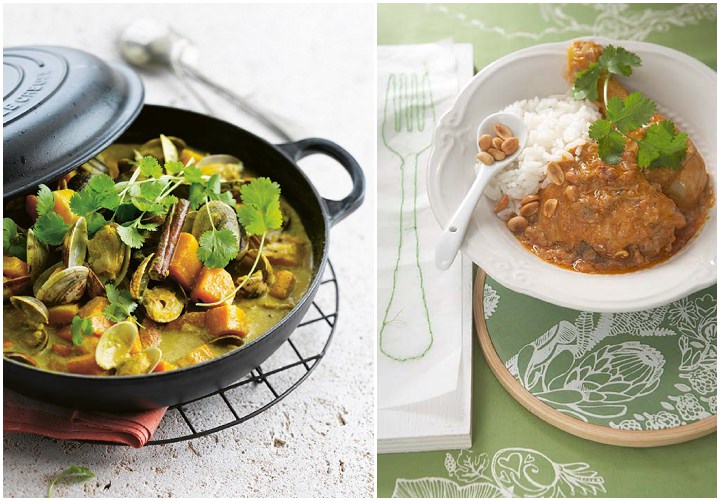 Street Carts
Set to be huge this summer and beyond, we love this catering option, they are another great way of injecting international cuisine into your big day. Serving anything from Asian noodles to burgers, live food stations are dotted around your reception venue with chefs handing out yummy dishes, these can be themed in line with your day, think cute disposable takeaway containers or small rice bowls.
Bowl Food
Traditionally a popular choice for events and parties, bowl food is becoming an increasingly requested option for the wedding breakfast. It is a simple idea whereby, instead of serving guests with a single main course, they are instead served a number of different meals in smaller portion sizes. An ideal option for couples who struggle to choose (or agree) on what to serve their guests! Choosing to serve bowl food is another great opportunity to add style to the event as you can really go to town selecting different shapes, colours and materials for the "bowls", there are endless choices from traditional white rice bowls to various shapes and sizes of glassware and lots of interesting coloured ceramics.

Traditional 

Favorites
Don't be afraid to serve your guests your favourite dishes, even if you are afraid it's not formal enough, the chances are your guests will love it too! If something isn't on your caterer's menu it's always worth discussing your requirements with them to see if they can create something specifically for your wedding. If you absolutely love fish and chips or pie and mash it's worth exploring with your caterer ways of incorporating this into your meal. Mini versions of traditional British favourites are great served as canapés and for a main course we love our heart puff pastry pies – a romantic wedding day twist on a traditional English classic.
Table Picnics
A new twist on afternoon tea, table picnics are set to be extremely popular this summer. Ideal if you are holding a laid-back country garden wedding, think long tables with hay bales for seats. Each table is given a picnic hamper filled with deli style eats, fresh bread, cold meats, cheeses and sweet treats – the hampers can be personalised for each table ensuring guests with dietary requirements can be catered for. We love this fun and informal option – a quirky take on a Great British tradition!
Dessert
One of our most popular options for 2013 is our DIY Dessert. The puddings are based around old school classics like Eton Mess, Summer Trifle and Knickerbocker Glories. Each table is presented with beautiful cut glass cake stands, bowls and glasses, guests are then encouraged to fill their vintage tea cup with jellies, berries, creams and coulis. The elegance of the glass combined with the scrumptious rich food allows guests to be as creative or restrained as they like!
Dessert Towers
Another current firm favourite are dessert towers. Often used to replace a traditional wedding cake a beautiful dessert tower is a stunning and visual way of serving your guests their final course. Our current favourite is a mix of summer fruits with pearly white meringues or homemade rocky road and brownies, your guests will love them and it will add a wow factor to finish off your meal.
Added Extras 
When it comes to serving some yummy extras for evening guests again the options are endless, we love creative couples that opt for candyfloss, popcorn and even French crepe carts, which are always extremely popular. For a real wow factor dessert stations can be stunning and create a real focal point. Mirror fronted bars with tiers of individual desserts are perfect for a modern chic wedding, whilst rustic apple crates piled with Kilner jars and mismatched crockery are ideal for a vintage affair, the options are endless and many a fun afternoon can be spent scouring the internet and local antique shops to find the perfect pieces!
Late Night Munchies
Serving your guests some hot mini munchies are ideal for soaking up the bubbly consumed throughout the day. Our current favourites include; All day breakfast pies, crispy filo curry puffs with fresh mango chutney, homemade beef burgers with caramelized onions and Emmental cheese. To satisfy late night sweet cravings salted caramel popcorn and cola jelly with ice cream are sure to be a big hit!
About Kalm Kitchen
Established in 2006 Kalm Kitchen is an award-winning catering company renowned for exceptional cuisine delivered with flawless finesse. With a philosophy that exquisite food and attention to detail are at the heart of every successful event, Kalm Kitchen creates beautifully styled and executed occasions throughout London and the South-East. Using fresh, locally sourced ingredients the seasonal menus are created to complement the occasion and clients' personal preferences. Whether clients opt for a formal banquet or casual catering, Kalm Kitchen ensures every event is delivered with the same level of service and detail, creating a gastronomic experience that lasts far beyond the day itself.
www.kalmkitchen.co.uk / www.kalmkitchen.co.uk/blog / [email protected] / FACEBOOK / @lovekalmkitchen
Photo credits – all credited to kalm kitchen apart from drinks, curry 1, curry 2, street cart 1, street cart 2, bowl food, big pie , fish and chips, pie and mash, candyfloss, popcorn bar , dessert table with strawberries, sweet table,  cheese tower, burger, sandwich.

[jprel]