I'm going to admit something to you, yesterdays and today's posts may have been a tad self-indulgent. It's not often I post weddings from Cornwall, but two in two days, well I have to admit, I may be feeling a little home sick!  Having lived in Cornwall for 18 years I have to admit I do miss the place. I have actually lived away from Cornwall now longer than I lived there and as much as I call Sheffield home, Cornwall will always be my real home. However Nik and I are off on our holidays on Sunday and we going to Cornwall for a few days, so I will be able to take in as many childhood memories as I like, I can't blooming wait!
So this wedding sent into me by Lucy Turnbull, is set in the very popular area of St.Ives and shows a completely different part of Cornwall than yesterdays wedding. This time we move around the small, narrow streets and take in the harbor and beach. We even get to see some photos from the day after the weather, as the wedding party braved the early morning sea for a surfing lesson! A gorgeous wedding for a gorgeous couple.
'A small, yet fun-filled coastal wedding weekend. Filled with local delicacies, stunning locations and beach madness.'
Lacey and Matthew who were married on 11th May at St Ia Parish Church in St.Ives Cornwall with the reception at Porthgwidden Beach Café. 'We had a weekend away early on in our relationship, Matt hadn't ever been to Cornwall, being Australian, and I knew it very well from family holidays as a child. We both found St Ives a wonderfully, quaint getaway and couldn't resist its charm, coastline and cream teas! We had 55 close family and friends, the planning took 12 months.'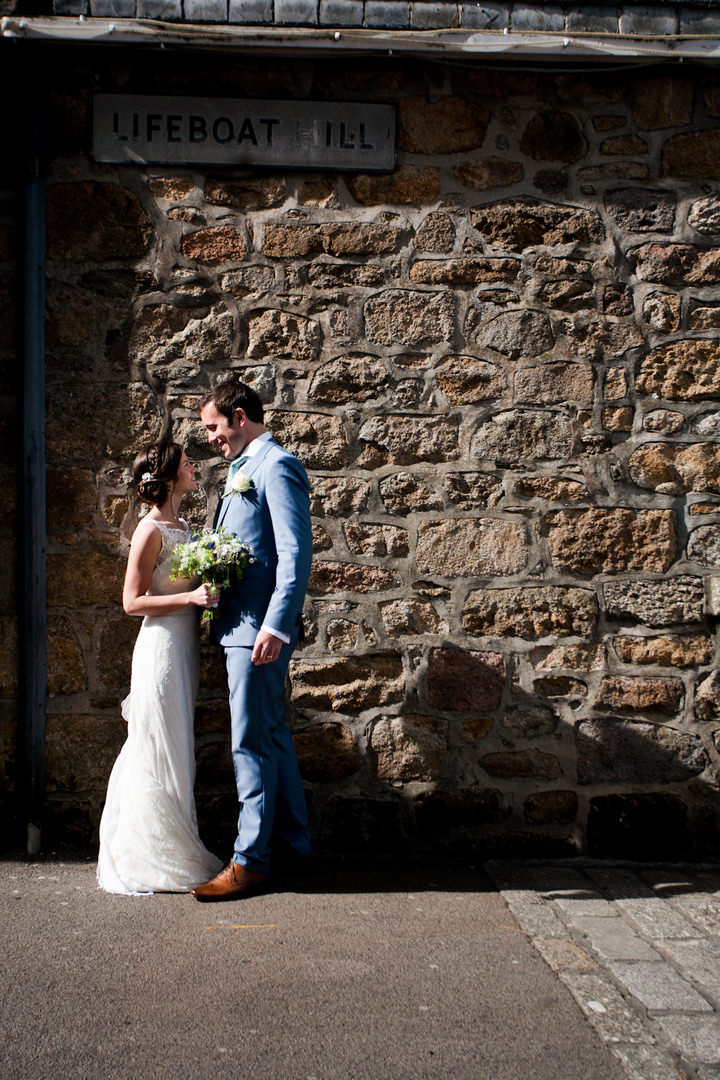 How they met
We met through mutual friends and have been together for 2 and half years
The proposal
Matthew proposed on a beach at the 12 Apostles, Great Ocean Road, on a trip out to Australia last Christmas.
Why did you choose your photographer?
We wanted a local photographer who knew Cornwall well and would have the knowledge and experience to select ideal locations for shots.
We received a recommendation for Lucy Turnbull and having taken a look at her website we were sold. Her photographs depict a natural yet artistic picture and, we feel, really capture the atmosphere of the wedding. She was incredibly easy to work with and bags of fun too. It is obvious that she enjoys her job very much and also wants the best for you and your day. Our pictures are more than we could ever have wished for and are so pleased Lucy was able to photograph the wedding weekend.
The dress
My dress was designed by Augusta Jones and my accessories were family heirlooms from Grandparents.
The suit and bridesmaids
Matthew's suit was Hugo Boss and the bridesmaid and flower girls were dressed in Monsoon and Next.
Theme or colour scheme
We had a subtle coastal theme through our flowers and small decorations and we tied everything in by using a sage green colour.
Flowers and decoration
Locally sourced wild flowers. Minimal decorations at the venue such as shells, pebbles and rustic lanterns. My sister made some fantastic diy bunting adorned with photographs of myself, Matt and our 8month old daughter Violet. With such a small venue we really didn't want it to look too busy. The bunting worked perfectly.
Food
The food was served buffet style on large platters. We had a selection of foods from the Porthgwidden Beach Cafe's menu; calamari, beetroot and halloumi bruschetta, Paella, Pan Fried Seabass, salads and pulses. Chocolate tarts, macaroons and wedding cake. A luxury cheeseboard.
Entertainment
Playlists from our ipod and a live acousitic duo called Heartbeats.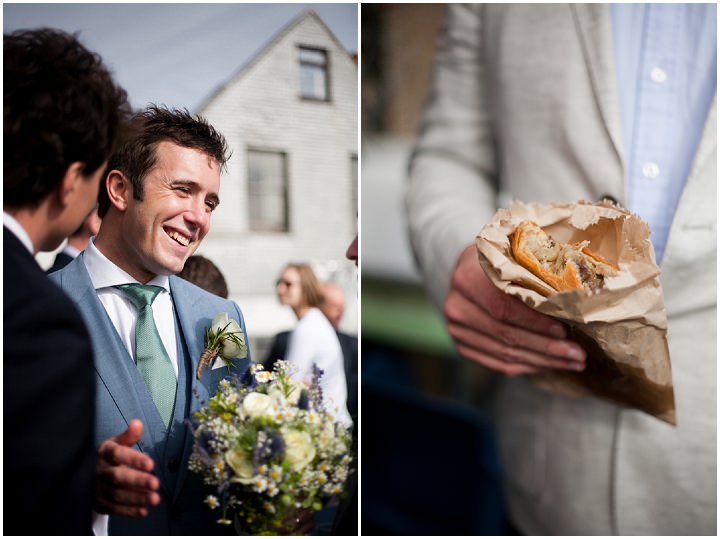 Personal / DIY touches
• The use of recycled Jam jars for the flowers, tied with rope and sage green ribbons was a cheap yet cute way to display the small posies of flowers.
• All guests below the age of 5 received a goody bag at the church, personalised to the individual, to keep them entertained throughout the day.
• Home made confetti cones were stacked up into recycled wooden fruit boxes at the church door.
• Most importantly; our wedding cake was designed and made by my Sister, Shelley. It was a total surprise, we had no idea what to expect but she certainly did impress us. It was perfect!
• My Mum had organised for Wedding Guest Book hearts to be sent to all guests prior to the wedding to complete and bring along with them. They were then pinned up around the venue. A lovely personal touch.
Special moments
Entering the reception venue to all of our guests cheer. Seeing the venue for the first time was wonderful, it looked stunning, the sun had come out and everyone was in such good spirit.
The speeches. They were undoubtedly the most emotive yet hilarious speeches.
The surfing on the beach the following morning. It was freezing, but, the best hangover cure!
Advice
Do what you want to do. Do not let others influence your planning. It's your day.
Biggest surprise
How calm I was! Up until the day I had been so panicked and worried about everyone and everything. But, on the day, I was fine, a little nervous, but far more excited.
Supplier Shout Outs
For more information on Lucy's work go to
www.lucyturnbull.co.uk
[email protected]
FACEBOOK
PINTEREST
07450 977785
'Happy and unaffected reportage wedding photography from a world-class tea drinker covering UK, Europe and further afield.'