You know when you get an email from someone you have never met before and straight away you know you are going to become good friends, well today I'd like to introduce you to Yvonne Lishman from Yvonne Lishman Photography, who is one of those people. Yvonne emailed me a few months ago inquiring about becoming a sponsor, and straight away I was struck by her amazing sense of humor, complete honestly and huge love of animals. We swapped photos of our pets, told each other wedding and animal stories and from then on I have enjoyed receiving Yvonns's funny yet random emails.
You will be able to get a good idea of Yvonne's personality as you read her Q&A below. I have to say she had me in stitches when she was answering the questions for me, and as a HUGE lover of donkeys myself, you will understand why I like this lady so much (see what is your favorite photo answer)
As well as being super fun and a fab photographer, Yvonne has also been kind enough to offer:
£100 off for those who book through Boho when they quote

Boho13 
I'll pass the Blog over to Yvonne……………….
I trained in medical photography but weddings are much more fun, there's a lot less blood for a start! I got married back in the day when it was group after group. I had a perm; I looked like a Cocker Spaniel in a wedding dress. No one looked very happy. Wedding photography's not like that anymore and thank the lord niether's my hair. My photography is not conventional or formal, it's not about set shots or endless groups, its about telling the story of your wedding day through happy, fun and original images with heaps of your personality stamped all over them. It's about using light, natural and set up, in ways that make your images stand out from the crowd. I love my job so it really doesn't feel like work and if you love my photography, and it seems different to all the others you've seen, then my style is your style.
Family and friends say I'm not all there. So where the hell's the rest of me? I laugh at inappropriate things at inappropriate times; like my dress billowing up round my head at a wedding and everyone seeing my knickers, and a bit more besides. I couldn't stop laughing but many of the guests fell ill; I don't wear dresses like that anymore. If I weren't married to my husband I'd be married to Jason Orange. It's true. Or Eddie Izzard. Or Rufus Sewell. Pugs and cats are brilliant and mine, and my husband, are my world. My pug can smile, and my cats purr a lot but Eddie Izzard thinks cats are just drilling! I listen to Radio 3, Punk Rock, and Shirley Bassey. Top Gear and The Superbike racing are the reason John Logie Baird invented the TV; he was a great psychic. I've seen Die Hard six million times and Sense and Sensibility about the same. The potato crisp is mans single greatest invention and the olive his greatest discovery; both are my waistlines downfall. I saw a duck sleeping at the side of a pond once, it was dreaming; I've wondered ever since what it was dreaming about!
How long have you been taking photos for?
34 years! I had my first camera when I was 15. It was a Kodak Instamatic and took awful pictures but I loved using it. When I was 18 I got a job as a trainee medical photographer so my dad bought me my first 35mm, an Olympus OM10 and from then on I kept learning and snapping.
When did you start your photography business and what made you start?
I set my own business up in February 2006. After I qualified as a medical photographer I continued working as a full-time photographer for the NHS for a few years before giving it up and returning to University to do a degree in teaching. I continued with photography as a hobby and photographed family and friends weddings as their wedding presents. I was never really happy in teaching so decided to give it up and start my own photography business and now I'm as happy as a pig in muck!
Where are you based?
Nottinghamshire.
How far will you travel for a wedding?
The UK
How would you describe your style?
I don't think I fit in with a particular style. I try to keep current but also I ensure images are unique to my clients. I tailor all my portrait time to my clients personalities so they'll be able to look back and still recognize themselves in years to come even when fashions change.
What is your favorite bit of technical kit?
My 100mm prime lens. It is so sharp and fun to use. I want to get a 24mm prime lens this year and I suspect it will become my fav and my 100mm will feel sidelined and perplexed, for I am fickle in such matters.
What makes you different to your competitors?
I'm pretty unconventional. My wedding photography shows love and fun as it should but it isn't weddingy or mainstream. I don't go with the flow and I don't repeat the same shots wedding after wedding.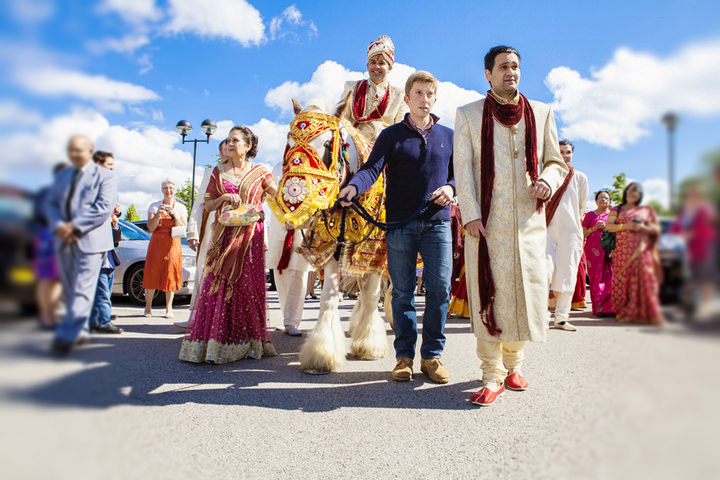 What do you enjoy most about your job?
Getting to meet lots of clients who later become my friends and having the privilege of photographing their amazing weddings. I also photograph pets and getting to meet different pets is better than eating crisps or olives, which for me is going some.
What sort of couple do you think you attract?
My couples tend to be similar in personality to me. Most are professionals but they aren't terribly serious or conventional. They like to have fun and be creative, they want their weddings to be one big fun party, and they place great importance on their wedding photography.
What would be your ideal wedding to work on?
Something so insane it hasn't even been thought of yet but little details for starters would be ~ pugs and kittens there for sure and a lot of food; Green Day would play in the evening; The bride wouldn't wear white and there wouldn't be a hired suit in sight.
Which celeb would you like to photograph?
Eddie Izzard ~ OMG those eyes
Who is your favorite photographer and why?
Norman Parkinson, he knew how to make fashion photography look like a work of art, art that was fun, simplistic, cultured and timeless all at once.
If you were to get married who would take your pictures?
My friend Anneka James she's an amazing photographer and on my wavelength.
What in your opinion makes the perfect photo?
An image that draws you in and makes you feel you were there and part of the story, the time or place.
What is your favorite photo that you have taken?
I feel bad saying this as it was taken at a wedding but it wasn't of a bride and groom or any of their guests but a sheep and three donkeys. The wedding was held on what used to be a farm but had since become a riding school. The sheep was particularly significant to the couple as the bride's late father had run the farm, when he died and the family couldn't manage the farm so the bride turned it in to a riding school. All the livestock was sold off apart from one sheep that had never hung around with the flock but with the donkeys and the horses so he was spared the chop and named the sheep horse. The photograph was amazing, the sheep horse and his 3 donkey mates just appeared and posed for me beneath a fantastic blue sky with looks on their faces as if to say "We is well nang and bow blud init. Brap! Brap!"
What advice would you give couples when choosing their wedding photographer?
If you like a photographers style then their style is your style too. Make sure you invest in your photography and photographer. Photography can be expensive but it's an investment well worth making. Your photography will be the only tangible memory you'll have left from a day you've invested in heavily financially. The other investment should be in your photographers experience and expertise and on top of all that you need to get on with them too. By the time your wedding comes round if your photographer has put in the time with you it'll feel like a friend is taking the pictures for you.
Can you give me some information on your pricing structure?
From £2000 which includes full day coverage and a fine art album
What is your ideal way to spend a day off?
Reading books, listening to radio 3 or punk rock and chilling with my dog and three cats, or out walking in the countryside with my dog and husband. Or a day at the racing track watching motorbike racing
What can you never leave the house without?
My mobile phone, even though 15 years ago I thought that anyone who had one was a nob! Karma.
Who would be your 5 dream dinner guests dead or alive?
Rufus Sewell, Eddie Izzard, Peter Kay, Jonathan Rea, Steve Martin, and my dog. I know that makes 6 but he'd sit on my knee.
What would you do if you won the lottery?
Buy a Porsche for me and one for my dad, set up an animal rescue centre in the Lake District and move in James Bowen and Street Cat Bob to help out. I'd still photograph weddings at the weekends but I'd use a Hasselblad.
If you weren't running your business, what would you be doing?
Teaching and moaning incessantly about it.
Fore more information on Yvonne's work go to
www.yvonnelishmanphotography.co.uk
www.yvonnelishmanphotography.co.uk/Blog
[email protected]
FACEBOOK
@YvonneLishman