Happy Monday everyone, I do hope you all had a lovely weekend. If you have those monday morning blues then I have a super cute hand-made wedding for you today courtesy of the wonderful Yvonne Lishman. When both the bride and groom are architechs you know that their wedidng is going to be a good one! Michelle and John really went to town with the DIY elements fo their day, designing and constructing their own wedding love shack as well as a balloon canopy that really set the ceremony area off perfectly. With gorgeous colour pops to off set the celan white backdrop, this wedding is bursting with style as well as fantastic ideas.
Bursting with love, kindness, creativity and fun. Everything we dreamed of and more.
Michelle and John were married on the 14th May 2016 at The Night Yard, Kent. 'Luckily, I have known Charlotte for many years and had been following her progress renovating The Night Yard so was well aware of the imminent opening of the most wonderful wedding venue ever.  John was not at all aware of this, and so when he proposed just as The Night Yard was opening it just seemed too good to be true!  The Night Yard was the perfect blank canvas for us, set in the beautiful Kent countryside, and knowing we had Charlotte on side welcoming and encouraging our crazy and ambitious ideas made it a really easy decision. We had 130 guests and the wedding took almost a year to the day to plan! After a month of engagement celebrations we visited The Night Yard exactly a year before our wedding day and booked it immediately. Then the scheming really began….'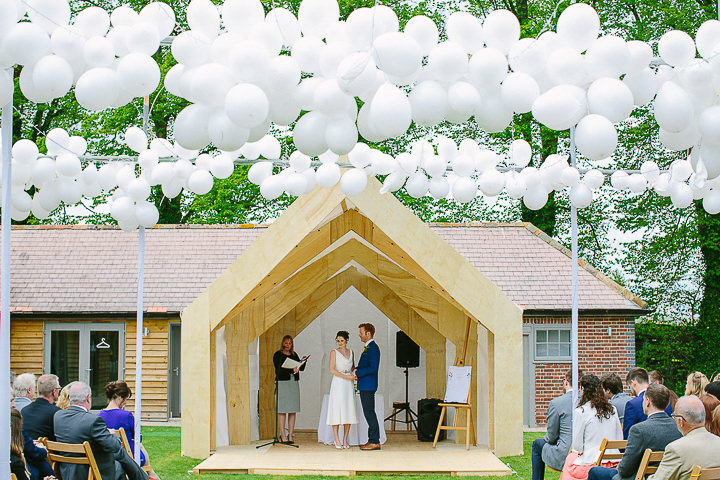 How they met
We got to know each other over the summer of 2008, whilst working long hours on a building for the London 2012 Athletes Village (we're both Architects).  It wasn't until the office Christmas party that year that drunken kiss on the dance floor finally brought us together.  7 ½ year hangover so far…!
The Proposal
One sunny afternoon in April 2015 John rushed home from football and whisked me up to our secret spot on the roof of our London mansion block, overlooking St Pancras Station. There he dropped to not one but two knees, power-sliding into The Proposal!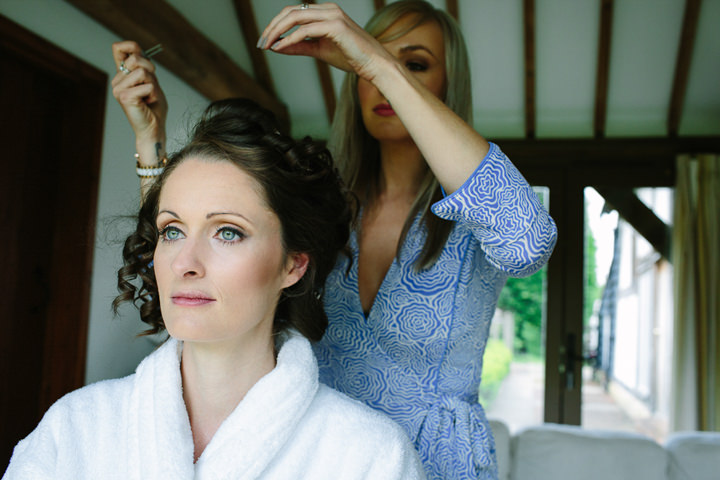 How did you allocate your budget?
We looked at various wedding budget guidance that suggested percentage splits for venue, food, entertainment etc and then adjusted it to suit where we wanted to splurge or save.
Where did you splurge and where did you save?
It was important to us that we had all our family and friends with us to celebrate, and so for 130 guests this meant keeping the cost per head low with super affordable food and drink.
We then did as much as we could ourselves, roping in family and friends to help us as much as possible!  A combination of many peoples' kindness, generosity and talents enabled us to make big savings on some of the big-ticket items such as the cake, flowers, entertainment, hair/make-up and food.
By saving in some areas we were able to adjust the budget allocation to spend more in others. We splurged on our wedding rings, exceeding the budget allocation by some way!  But we will be wearing them everyday for the rest of our lives, so we wanted to be totally happy with them.  My dress was also a massive splurge! Whoops!
Why did you choose your photographer?
We wanted a more alternative photographer who would capture the real us and all the magic moments of the day, free from the horrors of multiple family line-ups and terrible cheesy poses. After hours and hours of trawling though loads of websites Yvonne's photos really stood out for us, looking through her portfolio every image seemed to burst with narrative and personality, and offered just the sort of natural silliness we were after.  Coupled with her warmth, enthusiasm, hint of madness and love of Die Hard, we knew she was the one! We did an engagement shoot with her that helped us get over our fear of the camera and learn how to get the shots that suit us.  And of course it meant we got to know Yvonne better, so when she rocked up to start papping me in my dressing gown on the morning of the wedding it felt completely comfortable!
The Dress
I had a very clear idea what I was after, but could not find the perfect dress 'off the shelf'.  I found a few that were close and thought about having them altered, but none of them gave me that feeling of being THE dress.  A friend put me in touch with Olwen Bourke, who designs and hand-makes custom bridal dresses.  From the first meeting Olwen completely understood what I was after and guided me through the process, taking my ideas and embellishing them with her known to make the perfect dress.  I absolutely loved it! The shoes were much easier and were the first thing I found – having immediately loved Rachel Simpson's Eva shoes when I tried them on at the very first bridal store I visited. It was quite cold on our wedding day; thankfully my 'something borrowed' vintage mink stole kept me nice and warm. Otherwise the only other accessories were my earrings, bought fairly last minute from Liberty in Love.
The Suit and Bridesmaids
John is not one for a traditional suit, and went for more a dapper gent approach combining a bright blue Ted Baker blazer and waistcoast with El Ganso trousers, a bright coloured tie and brogues.  His two best men wore the same trousers and blazer in grey. It was really important for me was that all my very different bridesmaids felt happy and gorgeous in their outfits.  I tried to find a balance between them being similar enough to each other and me that we were unified as a bridal party, but also leaving enough potential for each of them to personalise their outfits to suit their individual styles.  Each bridesmaid had a different coloured skirt (bargains from boohoo) with an ivory top and accessories of their choosing.
Theme or Colour scheme
We wanted bright bold pops of colour against the white, and chose four colours, one for each bridesmaid, based on the local wildflowers – cobalt or cornflower blue, deep pink, buttercup yellow and burnt orange. Note: There were 4 colours and 4 bridesmaids in spirit, but only 3 physically, as one couldn't make it having recently given birth to twins in Greece!
Flowers
This was an area where we didn't want to spend loads of money, and so opted for really simple, minimal arrangements of wildflowers.  We originally chose a selection of wildflowers that aligned with our colour scheme and planted 800 seeds that included blue cornflowers, red campion and giant daisies.  Sadly, we had a particularly cold spring and only one of our seeds flowered in time for the wedding!  Plan B was a combination of ordering some wholesale flowers and picking our own from the surrounding countryside.  All the flowers, included the bouquets and buttonholes, were arranged by my sister-in-law and her friend.
Decoration
Our aim was for the whole visual appearance of the wedding to be as modern, clean and crisp as possible, with an honest, hand-made feel. We had a very minimal approach to decoration; for us the character of The Night Yard, combined with the sculptural form of the Love Shack and balloon canopy had plenty of visual impact, though we added a few honeycomb balls to give a splash of colour. Below the balloon canopy we made simple plywood tabletops to improve inexpensive hire furniture, with a scattering of flower-filled milk bottles and miniature cows, inspired by the dairy history of The Night Yard.
How we presented the food was very important, as while we were effectively offering a buffet, we wanted it to look more unique and special than your average spread of mismatched plates! We built an array of platforms to create a display for the miniature puddings and spent months collecting little timber trays from a particular London lunch supplier so we could have a perfectly tessellated rectilinear array of grazing goodies.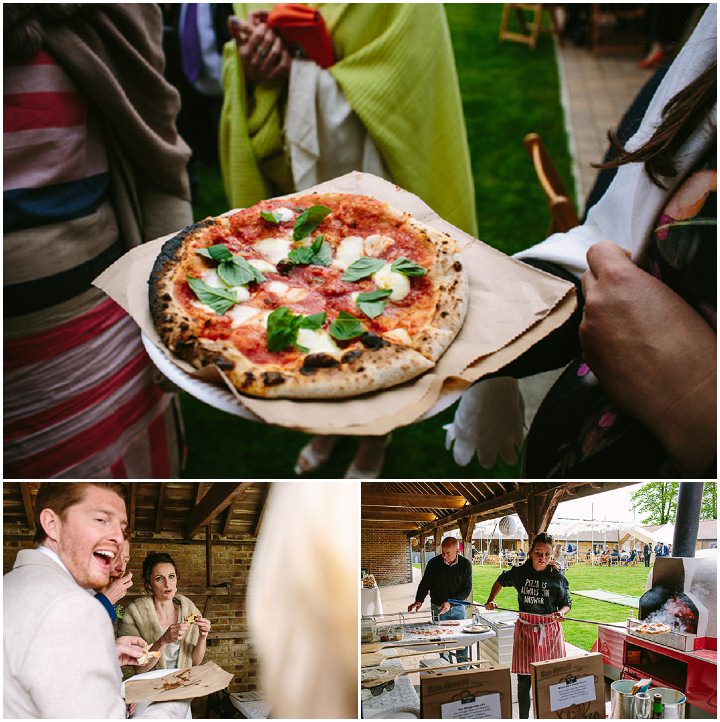 Food
To keep things relaxed and affordable we ditched the traditional sit-down wedding breakfast in favour of constant grazing throughout the day. Grazing began immediately after the ceremony, with the wedding cake to accompany celebratory champagne.  An array of my mum's homemade antipasti, nibbles and snacks followed, before That's Amore Pizza Company offered a selection of authentic Neapolitan pizzas.  After a break for the speeches grazing resumed with homemade pick 'n' mix mini puddings and cheese.  And finally, the barbeque was fired up to provide some booze-busting burgers and dance-floor fuel!
Wedding Cake
We had a semi-naked wedding cake, with three tiers (one lemon, one blueberry and one carrot) all baked by different family members, and cunningly assembled on a specially made stand than enabled us to slice through all three tiers during the ceremony with the family sword.  A fitting finale!
Entertainment
We have very talented and generous friends, who provided two sets of live music on the day to supplement the iPod playlist. During the afternoon we were enthralled by the beautiful vocals of my friend Grace with piano and double bass accompaniment.  In the evening John's friends and former bandmates kick-started the dancing with an electro, 80's inspired synth and guitar set. The wedding also offered a good excuse for John and his some of old band mates from numerous outfits to reunite for a pre-wedding gig the night before.
Stationery
We designed and produced all our own stationary, from the invites and the website, to the ceremony order of service and programme posters.  With the exception of a beautifully hand illustrated map, drawn by one of the bridesmaids, my wonderful friend Lottie.
Personal Touches
Everything! We are both architects and creative people, who love to design and make things, and so our whole weekend was planned, crafted, made, sourced and built by us and our family and friends.
The biggest challenge we set ourselves was designing and building our own venue for no more than the cost of hiring a marquee.  We constructed the 'Love Shack' with locally-sourced plywood and white waterproof building paper, creating a series of timber arches that formed a chapel-bandstand. We cut all the arches ourselves in a garage over a long weekend a few months before and then assembled everything on site in the week before the wedding.
In front of the Love Shack we erected a scaffold canopy that was dressed in white fabric, fairy lights and hundreds and hundreds of balloons inflated by an army of friends!
We opted for a celebrant, rather than a registrar, which enabled us to completely tailor the ceremony.  Katie from True Blue Ceremonies worked with us to prepare a ceremony that was wonderfully relaxed, balanced humour and sentiment and included more unusual elements such as the blessing of the wedding rings by all our friends and family. I walked down the aisle to John's specially arranged and recorded guitar version of 'Here Comes the Bride'.
As well as the food that was majority made by my mum, our friend also provided beer – both high quality homebrew and kegs of ale that he had produced at a brewery in Hackney Wick – each tasty beverage named with a jolly wedding-related pun.
Special Moments or Highlights
That's a hard question – it was all so special!
Advice for other couples
No matter how organised you are, there will always be something in you well laid plans that changes at the last minute!  Just go with it!
Let people know what you want – communication is key! Charlotte was absolutely brilliant for us, as she took the time to understand what we were after and was able to help us achieve it.
On the day itself make sure you take a few minutes to ignore everyone else and just take in the results of all your planning and hardwork.  There were bits of our wedding day that I didn't even see – don't make the same mistake!
Seriously consider an engagement shoot, I had previously dismissed them as cheesy nonsense, but they are so valuable for getting to know your photographer and getting comfortable in front of the camera.  Being photographed all day was honestly my biggest fear, but Yvonne helped me get over it!
Biggest Surprise
Just how much effort and hardwork everyone put in to make it so special and everything we hoped for.  Both our brothers had volunteered for jobs, and were keeping their efforts totally concealed from us until the big day, when my brother surprised us with a homemade 5-hole mini golf course and John's brother pulled off the most amazing fire works display that blew everyone away.
Supplier Shout Outs
FOR MORE INFORMATION ON YVONNES'S WORK PLEASE GO TO:
www.yvonnelishmanphotography.co.uk / [email protected] / FACEBOOK / TWITTER / 07850-651-851