I have a Beauty of  wedding for you today, and what makes it more special for me is that it comes all the way from very sunny Cornwall. Having been brought up in Cornwall, I always LOVE receiving submissions from this part of the country, just looking at the scenery in the photos sends me back to my childhood. Running along the cliff tops to get from beach to beach, playing in the sand and swimming in the sea, in what seemed like a never-ending and always sunny summer (those were the days). This wonderful wedding sent into me by my good friend Shelly from Toast of Leeds takes me right back to those days. The wedding is just perfect, set on a Cornish cliff top, the outdoor ceremony takes in the amazing views and scenery, and Shelly has captured  the landscape perfectly! The wedding itself is FULL of the most amazing details that the bride really has gone town on, the travel theme has been executed brilliantly and all the little DIY and handmade touches are stunning. I am in LOVE with this wedding!
'The most magical experience with plenty of love, fun and laughter along with good weather thrown in!'
Sian and Chris were married on 1st May at Polhawn Fort, Rame Head, Cornwall. 'we got engaged in Cornwall and as we loved this part of the country wanted to get married here too…neither of us wanted to be married in a hotel (I work in the hotel industry and Chris travels a lot so regularly stays in hotels) and we really wanted the flexibility to do what we wanted, when we wanted and how we wanted. I had been recommended the venue by someone and it was the fourth venue we saw and we just fell in love with the place as it offered everything we were looking for. We had 88 guests including children, we were engaged for just over 2 ½ years and booked the venue over 2 years before the wedding but realistically only really planned it in the last 6 months.'
How they met
We originally met through an online dating website 'My single friend' Chris had only been on the website a week before I spotted him, well, his write-up anyway, which was co-written by Si his best man and Anna Si's wife.
We struck up contact that quickly lead to a telephone conversation which, in turn, made us decide to meet face to face and so Chris booked a place to eat. I'd joked that it was the most expensive place in the area and that I would be wearing my poshest frock, was he going to wear his suit? On the day of the date, I had a massive panic and changed my outfit between dress and jeans at least seven times.
When I turned up at the bar to my amusement and horror, there was Chris sat in a lovely suit waiting for me, and there I was in my jeans, knee-high boots and t-shirt!
Well it only gave us a starting point for conversation and the conversation didn't stop all night. We've been together ever since, which was just over four years ago.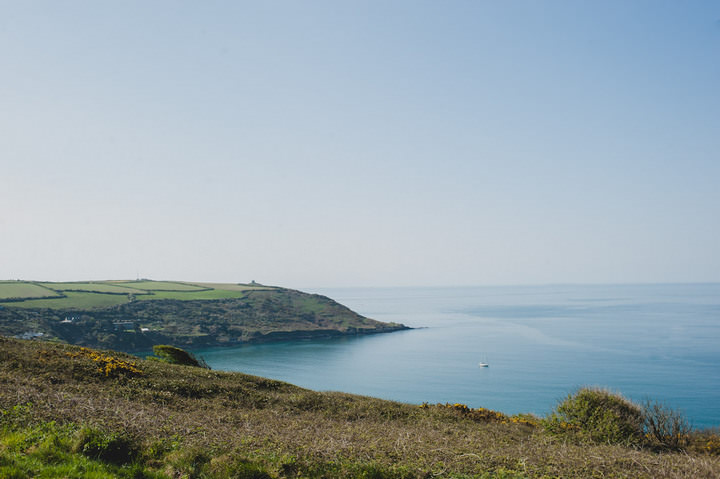 Tell me about the proposal
We had come down to Newquay in November 2010 for Chris' sister's birthday to spend the weekend with her and a friend in a lovely cottage right by the sea next to Fistral Beach. It had been a fantastic weekend. On the Sunday, we were due to go for another walk down on the Beach. The beach looked fantastic in the morning light and the sea was out which made the beach look very lovely and inviting then Chris proposed. As he didn't get down on one knee and we hadn't talked about marriage before I didn't actually believe him at first and thought he was just messing around as we often did. In the end I believed him and said yes but we decided to keep it to ourselves as we didn't want to make the weekend about us. We also really wanted to try and tell our immediate families in person and as close together as possible – which wasn't to be until Christmas! So we kept the secret for nearly two months before allowing it 'out of the bag' so to speak.
Why did you choose your photographer?
I had been to a number of wedding fairs to get ideas more than anything. At each one there was at least four or five photographers all offering nice photography but nothing amazing. As Chris and I like things to be a little bit different, I was really looking for someone to give us that and hadn't seen anything so far. Then I happened to go to a wedding fair that my mum had come across at East Riddlesdon Hall which is where I came across Shelly from Toast and her stand. I was immediately intrigued in taking a look at what she does as her stand was so interesting and exciting to look at. I could see straight away that Shelly had an eye for detail and an interest in doing anything but the normal average shots, exactly what I was looking for and, better still, she did everything we wanted plus a few extras we hadn't thought of for a very reasonable price. There was no messing around with additional extras. Shelly was honest and straight to the point. The quirkiness of her stand, herself and what she was offering got me hooked straight away and we weren't disappointed.
We also had a videographer, Ben, who we chose for the very same reasons as choosing Shelly. Ben offered a personal touch as he was really interested in the wedding and everything we were doing.
The dress
Both of my dresses (I had one for the day and another for the evening) were from Monsoon. Both had to be altered to fit me but I had to have the main dress adapted as I thought it could be improved, so had the buttons down the back made and fitted as well as the shaping of the dress altered slightly.
Blue Shoes were from Office and White from BHS Wellies were from Weddington Boots.
My hair pins were my something Blue given to me by our Master of Ceremonies and one of my oldest and best friends Adam.
The suit and bridesmaids
Jeans and shoes in grooms' party were each persons' own. Shirts were from Charles Tyrwhitt
Gurteen Tweed Jackets were from Clarksons in York. Cufflinks were given as presents from Notonthehighstreet.com. Dresses in brides party were the girls' own.
Theme or colour scheme
We love travelling and felt it was an appropriate theme to have considering all of our guests were having to travel quite far to get to the wedding. So the theme was base around the idea that people were travelling to an airport to go on their journey.
Colours were blues and pinks due to the local flowers in the area that grew around May tended to be these colours
Decoration
Anything travel related and old looking, Lots of candles, anything that we thought looked relatively natural, like it belonged there as we like that style. While the venue didn't really need much decoration we wanted to accentuate the feel it gave.
We collected old suitcases, Hendricks bottles for flowers, lavender bunches, old water jugs, wicker hearts etc.
Food
We wanted a caterer that could provide a more rustic meal, one that wasn't formal, allowed people to share and offered all the food we love…Following on from the travel theme, we decided to have food from different countries so started with English canapés
The wedding breakfast was Italian – sharing-style starters with Marinated Mixed Olives, Parma Ham, Carpaccio of Fillet Steak, Tempura Vegetables with Garlic, Ginger and Chilli Soy Reduction, Ham Hock, Chicken Liver and Crushed Pistachio Terrine, Mixed Leaves, Roast Red Pepper, Lemon and Basil Hummus and Artichoke Hearts followed by Broccoli, Pea and Asparagus Summer Lasagne with a rich mascarpone and parmesan cream sauce, finished with fresh mint.
Deserts were a choice of treacle tart or chocolate mousse.
The evening buffet was Mexican with Chilli con carne (made by my parents and helpers), salad and jacket potatoes.
Entertainment
We chose to have just a stand-alone singer for both the ceremony in the garden and the early evening entertainment. We also got her to help with the music quiz during the wedding breakfast. She was fantastic and did everything we asked of her plus more!
We then used our own playlist once Nicole had finished her set.
Flowers
Wild, free natural flowers that were in season including. cornflowers, scabious, nigella, astrantia, lavender, cosmos, lizianthus, echinops plus other small headed flowers.
Personal / DIY touches
• We designed the whole day around a number of things but the main point was we wanted to make sure that everyone who came felt involved and part of the wedding so we'd asked everyone to do a job of some kind, big or small so that they had been a part of putting the wedding together.
• This then followed onto how we designed the passports we made that doubled up as the order of the day and part of the games during the day to try and get everyone mingling together and not stick in the usual groups that tend to happen at weddings or big gatherings.
• Every person had their own passport with a colour and during the drinks reception they had to go and find another person, who they didn't know, with another colour, ask them a question provided in the passport and swap colours. The passport was then used throughout the day for other games but it was the seating plan that really took time as we had to make sure, as everyone was finding their own seats but colour, that each of the children would be sat with their parents. It was fun to design but quite demanding on the brain!
• We did all of the decorations ourselves.
• We bought in the hessian and cut the strips for the tables and big bows.
• My mum made lots and lots of bunting
• I made lavender filled hearts
• We made all our blackboards for notices from scratch.
• We had friends make our signs.
• We had another friend print the passports we had designed.
• We made all of the travel document kits, had a friend create the quiz and we put together the game kits for the tables.
• We wrote individual letters to every person who came that included a scratch card that doubled up as both the favours and table plan….each person had to find a seat that was the same as the one in their passport and on the luggage label attached to their letter.
• We put together the children's mini suitcases with toys to keep them entertained during the wedding breakfast.
• We sourced everything from the dried lavender to the jugs on the tables to the small map coated initials of me and Chris.
• We collected all of the Hendricks bottles and jars for candles and flowers and the glass plates for each of the cakes.
Special moments
The ceremony, the music round and confetti run! I was completely bowled over by how beautiful the ceremony area was – our friends had made extra amendments that I didn't know about as an additional surprise for me. Walking down the steps allowed me time to see and take it all in. Actually an additional moment that was a highlight of the whole week was the night before the wedding after we'd spent the whole day setting up the fort. My friend, Becca, stopped me and got me to turn and take in the room for the wedding breakfast and just savour the moment. I'm so pleased she did as it gave me time to really see how wonderful everything looked and really know all the hard work that had been done that day was for a reason.
Biggest surprise
For Chris it was that nothing obvious went wrong. For me I was really surprised as to how many people commented on all the little details we'd added, things I thought people wouldn't notice.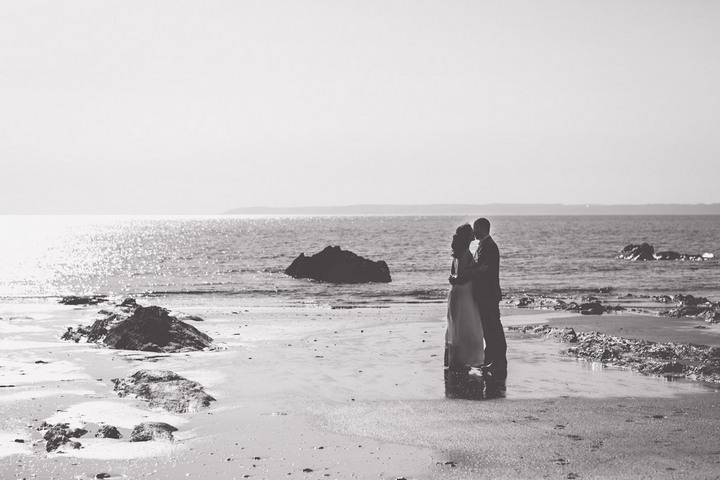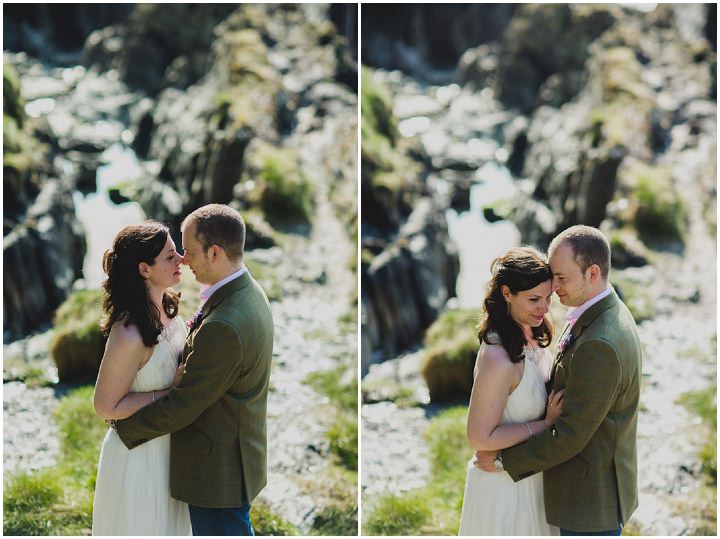 Advice
• If you're doing setup yourself, don't underestimate how long it takes. With the best plans put into action there's always a surprise that will mean time-frames are moved.
• Make sure that everything you plan is what you want and not what you feel you should have.
• It's ok to ask people for ideas as it makes them feel involved but don't feel you have to use them all.
• Remember, this day is about you and no-one else. This sometimes gets forgotten in all the planning leading up to a wedding.
Supplier Shout Outs 
For more info on Shelly's work go to:
www.toastofleeds.co.uk
http://toastofleeds.com
TWITTER
FACEBOOK
[email protected]
0113 3560157