Today's wedding is rather special as it features a couple who planned their whole peak district wedding all the way from Australia. The couple are both from the UK, one from Nottingham and one from Yorkshire but both now live in Australia together. They wanted to come home to hold their wedding, so planned the whole thing via the internet! Katie and David's wedding features vintage touches, lots of orange and lots of quotes dotted around the wedding venue as well as an amazing wedding cake! The wedding has been captured beautifully by Boho Sponsor Yvonne Lishman Photography, who's work I love!
One of the most magical moments in both our lives so far. I wouldn't have changed a thing.
Katie and David were married just a couple of months ago on 8th February. Their venue of choice was East Lodge Country House Hotel in Matlock, Derbyshire. "Organising our wedding for 80+ guests from Australia was going to be tough but we kept our expectations simple, as we knew what we wanted. First we chose the date and we wanted it to mean something to us both so the anniversary of when we made our relationship official was the only choice. We chose to get married in the Peak District, Derbyshire. It was between Nottingham (where I am from) and West Yorkshire (where Dave is from). We found East Lodge and two other venues that caught our eye but East Lodge were the first ones to get back in touch with us and that was our decision made. Having only seen East Lodge on the internet, when we arrived back in UK we went to visit pretty much the next day. We couldn't have been happier with our choice and the pictures didn't do the venue justice. I can't thank the staff enough at East Lodge for their outstanding help from the beginning through to the big day itself. Emma and Sam went above and beyond what we expected, having only used communication via email for 12 months before we arrived back in the UK, nothing was missed and they went out of their way to ensure both the guests and ourselves were happy on and before the big day."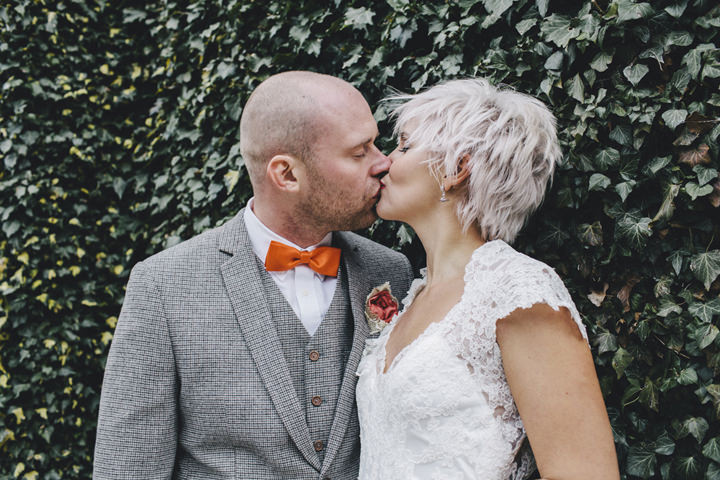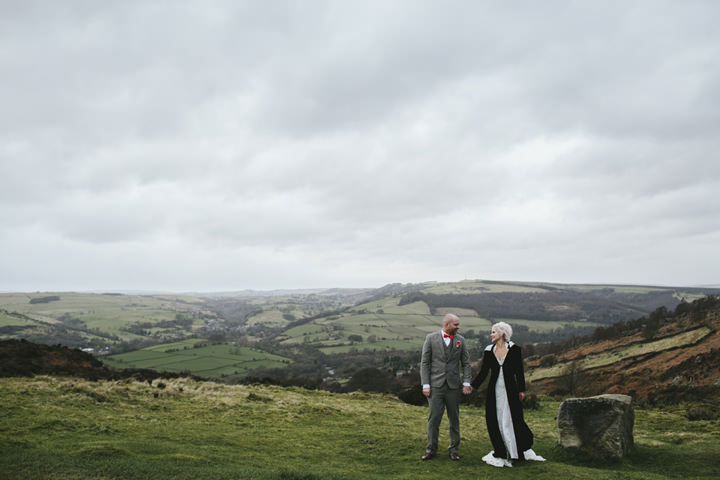 How they met
We met back in July 2006 in Kavos, Greece. I was on holiday with the girls and David on holiday with the boys. As we both were staying in the same hotel it progressed into a holiday romance. That year I had planned to go travelling to Australia in November 2006, Dave and I both agreed it wouldn't be fair to start a relationship as we would be so far apart and didn't want to hold each other back. Then to my surprise in February 2007, Dave came out to Australia and we finished travelling together.
That was reason behind the date we chose to get married, as it was the 8th February 2007 when we made our relationship official.
The proposal
The proposal took place in Ireland. We had gone on a week's holiday in October 2011 just before we left for Australia. We spent a couple of days in Galway where we visited Kylemore Abbey. It was here, on the 31st October, where Dave proposed to me and there was nothing scary about it.
How did you allocate your budget?
We had left some money in our account in the UK for 'just in case' and we decided that this would be our overall budget and it was more than enough. We didn't want an expensive day but we definitely wanted it to be memorable.
How did you choose your photographer?
Our first decision was the venue and then most importantly was the photographer, we used the search engine for alternative photographers, and lucky enough for us we found Yvonne Lishman. Her website was inspiring and gave us no doubt she was the photographer we were after.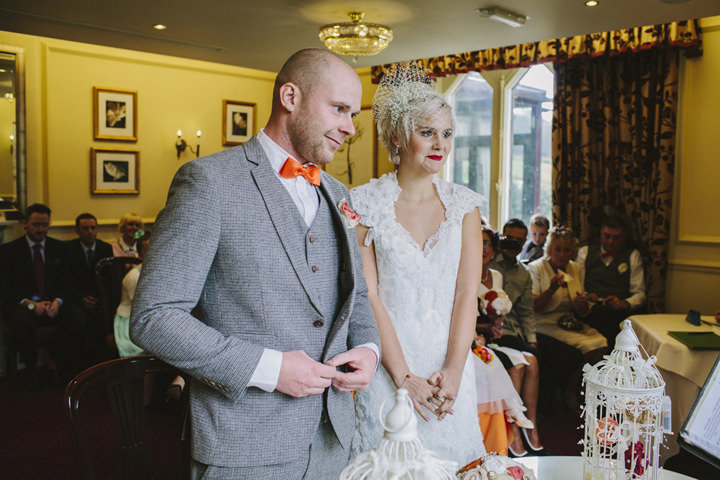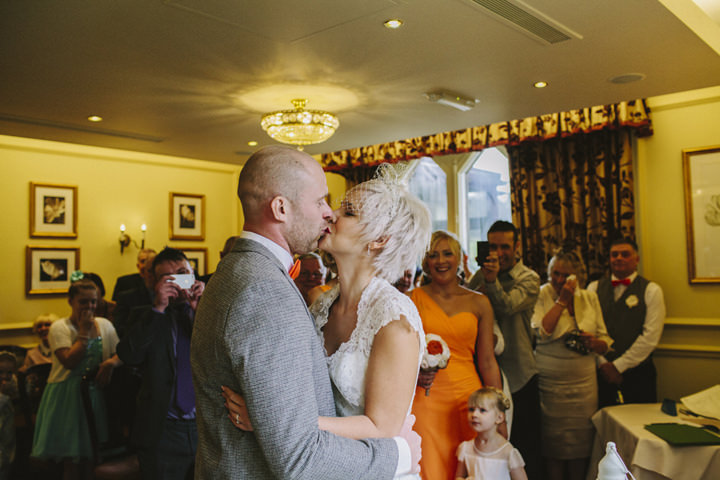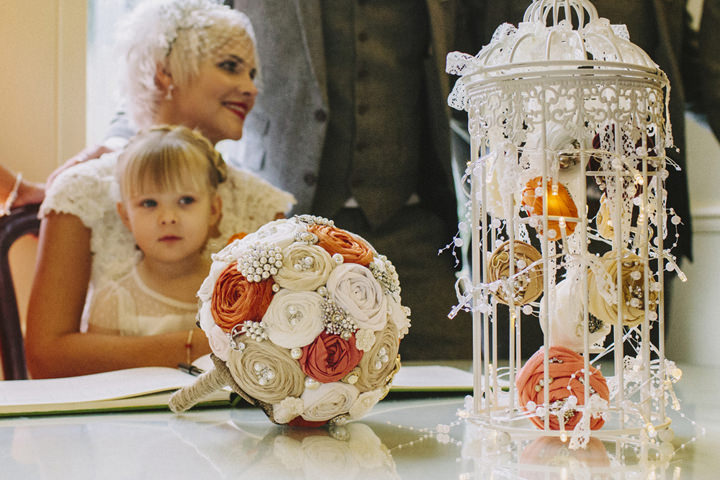 The dress and accessories
My dress, I went and chose by myself. I visited a store I had seen when shopping in Brisbane, Australia. This could have been the one item of the wedding that I probably wouldn't get chance to wear again but after speaking to my cousin-in-law Claire who lives in Perth, Australia, she gave me the idea of wearing it every anniversary whether it be to clean the house in or to walk the dog just like she does every year!
I chose both my accessories and shoes when I was back in the UK. I had no set ideas on what specific shoes I wanted, only that the colour was nude. My accessories were either gifts or my something borrowed. One of the most important and special accessories was borrowing my mother's sapphire diamond engagement ring. As she couldn't have been there in person, to be wearing an item of hers that I know she adored, meant so much to me on my wedding day.
The suit and bridesmaids
The vintage style fell on Dave's choice of suit also. He wanted a smart but casual look, tweed was the style of suit he was after and that he could wear it again in the future. The choice of an orange coloured bow tie really worked with the suit and the 3 best men ended up purchasing the 3 piece suit as well.
I'd been told of a website called the dressing pod. It was on here Dave and I had chosen a couple of dresses we liked, then asked our 2 bridesmaids to choose the dress they wanted to keep and wear again. They were also happy with the choice of orange which was great.
The theme
We both wanted to make this a wedding about us, that would reflect both our relationship and personalities. We let the wedding ideas flow and never kept it to one specific idea. We wanted to step away from the traditional and a more alternative theme was definitely something that reflected both of us. I adored the idea of a vintage feel, which gave me the interpretation for my dress and using decorative birdcages. There was one part of our wedding I felt very strongly towards and that was incorporating the colour orange. Again, it was a colour that I felt I'd never seen used in a wedding before and it is also my favourite colour.
The flowers
I wasn't keen on using real flowers in our wedding. We decided on using decorations as centre pieces and cotton/fabric flowers for my bouquet and the two bridesmaids; we also chose fabric flowers for the buttonholes on the groom, three best men, father of the bride and father-in-law. I found the company on instagram, @loveisvintage. Aylsa was fantastic, asking questions about colour and layout making sure it suited the wedding and me. The brochures that she incorporated into my bouquet were exceptional.
The decoration
We had large paper balls in shades of yellow and orange hanging in the entrance to East Lodge. We wrote favourite quotes on blackboards, which were dotted around the venue and each table had a hand decorated number on it. We bought birdcages and My Aunty Linda helped by decorating them and they were VERY popular with the guests. We wanted anything to do with the wedding to be used again; Dave chose his suit that he could wear again in the future, decorations were crafted so guests could take them away with them and use them at home. Having arrived in the UK on 1st January 2014 I knew we would have enough time to get everything organised up until the big day.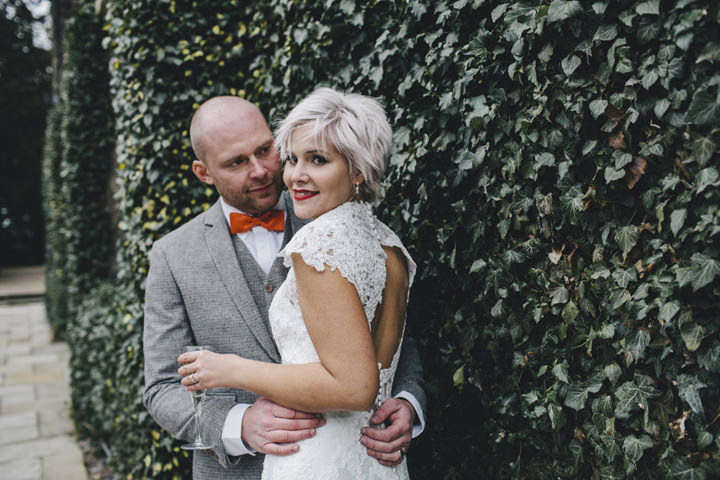 The food and the wedding cake
Starter; East Lodge own recipe Fishcake with Creamed Spinach, Pickled Cucumbers and a White Wine & Parsley Sauce.
Main; Braised Lamb Shank with Roasted Parsnips, Butternut Squash, Braised Chestnuts & Rosemary Sauce.
Dessert; Bakewell Pudding Creme Brûlée with a Shortbread Heart.
There were also Canapés served after the ceremony and a Hog Roast laid out in the evening.
We weren't after the traditional cake and we were lucky enough to find a cake shop in Chesterfield, Chocolate By Design, that would allow us to add a touch of ourselves into the cake. We are both big chocolate fans and stuck with chocolate sponge with chocolate butter cream, there were 3 tiers and it was coated in a layer milk chocolate. Chocolate solids were used on the outside, some milk, some white, and some coloured orange. I have a VERY BIG weakness for Haribo and I was even able to add these to the decoration of the cake. It definitely showed our alternative/adventurous side, we couldn't have been happier and the guest's had complimented on how extraordinary it was.
The entertainment
Our entertainment was a disco and evening hog roast provided by East Lodge. Later on that night, a close friend of ours Mark Till took out his guitar and dedicated some self-written personal songs and had us singing well into the early hours of the morning.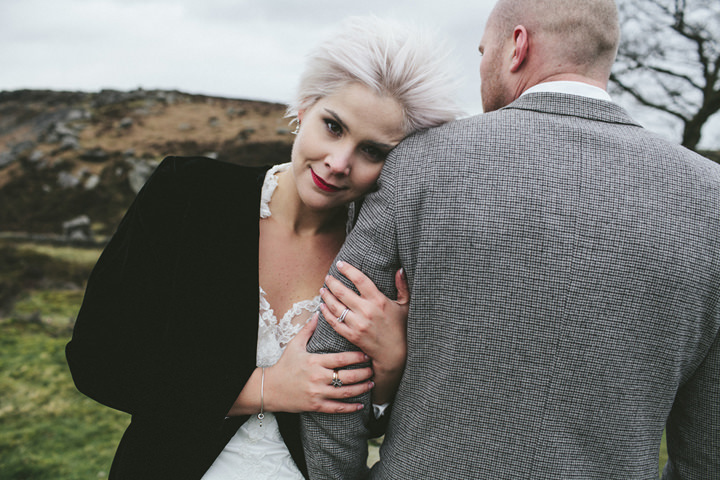 Buy or DIY your stationery?
To make a special personal touch on our wedding I wanted to hand make the decorations myself.
Personal or handmade touches
My personally favourite touch was my chalkboards of meaningful and humorous memes.
Yvonne our photographer had a wonderful idea of using a touch of Wuthering Heights in our wedding. Having photographs taken at Curbar Edge and the use of my Auntie's black velvet cloak set the tone perfectly. We also had a photo booth set up for a couple of hours. That was courtesy of our photographer Yvonne. The photos taken are all on a memory stick that Dave and I have planned to look at on out first anniversary, we can't wait!!
Special moments
I would have to say making the trip to Curbar Edge for our pre-wedding photographs and also having the chance to go again on our wedding day. We are not your typical couple, we like to be different and stand out from the crowd. I am so glad we did it, the photos turned out great, and it's something we will always treasure and remember.
Advice to other couples
The main thing we learned from planning our wedding was to not get stressed and savour every second of it all. We both wanted it to be a reflection of ourselves and our relationship, the only aspect we were after was that our guests had an incredible, entertaining time. As mentioned previously, we planned our wedding from the Gold Coast, Australia and everything takes a day longer due to time differences. We had a few hiccups along the way and at first we got a little disheartened but we remembered that the material things really don't matter and we just wanted our guests and ourselves to have a marvellous day. Don't be put off by doing the unexpected, we took the time out from our wedding day and used it with our photographer to take in the local landscape in our wedding attire. These moments couldn't have been captured without being diverse and adventurous with our photographer, these are the long-lasting recollections of our amazeballs day. I couldn't have planned this wedding without my other half. We can look back and appreciate that the wedding was exactly what we both wanted, if given the chance I would relive our wedding weekend all over again and wouldn't change a thing. Twist the traditional………. Embark on the alternative personality of yourself.
Biggest surprise
We had gifts and cards sent from friends and family living in Australia that were unexpected and it's always nice to know that people who couldn't make it are still giving their well wishes. Also one of the best men, Mark Till got out his guitar once the DJ had finished. There were dedicated songs and we all had a bit of a sing along to finish the night off perfectly into the early hours of the morning. It was another part of the wedding the guests found exceedingly entertaining.
Supplier Shout Outs:
For more information on Yvonne's work, please go to:
www.yvonnelishmanphotography.co.uk
www.yvonnelishman.blogspot.co.uk
FACEBOOK
@YvonneLishman
Due to an email issue if you have emailed me between the 2nd & 9th of December, please resend it.
X