I Love todays wedding, absolutely LOVE it!  What makes it even better is that the lovely bride Claire is a regular reader of the blog and found her very talented photographer Yvonne Lishman from these yellow gingham pages! The wedding is set in my home town of Sheffield, literally just up the road from where I love and is FULL of gorgeous ideas, homemade details and lots fo DIY projects that were all pulled together by friends and family. Another thing I love is the variety of food on offer.  All served food truck style, from Pizza to Paella and ice cream to crepes. What an absolutely gorgeous day with a beautiful outdoor ceremony set in some of the most gorgeous surroundings! Just lovely!
'The perfect day of relaxed family fun. Beautiful surroundings, beautiful setting, beautiful people'
Claire and Neil were married on 26th July 2014 at Loadbrook Cottages, Sheffield. 'We knew we wanted a garden party type feel to our wedding and loved the idea of having a tipi and so needed to find the space to accommodate that. We originally found a venue that offered us the space that we desired with some amazing views thrown in but unfortunately with just 6 weeks to go the venue were forced to cancel leaving us in a difficult situation. Sami Tipi were amazing and offered us a few suggestions of possible pieces of land and we contacted the wonderful Alison and Rob at Loadbrook Cottages Bed & Breakfast who couldn't have been kinder in offering us their land. Weddings are not something that they do so we were so grateful that they were willing to let us use their land. With 4 weeks to go we were granted a temporary events licence for Loadbrook and it was all systems go. Alison and Rob did all that they could to accommodate our already made plans and dreams giving us access to a number of their fields and surrounding space. In the end, our venue couldn't have been more perfect, it was meant to be and totally surpassed every expectation that we had. Thank goodness for that cancellation! And we now have a beautiful B&B owned by a lovely couple who we would have never had known otherwise, to return to for anniversaries to come. We had 140 guests including 35 children and it took 10 months to plan.
How they met
Our paths crossed at university during our teacher training year but we actually met when we began teaching at the same school. We have been together almost 9 years.
The Proposal
On a rare night out (2 children under 2 hinder the possibilities for such occasions!) for my birthday, Neil took us back to the town where we owned our first home together. After a lovely meal in an old haunt he convinced me to take a walk down to the river to the location of our old house. I was reluctant as it was a cold wet evening and had no idea that his plan was to get down on one knee in the rain. He totally shocked me, so much so that I'm not sure I ever actually accepted!!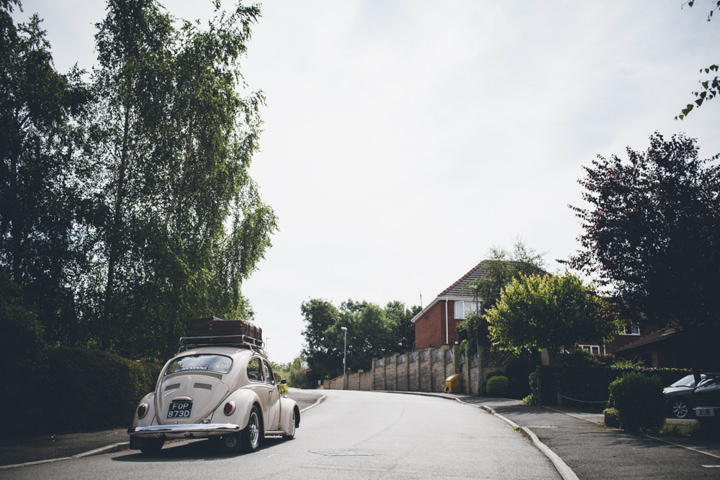 How did you allocate your budget
We weren't very methodical but I think that reflects us as people. We just made decisions about all of the things that were important to us. We were very sure that our dream for the day was that it reflected us and our little family. It was about the four of us and all that we love.
How did you choose your photographer
I actually came across Yvonne's work here on Boho Weddings and just loved her style. We were so clear that we wanted a beautiful lasting memory of our day without endless posed pictures with different groupings of guests. We wanted to capture the essence and story of the day and Yvonne did that perfectly.
The Dress
My dress was by Stephanie Allin and was just meant to be. With only 6 months to go everyone around me were starting to panic over the lack of time I had left and that gradually started to rub off on me. The problem was I couldn't find anything that I could see myself wearing. Until I saw 'THE' dress. Unfortunately it was way out of my price range so I reluctantly dismissed it and moved on with my search. A few days later, nothing compared and I couldn't get the dress out of my head. Then I discovered that the dress was actually going to be in a sample sale in a bridal shop in my home town in less than a weeks time. After a very early Saturday morning start on a cold January morning, I tried the dress on and immediately fell in love with it. It was the only dress I tried on and it was mine 20 minutes later!
My shoes were my 'something old'. I like the idea of wearing a pair of coral shoes and I already owned a pair that were in good condition so why not?! I made beaded bracelets for myself, my daughter, the bridesmaids, both mums and my sister in law to be. They were a little bit of me that I wanted those special ladies to wear with me and something they will hopefully wear for many years to come.
The Suit and Bridesmaids
Neil's outfit was from River Island and each of the bridesmaids had an individual dress. They were Coast, BHS and Jenny Packham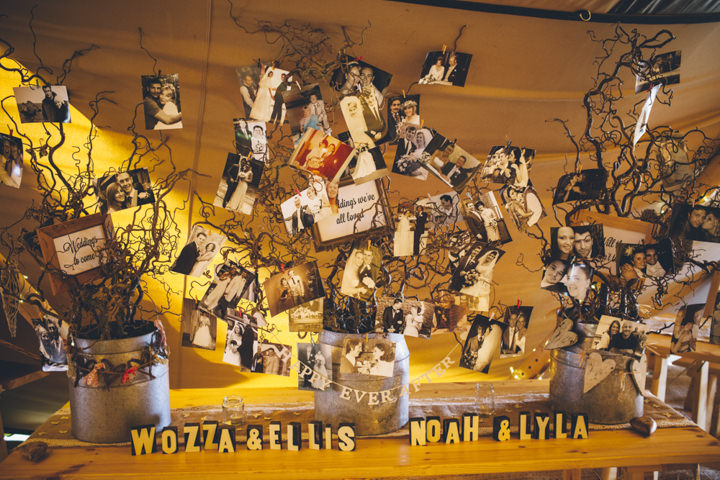 Theme or Colour Scheme
We were going for a vintage theme but had no real colour scheme
Flowers
My dad grew the flowers in his garden. I wanted to go for the wild flower look and he did an amazing job. He cut them all on the morning of the wedding and his garden looked a little sparse afterwards
Decoration
My mum spent many hours making amazing hessian and lace table runners and bunting. In addition, I had cut up all of our children's baby clothes to make bunting. It was so lovely to bring back all those memories and have them hanging up decorating the entrance to the tipi. Now I will bring it out each year on their birthday and it shares a dual special memory for all of us.
Food
The amazing Artisan Pizza came in their charming Citroen HY pizza van, 'Hettie', and baked the most delicious Neopolitan style pizzas cooked in a wood fired oven alongside two huge pans of scrummy paella from Paella & Co. For dessert, Honey Bees Vintage Teas brought along their delightful vintage ice cream bicycle 'Hetty', serving wonderful flavours with an array of self serve toppings. It was all served over a period of around 4 hours allowing our guests to enjoy at their leisure. Later on in the evening La Petite Bretonne arrived to indulge us all with delicious sweet crepes served from their equally charming Citroen HY van.
Wedding Cake
My mum made us a very yummy victoria sponge with fresh strawberries.
Entertainment
We are both teachers at the same school. We invited a band of four ex 6th form students to come and play for us and they did an amazing job. They provided an acoustic set followed by an amplified set that also included our first dance. Later in the evening a DJ took over.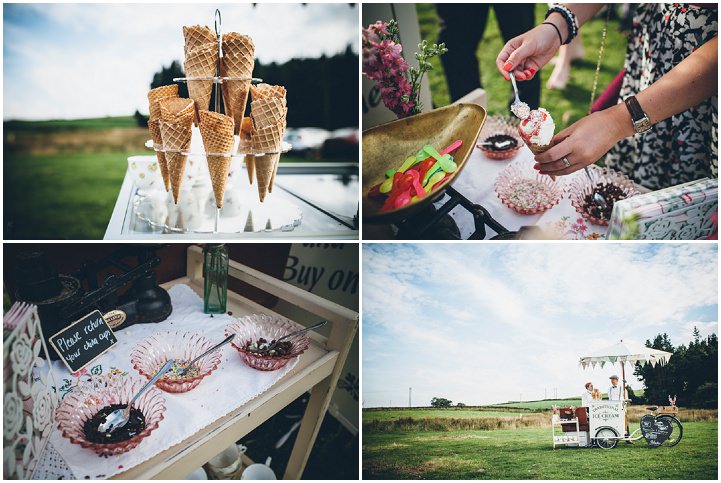 Buy or DIY your Stationery
The stationary was bought from a wonderful company called Feel Good Invites. They were fantastic from the start and I felt like I was getting a real personal service.
Personal or Handmade Touches
I thought it would be nice to remember and celebrate all of the weddings of our guests, so began collecting photographs of all of our guests on their special day. As much as possible I tried to do it without people knowing. Neil's aunt is a florist by trade so I spoke with her about the potential of displaying these photographs on some sort of tree. She cut and dried some contorted hazel from her garden and the day before the wedding she arranged the hazel into 3 trees which I hung the lovely images from alongside a caption on each. We had- 'Weddings we've all loved', 'Weddings to come', & 'Will they or won't they?'. All of our family and friends loved it and it became a great talking point. It was lovely to reminisce over all the lovely weddings we've enjoyed for years.
Special Moments
A very close Italian family friend wrote and performed our blessing ceremony. We had no input into it and it was so lovely to hear the special words he had prepared for us for the first time along with our closest family and friends. It was such a personal moment that we will cherish forever.
In addition, throughout the day our children who are 3 years and almost 2 years, were very busy having the time of their lives with all their little friends so it was really special when the four of us came together to share the first dance.
As the evening progressed and the moon rose, the tipi's just became enchanting with their beautiful lighting. It was just the perfect atmosphere as we danced the night away with all of our favourite people.
Advice to other couples
Do it before having children!! Time is so limited with two young children and so we did a lot of our planning and organising very late in to the evenings! I sent many an email in the early hours.
For the day itself I would say try and take time out to look at everything and take it all in. I wish I had walked around more and taken every tiny detail in.
Biggest surprise
How quickly the day went. The most difficult part for both of us was walking away at the end knowing it was all over.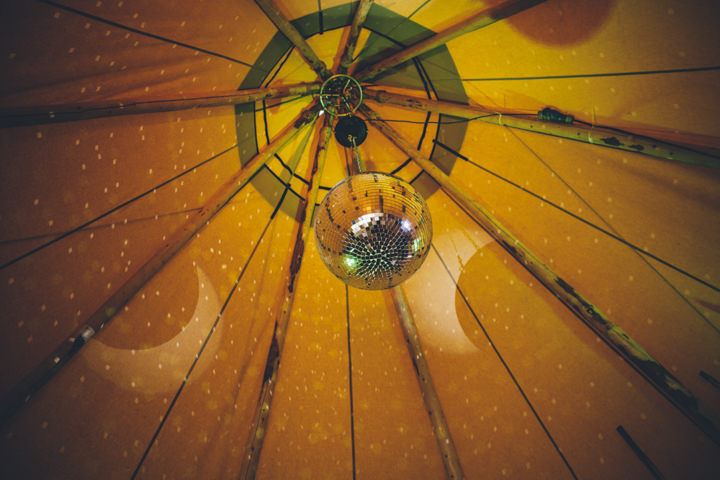 Supplier Shout Outs
For more information on Yvonnes's work please go to:
www.yvonnelishmanphotography.co.uk
[email protected]
FACEBOOK
TWITTER
07850-651-851
I'm Yvonne Lishman, an alternative wedding photographer based in Nottingham. I travel the UK to photograph funky offbeat weddings. My take on wedding photography isn't conventional or formal. It's not about set shots or endless groups. It's about telling the story of your wedding day through bold and original imagery with your personality shining from it. It's about you being willing to participate in something different to the norm and trusting me to photograph your wedding how I see it.