This afternoon I will be introducing you to Bex a new DIY Bride who will be sharing with us some of her own wedding DIY projects. Before that I  thought it would be the perfect time to share with you her beautiful wedding which was shot by Tino and Pip. Bex is a singer in a band called The bb Collective  and has just started a new wedding decor business off the back fo her own wedding called Home Spun Honey  .
Bex married Tom on 19th May with the ceremony at Hamsey Church and reception in five tipis in Bex's mum and dad's garden, they had 130 guests. It really is a beautiful wedding and when they say they were inspired by sweet peas you can really tell, the colours are stunning, as is the mix of homemade details that Bex has put together. The vintage touches on top of this beautiful decor really makes the wedding their own, just gorgeous.
'A day full of love, laughter, colour, friendship, emotion, lots of food, happy tears and a bit more love. And oh, how we danced!'
How they met
11 years ago at drama school (Guildford School of Acting) when I was 19 and Tom was 21! Tom was on the acting course and I was doing Musical Theatre but we soon became friends and a year later decided it was more than that and got together properly.
The proposal
10 years ago on one of our first trips to London together, we drove over the Albert Bridge at night and I said it was my favourite bridge in London and I wanted to be proposed to on there one day. I never mentioned it again but Tom remembered it all that time and when he decided he was going to propose he knew that was where he'd do it. On a recee to do a dry run of the proposal he discovered it was having major renovation work, rather ruining the picturesque spot! But he decided to go ahead anyway.
A few days before, he suggested going out for dinner on Thursday night, saying he'd got a Square Meal deal that was only valid after 9pm. He got the taxi to drop us off at a side street, and we walked up and down the road unable to find the restaurant. He looked it up on his iPhone and said that it must be the other side of the river. We walked up to the bridge, covered in scaffolding, and Tom started to run a bit, saying we were late – I told him to run on without me as I was wearing heels. He slowed down, then started to run again, tripped up and fell down. I was worried he'd hurt himself and bent down to check on him but he had got up on one knee with the ring. He reminded me that I had said I wanted to be proposed to on this bridge 9 years ago and he had known even then that one day he would do just that. After a lot of tears and a big Yes we walked over the bridge and into Chelsea as an engaged couple! Tom had booked Gordon Ramsey's Royal Hospital Road for dinner which was incredible and we drank champagne and ate the amazing food on cloud 9.
The next day he woke me up at 6am and told me to pack a bag – then whisked me off to Rome for 4 nights for what we decided was our enga-cation!
He had found the ring at Fidra, an antique jewellers in Brighton which we later discovered was the same place my dad had bought my mum's engagement ring 32 years ago – we took this as a very good omen
The wedding planning
Tom proposed on 19th May last year, so when we saw that it fell on a Saturday this year we thought we should keep the anniversary the same! So it took 1 year exactly. There was a flurry of confirming suppliers in the first few months and then pretty consistent making of things and adding details to the plans over the rest of the year. Tom and I are lucky that we're both self-employed – he is an actor and I'm a singer – so we could do things on weekdays instead of having to cram all the planning into weekends. The week running up to the wedding was brilliant as our immediate families and best friends all came together to dress the tipis and church, make the last minute bits and bobs and generally have a fabulous time!
How did you choose your photographer
I had played with my band at a wedding where Penny and Martin were photographing, saw the pictures and loved their informal style and artistry as well as how much emotion they had captured. Choosing the right photographer was important to us as we knew the day would go so fast and we wanted to have lasting memories. The service we got was just fantastic – starting with a preliminary meeting to get to know each other, see the venues and discuss our plans – they got almost as excited as we did when they saw the church so we knew we'd made the right choice! On the day, they were unobtrusive and fun to have around – we got the group shots we wanted quickly and painlessly and then had a lovely 15 mins getting the shots of us two – totally relaxed and a nice bit of time to talk to each other without someone coming to see us! We are thrilled with the pictures and everyone we have shown them to loves them.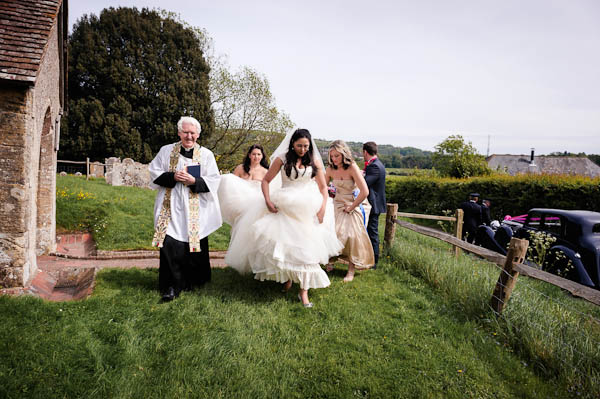 The dress
My dress was Nora (great name!) by Maggie Sottero from All that Glitters in Croyden. I tried on LOTS of dresses and loved quite a few of them but this one felt the most like me. Shoes were glittery silver and gorgeous – from Kurt Geiger. My mum and dad gave me my earrings the night before the wedding – they had them made by Alexis Dove and included diamonds from my great aunt's ring. My only other accessory was a hair comb from Glitzy Secrets – really pretty and great value.
The suit and bridesmaids
Tom has always wanted to have a three piece suit made for his wedding day so he went off to Saville Row and got his dream suit – a navy pinstripe three piece which was relined with a purple silk he found on Berwick Street topped off with a fob watch I bought him for his 30th and a pair of cowboy boots he purchased whilst drunk at the Isle of Wight Festival! He didn't show me his suit until the day so I got a surprise as well as him as I walked down the aisle.
The girls' dresses were from Coast – I thought we'd get them different dresses but they all fell in love with the same one! We added the ribbons and fabric roses – my bridesmaid Ashleigh is very handy with a needle. I had a bridesman as well, who wore his own suit with a cravat to tie in with the ushers and a pink waistcoat to show he was on team bride!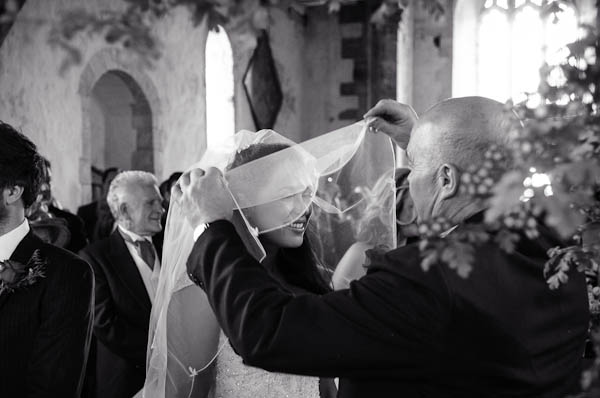 Theme
The colours were inspired by sweet peas, my favourite flower. I know how hard it is to keep sweet peas alive once they're cut so wanted the colours of the wedding to feel like a bunch of them in case we couldn't get them in abundance on the day. There was a loose vintage theme in all the touches, we wanted it to feel timeless and beautiful.
Food
Our caterers were a local company called Food Glorious Food  and the food was incredible! We had antipasti to start with on sharing boards, then belly of pork with crushed potatoes and green beans for main course. After speeches, the caterers served up our huge croque en bouche wedding cake with raspberries and cream, and we had a sweets table which was busy all night, with pick and mix bags so guests could take some home too. We served evening snacks of breaded prawns with chilli sauce, homemade sausage rolls and of course cheese boards.
Entertainment
A choir made up of our musical friends in the church, organised by my bridesman Jody – they sung John Rutter's arrangement of "All things Bright and Beautiful" and their own version of "The Glory of Love" – seeing all our friends singing together for us was one of the highlights for me.
Charlie Myers Jazz pianist for the drinks reception and then Oomph band  for the evening, who are a fantastic Brighton based funk band. Being in a band myself I was under a bit of pressure to get this part right but they were just perfect – we didn't leave the dancefloor all night! The band called me up onstage so I sang "Signed, Sealed, Delivered" to Tom with my bridesmaid and bandmate Bex – a fitting serenade!
Flowers
The church flowers and our bouquets were by Vintage Flower House in Sussex  we wanted a "just picked" spring flowers feel, in our sweet pea colours and incorporating herbs. A mix of peonies, roses and hydrangea created exactly the look we wanted.
The reception flowers were done by a friend of my mum's and the buttonholes by another friend – we were so lucky to have so many talented chums! We managed to get sweet peas in there too – in jam jars around the drinks reception, delivered that morning from a local lady who grew them for us.
Decoration
We've always loved vintage furniture, clothes and style so we knew we wanted it to have an old school elegance and lots of individual touches. I work at weddings every week and I was keen for our day to feel different from any wedding I had played at, so it felt nothing like a night at work! This ruled out a normal white marquee – but we did want to have the reception at my family home in Sussex. Luckily enough, one of the first gigs I did after we got engaged was in tipi style marquees – I fell instantly in love with them and Tom felt the same as soon as I showed them to him. My mum thought they needed softening and de-beige-ing to make the prettier so we decided to hang oversized organza bows and weave ivy around the poles – it worked brilliantly.
We wanted to create a different feel for the evening part of the wedding and the tipis really lent themselves to this with the fairy lights up the poles of the dance tent and mirrorball hanging in the middle. We flooded the place with candles and added a light up dancefloor to the mix – it was like a fairy festival!
Personal touches
• My bridesmaids and I made lavender hearts for all the girls as favours.
• We tied the napkins with pieces of material and tucked a sprig of rosemary into each one.
• We also made a huge amount of bunting to hand around the entrance to the teepees and in the garden. I got a meter of about 30 different fabrics and made the hearts, napkin ties and bunting with these so that there was a big mix of patterns but all in our three colours – pink, purple and blue.
• We made bows to hang in the tipis and on the back of the chairs and cleared Tom's parents' roof of ivy to hang all over the tipis.
• We hired crystal wine glasses from Glass Acts (www.glassacts.co.uk) and found and bought vintage side plates and glass plates for the starters. We bought lace curtains from Ikea and made them into table cloths and sourced water glasses in blue, pink and purple – all these touches made such a difference to the look of the tables.
• We photocopied old sheet music of songs that my Grandad and Tom's Dad used to sing (they are both performers too) and made confetti cones and decoupage wine bottles using this.
• We iphotoed lots of pictures of us and our friends and family and made photo bunting with this to hang in dead spaces within the tipis – the extras went into the portaloos!
• The table names were couples who we think are brilliant – including Zack and Kelly, Scott and Charlene and Miss Piggy and Kermit. Top table was, of course, Tom and Becki…!
• We designed and made all the stationary ourselves – time consuming but definitely worth it!
Special moments
There were so many but seeing Tom for the first time as I walked down the aisle; the choir of some of our best friends singing Glory of Love while we stood with our families at the front of the church; the speeches as a whole and a spontaneous dance off where people who had never met were throwing shapes at each other were stand out moments!
What was your biggest surprise of the day?
The weather! After a wash out spring and a whole week of it being torrential rain every day we woke up to a blue sky, sunshine and didn't get rained on once.
Advice
Get your families, bridesmaids, ushers and friends involved in the planning and preparations – when we got to the day itself it felt so special that a big team of our favourite people had worked together to make it such a great day. The devil is definitely in the detail – keeping a consistent look and feel, even without an official "theme", and adding lots of personal touches makes all the difference. Oh, and be really clear to anyone helping out on what you need them to do when – I was laughed at a lot for providing individual schedules for everyone but didn't have to answer any questions or think about anything logistical on the day!
Everyone says it but the day does fly by so make sure you take at least three moments out for the two of you to stand back and take it all in. Make sure you dance if you like to dance – we pre warned our guests that if they wanted to speak to us in the evening part of the wedding it would have to be on the dancefloor – I've seen too many couples get dragged off to mingle and end up missing the dancing completely and we were determined not to do that!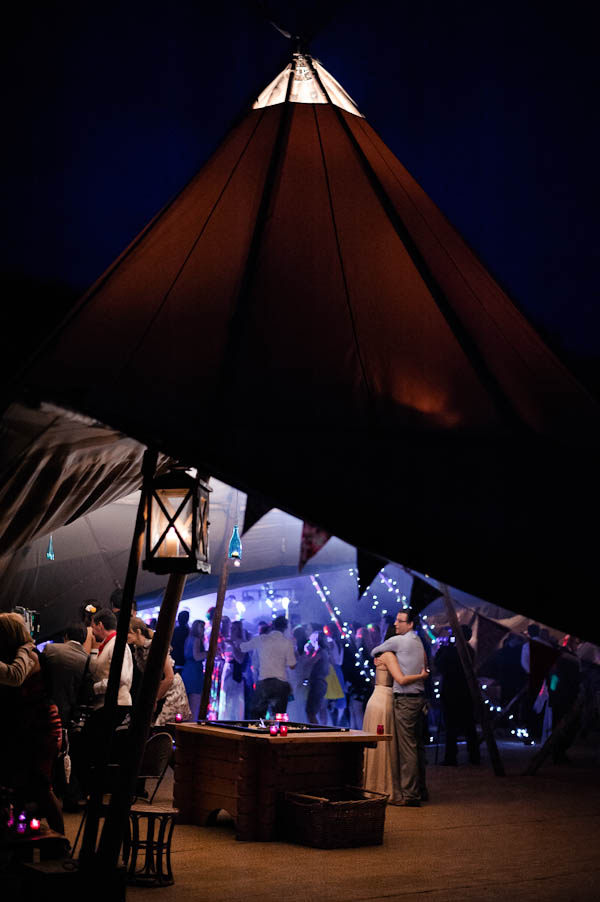 Big thanks to www.rozierwilkinson.com for this amazing wedding film.
Supplier Shout Outs
Tino&Pip can be found at 
07852 131435/07948 992221
www.tinoandpip.co.uk
www.facebook.com/TinoAndPip
www.twitter.com/TinoAndPip
www.pinterest.com/tinoandpip/
Come back this afternoon for the first of Bex's DIY tutorial when she shows us how to make the gorgeous lavender hearts featured in this wedding.
♥  You can see more Real Weddings featured on the Blog HERE  ♥