Today's styled shoot is all about Luxury and Glamour! Doing your wedding in a BIG way and really pulling out all of the stops! If you are looking at an outdoor wedding, your thoughts may instantly be pulled towards festival style décor or relaxed, earthy detailing. Well not all outdoor weddings have to be that way! Courtesy of the very wonderful Shelly from Toast of Leeds and a team of super talented wedding suppliers, today we are going BIG and going GLAM! The shoot took place last year at Wharfedale Grange, Harrogate and it is all about spring time luxury and showing that outdoor weddings can be as extra as you want them to be. The styling in this shoot is remarkable! The flowers are out of this world, the whole shoot is so well put together; the colours, the textures. It is all just so beautiful! Here's to BIG weddings, to bringing the luxe back into Boho and keeping those florals on point!
 Outdoor spring wedding with Gatsby styled Theming.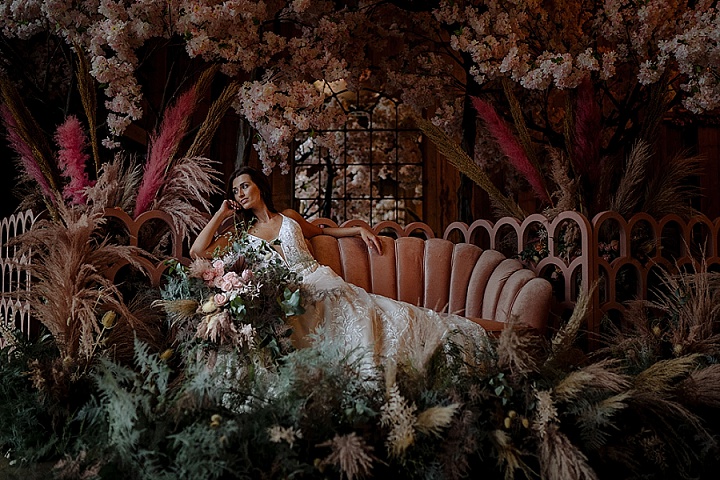 Shelly tells us more about the shoot
Doing something on a grand scale and working with some amazing suppliers rather than it just being a boring run of the mill shoot of a girl in a dress. Bringing a whole story to life was the thing that caught my attention.
Despite being in the UK, we all love an outdoor wedding but Wharfedale Grange is a luxury venue so we wanted to show that an outdoor wedding doesn't have to be hay bales and dodging the rain! It was all about the incredible North Yorkshire backdrop and creating a luxury setting that was more than just a couple of flower arrangements next to an arbour. Whilst some people want a laid back outdoor wedding, we wanted to show that getting married outdoors doesn't have to be barefoot, cushions, rugs and dried flowers. An outdoor wedding can be just as glamorous as an indoor wedding by hiring in beautiful luxury seating, creating an amazing colour palette and doing things your own way whatever style that is.
Luxury, luxury, luxury! Getting married your way means that sometimes your budget is on the low side and sometimes it's on the high side. Whatever makes you feel comfortable and whatever your style should be reflected in your day. But getting married outdoors doesn't necessarily mean you want a festival style wedding. We wanted to show that you can get married outdoors whilst having all the added luxuries of indoors. The Wharfedale Grange barn is super luxury and glamorous and we wanted to show that you can bring those elements to an outdoor wedding too. Our Gatsby styled indoor wedding was all about the florals and the backdrop. Your only limit is your imagination! We used lots of layers in our palette to give us a lot of scope so that couples could see that you don't just have to stick to what the venue offers. If your dream is to get married surrounded by flowers, or a pink picket fence, they can totally do that! Wharfedale is pretty special as it is, but if you want something that will knock your guests socks off on top of that, then you can totally do it. The sky really is the limit.
Supplier Shout Outs
Toast of Leeds
www.toastofleeds.co.uk / www.toastofleeds.co.uk/blog / [email protected] / FACEBOOK / INSTAGRAM / PINTEREST / TIKTOK