I'm a little bit envious of the guests that were lucky enough to attend today's wedding! I ADORE (yes I shouted!) everything about Beth and Tom's special day, from the tattoo inspired artwork to the contrast of the turquoise and orange colour scheme. And it just gets better with polka dots, stags and skulls thrown in for good measure! Tino & Pip are incredible photographers and have truly captured the Rockabilly vibe in this ultra cool and totally unique wedding.
'An amazing, relaxed day full of love and joy and happiness'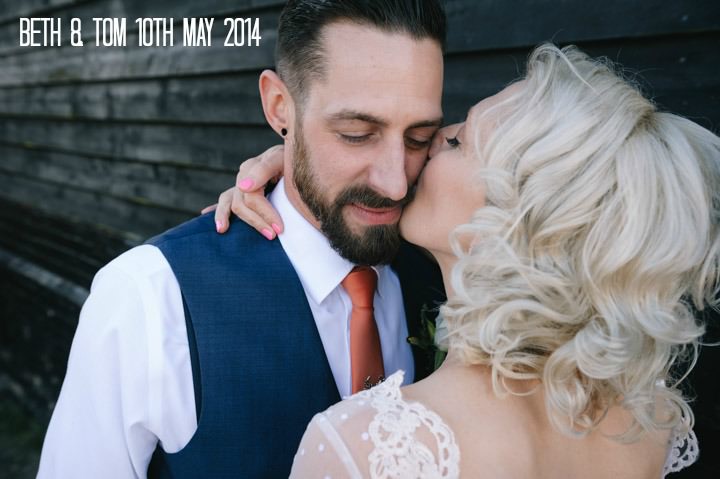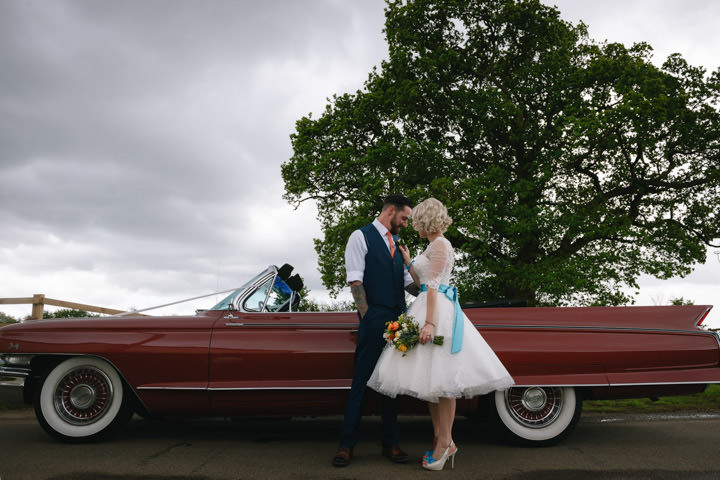 Beth and Tom were married on the 10th May 2014 at Milling Barn, Bluntswood Hall in Hertfordshire. "There were so many reasons why we chose Bluntswood Hall – we both loved the barn from the moment we walked into it, it was ideally located mid-way between both families and there was the possibility of having our ceremony in the woodland. Although we didn't end up having our outdoor wedding (thanks to the rainy UK!), we were so pleased that we chose Bluntswood Hall – the Dairy Barn turned out to be perfect for our ceremony and we were really well looked after by Donna and her team throughout the whole planning process and the day itself. We were engaged for 17 months but ended up doing most of the planning in the 4 months leading up to the wedding – I think the realisation that our wedding was 'this' year rather than next finally got us moving!"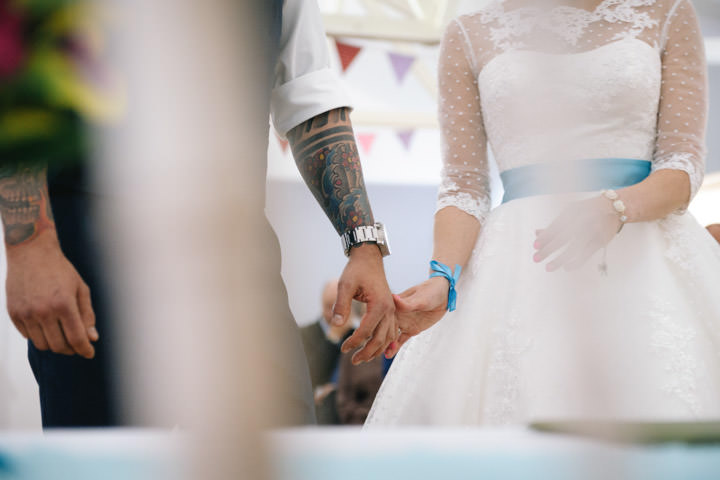 How they met
We met on the train home from work ten years ago – Tom was tired and a bit grumpy after a late finish at work, I'd been out for dinner with friends and spotted him through the train window and sat opposite him…eventually he said hello, we swapped numbers, went to France together 2 weeks later… and the rest is history!
The proposal
Christmas Day 2013… opening our presents under the tree and normally we'd do cards first and then presents. On this particular Christmas Day, Tom said I had to wait until after presents for my card. So there I was in my new pink onesie (one of my Xmas presents!), just about to open my card, when suddenly he was down on one knee and giving me a beautiful amethyst and diamond engagement ring! The reason I had to wait to open my card was because Mr Presumptuous had bought me a 'To my fiancée' Christmas card! I was overwhelmed by my ring because he had designed it himself and had it made and it was absolutely perfect.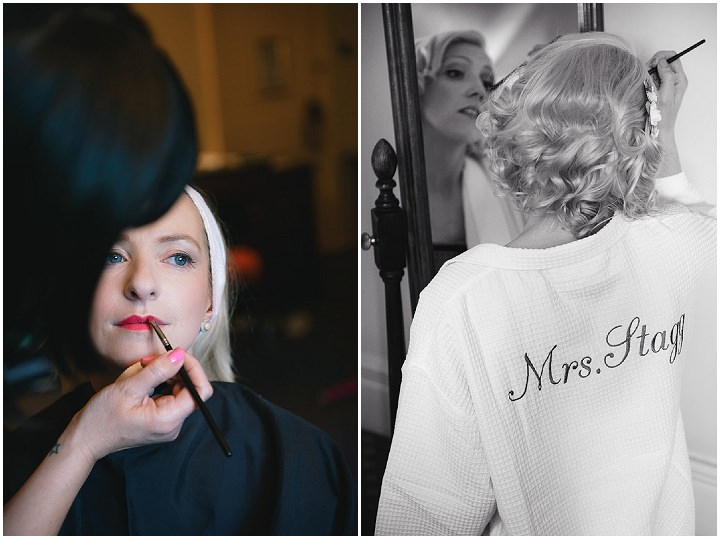 How did you allocate your budget?
For us, the priorities were choosing a venue that we both loved, looking after our guests on the day and making sure that we had great memories to look back on after the day. So the majority of our budget went to the venue, the catering and for our photography.
Why did you choose your photographer?
We knew that we wanted a photographer with a relaxed and natural style who would tell the story of our day rather than going for lots of posed shots. We found Penny and Martin's website and got in contact but unfortunately they were already booked for our date… then a few months before our wedding they got in touch to say they'd had a cancellation and were we still looking? Thankfully, we hadn't found anyone else and so it all worked out perfectly! Our photos were ready for us when we returned from honeymoon and we were absolutely blown away by them – they captured our day, the emotion and all of the little details so well.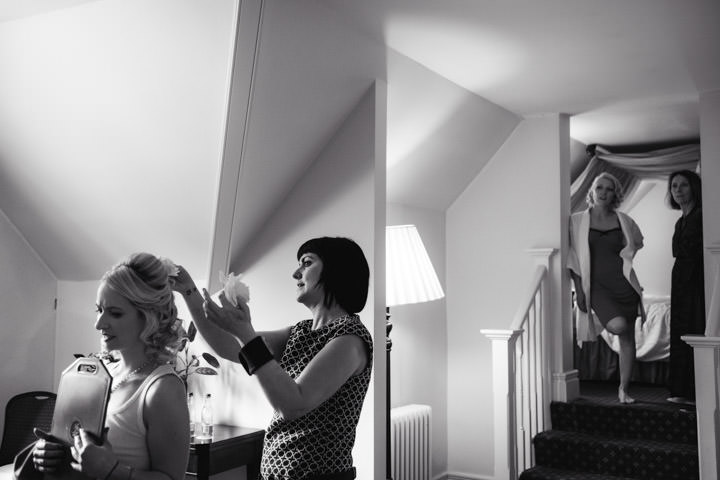 The dress and accessories
My dress was custom designed for me by House of Mooshki. I knew from the start that I wanted a tea-length dress and after trying on pretty much every one I could find in London and none of them being quite what I wanted, I was planning a trip up North to visit the HoM boutique, when I discovered that their head designer, Olivia, lived just down the road. So I ended up visiting her at her home studio, with a general idea of the basic shape that I wanted but not much more than that. Olivia worked with me to help narrow down all the choices and options until she had designed the perfect dress for me – I loved wearing it on the day.
I must have bought and returned 30 different pairs of shoes before finally finding a pair that worked! In the end, I added turquoise bows to a pair of ivory peep-toe heels from Faith for the day and changed into white Vans trainers for the evening.
The suit and bridesmaids
Tom, his groomsmen, both dads and my 2 year old nephew all wore the same bright blue suits from Next, with stripy braces from Austin Reed. We had a real nightmare finding braces that Tom liked – they only arrived the day before the wedding! We also had a bit of drama with Tom's Best Man – he flew back from Florida a week before the wedding, at which point we discovered that his suit didn't fit, so we had to make a hasty return trip to Next!
My bridesmaids' dresses and belts were from Vivien of Holloway, they wore IronFist shoes and the bows on their belts were made by PunkUpBettie.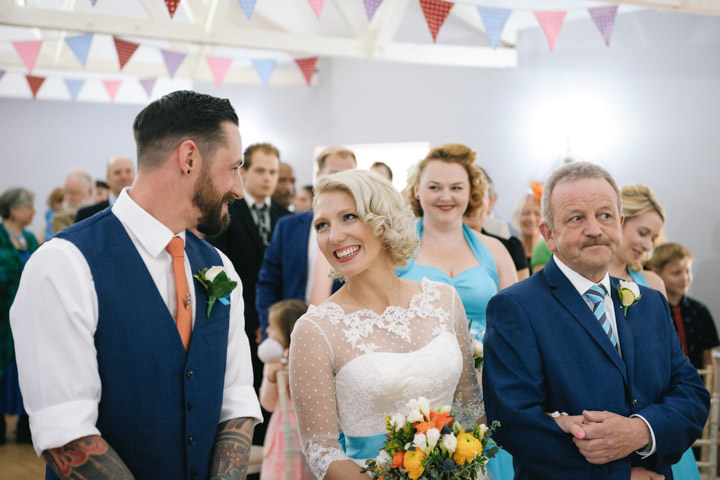 The theme
We didn't start out to have a colour scheme, we just knew that we wanted the day to be colourful! Turquoise and orange ended up being our main colours, with a bit of pink here and there. We didn't have a set theme but just brought together things that we like – tattoo inspired art, polka dots, sugar skulls and stags all featured on the day.
The decoration
We both felt that the Milling Barn didn't need a lot of decoration but wanted to bring a few details in. Each table was set with a turquoise burlap table runner, colourful flowers in a jam jar and an edible white sugar skull. We found an artist with a set of prints of Mexican Loteria cards drawn in an old-school tattoo style, framed them and used them for table names. We used lollies with a stag print as favours, and doubled these up to act as place names with the addition of a hand-stamped coloured tag.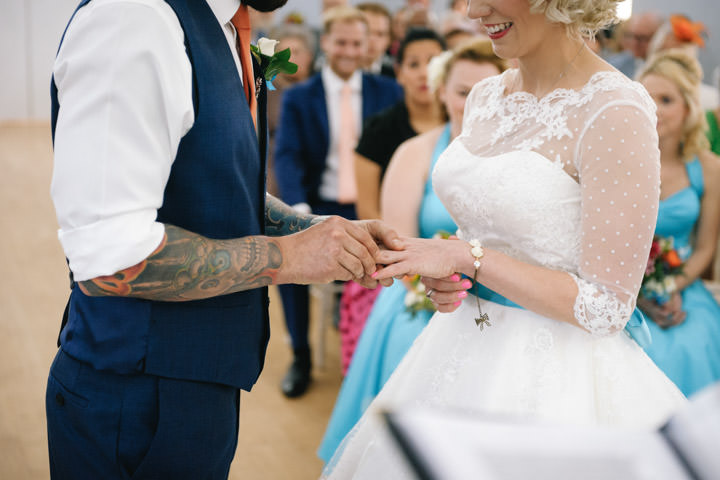 The food and wedding cake
We wanted to have a meal that would get people sharing and talking and so we decided that picnics were the way forward. And we were really lucky because the Chopping Block, Milling Barn's caterers, had just started to do picnics as part of their catering package. Each table had their own picnic basket to tuck in to, and then after the picnic, cake stands were brought out with a selection of mini desserts including profiteroles, chocolate orange mousses and lemon cheesecakes. We were really pleased with the standard of the catering providing by the Chopping Block – they gave us loads of options for the contents for the picnic baskets, including plenty of vegetarian choices, and everything was delicious! We had an awesome rockabilly-themed cupcake tower made for us by Cynthia at Pretty Gorgeous Cakes – with blueberry, lemon and oreo cupcakes.
The entertainment
We both love live music and so decided to go for a live band in the evening.
Buy or DIY your stationery?
We had tattoo inspired save the dates and invitations made for us by the very talented Vicki of Vickilicious Designs.
Special moments
The whole day was full of amazing moments!
– My bridesmaid surprising me with the stag necklace that Tom had bought for me…happy laughter on the way to the venue with my dad, in the cherry red Cadillac that my parents had chosen for us…the excitement of stepping into the Dairy Barn and seeing all our family and friends, and Tom waiting for me at the front…the beautiful readings by my friend and my sister…looking down at our wedding rings and finally being able to say "we're married"!
– We had quite a tight plan for timings during the day and so had originally decided against a formal receiving line. But when the sun came out after our ceremony, we ended up having an impromptu receiving line outside the barn – we both loved this as it gave us the chance to say hello and celebrate with all of our family and friends immediately after our ceremony.
– One of the real highlights of the day was the time spent having our photos done – Penny and Martin have such a brilliant, relaxed approach that Tom and I both felt really comfortable and just enjoyed spending time together while they took our pics. Everyone always says that you need to try and snatch a few moments together on your wedding day, we felt that we ended up with a whole hour!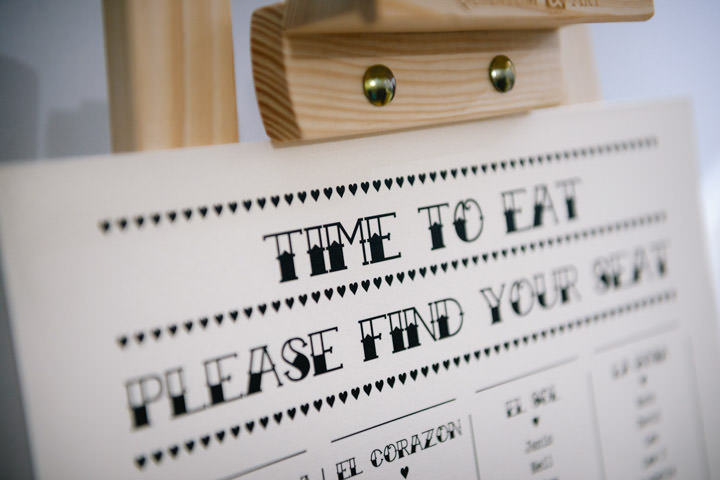 Advice to other couples
The hardest thing I found with planning our wedding was the amount of different options there are for every choice you have to make. So I would say, try not to worry too much over decisions, go for what makes you happy and remember that the most important thing is just to relax and enjoy it!
Biggest surprise
We thought long and hard about whether our Labrador, Brody, should come to the ceremony but decided against it in the end. My awesome bridesmaids knew that I would be a little bit sad that she wasn't there and so had a photo of her made into a pendant, which they gave me on the morning of the wedding! Originally they had thought I would tie it around my flowers, but I wore it round my wrist, tied with a turquoise bow.







Supplier Shout Outs:
We had some brilliant suppliers who really pulled out the stops for us and all of whom we'd recommend:
www.tinoandpip.co.uk were our especially awesome photographers
www.vickiliciousdesigns.co.uk made our wedding stationery
prettygorgeouscakecompany.co.uk created our cupcake tower
www.facebook.com/ukcandysushi made our stag lolly favours and sugar skull centrepieces
www.houseofmooshki.com the talented ladies who designed and made my dress
www.etsy.com/uk/shop/PunkUpBettie made the bows for my bridesmaids' dresses
www.etsy.com/uk/shop/illustratedink did the original paintings of the prints that we used as table names
www.etsy.com/uk/shop/DiabloJos made our sugar skull cake toppers and custom hanging stag ornaments
www.inspiredcompany4u.co.uk made our turquoise burlap table runners
www.bettysrockandrollers.co.uk the lovely lady who did my hair and make-up
www.ebay.com/usr/allthingsweddingy made our table plan in record time
www.etsy.com/shop/vintagebynina made my vintage haircomb and bracelet
www.hkjewellery.co.uk brilliant jewellery designers who made my bespoke engagement and wedding rings
Flowers – our flowers were done for us by a family friend who's an amazing florist. She took our brief, which was simply "we want bright colours in jam jars" and she produced the perfect arrangements and bouquets for us, somehow she seemed to know exactly what we wanted, even though we didn't!
For more information on Tino & Pip's work please go to:
www.tinoandpip.co.uk / www.tinoandpip.co.uk/Blog / FACEBOOK / @TinoAndPip / Pinterest
Due to an email issue if you have emailed me between the 2nd & 9th of December, please resend it.
X