The blog is having  a bit of a shack up, after running my readers survey it was clear from the results that you all love the real wedding section, with 69% of you voteing it as your favourite feature. So I will now be running 2 real weddings a week, one on Monday and one on Thursday.
Today's wedding has been sent in by Tino and Pip and it's the  gorgeous wedding of Vic and Tony which took place in Brighton. Personally I love the photos by the beach huts and  on the band stand, it's great to see such a sunny day in the UK, and the couple really look like they are having fun! I also love the evening shots, the colours are gorgeous with the lighting effects….as well as some fun in the photo booth!
Penny and Martin told me a bit more about the wedding:
'Our day began with a warm welcome from Vics' lovely parents at their home where she and her bridesmaids were getting ready. I soon went in search of the dress (the reveal is so exciting)! Not only did I find the most exquisite dress from Teokath, Wimbledon, but laying proud in the middle of the room were the ultimate wedding shoes- the Vivienne Westwood Lady Dragon Hearts- swoon! Martin meanwhile, joined Tony and the boys for the ushers' lunch in a pub not far from the church, to capture the festivities in the lead up to the ceremony, then onto the church as the guests arrive, (one of many advantages of having two photographers).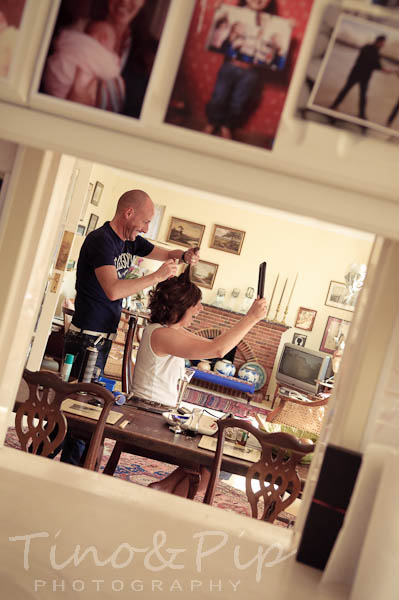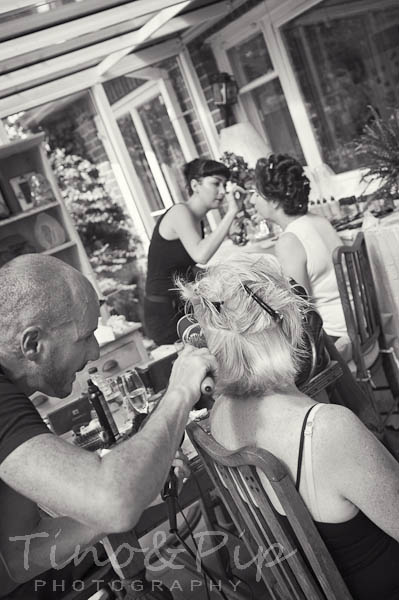 The ceremony took place at the stunning St George's Church in Brighton, East Sussex. We just adore the bold white and blue interior and exterior of this magnificent building, and Vics' choice of fuschia bridesmaids dresses and fabulous flowers (arranged by her family) was the perfect compliment.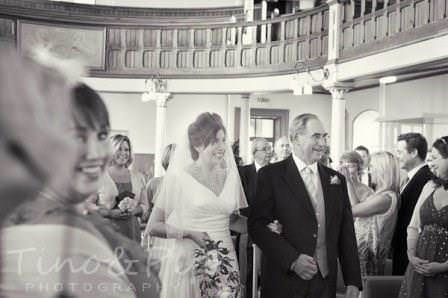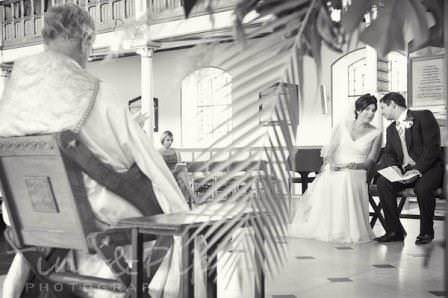 Waiting to whisk the newlyweds away was a marvellous
Tuk Tuk
, adorned with giant silver 'V' and 'T' balloons- a wonderfully quirky touch! Brighton bandstand and beach huts were simply perfect settings for couple shots, particularly as they complemented their colour scheme so beautifully.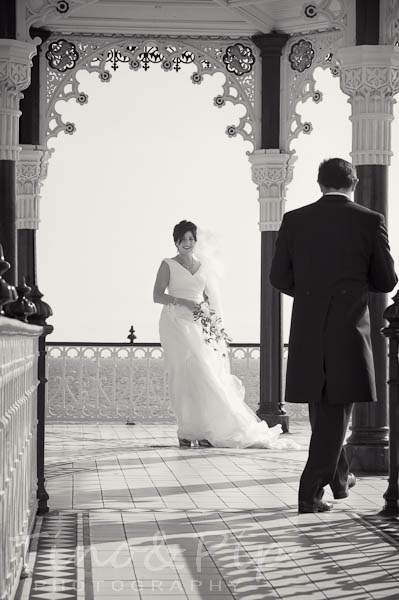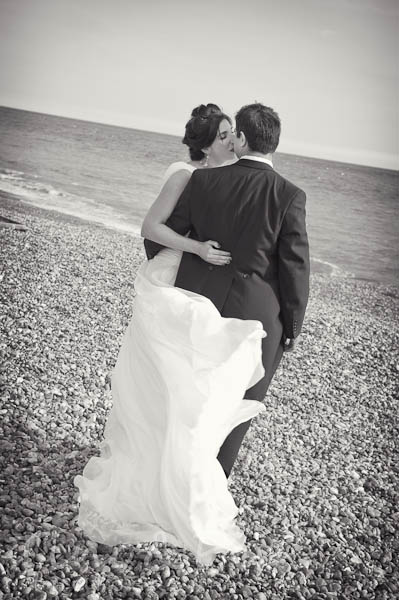 The reception was held in an impressive marquee  in Firle Cricket Ground. It was beautifully lit with purple, orange and blue creating a truly romantic yet vibrant atmosphere. We were even treated to a delicious meal from The Secret Restaurant, which looked every bit as good as it tasted! The band, The BB Collective (friends of the bride), were fantastic, playing all the best dancing tracks that we all know and love, and nobody was shy about getting up- the dance floor was packed! '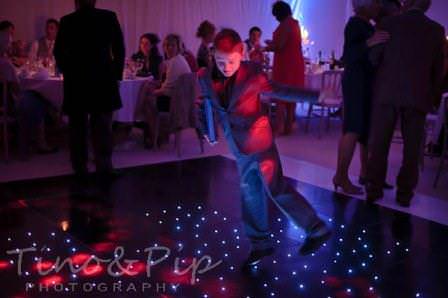 A massive thank you to Tino and Pip for sending in these gorgeous pictures and a Huge congratulations to Vic and Tony, may I wish them many years of happiness together.
For more information on their photography services go to:
www.tinoandpip.co.uk
FACEBOOK
TWITTER
[email protected]