Friday has come round yet again, and to finish the working week off I have a gorgeous winter wedding sent into by Tino and Pip . It's a good time to mention that Tino and Pip are currently running a competition to win 50% Off their Wedding Photography more details can be found  HERE
It's the wedding of Kathryn and Luke Howard who were married on 19th September at St Swithun's Church, East Grinstead with the reception at he Red Barn, Blindley Heath. They had 85 guests in the day, with an additional 30 in the evening. It took just under 10 months to plan. They say 'We had an informal wedding in a countryside venue that we love. Everything was wonderful – from the church ceremony, to the local choir that sung in aid of our favourite charity, to the perfect wedding cake, and the band that got everyone up dancing.'
The wedding is shot beautifully by Tino and Pip who use the winter light to create a warm, cosy and atmospheric set of pictures. I love this venue with all the books along the walls, the huge lights, the lovely details like the suitcase and  candy bar.
Tino and Pip say 'Kath and Luke's reception at The Red Barn was one of the most inviting we've ever photographed – candlelit, with an amazing central fire and an entire wall of books at one end, we had loads of fun, as did their guests! The couple had an old suitcase for guests' cards, but the travel thread didn't stop there – an amazing world map table plan covered with various stamps from around the world, guided guests to their tables, where they found photo cards of places the couple had visited, with a few quirky facts about the place on the back! Thanks so much to Kath and Luke for having us on such an amazing day!
How they met
We met through an internet site, and we've been together nearly five years.
The proposal
Luke proposed in a beautiful park in Marrakech.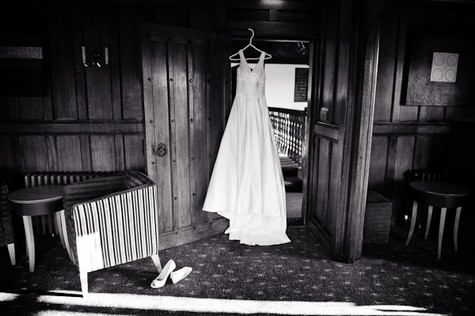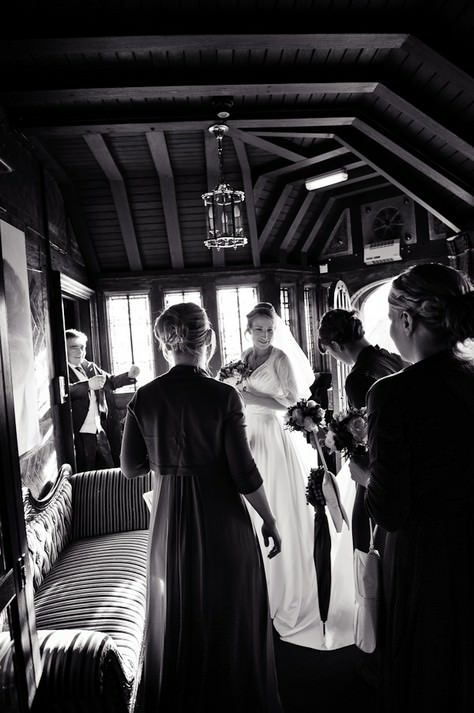 The Venue
Kath went to school in East Grinstead and was christened and confirmed at St. Swithun's Church.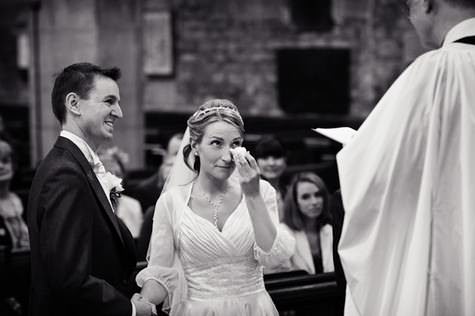 The dress
My dress was by Confetti and Lace, my shoes were Diana Hassell, and my jewellery was from Dower & Hall.
The suit and bridesmaids
The suits were hired from Hugh Harris in Woking, the adult bridesmaid dresses were from Phase Eight, and the young bridesmaids dresses were from Monsoon.
Theme
The colour scheme was purple.
Flowers
Hand-tied bouquets of freesias, tulips, anemones, roses and lisianthus.
Decoration
Windlights and hurricane lamps were placed around the hall, with candelabras near the top table. The barn is already beautifully decorated, and has an enormous fire in the centre, so it didn't need much additional decoration.
Food
Smoked salmon, chicken stuffed with mushroom, and lemon meringue pie.
Entertainment
We hired a band called Funk City Party Band that we had first seen at a friend's wedding.
Personal touches
We made a sweetie table with lots of different shapes and sizes of vases. The name holders were votive wraps made by a lady from California, and bought via Etsy.
Special moments
My highlight of the day was the church ceremony, particularly reading our vows and hearing the choir.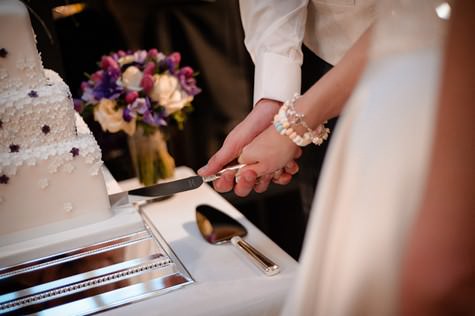 Planning Advice
We didn't stress too much before the day but I was shattered on the day itself! I would suggest taking a couple of days off before the wedding, and getting as much done the week before as possible!
Biggest surprise
There were no big surprises but it was lovely to see so many friends and family in one place – in all the preparation, I'd forgotten that it would be my only opportunity to have a party that big!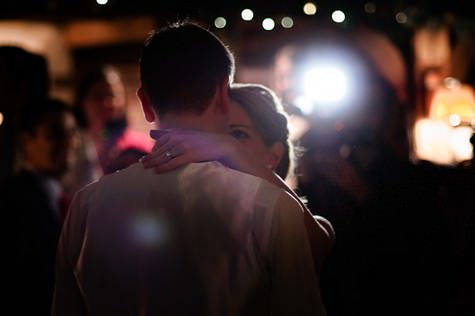 Supplier shout Outs
Photographer – www.tinoandpip.co.uk We loved our photographers, Tino and Pip Utterly fantastic!
Cake  – www.cakeabilitybyjane.com  My wedding cake was made by Jane Mason at Cakeability, based in Forest Row, Sussex.  We had layers of chocolate cake, carrot cake and fruit cake, and it was amazing!
Venue –  www.geronimo-inns.co.uk/theredbarn  Sacha and Nicola at The Red Barn were absolutely fantastic – I can't recommend the venue highly enough!
For more information on Tino and Pip go to:
www.tinoandpip.co.uk
[email protected]
FACEBOOK
TWITTER
Don't forget about the Their competition….hope over to the blog HERE to win their exclusive half price wedding photography offer
Due to an email issue if you have emailed me between the 2nd & 9th of December, please resend it.
X